Many central Iowa Democrats are grieving for Jerry Tormey, a tireless activist who passed away on July 23. Tamyra Harrison now works for The Salvation Army but got to know Jerry well as executive director of the Polk County Democrats, a job she held from 2004 to 2017. -promoted by Laura Belin
There are a lot of different people we meet on the journey through our lives. Some people bring joy to a room just by being present. Some people are so kind of heart they bring out the very best in those around them. Some people radiate joy. Some people always think of others, putting their needs, or that of a greater cause, above themselves. Some people give more of their time to make the world a little better than seems possible, yet always makes time for doing a little more when asked. Some people perform little, seemingly insignificant, acts of kindness every single day without even trying, just by calling to say hi, checking on someone who had bad news, being an ear when needed, remembering a birthday and so much more.
It is rare to find all of this in one individual, but that was Jerry Tormey. We were so blessed to have had our lives touched by him in so many ways, and his influence and legacy will live on.

I think what I will miss the most is his beautiful voice singing happy birthday to so many Democrats over the years, always in Italian. For years, one of the first calls I got on the morning of my birthday was him singing happy birthday to me. How do you not have a good day after that?
It wasn't always happy birthday. One of my favorite memories was when he and Nancy Bobo organized and led a little ditty at our 2009 Inaugural celebration. Who can forget… "Too La Roo, Too La Roo, Too La Roo, Too La Rama, there's no one as Irish as Barack Obama."
Photo by Tamyra Harrison of that January 2009 celebration
Many are not aware that Jerry's greatest legacy was helping establish the network of neighborhood Democratic groups in central Iowa. Ankeny Democrats organized in 2004. (An older group in West Des Moines was no longer active at that time.) Years later a group got going in Beaverdale (formerly known as Obamadale), and Jerry and Rick Smith started the Urbandale Democrats. Not long after the 2014 election, Jerry called me and something amazing happened.
On January 10, 2015, Jerry hosted a breakfast in his home and invited leaders from all over Polk County to share his vision. Democrats from Ankeny, Johnston, Urbandale, Southside, West Des Moines, Altoona, Windsor Heights, Drake Dems and even Dallas County came together because of Jerry. We listened to his passionate idea for working together to build on connections from the last campaign and grow strong area groups around the county.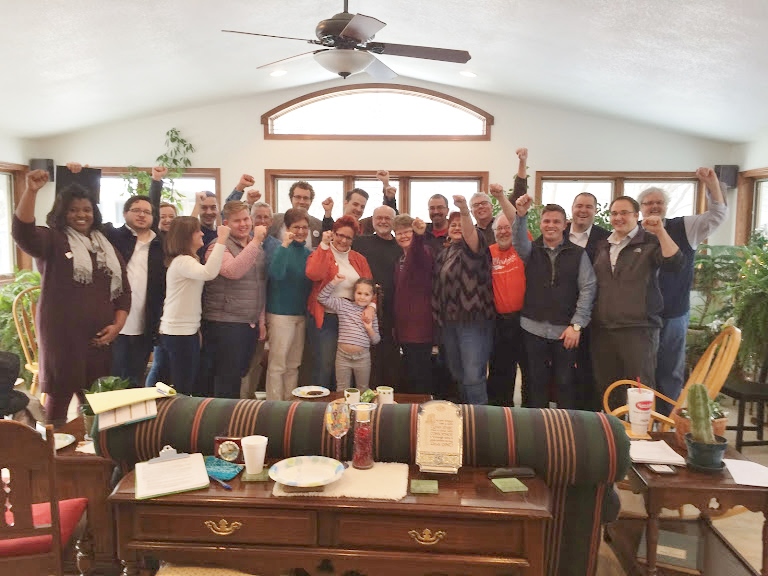 Photo by Tamyra Harrison of that January 2015 meeting of area Democratic leaders
From there, Jerry and I worked with the local leaders and encouraged communication between the new and established groups for mentoring.
The Area Democratic Leadership Breakfast was started as a platform for the leaders to build relationships and share best practices. By 2016, we had thirteen active or newly formed neighborhood groups.
Today, every part of the county is covered by an area group. Some are more active than others, and the groups are their own entities, as opposed to a legal part of the Democratic structure, but they work with the party to aid in GOTV as well as organizing and hosting events. That cooperation has been an invaluable resource and has gotten new people involved at the neighborhood level. These groups continue to grow and strengthen.
Jerry was jolly all year round, which is probably why he also made the best Santa Claus. He loved to be Santa and make people happy, especially the kids. As Santa he attended the East Des Moines Democrats holiday party and other festivities, including joining me the last two years in a row at Salvation Army Christmas events.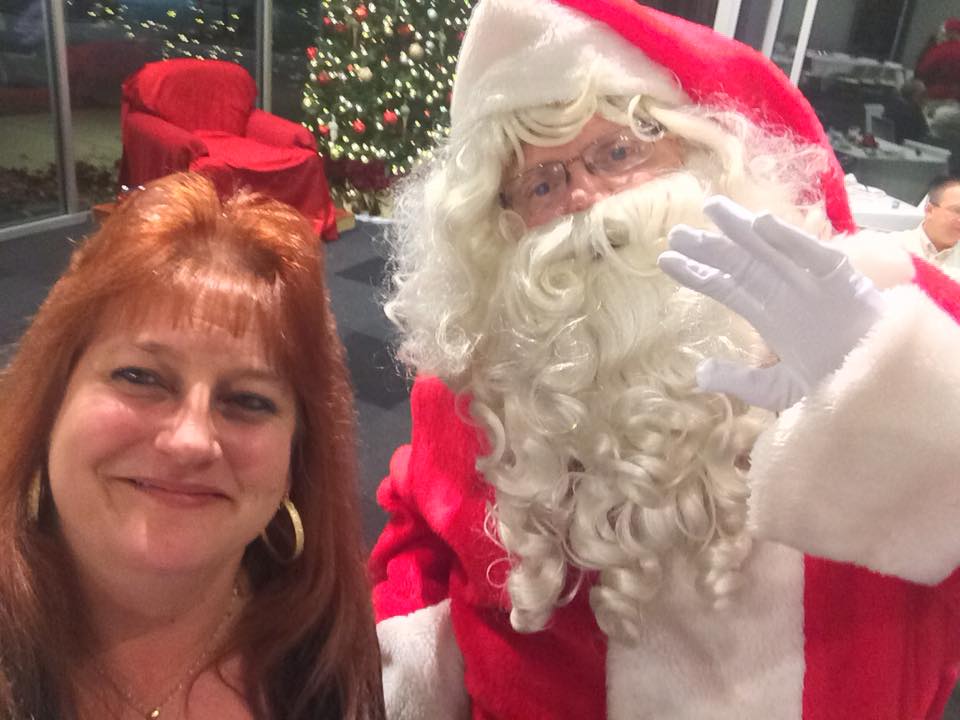 The author with Santa at an East Des Moines Democrats event
As a party, we have much to thank Jerry for. I am so thankful to Jerry for being one of my dearest friends. He was who we should all strive to become, and I will miss him every day. I was unable to attend his memorial service last Friday because I was on RAGBRAI working in Burlington. The week before he passed, Jerry had signed up to work a shift with me at the Iowans For DC Statehood booth in Indianola and was so supportive.
I know that not only did Jerry understand my not being at his service, but also that he was there with me along the route all week in spirit, in my thoughts and in my heart.
I am singing this to you now, my friend…
Perché è un bravo ragazzo, Perché è un bravo ragazzo, Perché è un bravo ragazzo, che nessuno può negare.
"There are special people in our lives who never leave us, even after they are gone."
Tamyra Harrison
Editor's note from Laura Belin: The neighborhood groups contributed to unusually strong Democratic turnout in Polk County for the 2018 general election, which helped elect Cindy Axne in the third Congressional district and flipped several Republican-held Iowa House seats. Volunteers in Dallas County also benefited from Jerry's wisdom as they formed their own area groups, which contributed to Kenan Judge winning Iowa House district 44 in Waukee last November.
The top photo, provided by the author, shows Jerry receiving an award from the Third District Democrats in 2016. The party's district chair at the time, Bill Brauch, stands on the left and Tamyra Harrison on the right.
Jerry's good friend Rob Davis gave Bleeding Heartland permission to publish some of his pictures, which I enclose below.
Jerry managed John Forbes' successful campaign to represent Iowa House district 40. Here he is with Forbes in the Iowa House chamber: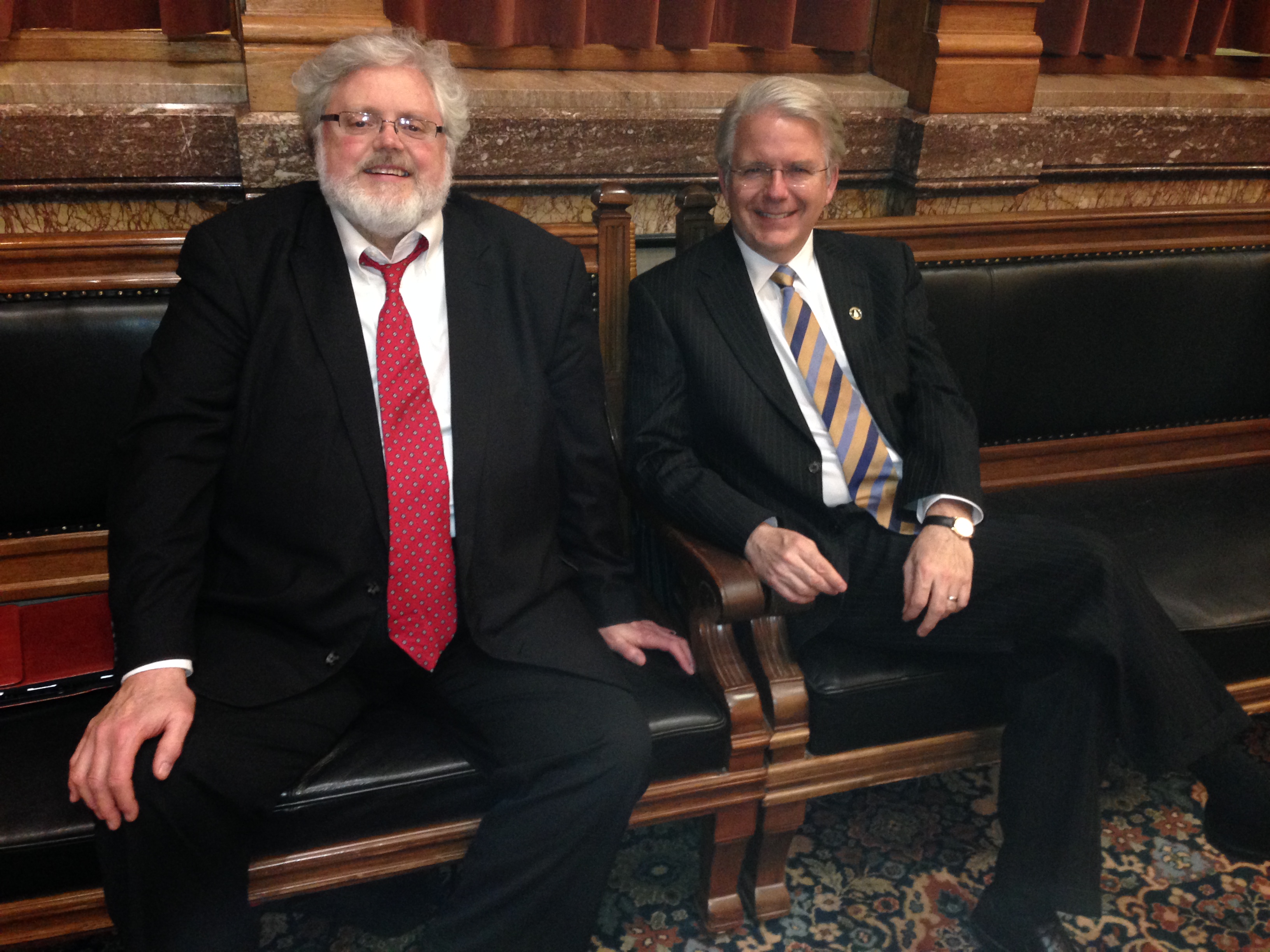 Standing on the left is Rick Smith, co-founder of the Urbandale Democrats.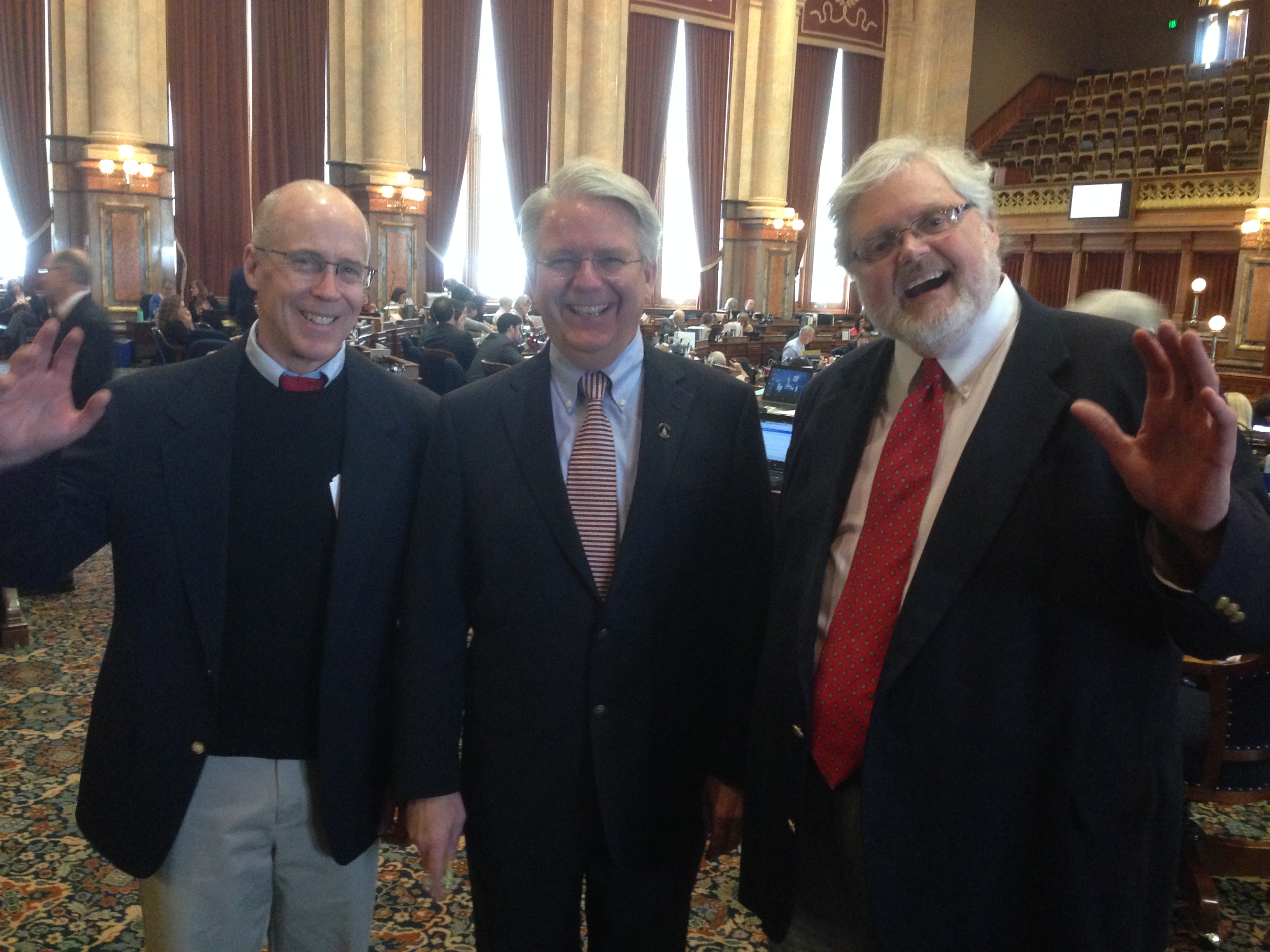 Here's Jerry driving the Forbes car in an Urbandale Independence Day parade.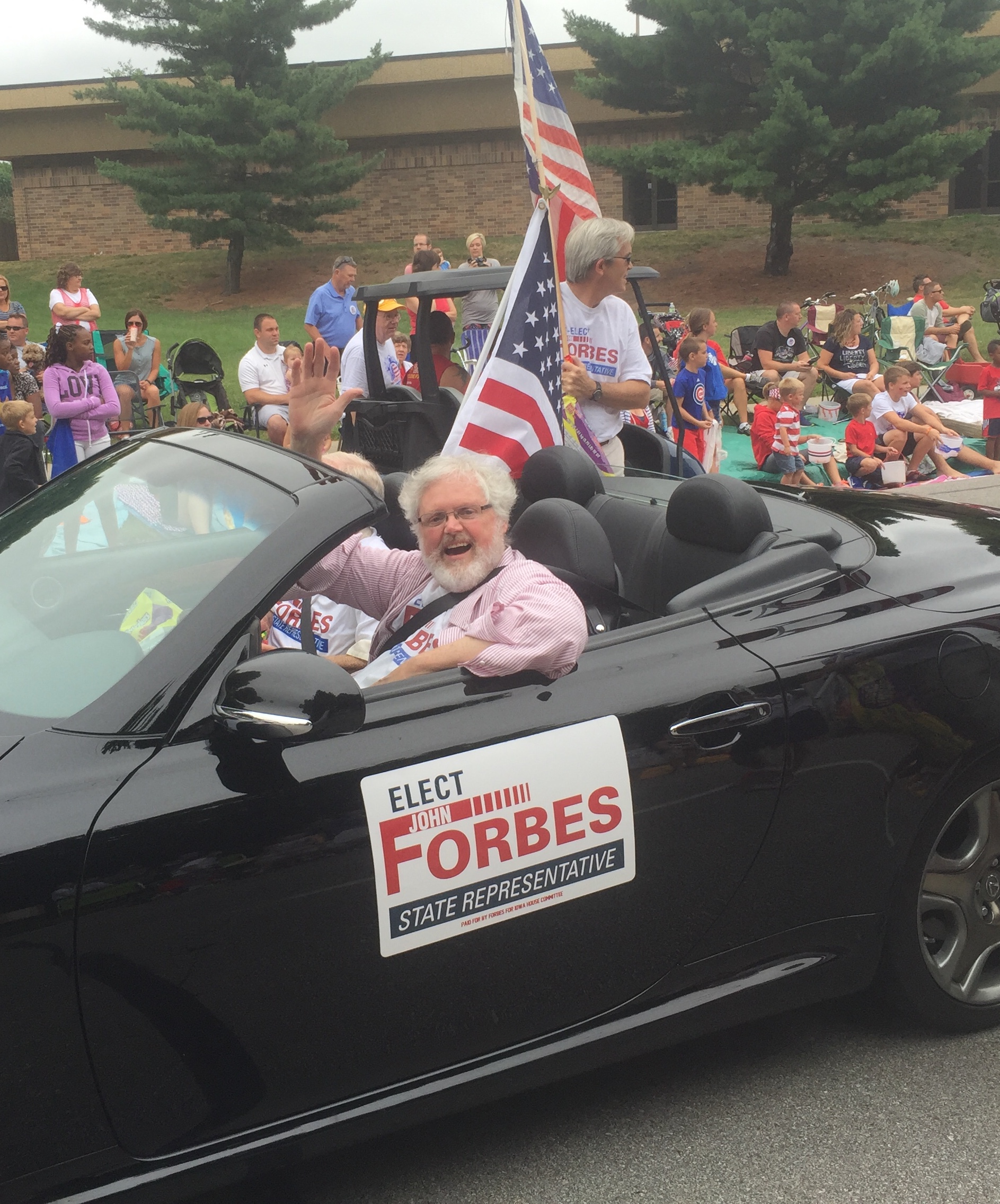 Putting up a campaign sign: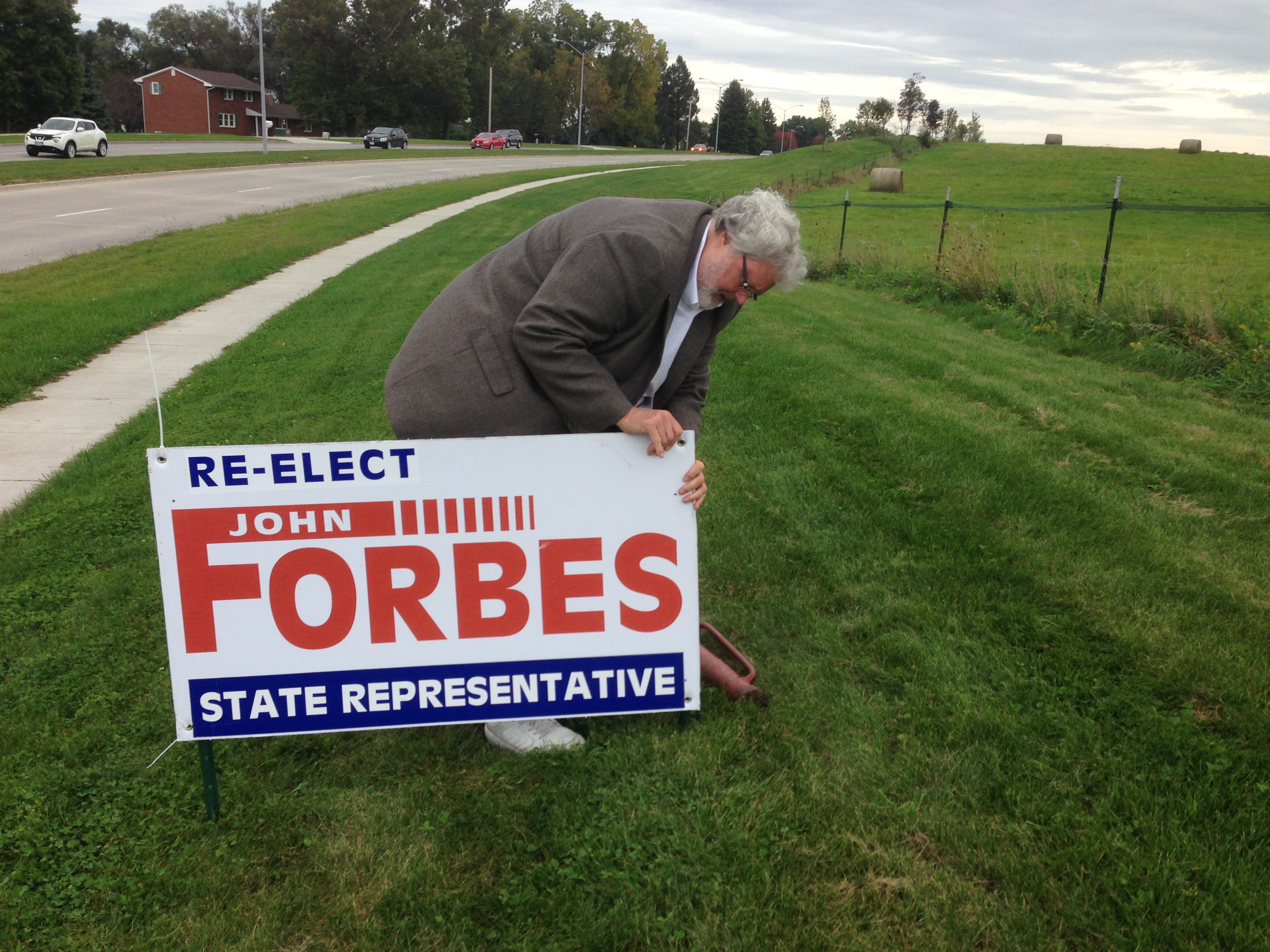 Speaking to area Democrats: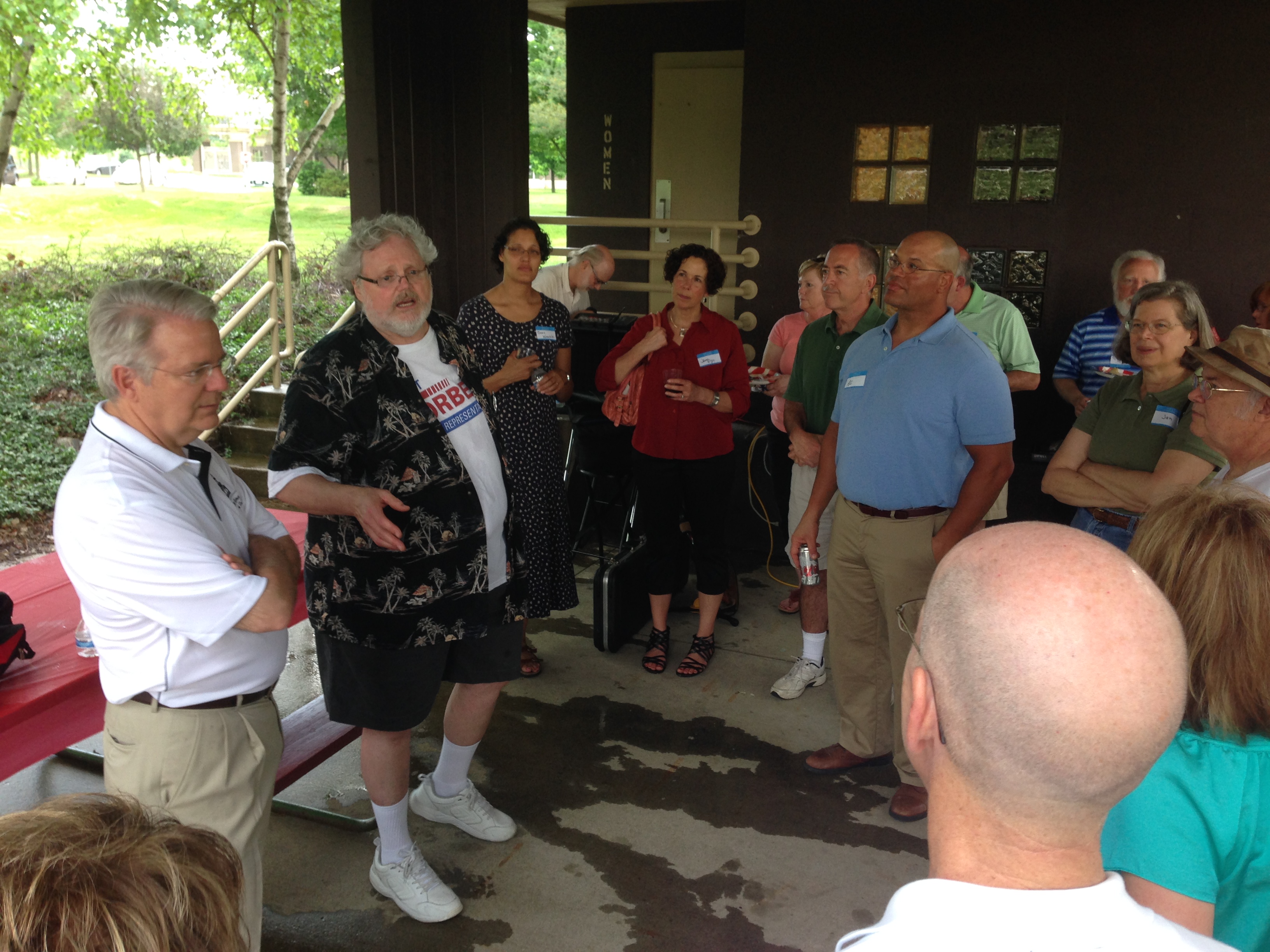 With other Forbes volunteers chasing absentee ballots: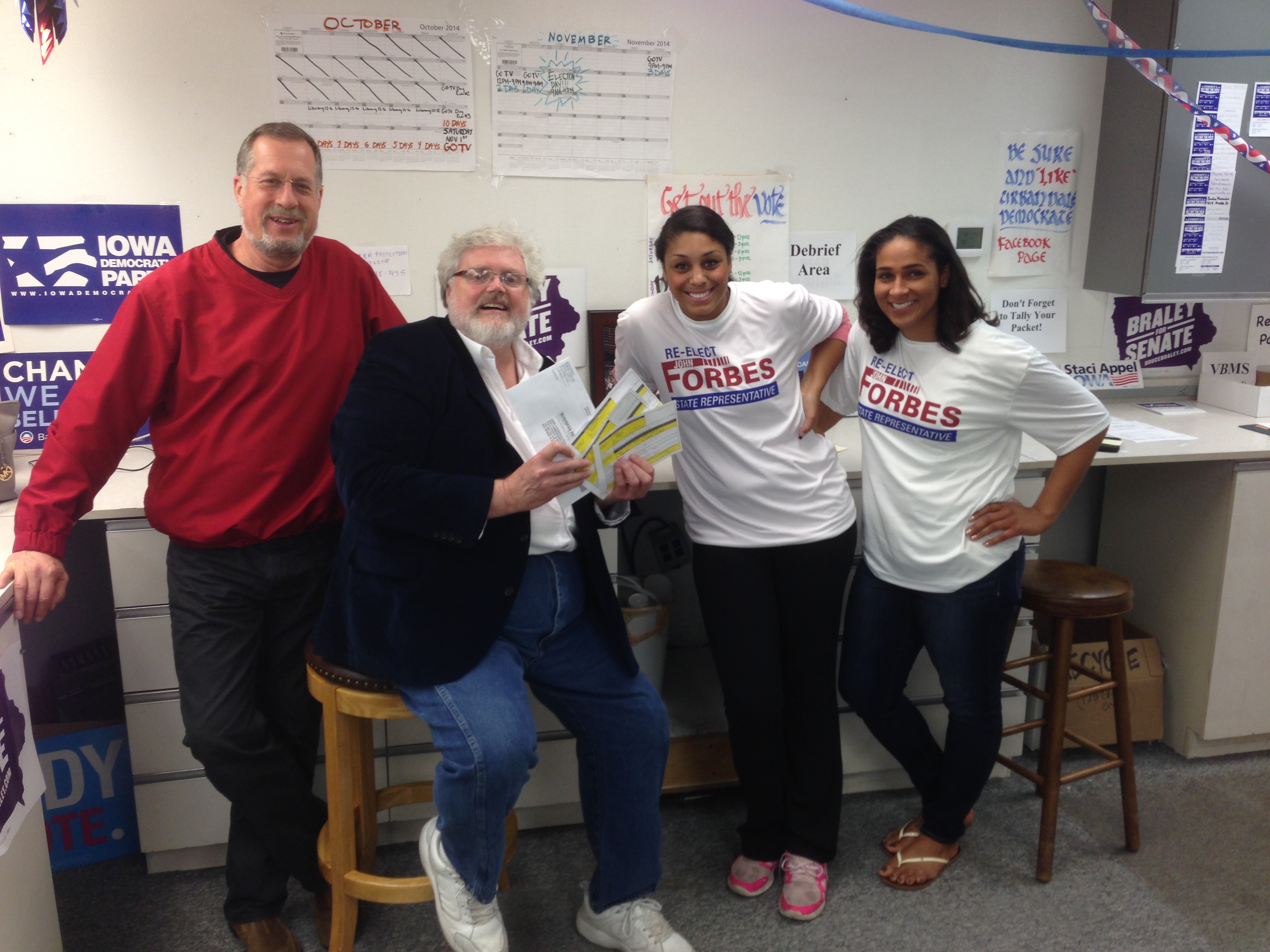 Getting out the vote shortly before the 2014 election: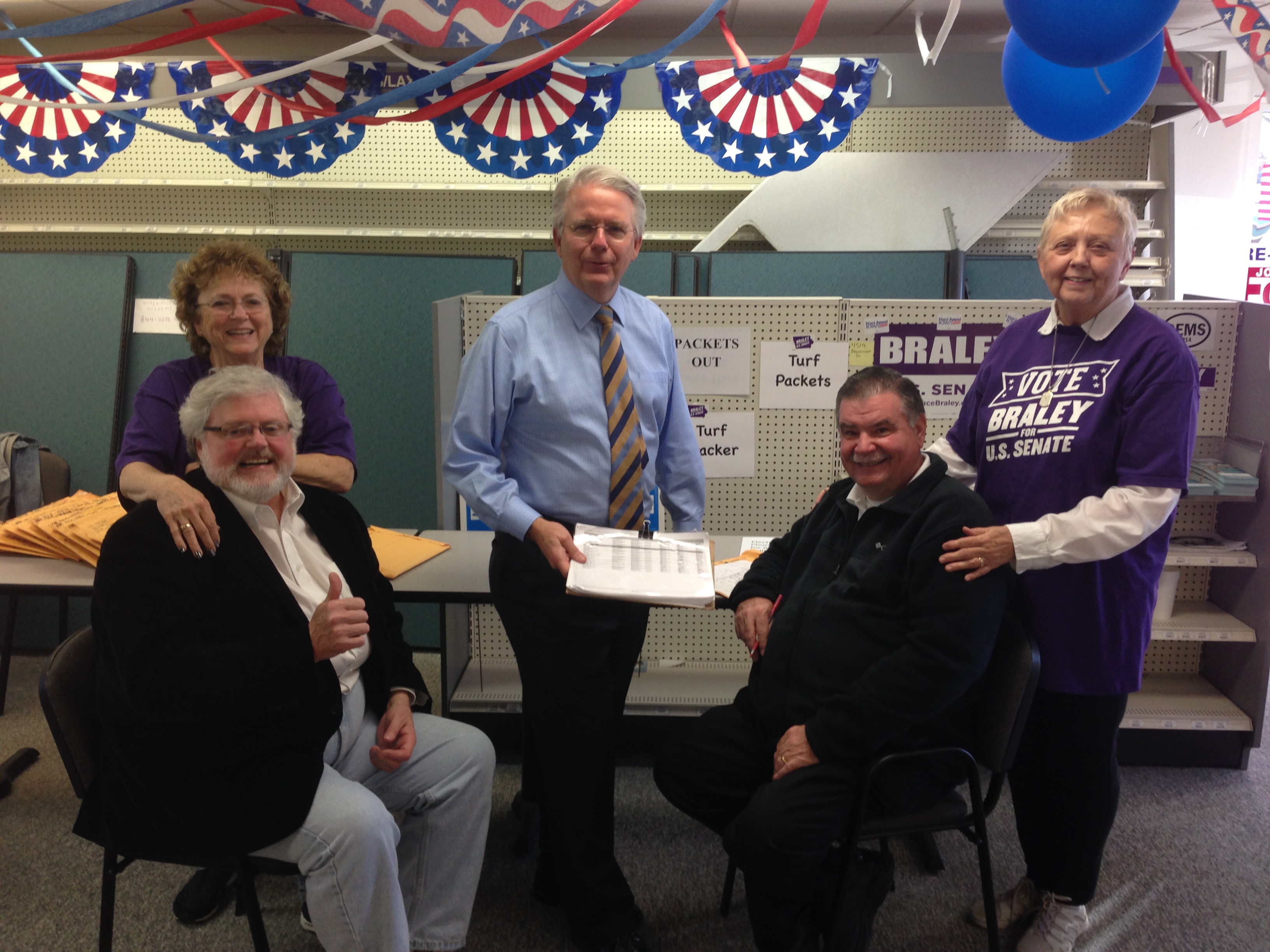 With 2014 nominee for governor Jack Hatch: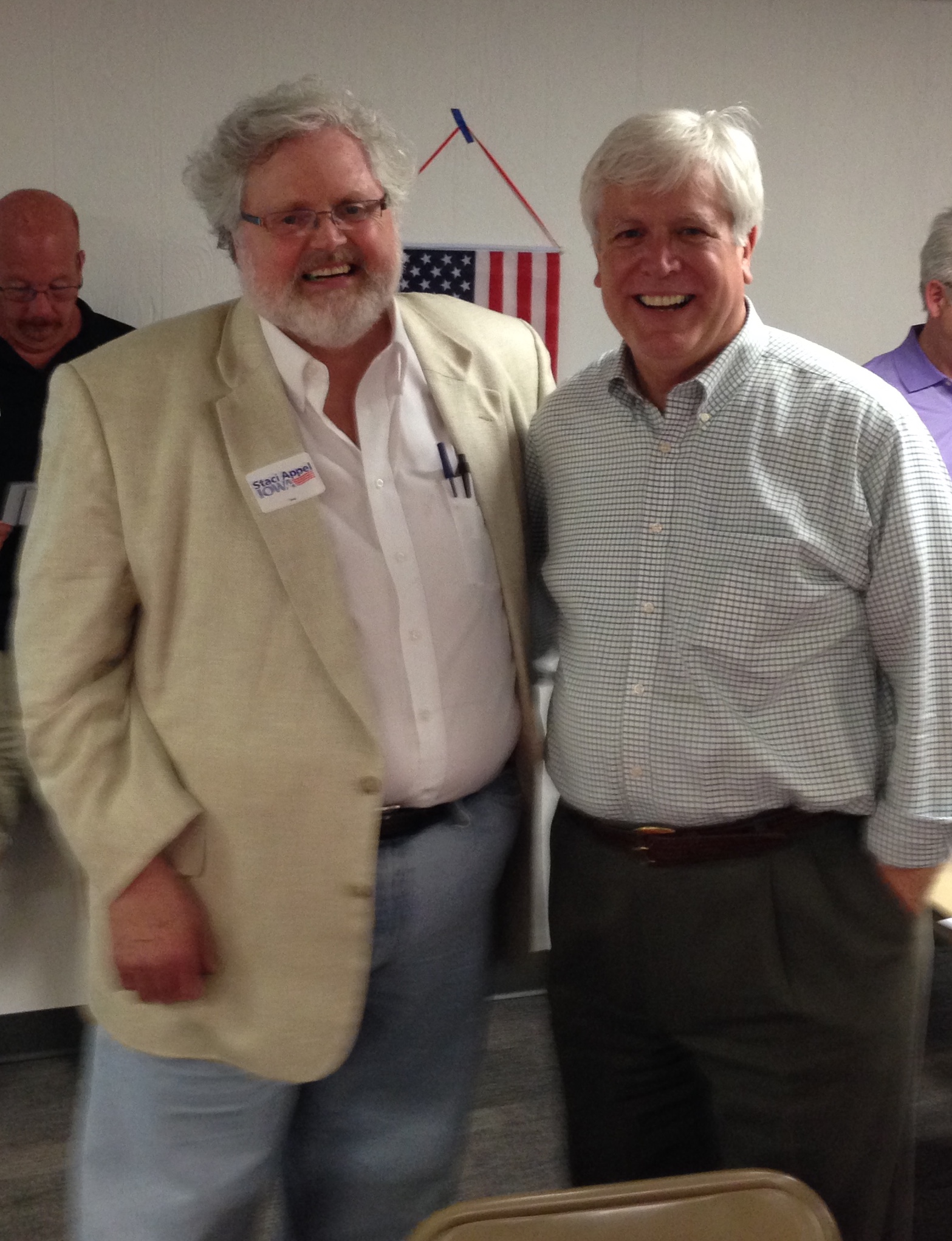 With 2016 presidential candidate Martin O'Malley: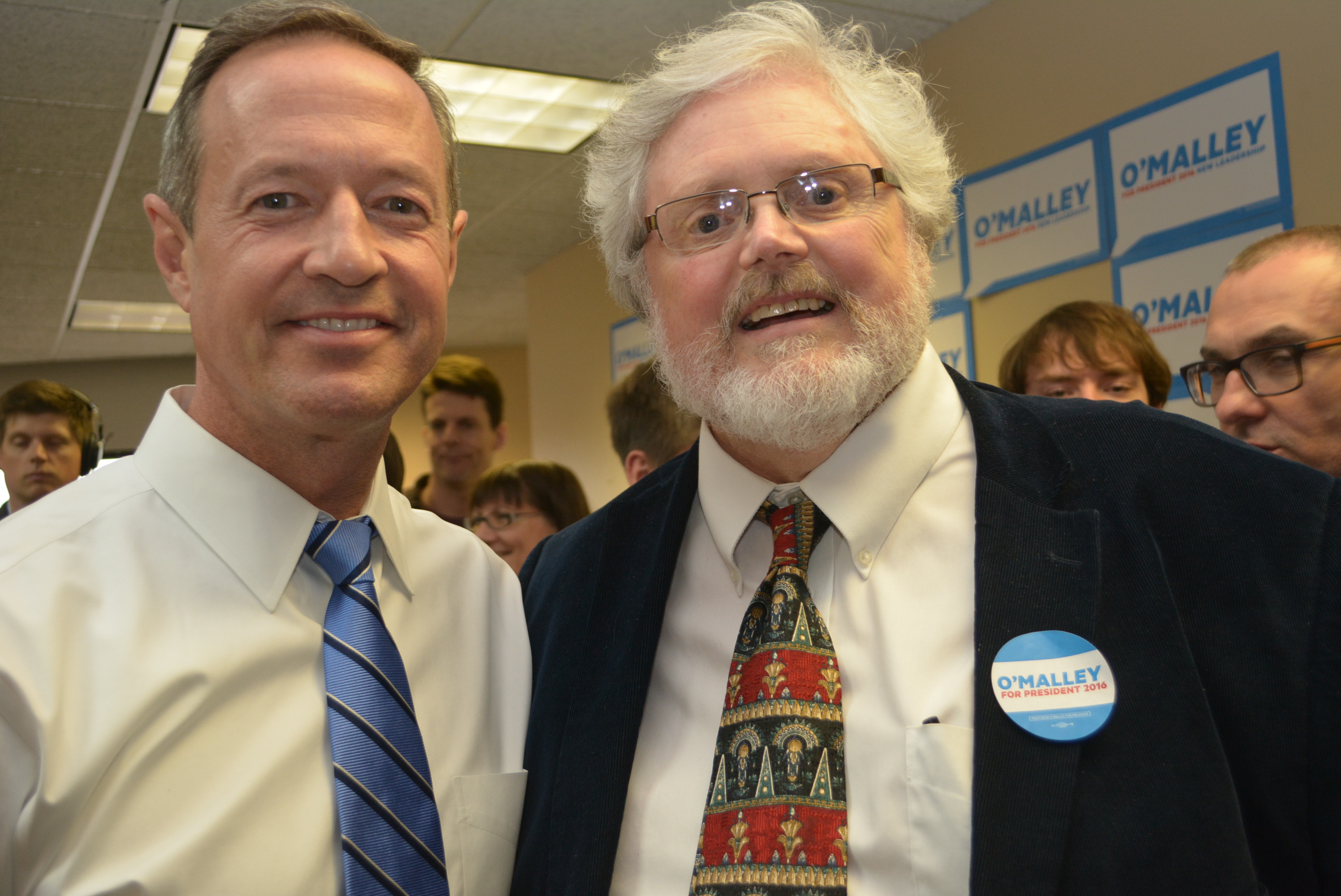 Jerry served on Urbandale's Civil Rights Commission and was an active volunteer for the Iowa Civil Rights Commission. If you look closely, you can see he's wearing an Iowa Civil Rights Commission t-shirt in this photo by Rob Davis.