Thanks to lead organizer Mike Delaney, I was able to visit Tipton Prairie (west of Rippey on E57 in Greene County) earlier this month. The Raccoon River Watershed Association sponsored a walking tour, with expert guidance from Professor Thomas Rosburg of Drake University.
On my first outing to Tipton two years ago, I saw the four-acre, never-plowed prairie in late spring, when prairie phlox, prairie redroot, and yellow star grass were near their peak. The landscape looks quite different in late summer.
One treat was seeing a large colony of field thistle (Cirsium discolor), also known as pasture thistle. Although this plant is native to most of the U.S. and Canada east of the Rocky Mountains, most thistles growing along Iowa trails and roadsides are invasive species. However, according to the Illinois Wildflowers website, field thistle can thrive on disturbed ground as well as in high-quality habitats. You may find it in "moist to dry prairies, openings in woodland areas, moist meadows near rivers, limestone glades, pastures and abandoned fields, open areas along railroads and roadsides, and waste areas."

The easiest way to tell whether a thistle is native is to look at the underside of the leaves. In field thistle or the closely related native tall thistle, they should be white. Not so in non-natives such as bull thistle, which otherwise looks similar.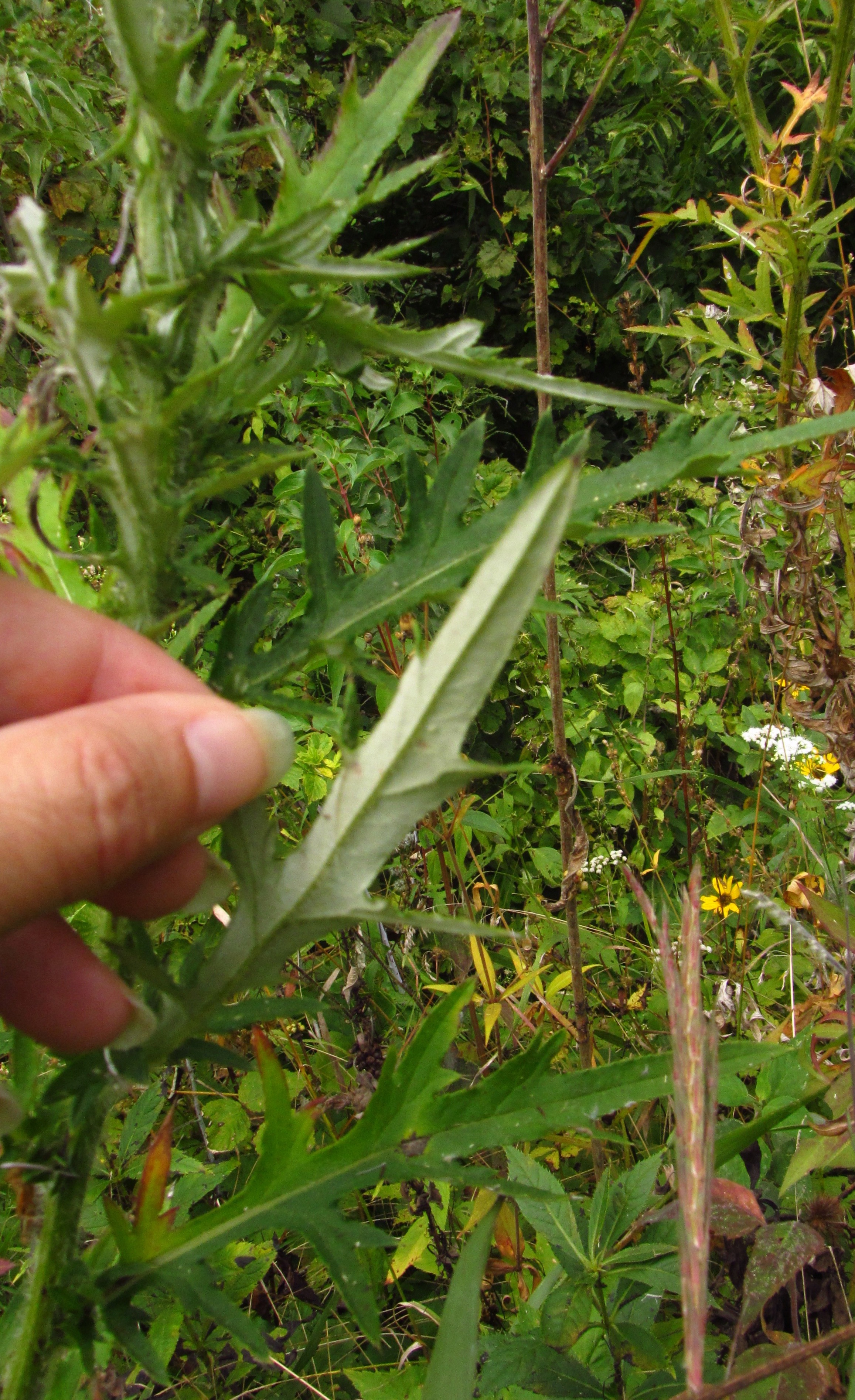 Tom Rosburg explained that the divided leaves on field thistle help distinguish it from tall thistle. In the words of the Minnesota Wildflowers site,
Field Thistle most closely resembles Tall Thistle (Cirsium altissimum), which also has soft needle-like spines on the floral bracts, hairy stems and white on the underside of leaves. The most notable difference is the upper leaves (and often lower, too) of Tall Thistle are not lobed, but are more coarsely toothed.
The next two shots show the hairy stems and divided leaves.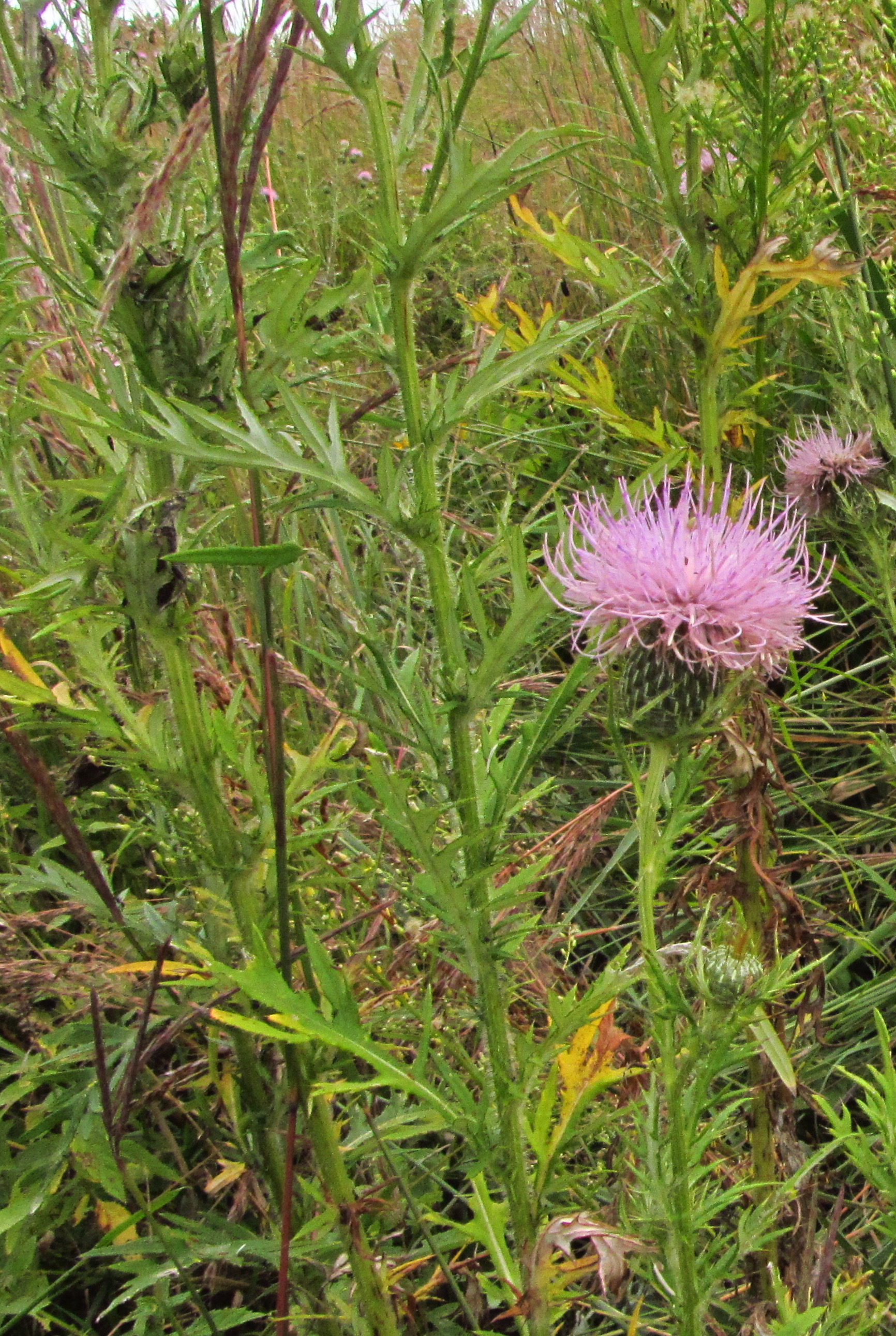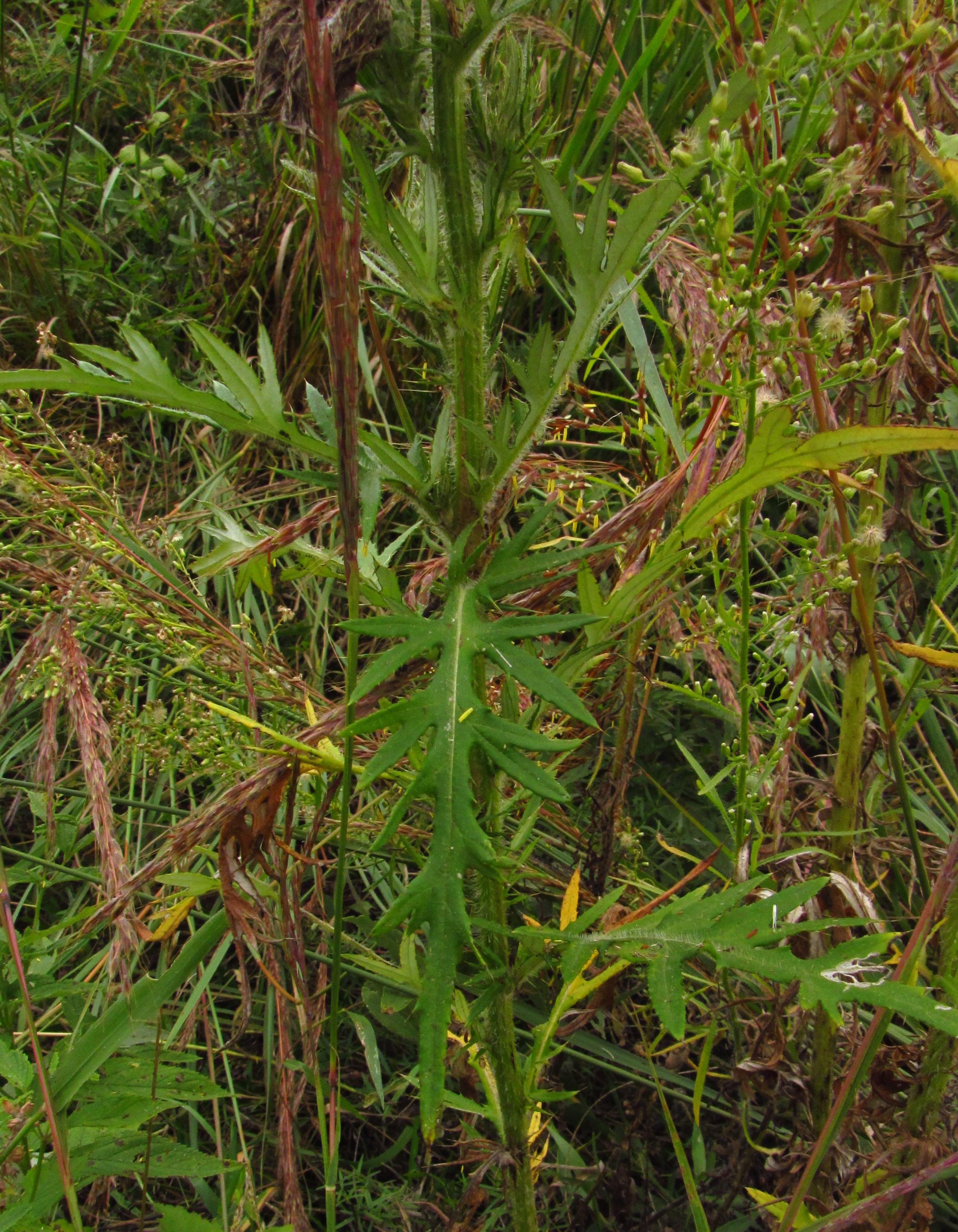 As with other thistles, each flowerhead contains numerous disk florets. Flowerheads are about to open in this picture.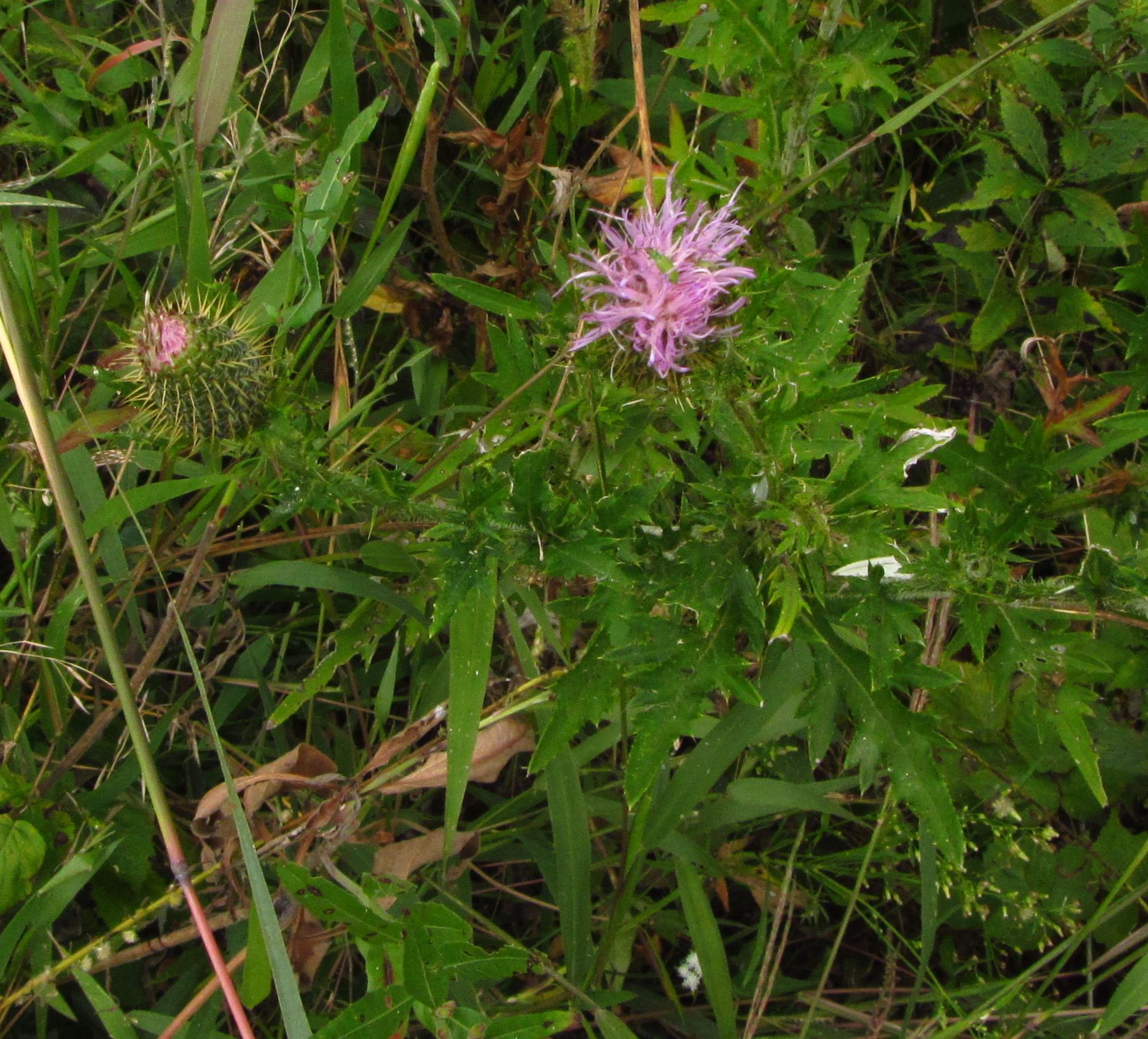 Many plants will have flowerheads in all stages of development: opening, in full flower, and gone to seed.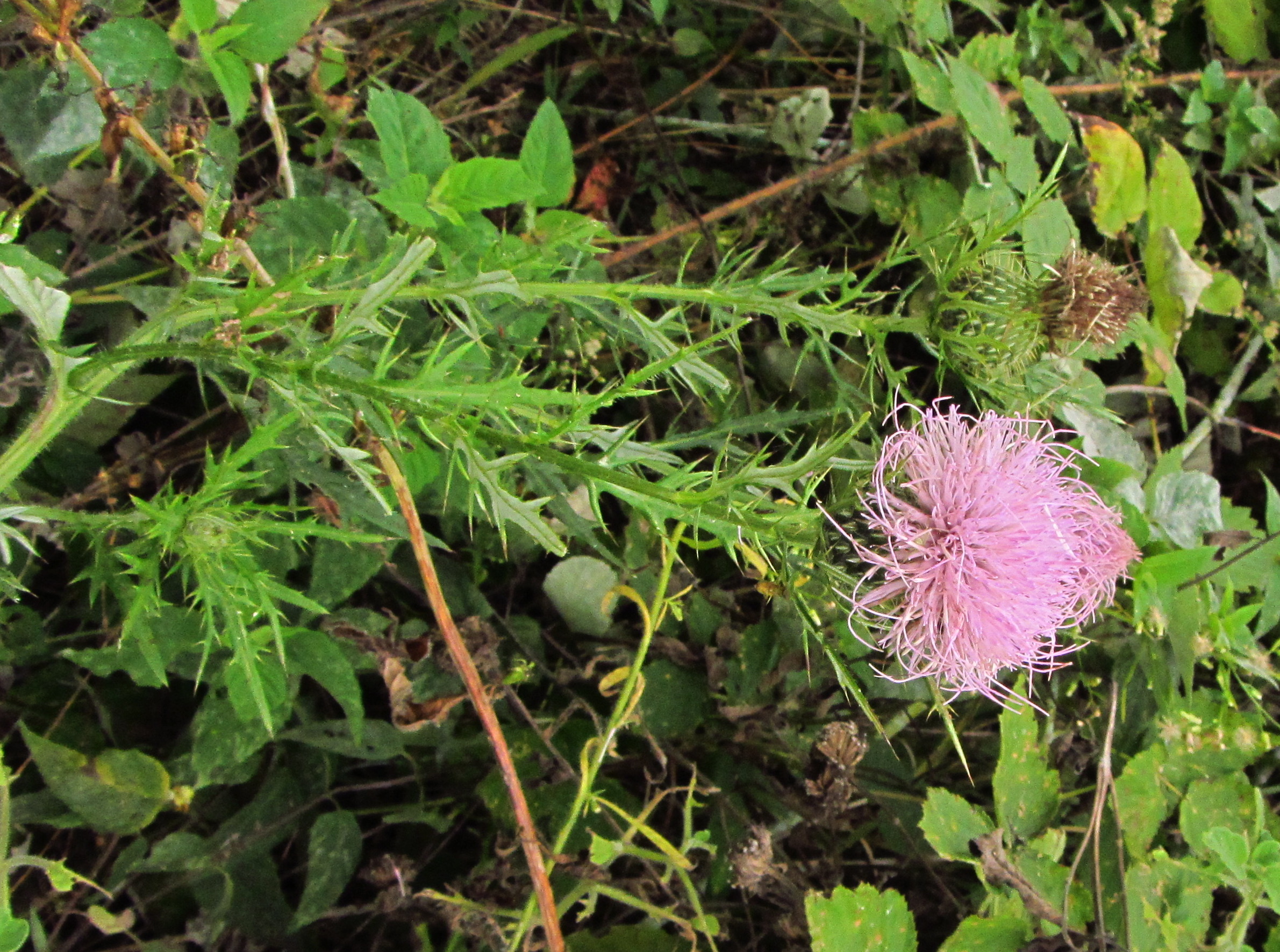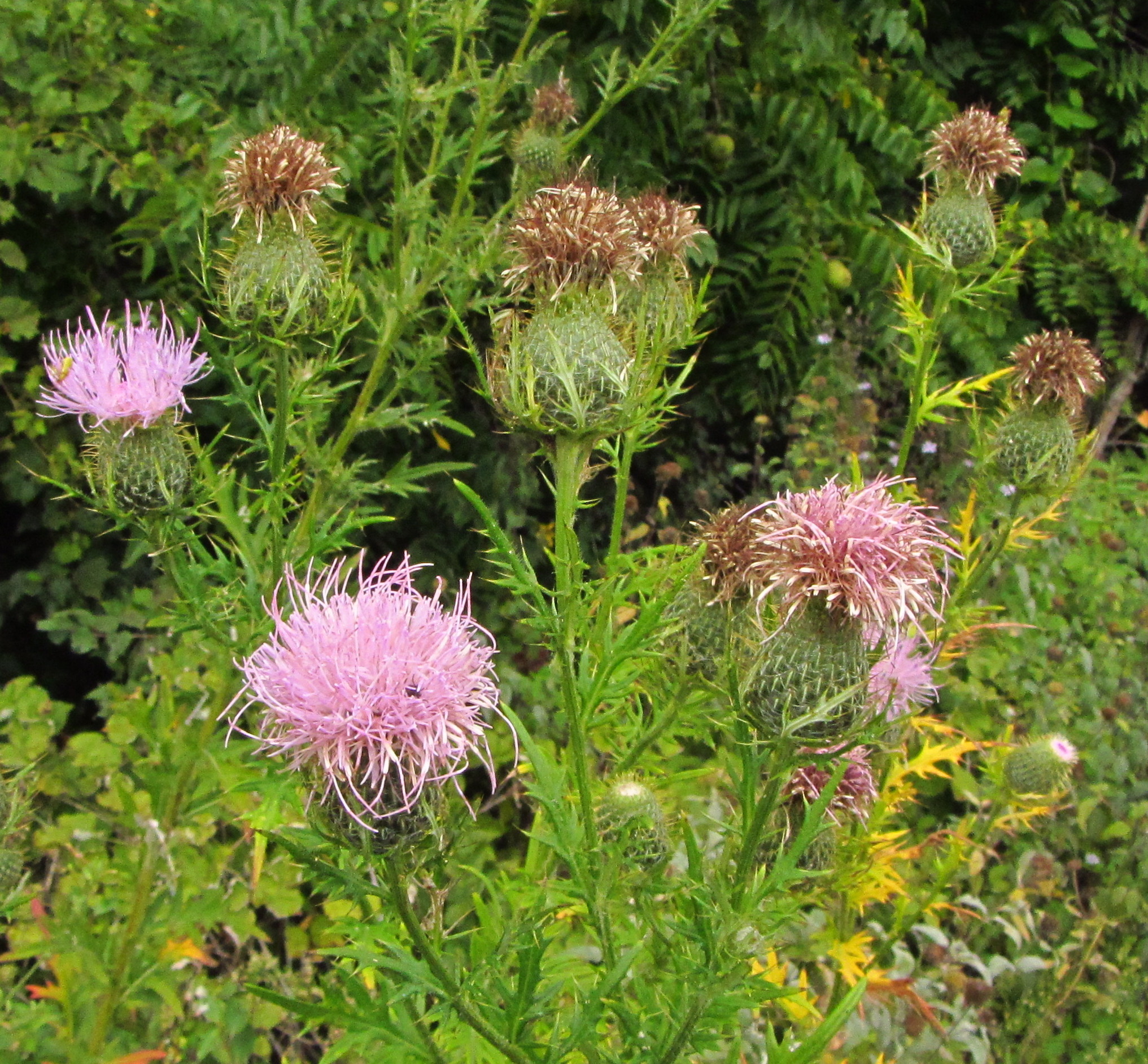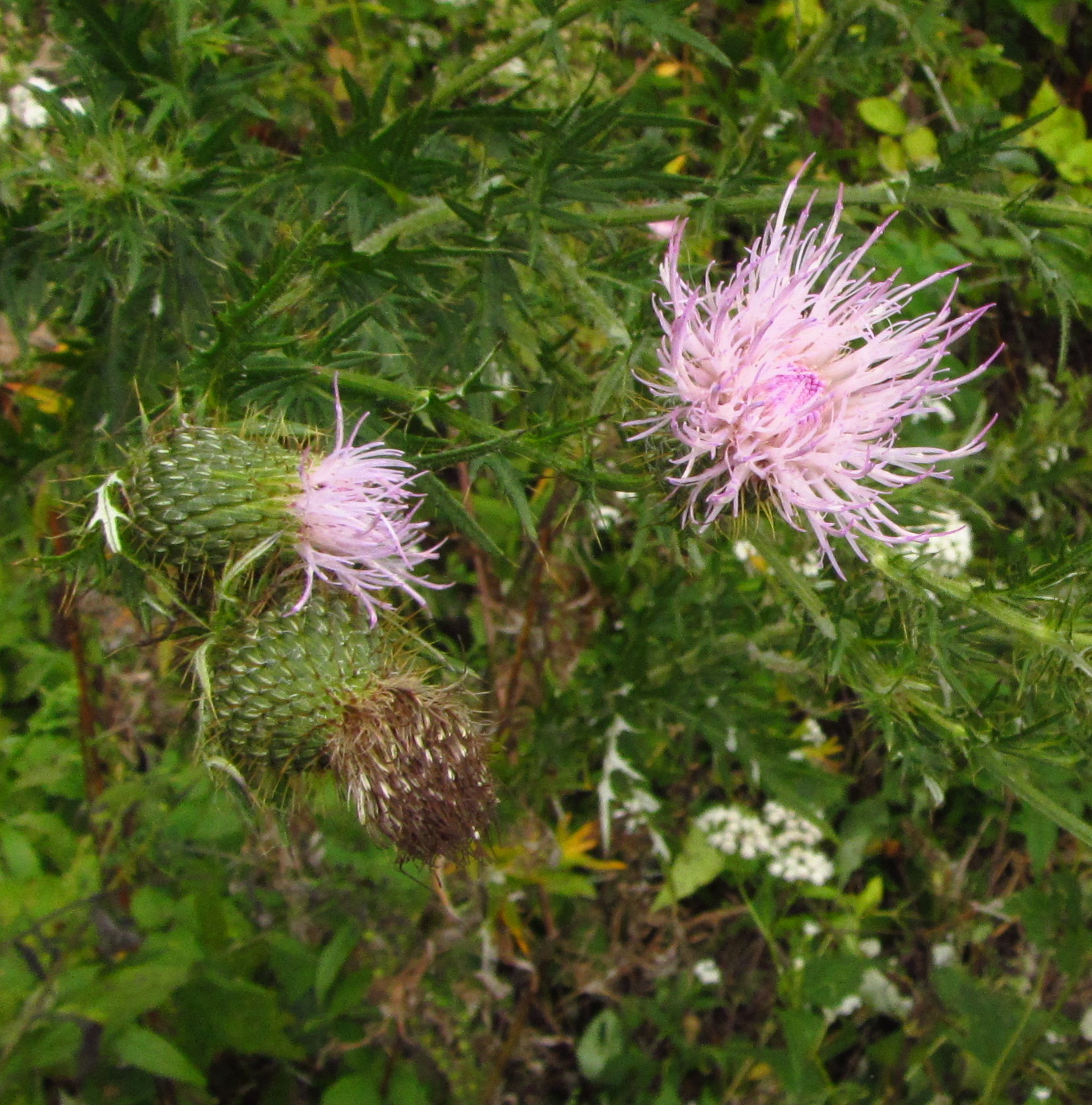 A wide variety of insects pollinate field thistle or feed on its foliage. Tiny bugs were crawling all over the flowerheads around midday.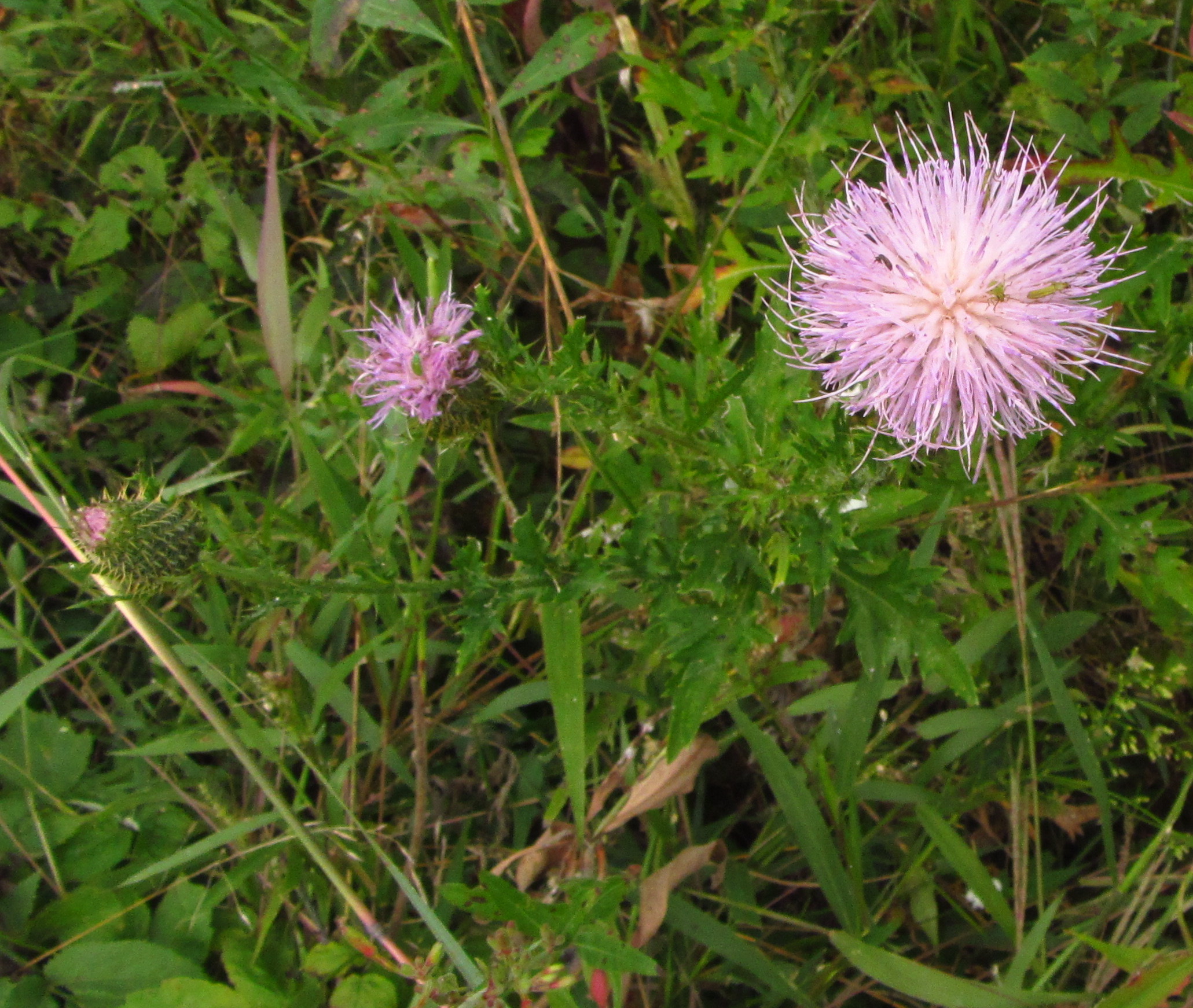 We saw lots of bees on these plants too.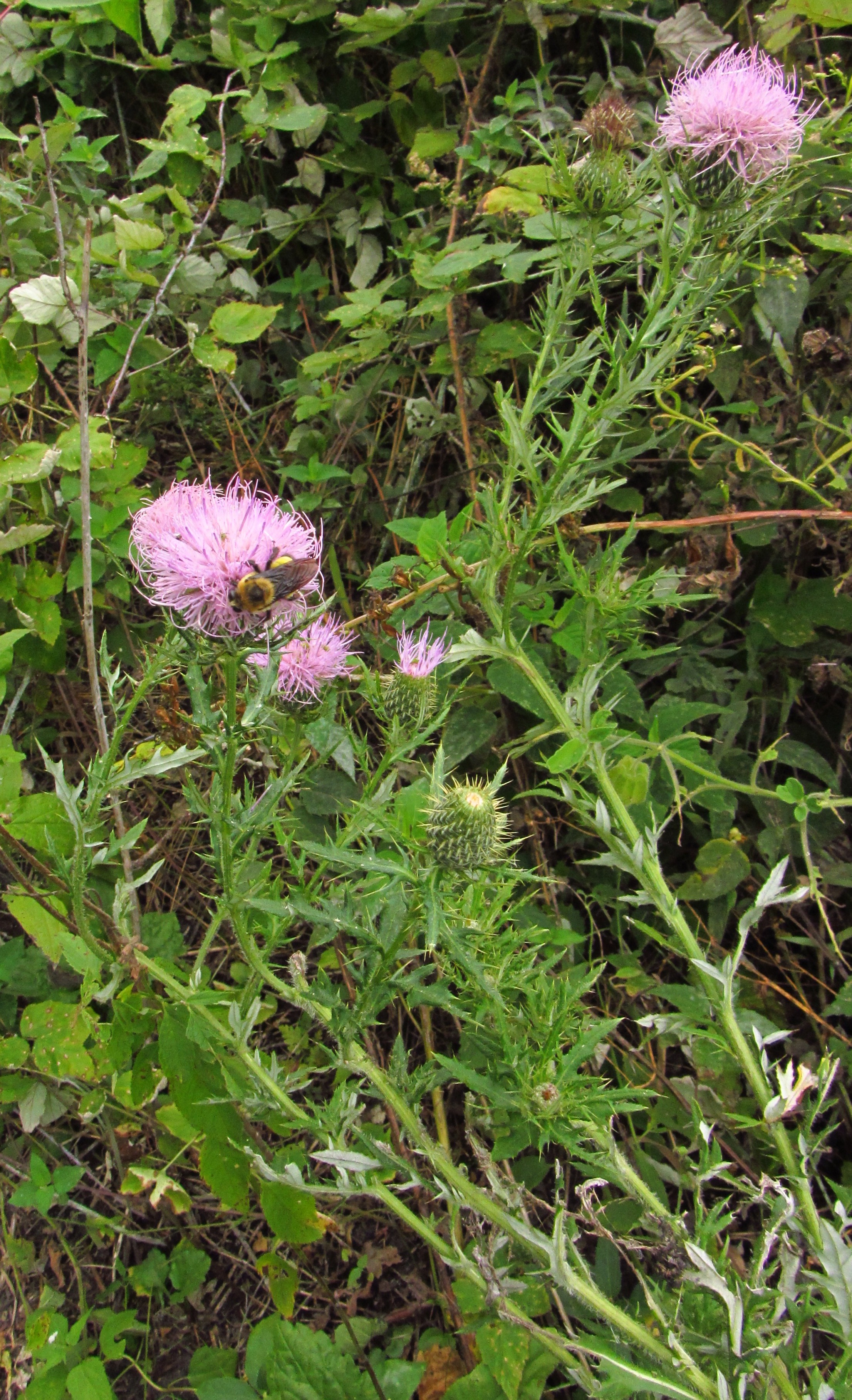 A grasshopper perched on field thistle let me get surprisingly close.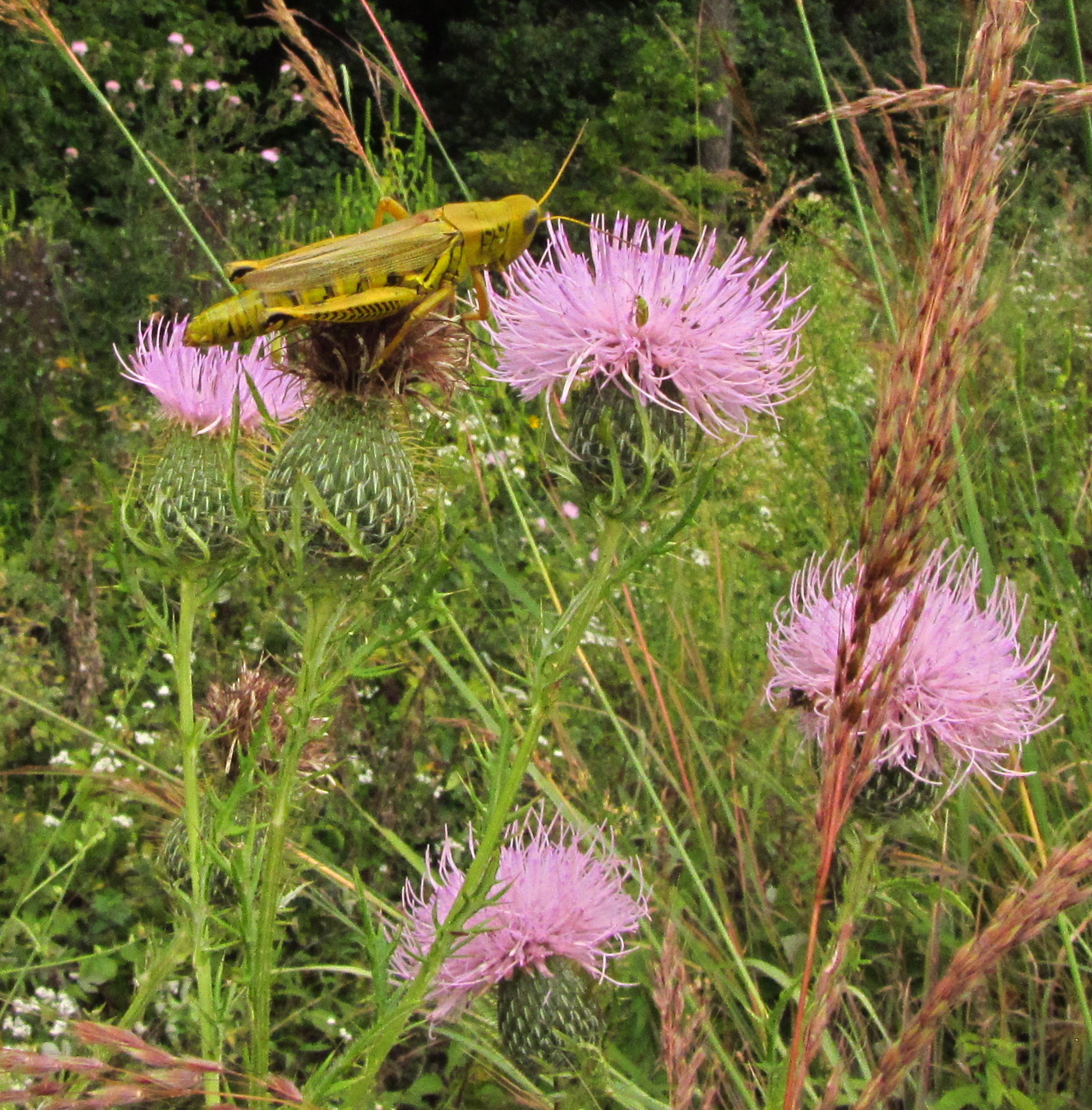 The reddish grasses visible in that picture are Indian grass. This shot provides a better view of them.