Dan Guild puts the latest Iowa caucus poll for the Des Moines Register in historical context. -promoted by Laura Belin
In March of this year, I wrote that Joe Biden's numbers looked weak for a front-runner. When Selzer & Co's last poll of Iowa Democratic caucus-goers came out in June, Biden's numbers were so weak that I wrote he will probably lose Iowa.
Selzer's new Iowa Poll for the Des Moines Register, CNN, and Mediacom finds Biden losing support since the early summer. It also finds a new front-runner in Iowa who is in the midst of a surge nationally as well: Elizabeth Warren.
Before we get to the horse race numbers, let's start with the single most important finding from the poll released on September 21:

"Just one in five likely Democratic caucusgoers say their minds are made up, while 63% say they could still be persuaded to support a different candidate."
That isn't surprising: exit polls in 2004 and 2008 found more than half of Iowa Democratic caucus-goers made up their minds during the final month. Even in 2016, when the Democratic field was much smaller, some 40 percent decided during the final month.
In the coming weeks, we will see news analysis suggesting the race is "over" for this or that candidate. Be skeptical: most voters will not really focus on this race until the last month.
If I were forced to make one prediction about Iowa right now, I would say expect volatility. Expect at least one candidate who has not yet registered good poll numbers to break through. Expect one of the top candidates to finish fourth or worse.
Let's get to the numbers from Selzer's new poll.
Elizabeth Warren: 22 percent
Joe Biden: 20 percent
Bernie Sanders: 11 percent
Pete Buttigieg: 9 percent
Kamala Harris: 6 percent
Cory Booker and Amy Klobuchar: 3 percent
Tulsi Gabbard, Beto O'Rourke, Tom Steyer, Andrew Yang: 2 percent
Biden is in second place, only 2 points behind Warren, so why do I think he will lose?
Iowa front-runners under 30 at this point rarely win. In general, front-runners are well known. Biden was a popular Democratic president's vice president for eight years. Despite this enormous advantage in name recognition, over 75 percent of Iowa Democrats are currently unwilling to commit to him.
The similarity to Hillary Clinton's position before the 2008 caucuses is striking. Both candidates had ties to a popular Democratic president. Both started with N=national leads. But neither polled well in Iowa. History tells us that it is very hard for front-runners to overcome this problem. In Iowa, it has never happened. A national front-runner has never been under 30 and been able to come back and win Iowa.
This table shows past Iowa numbers from polling in September before the caucuses (click to enlarge).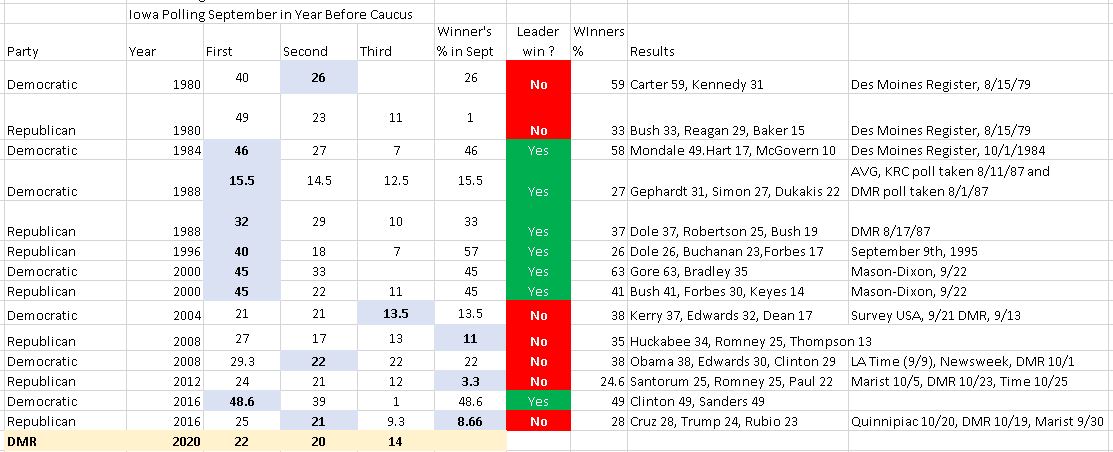 Of course just because it has never happened before does not mean it can't happen in 2020.
So if Biden is going to lose Iowa, will Warren win it? This table shows the movement in national polls this year.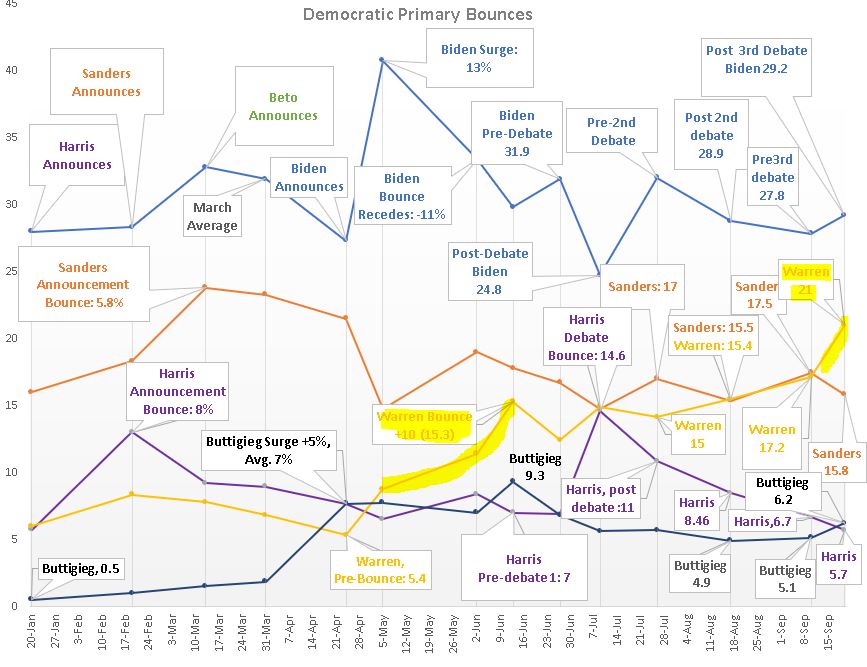 Warren has gained ground nationally since the debates, and Selzer's poll suggests that the same is true in Iowa. Warren's surge is not just in her trial heat numbers. Her favorable numbers are now the best in Iowa as well. In some ways, her rise reminds me of Barack Obama's in 2008.
It also reminds me of Howard Dean's trajectory during the 2004 election cycle. Dean took the lead in both Iowa and nationally in the fall of 2003, but finished third in the January 2004 caucuses.
So is Warren Obama or Dean? It is far too early to know at this point.
Bernie Sanders' numbers in this poll are troubling. Beyond his decline in the first choice numbers, both his favorable numbers and his "being considered" numbers have fallen since June. It is worth noting that in other recent Iowa polling, he fares better.

Two final points:
1. A number of candidates who are not people's first choice are nevertheless being considered. I expect one of them--Amy Klobuchar, Beto O'Rourke, Pete Buttigieg, or Cory Booker--to break out.
I would also note that while Kamala Harris has given back much of what she gained from the first debate, she is still clearly in the minds of many Iowa voters. I would not write off any of these candidates at this point.
Note in particular Buttigieg's numbers. While his first choice numbers have dropped, his being considered numbers are up substantially, as is the case for Warren.

2. Iowa's whiteness is part of the reason Biden is in trouble there. Polling has shown that Biden has a significant advantage among African Americans. He will probably lose Iowa, but that does not mean he cannot win the Democratic nomination.