White snakeroot (Ageratina altissima) occupies a tragic place in U.S. history, having indirectly caused thousands of deaths during the 19th century. The Plants that Kill book explains.
When Europeans started to settle in the Midwest region of the United States in the 1800s, they and their livestock began to fall ill. The animals developed violent trembling when they were forced to move or became agitated, and the disease became known as trembles. People who drank the milk of affected animals developed so-called milk sickness, and it is estimated that in some areas of Indiana and Ohio 25–50 per cent of the deaths of early settlers were caused by this condition. One casualty in 1818 was Nancy Hanks Lincoln, whose son, nine years old at the time, would become President Abraham Lincoln.
The National Park Service website for the Lincoln Boyhood National Memorial in Indiana adds more context.
The illness was most common in dry years when cows wandered from poor pastures to the woods in search of food. In man, the symptoms are loss of appetite, listlessness, weakness, vague pains, muscle stiffness, vomiting, abdominal discomfort, severe constipation, bad breath, and finally coma. [...]

Milk sickness or "trembles" was more prevalent in late summer and early fall, but records show that many cases occurred in the winter and early summer also.
White snakeroot will do you no harm, as long as you don't consume milk from animals that have grazed on it. That's good news, because this plant is among the most prevalent late summer wildflowers in shady, woodland habitats, especially in damp areas. If you've been on a trail running near an Iowa river or creek lately, you've probably seen some blooming. It's native to almost all of the U.S. and Canada east of the Rocky Mountains.

The Illinois Wildflowers and Minnesota Wildflowers are good resources for botanically accurate descriptions of white snakeroot foliage and flowers.
Stems and leaves appear months before the blooming period. The tallest plants in this spring photo are white snakeroot. Immediately behind them, you can see common black snakeroot foliage low to the ground. Some downy yellow violets are flowering near the top of the frame.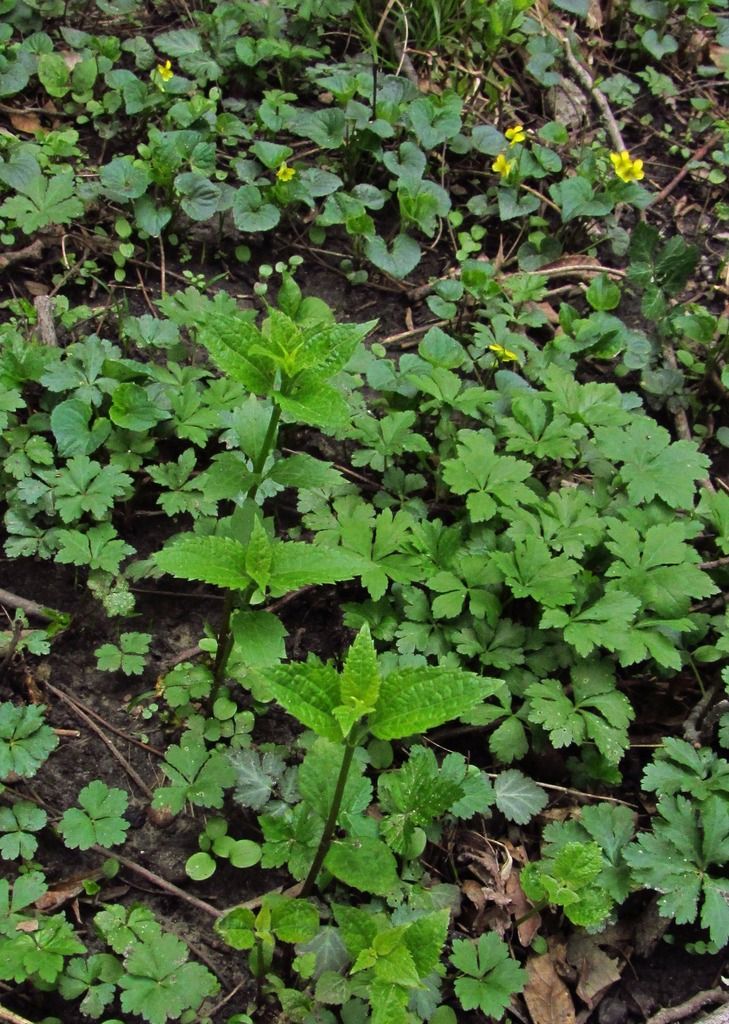 Here's a view of white snakeroot plants in the late spring or early summer, before buds appear.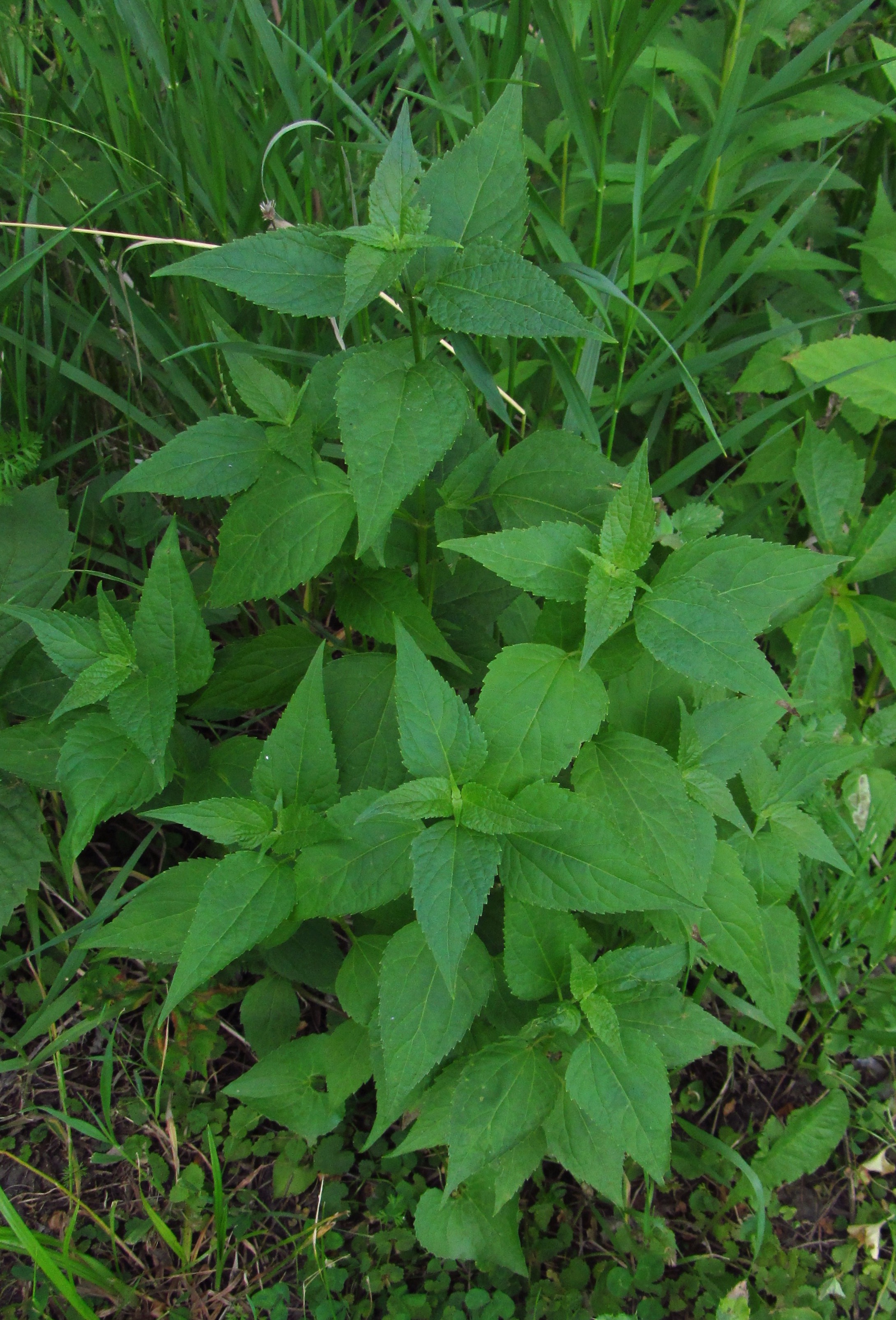 The next three pictures show plants with buds and flowers near the beginning of the blooming period.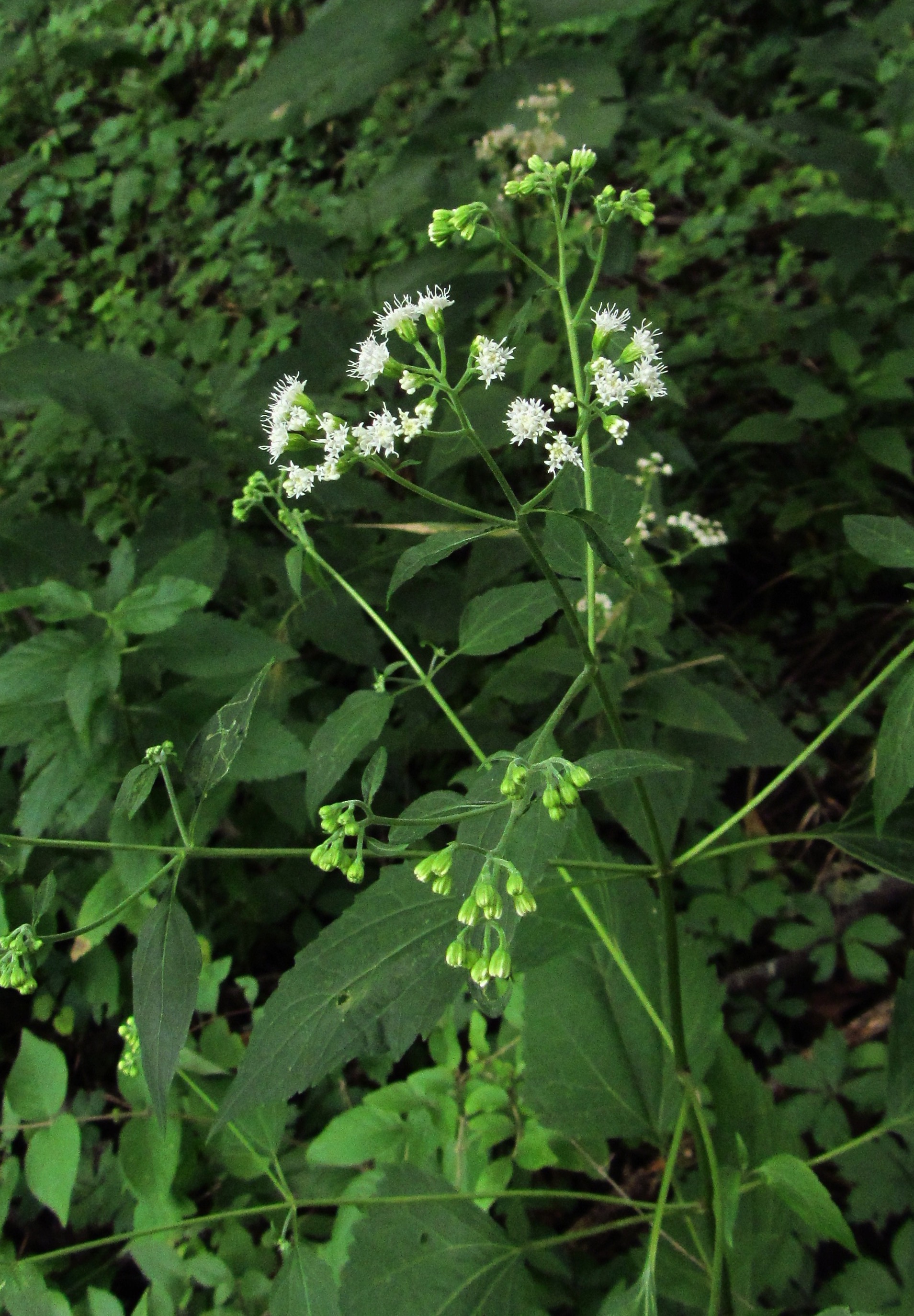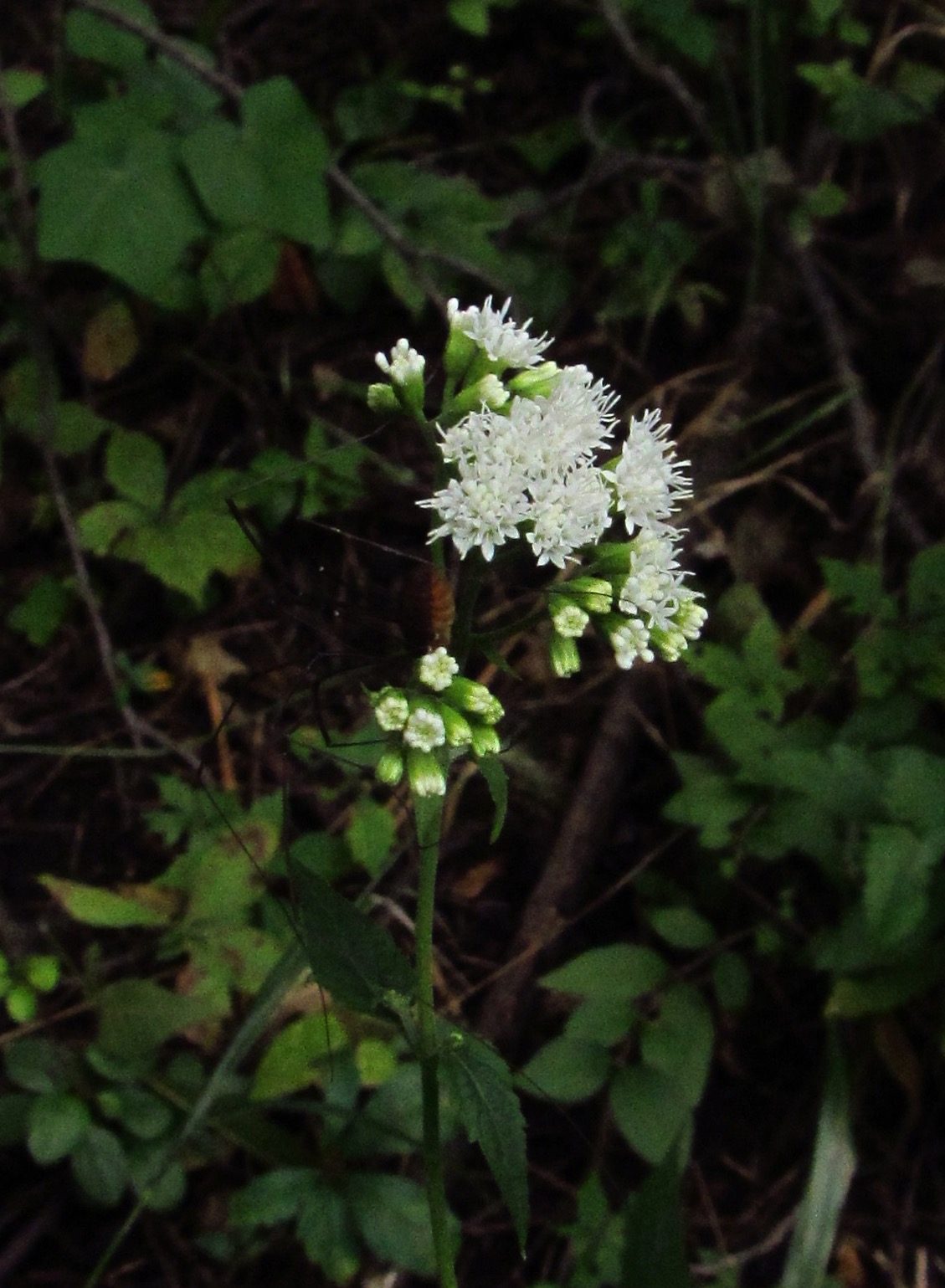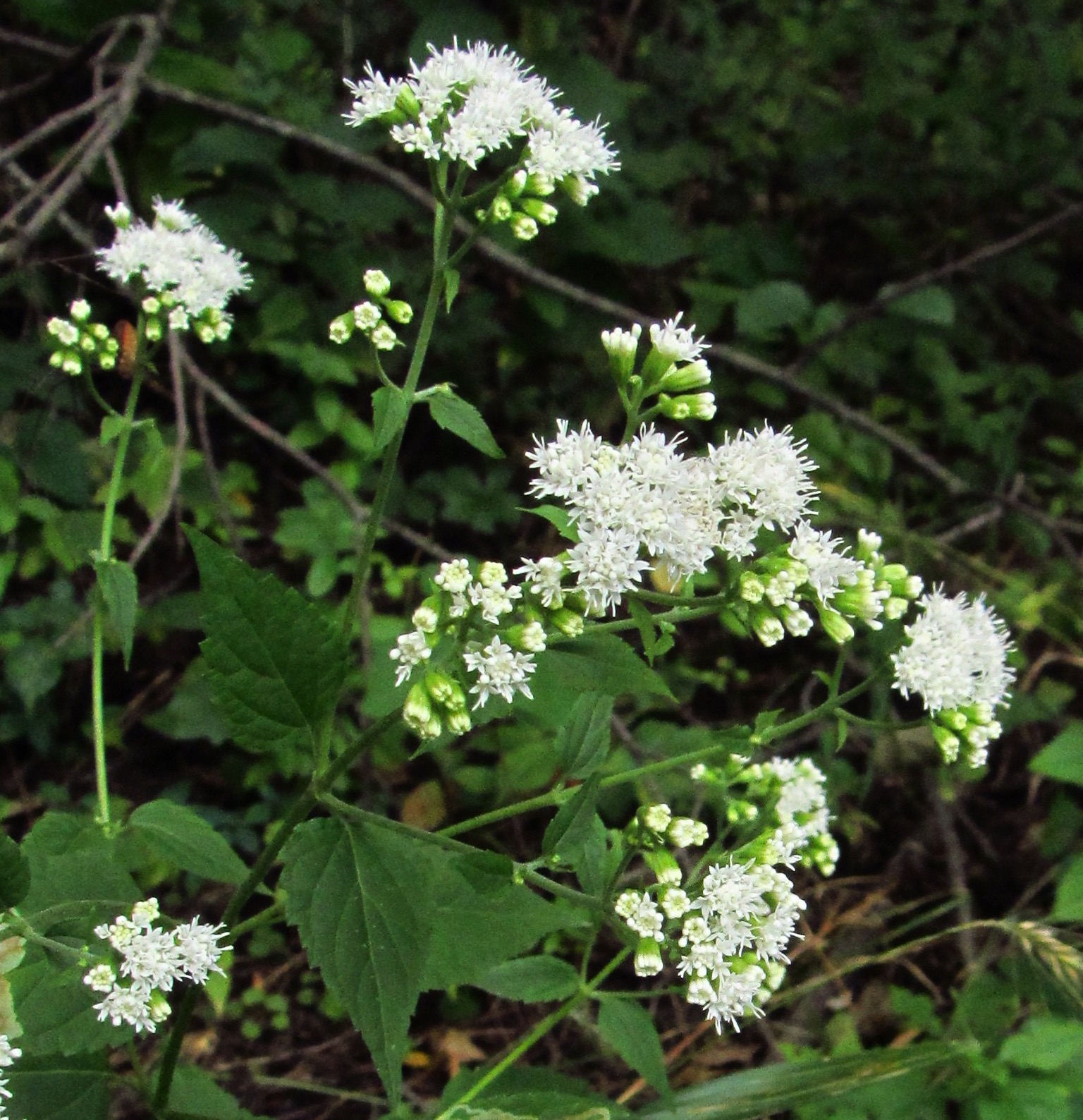 More plants in full flower: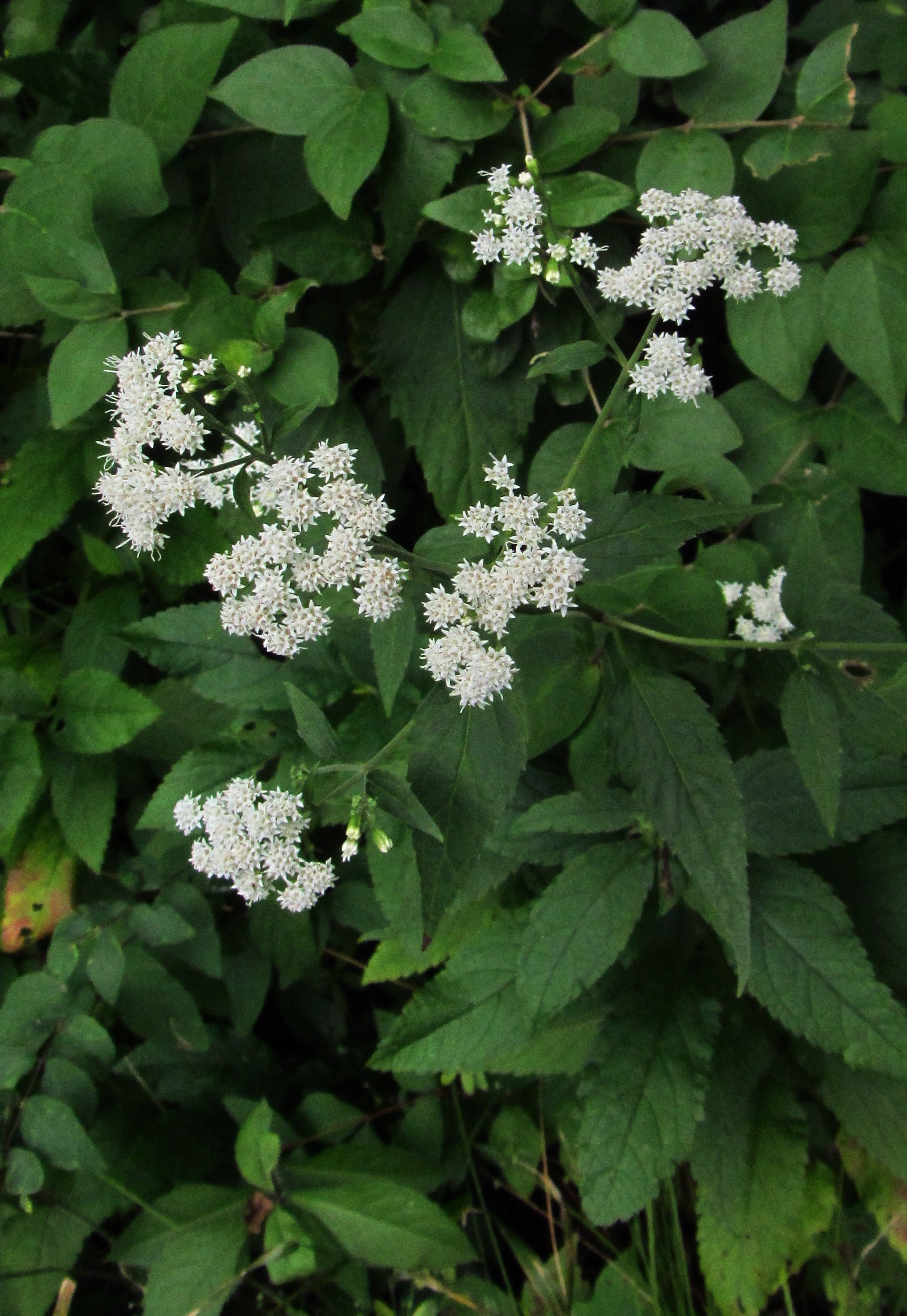 Illinois Wildflowers notes, "This species is especially common in wooded areas that are rather disturbed and degraded, although it also occurs at higher quality sites." I love tough wildflowers that can survive in poor conditions, so I was excited to see white snakeroot growing out of a crack in our front sidewalk this year.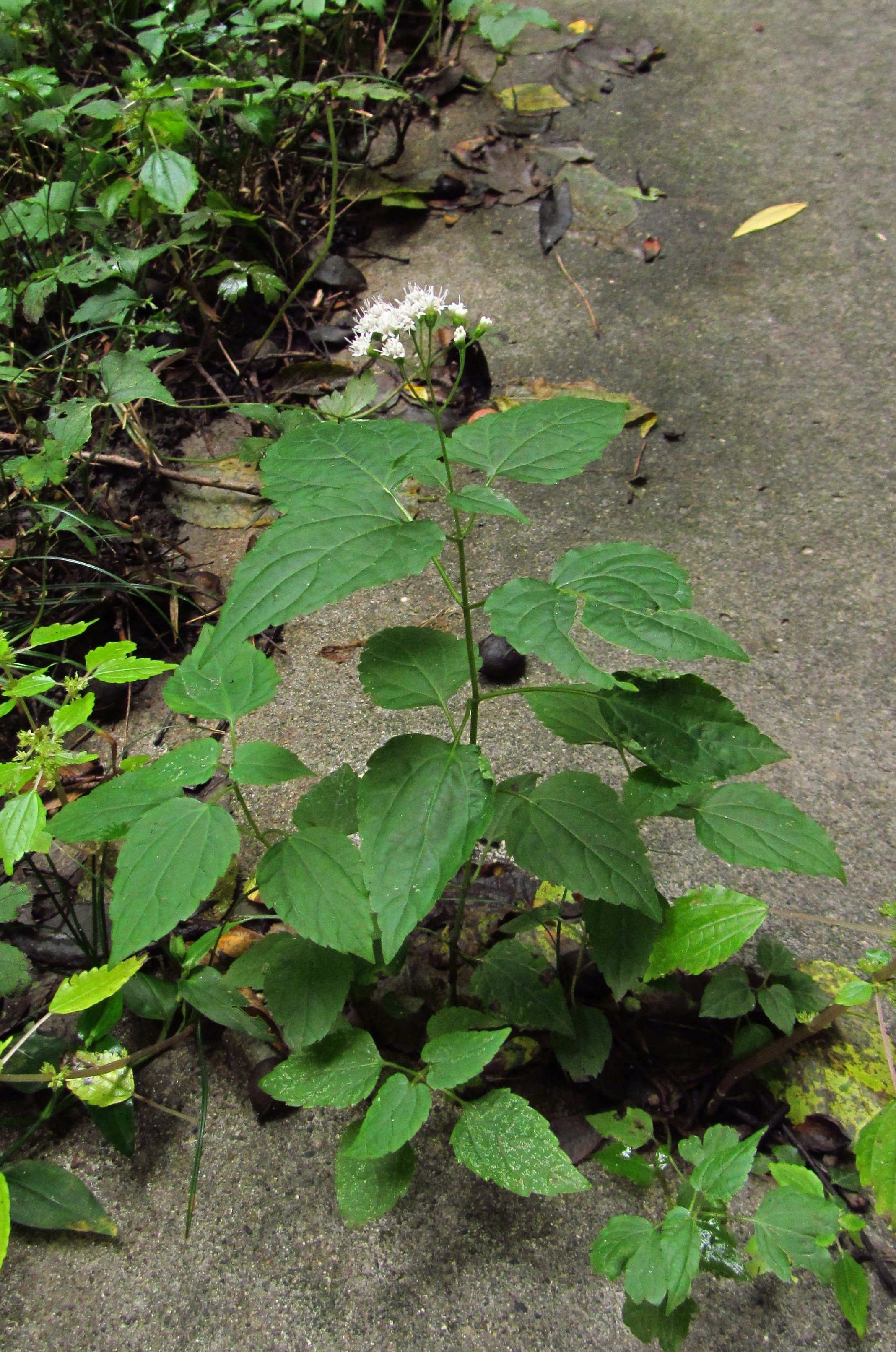 Most white snakeroot plants grow to a height between one and four feet, but I've seen shorter ones. This plant couldn't have been more than seven or eight inches tall. The leaves aren't normally that shiny; it had just stopped raining when I took this picture.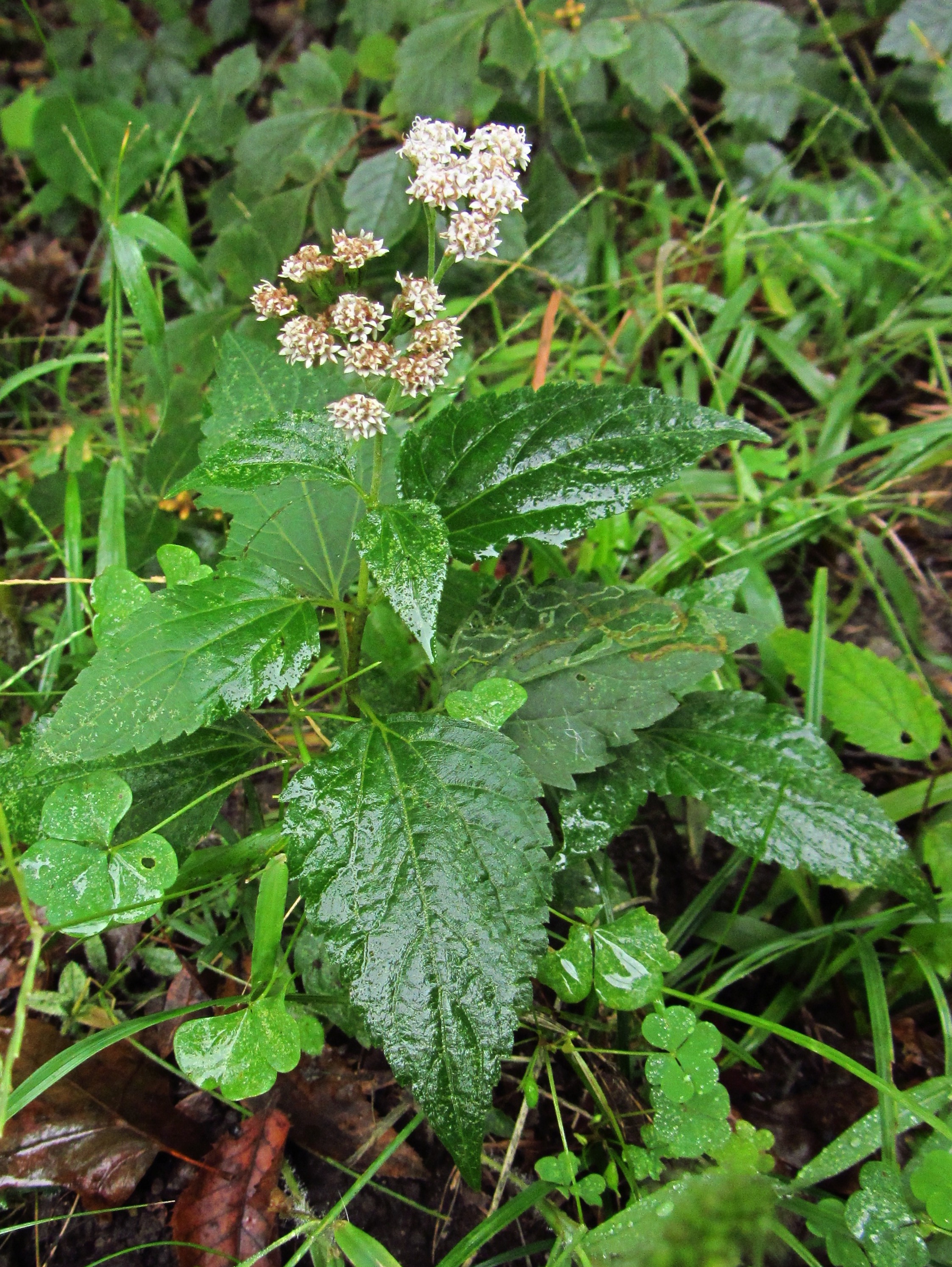 Lora Conrad commented recently that she's never seen as much white snakeroot as this year. The next three photographs are hers. Here's a huge stand in a southeast Iowa woodland.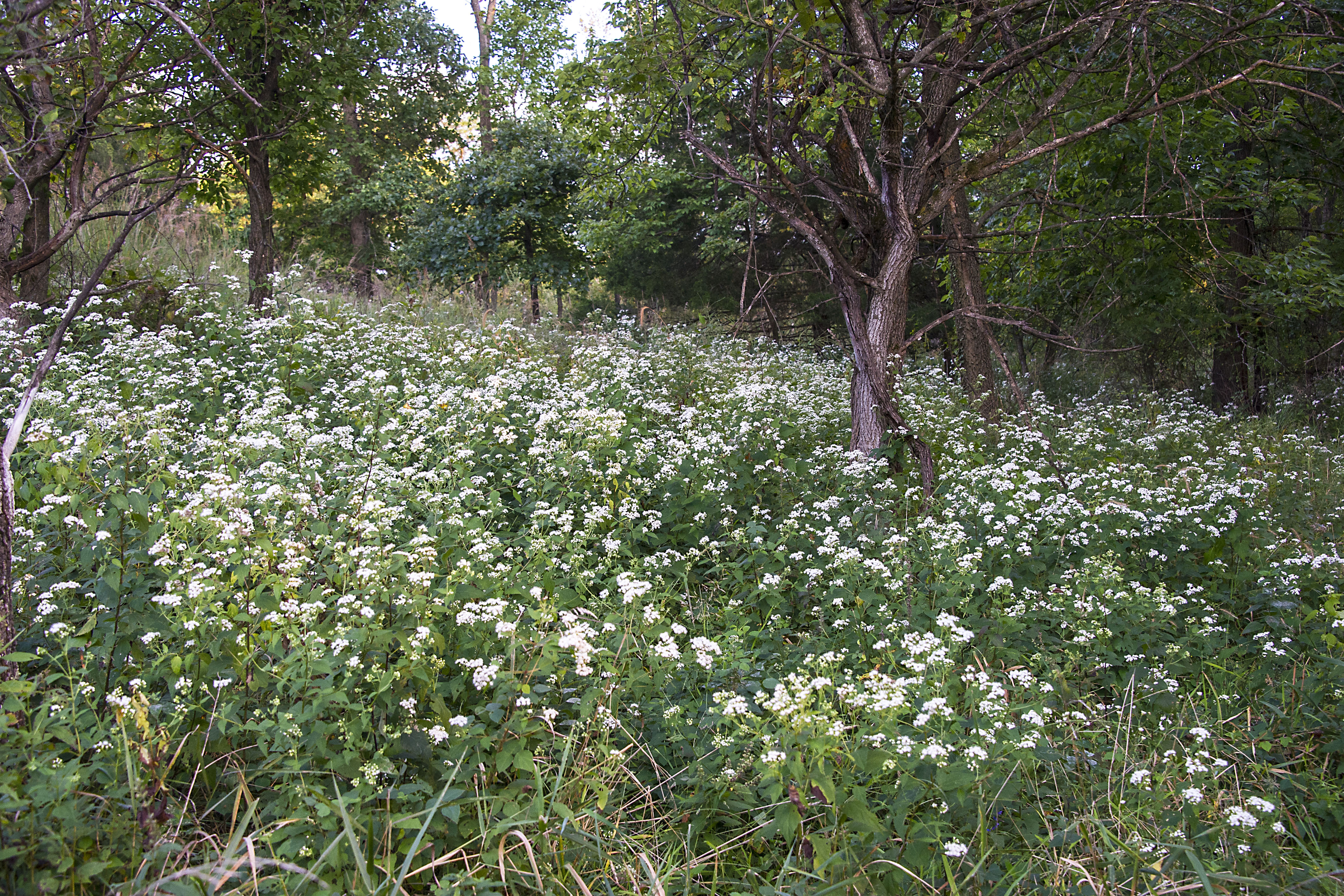 Bumblebee visiting the flowers: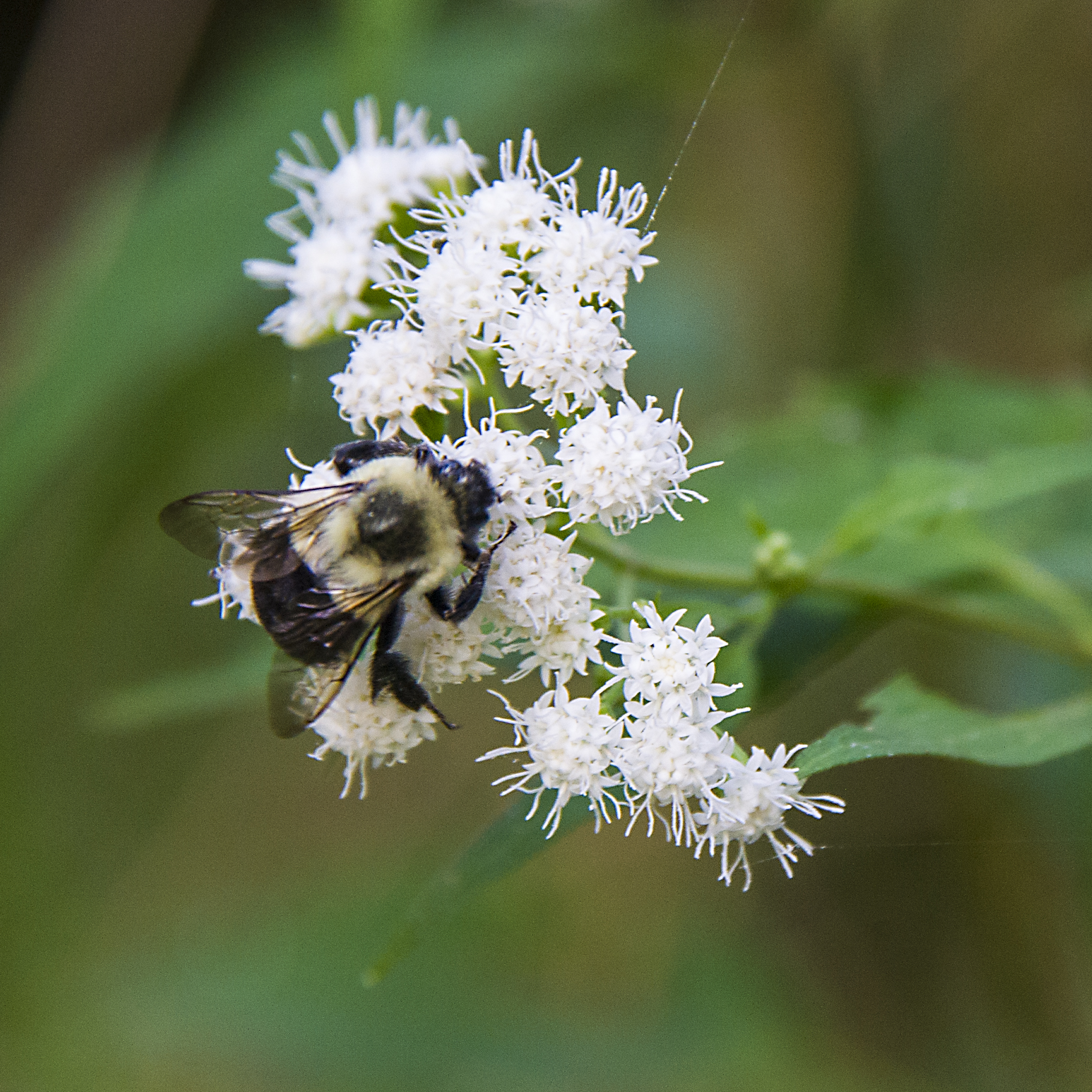 Both great blue lobelia (pictured here) and white snakeroot thrive in wet habitats.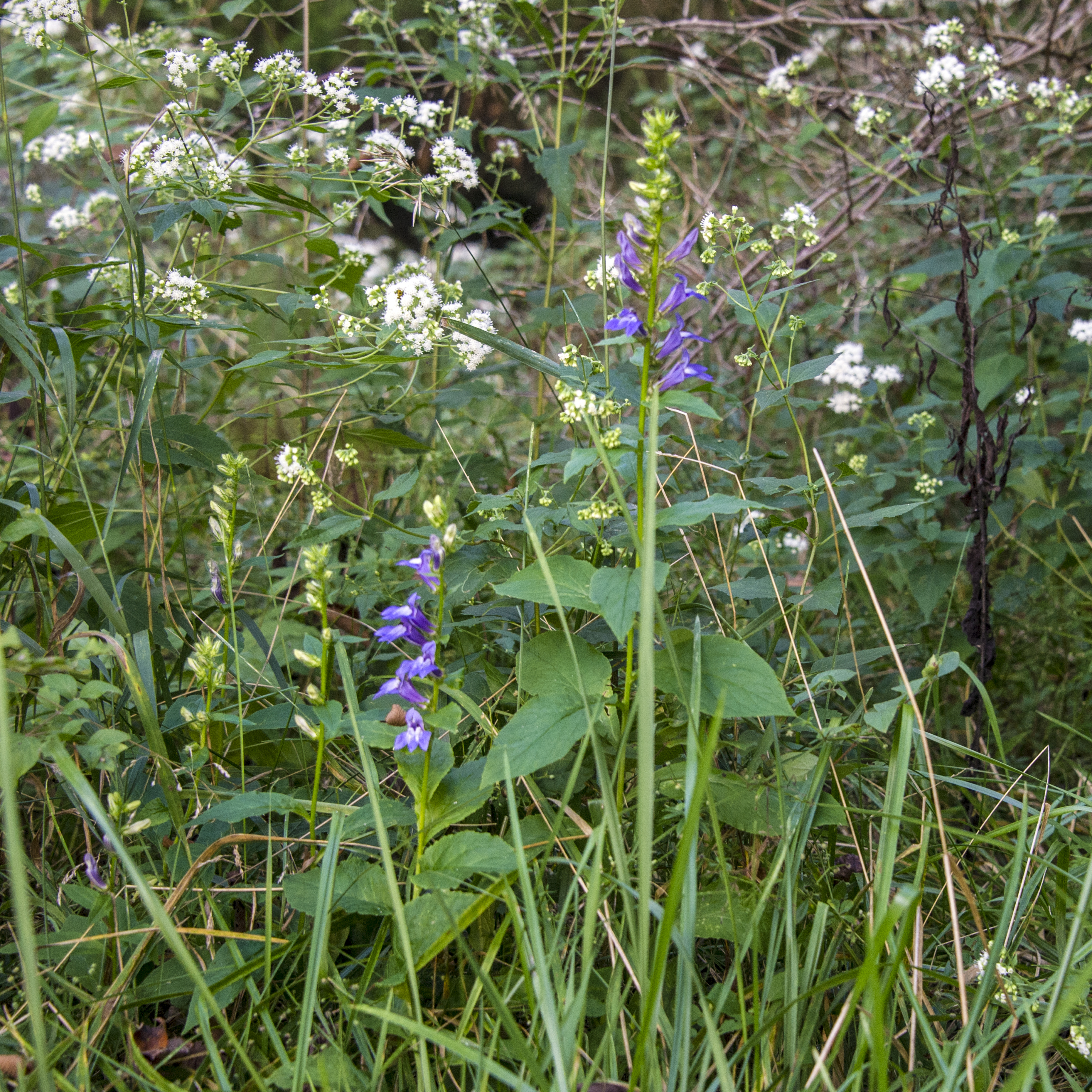 Back to my photographs. Two years ago, I saw a painted lady butterfly sampling white snakeroot flowers in our yard.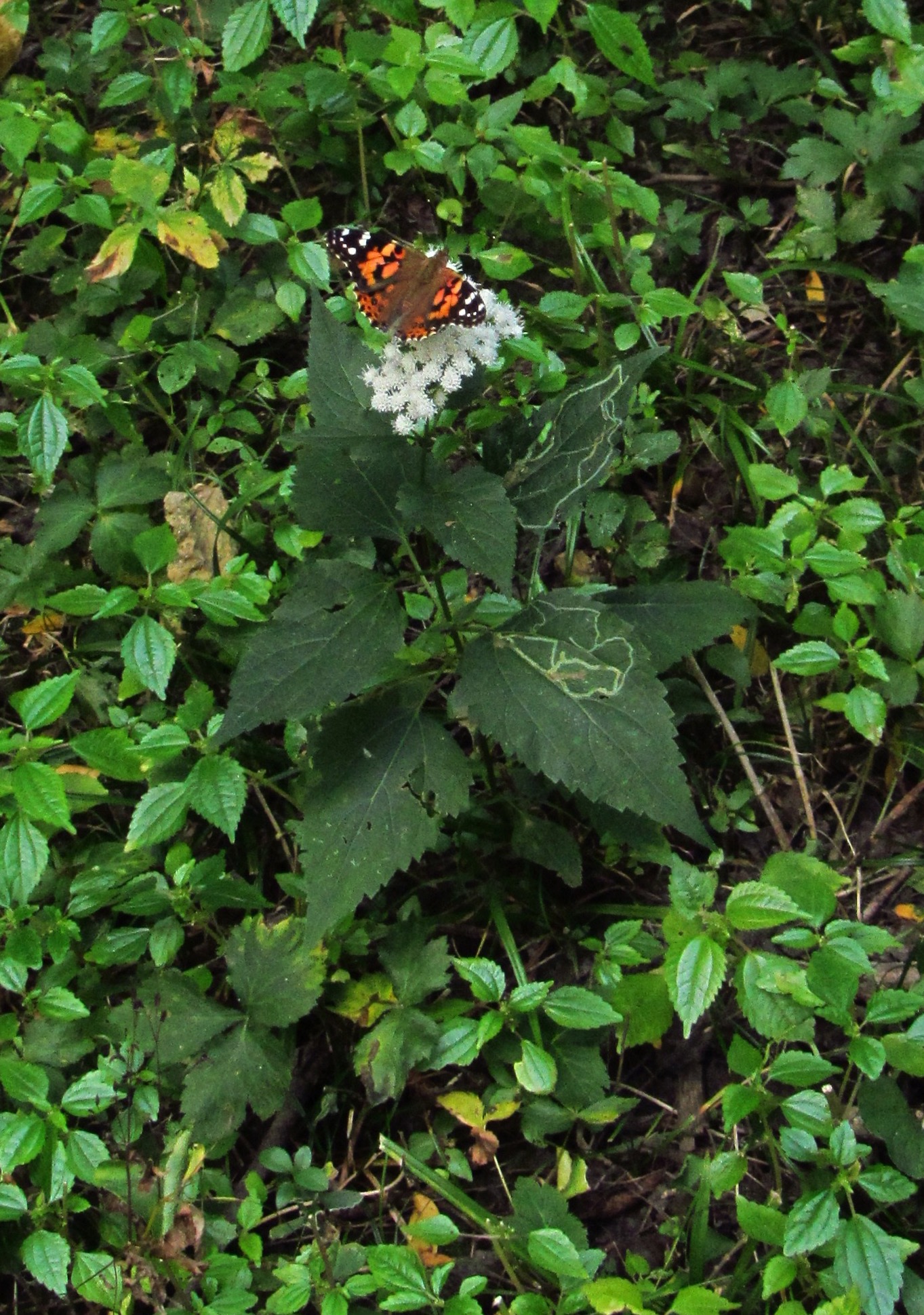 Close to my home this summer, some white snakeroot flowers were peeking out from under a larger sweet Joe-Pye weed plant.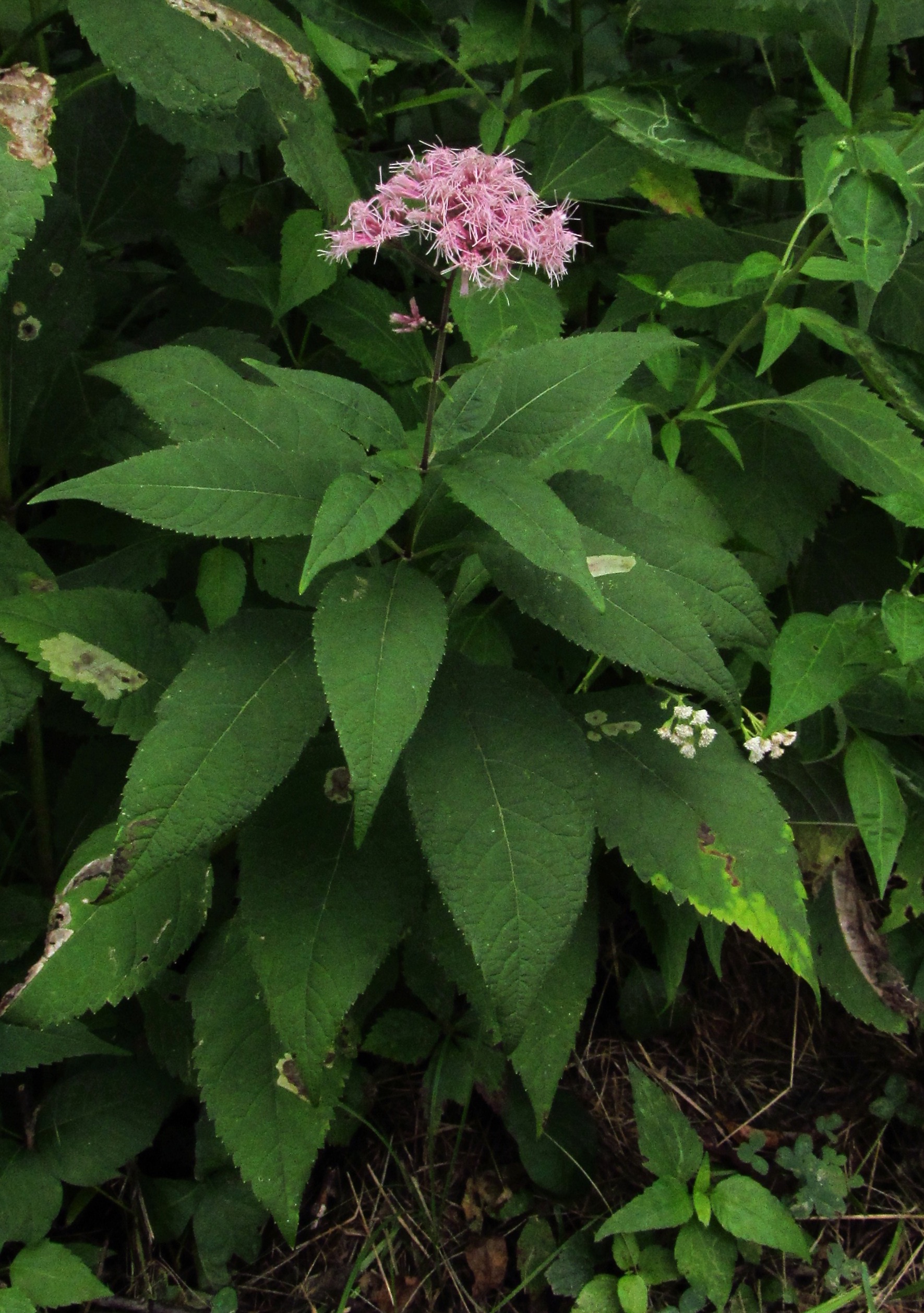 Last year, I put together a photo diary of plants recovering after a massive flood of Walnut Creek. The sand around this white snakeroot plant was left behind after the floodwaters receded.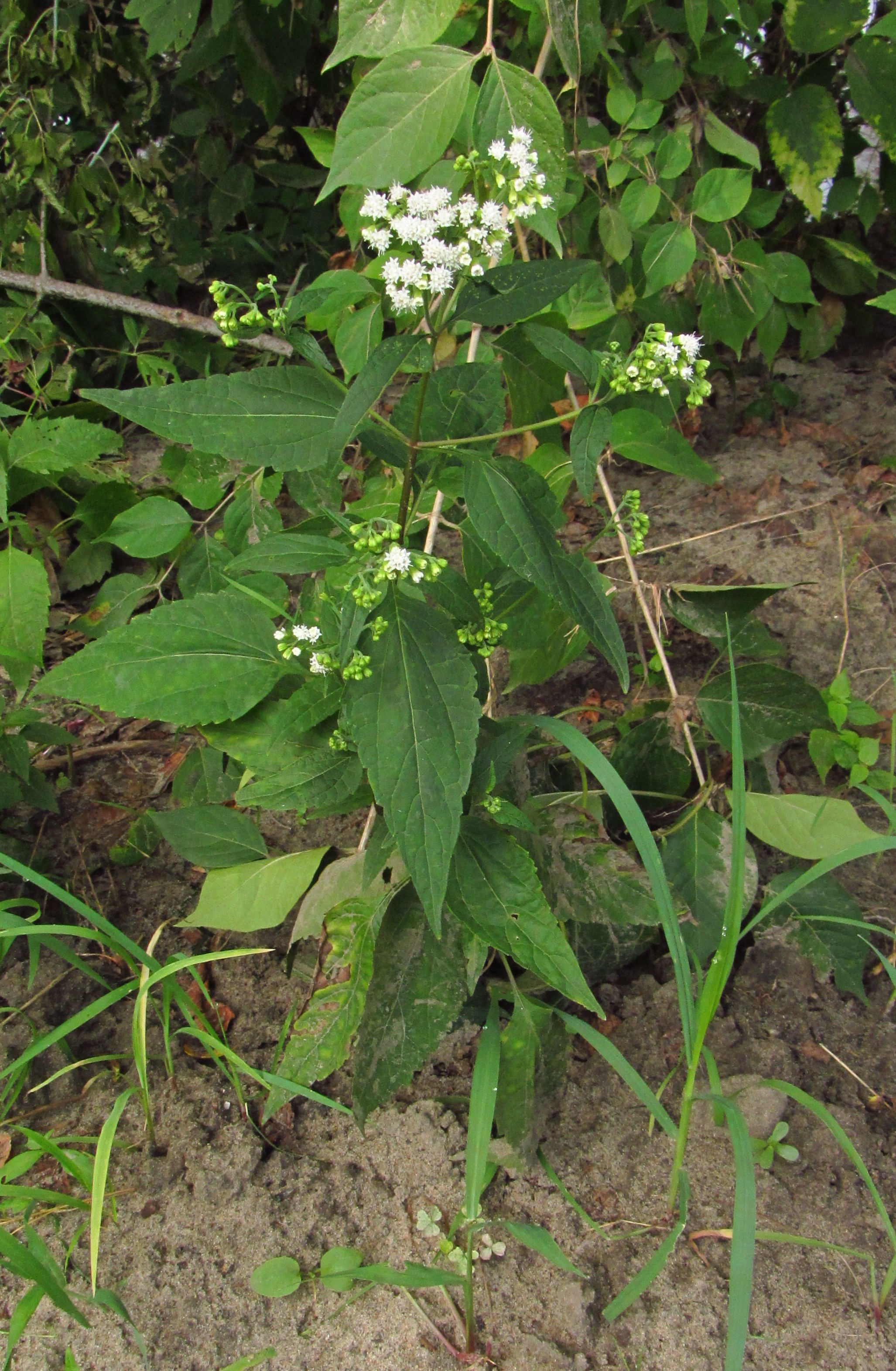 Illinois Wildflowers describes what happens after the flowers fade: "each disk floret in a flowerhead is replaced by an achene with a small tuft of white hairs. These achenes are 2-3 mm. long, narrowly oblongoid in shape, 5-ribbed, and black; they are distributed by the wind." Here's what it looks like: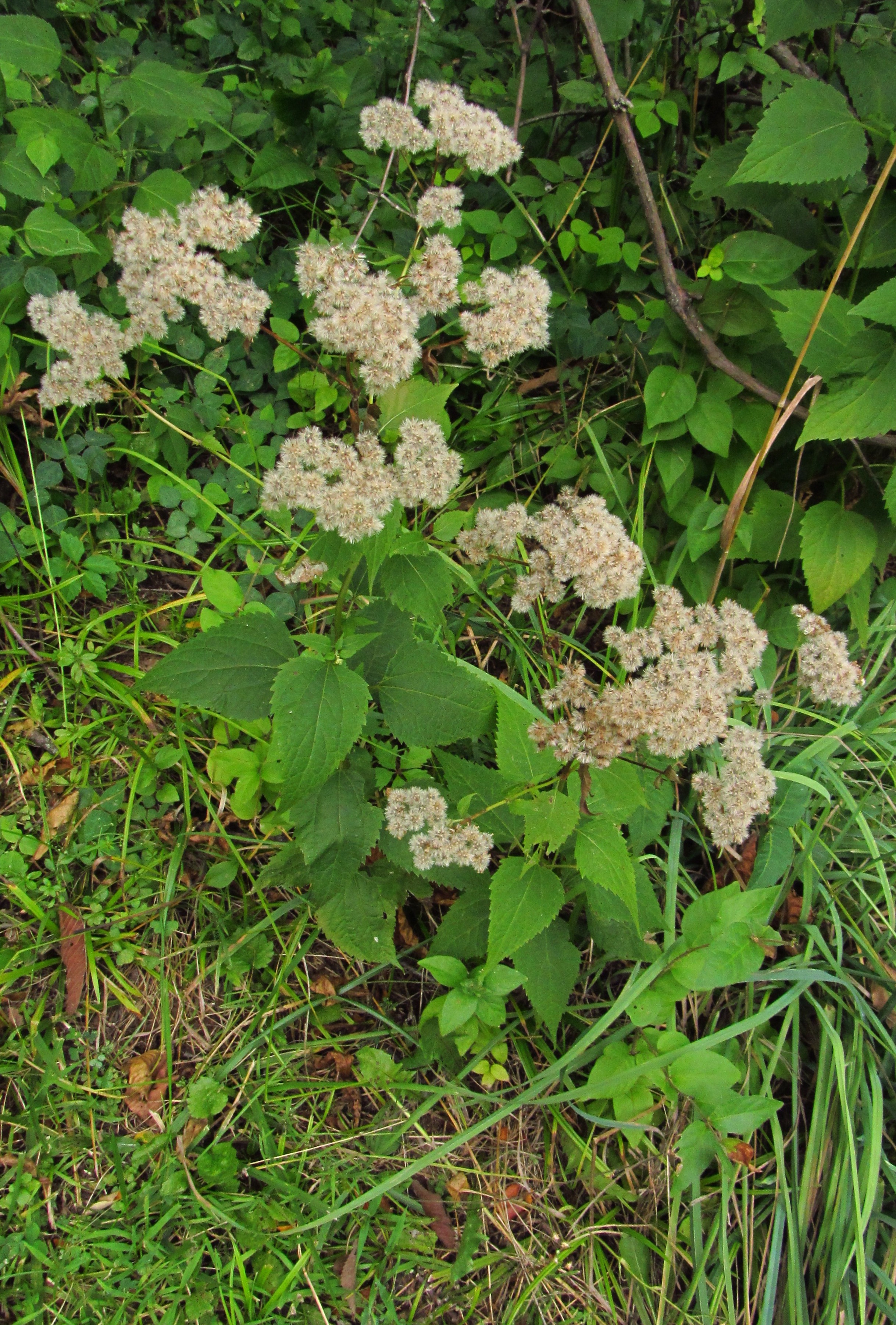 The plant in the lower left corner is Canada or American gerrymander, which probably finished blooming in July.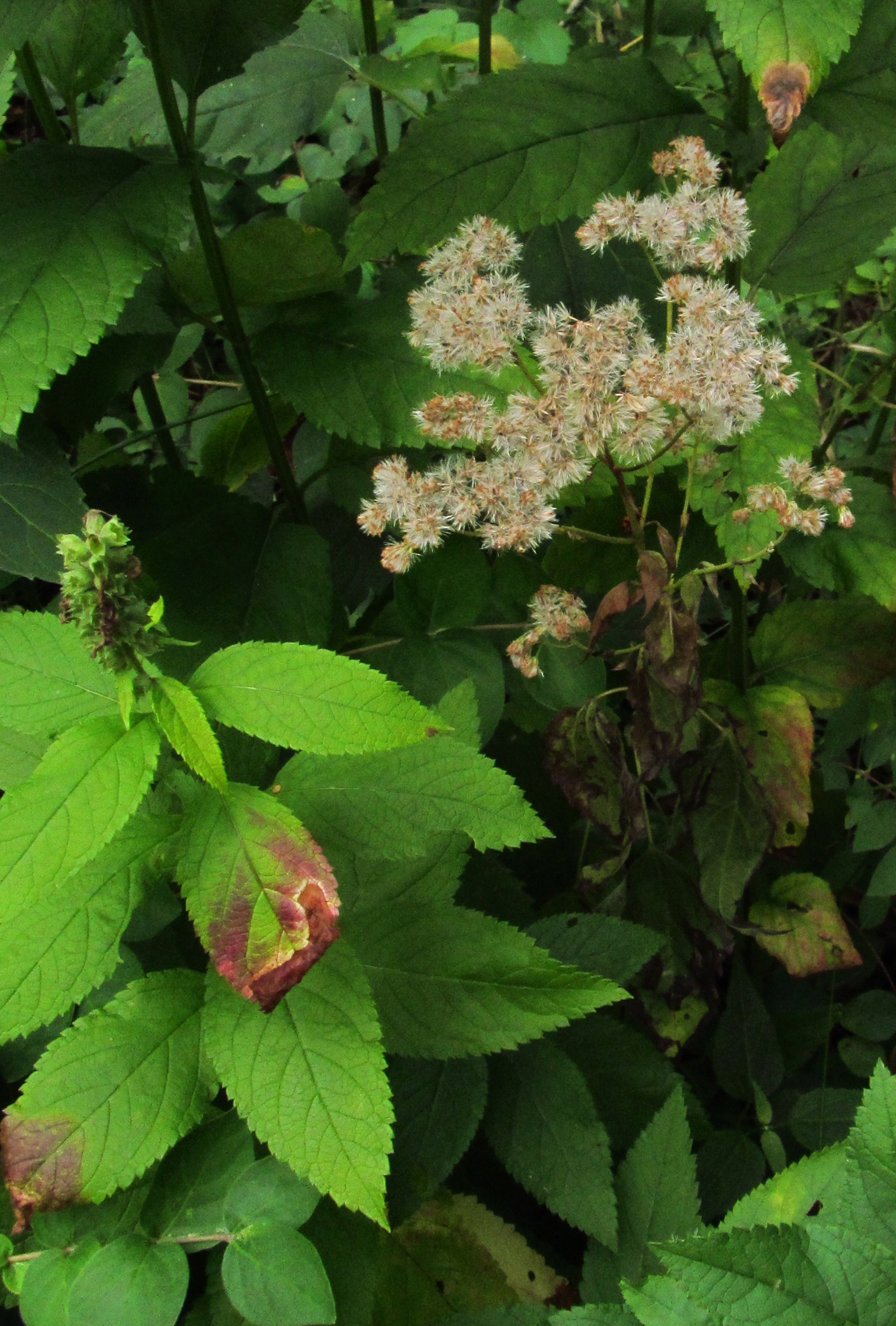 Even in the same area, white snakeroot plants may bloom at different times. In this shot, the plant near the bottom of the frame is budding, flowers are open near the top, and achenes are visible in the middle.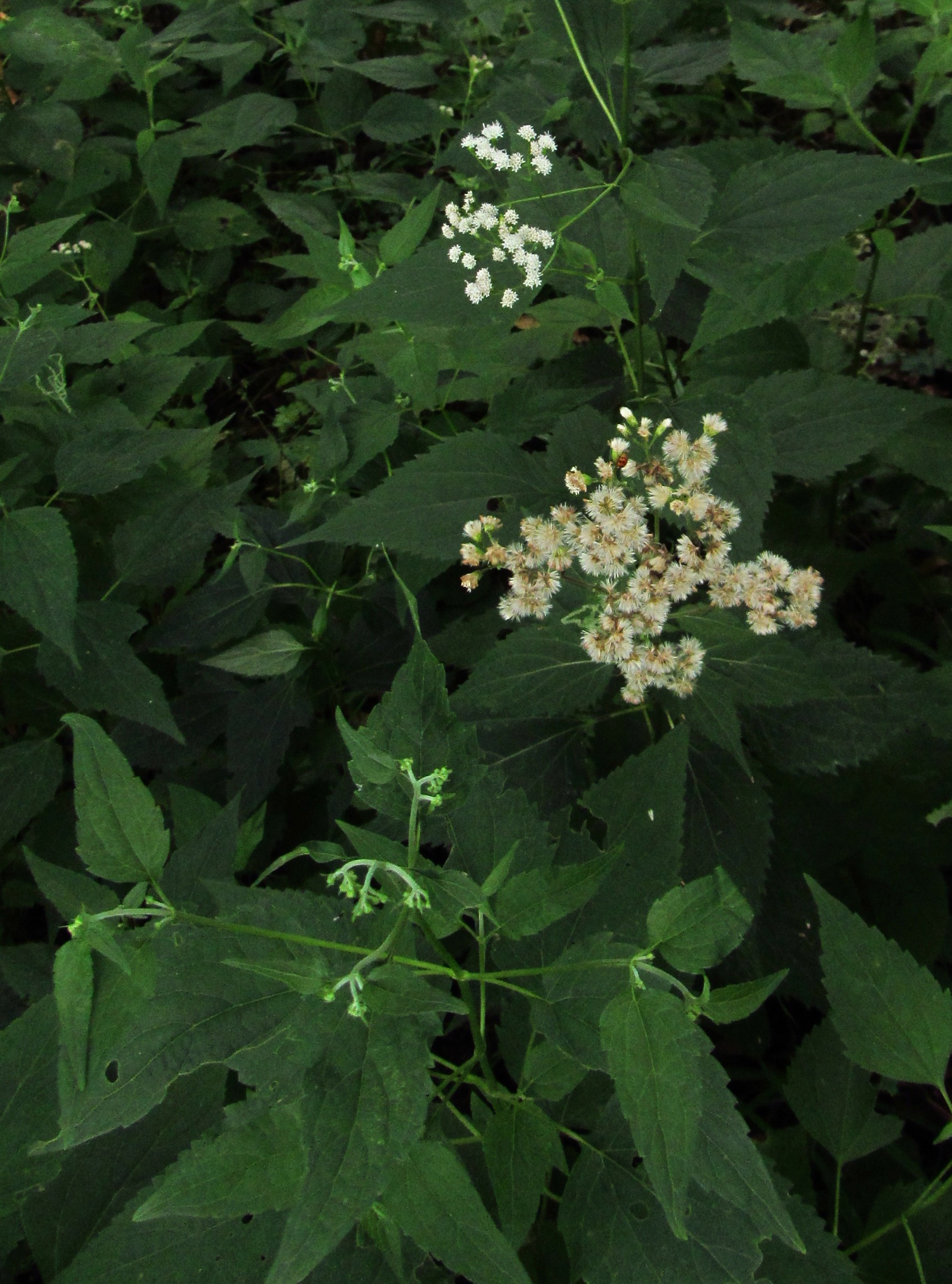 Florets may be out of sync on the same plant too.