Iowa didn't experience much severe winter weather this year, but the political climate was harsher than at any other time in living memory. After writing up too much bad news these past few months, I'm glad to revive Bleeding Heartland's weekly wildflower series. Click here for the full archive of posts featuring more than 140 native plants and a few plants of European origin that are now widespread here.
Downy yellow violet (Viola pubescens) is native to all of North America east of the Rocky Mountains. In Iowa, you may see it near homes as well as in wooded areas. Except where noted below, I took most of the enclosed pictures not far from our house in Windsor Heights. However, most violets I see in people's yards are purple or the white color variation of that flower, the common blue violet. Less often, you may find striped white violet, a separate species.
According to John Pearson of the Iowa Department of Natural Resources, Viola pubescens are the only yellow violets native to our state. The Minnesota Wildflowers site has botanically accurate descriptions of the foliage, flowers, and seeds. Common yellow violet or smooth yellow violet are alternate names for this plant.

Buds are forming in this small colony of downy yellow violets. Note the arrow-shaped leaves with serrated (toothed) edges, which are also found on other violet species.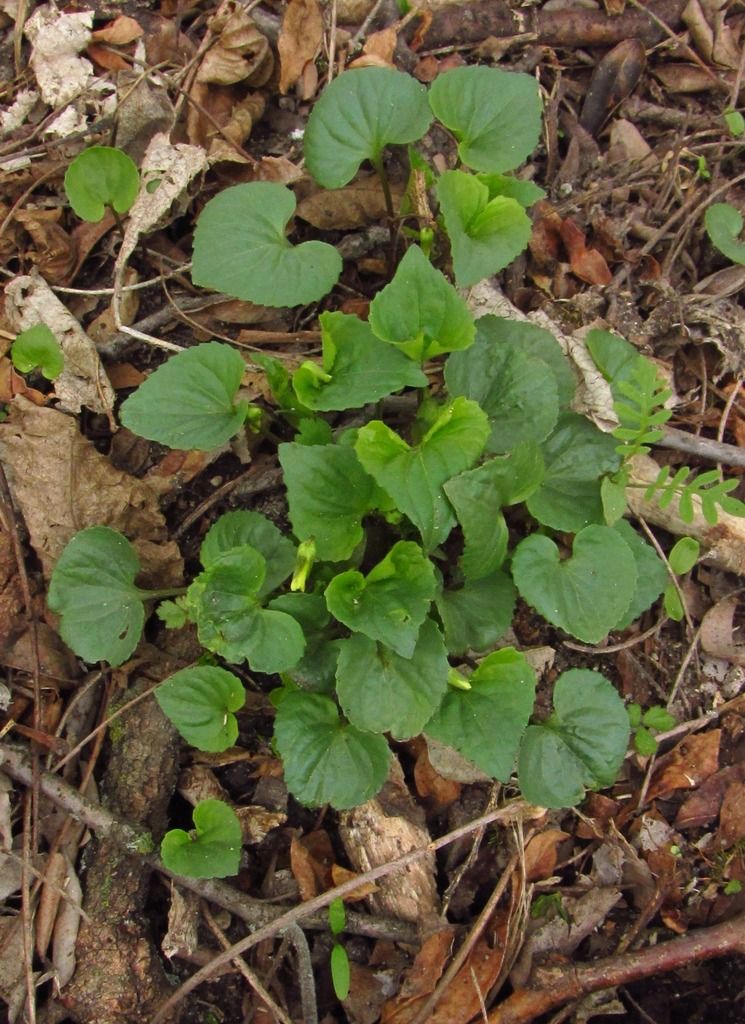 Downy yellow violets blooming, with some buds still not open. The other leaves with splotches are Virginia waterleaf, which will bloom in late spring and early summer.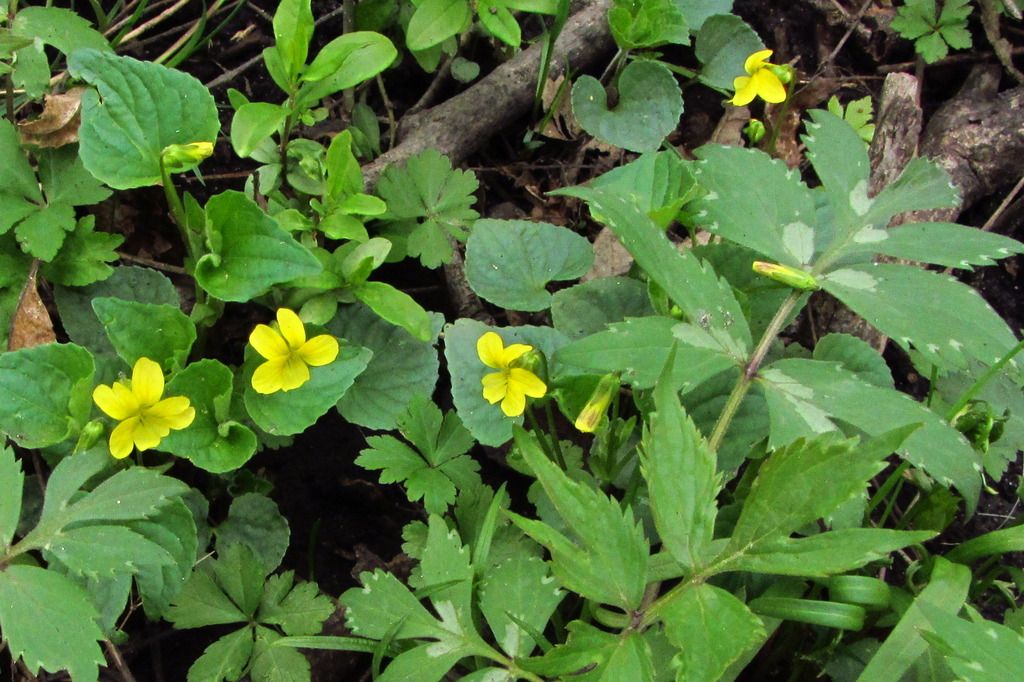 Note the thin darker vein-like lines on the lower petals, which also appear on other violets and are believed to help guide pollinators.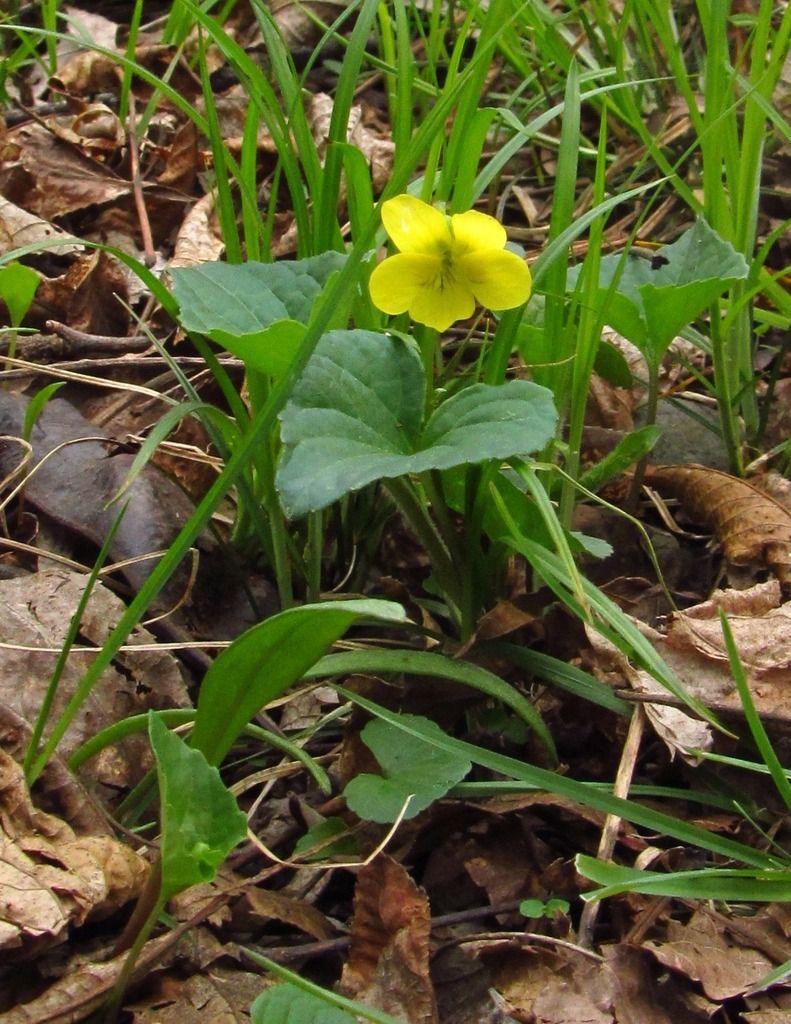 Though you may find a downy yellow violet on its own, usually these plants grow in clusters, sometimes in large colonies. I took the next two pictures last April at Dolliver Memorial State Park in Webster County. The flowers were so large and their stalks so tall that my friend Eileen Miller and I were sure they must be a separate species. John Pearson told us later that all the yellow violets in Iowa are Viola pubescens. Soil moisture or composition may have influenced the size of these plants, which were growing near the creek along the Boneyard Hollow trail.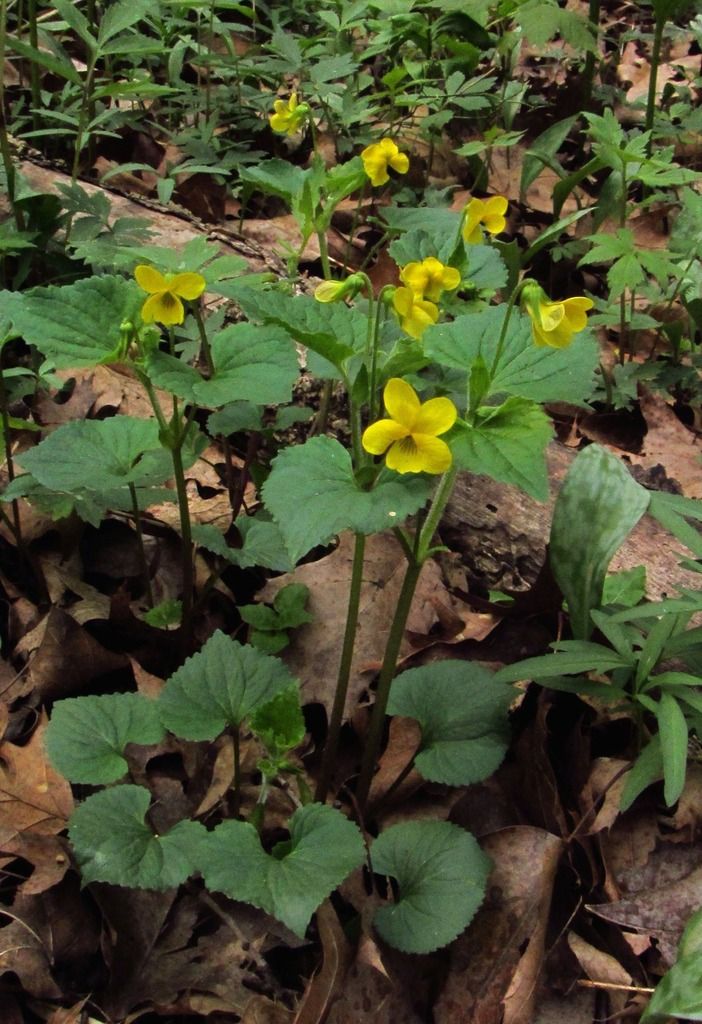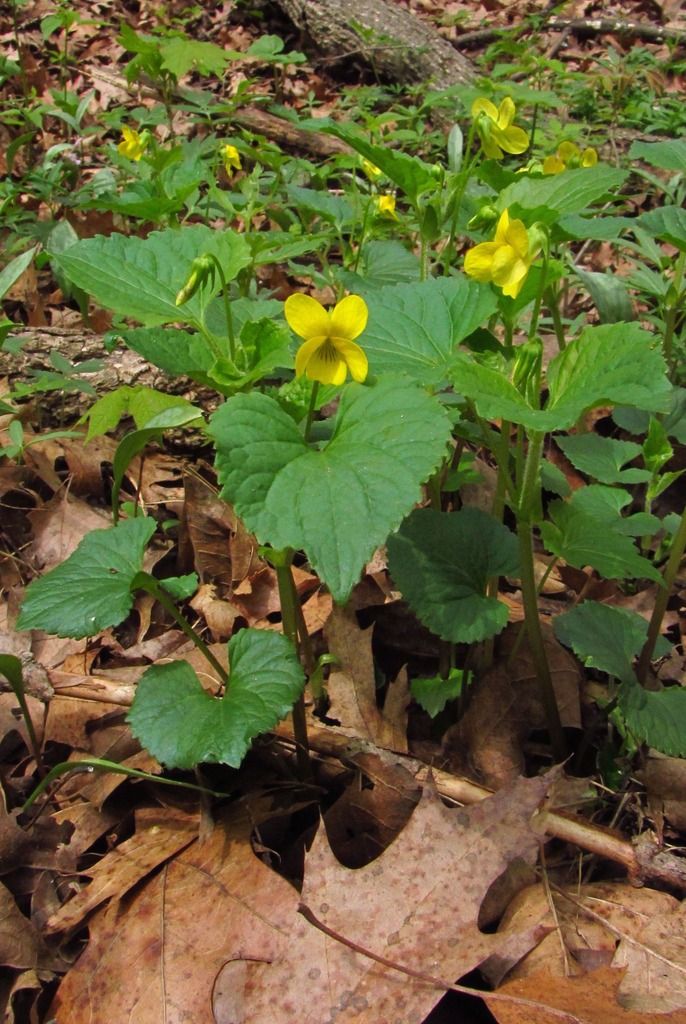 Wild ginger growing above some violets. Note that the ginger leaves are somewhat arrow-shaped but have smooth edges, unlike the violet leaves.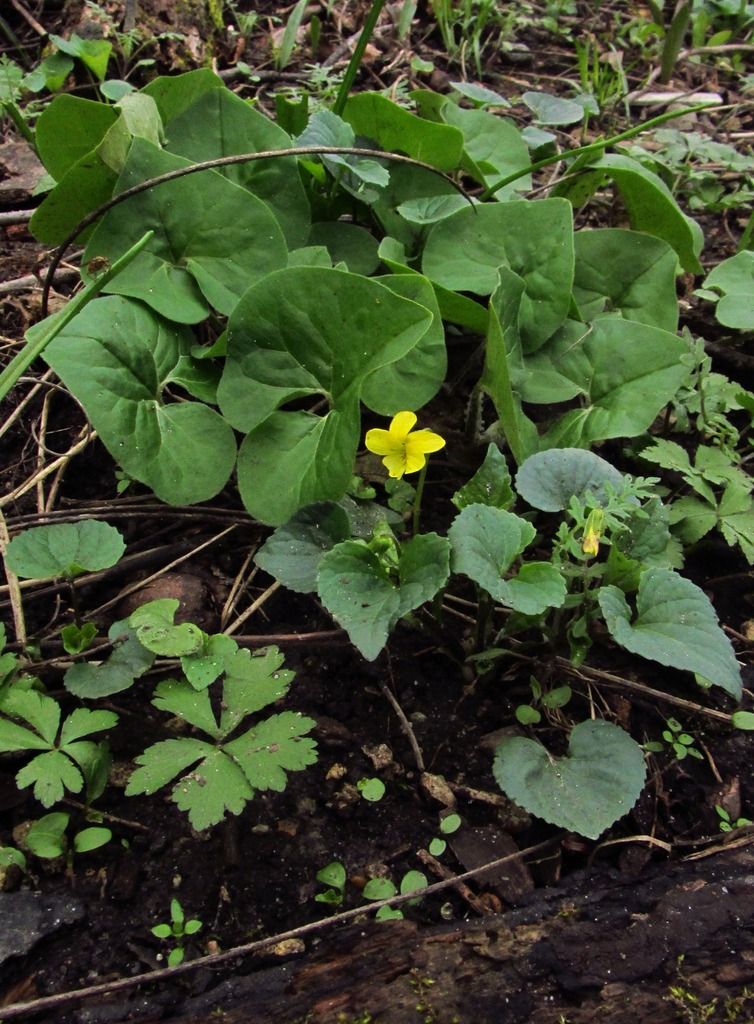 Upper left: Dutchman's breeches blooming. Upper right: dogtooth violet/trout lily blooming.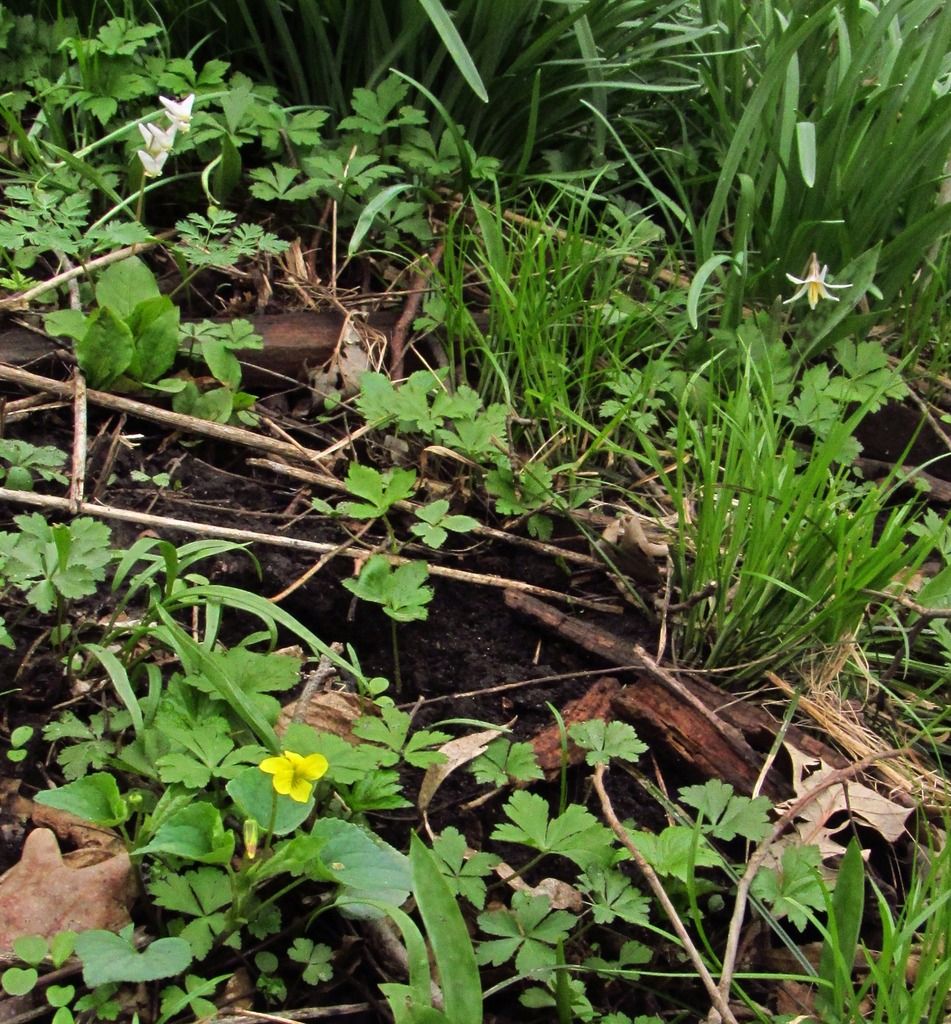 Downy yellow violets with spring beauty in bloom.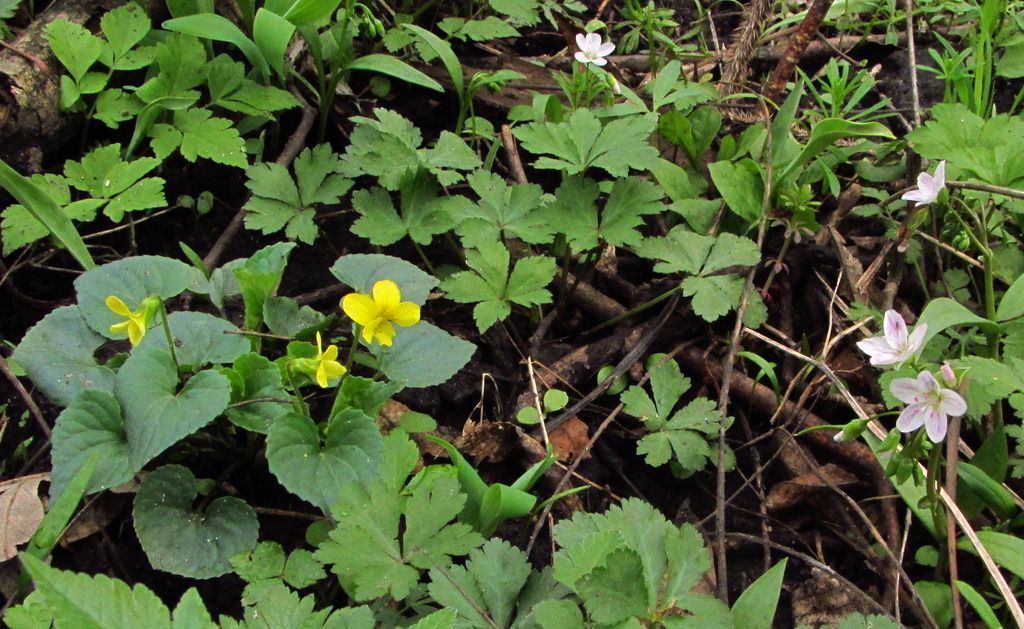 Another shot of those two flowers.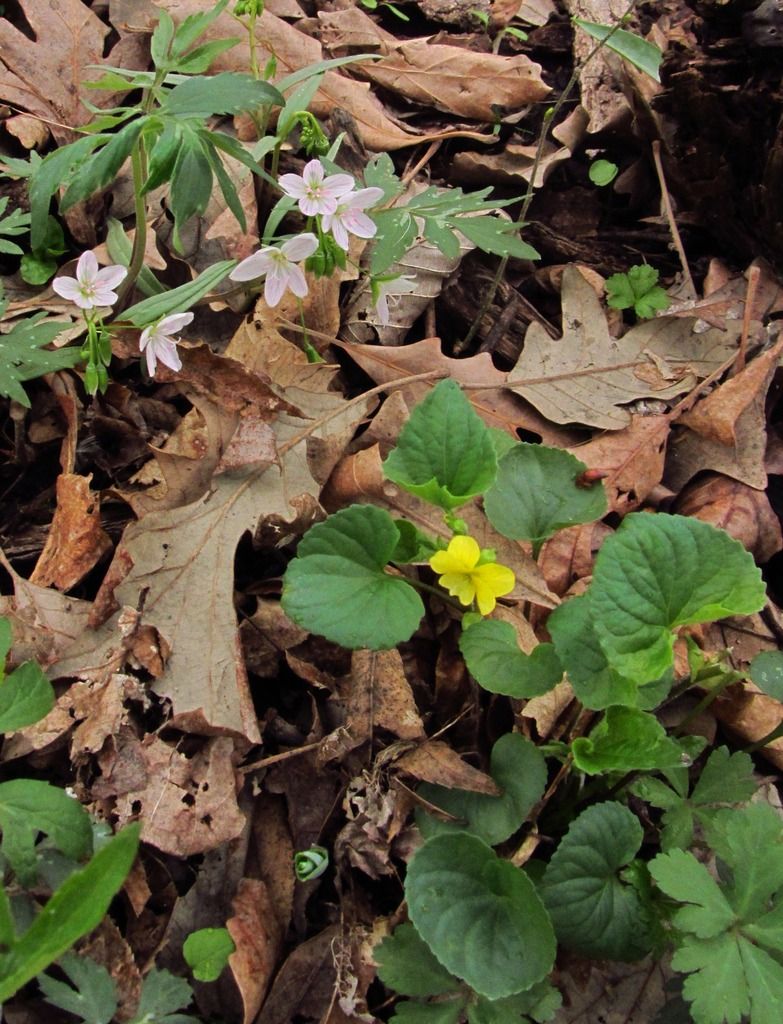 Upper right: toothwort (with some spring beauty behind). Upper right: spring beauty.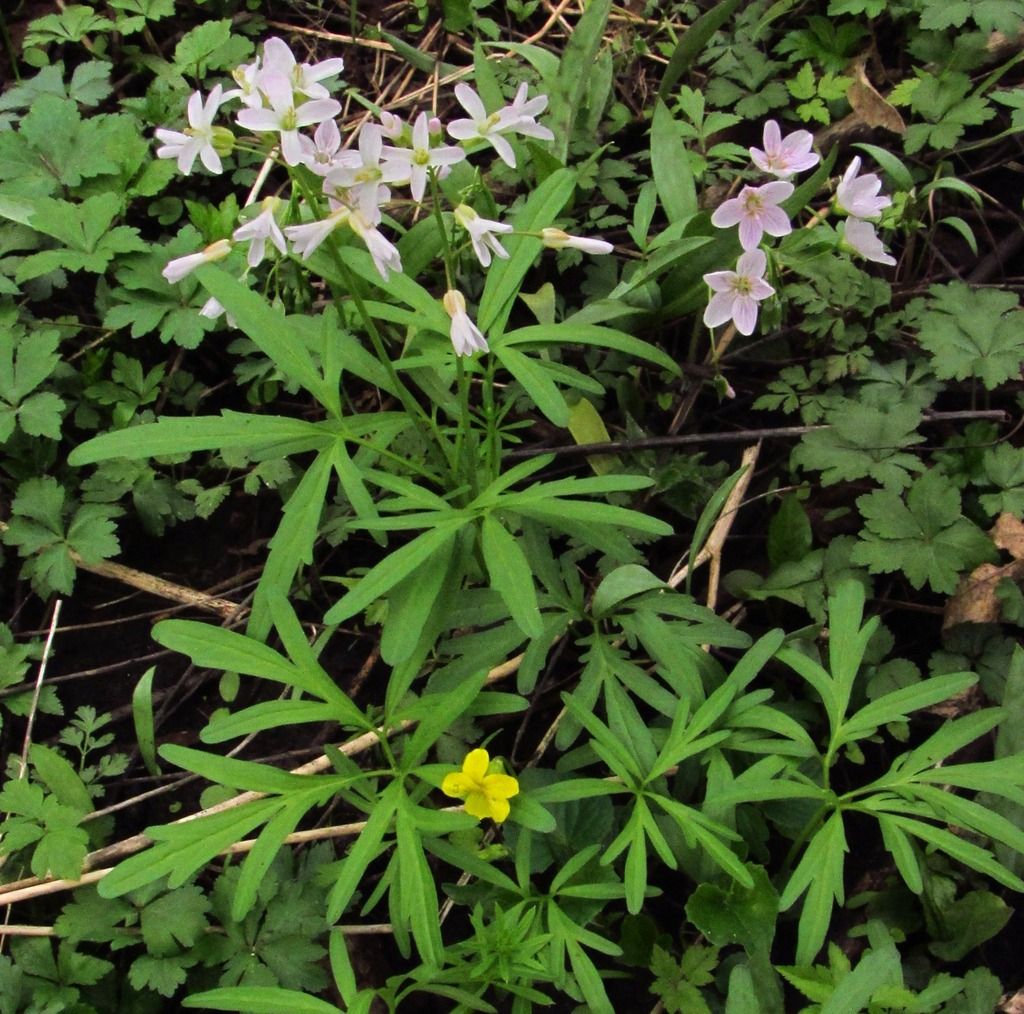 Rue anemone blooming near downy yellow violets.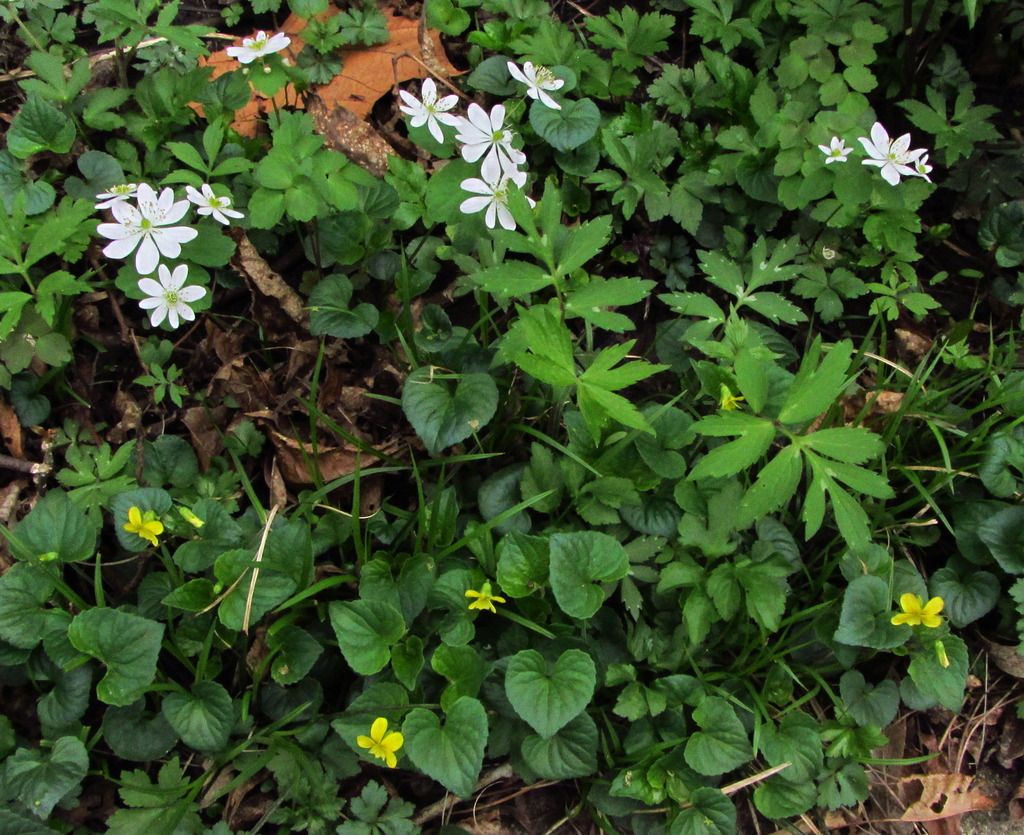 The large leaves in the lower part of this picture are bloodroot plants. The bloodroot flowers have already come and gone.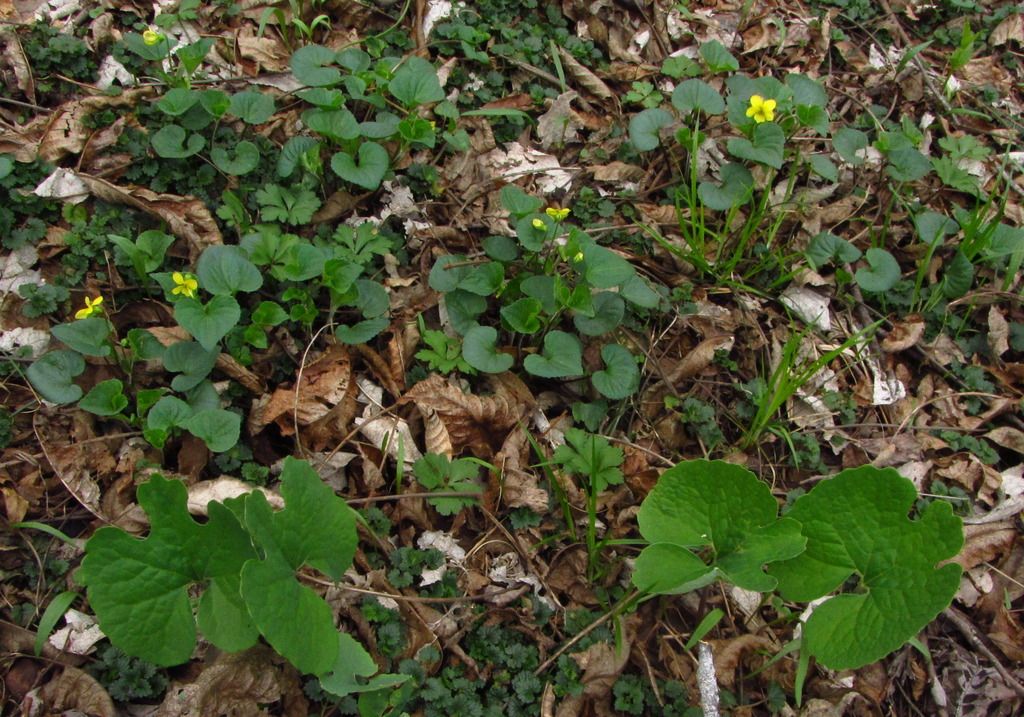 Two pictures of May apples/umbrella plants towering over downy yellow violets.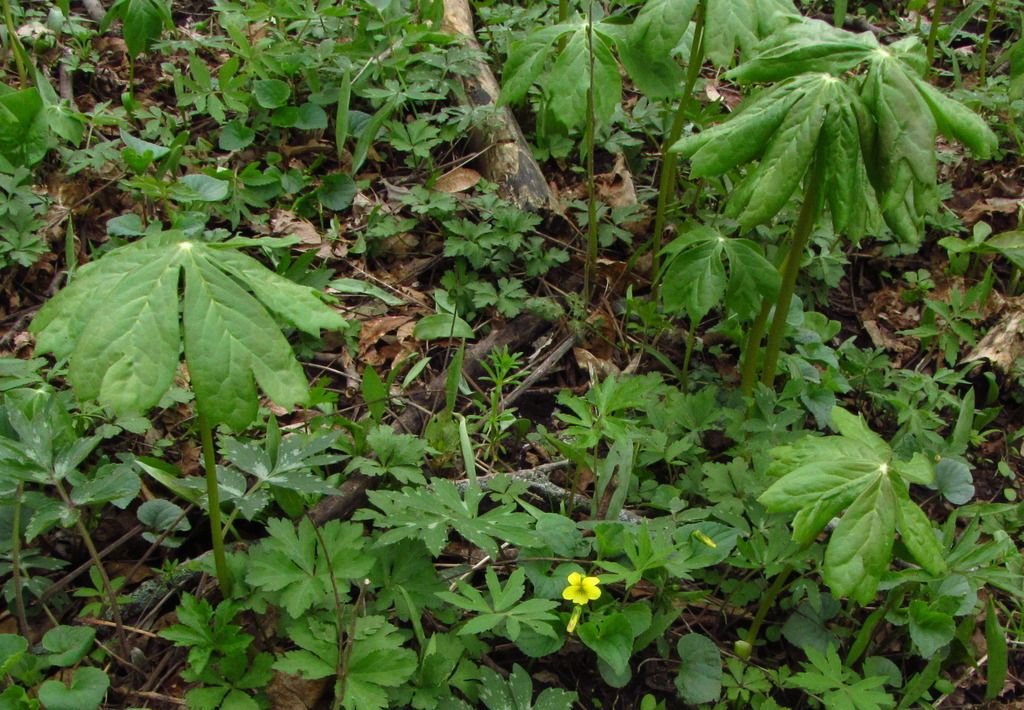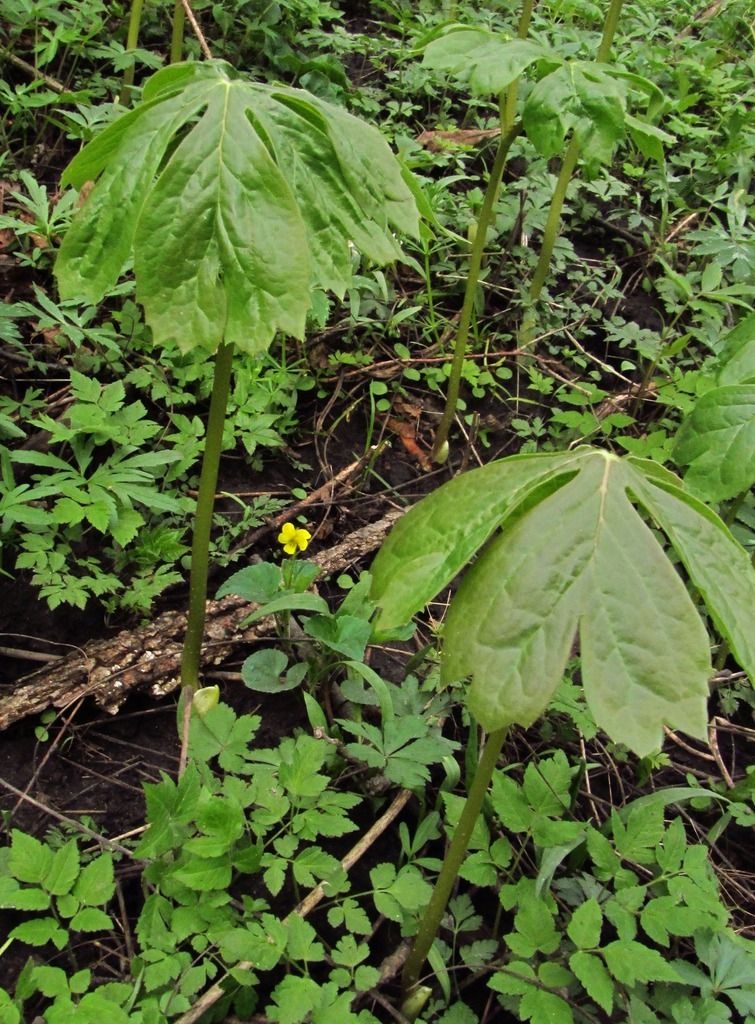 Preview of coming attractions: white snakeroot foliage growing tall in the foreground, common black snakeroot foliage in the middle ground, and downy yellow violets in the background.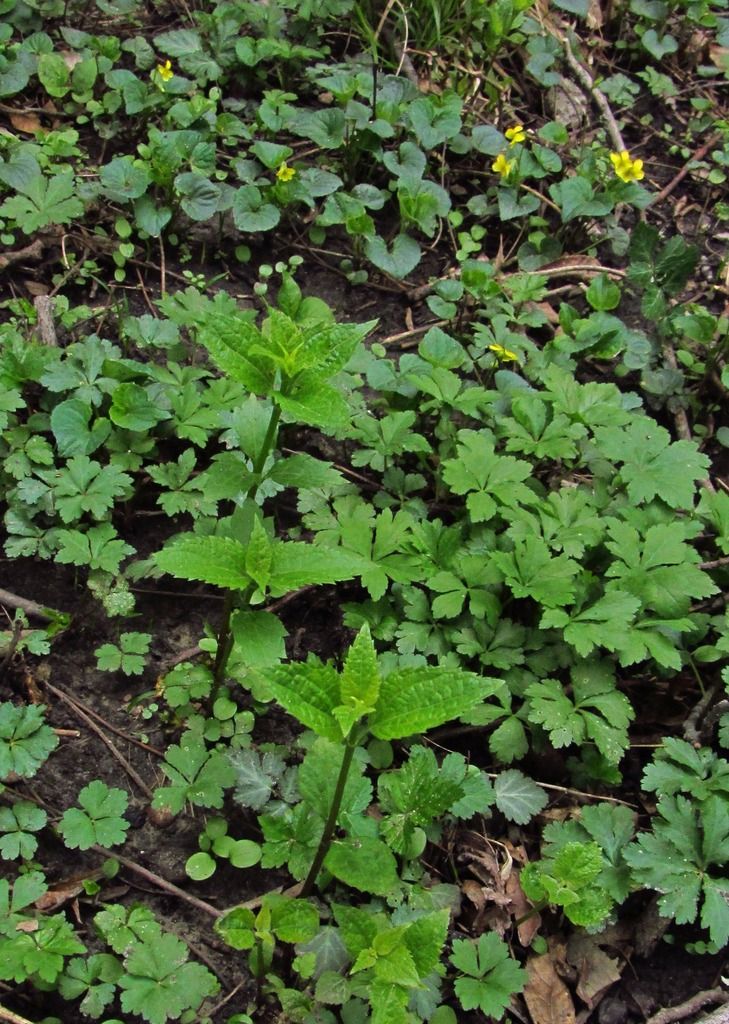 Another preview of coming attractions: Solomon's seal shoots are growing up around these violets.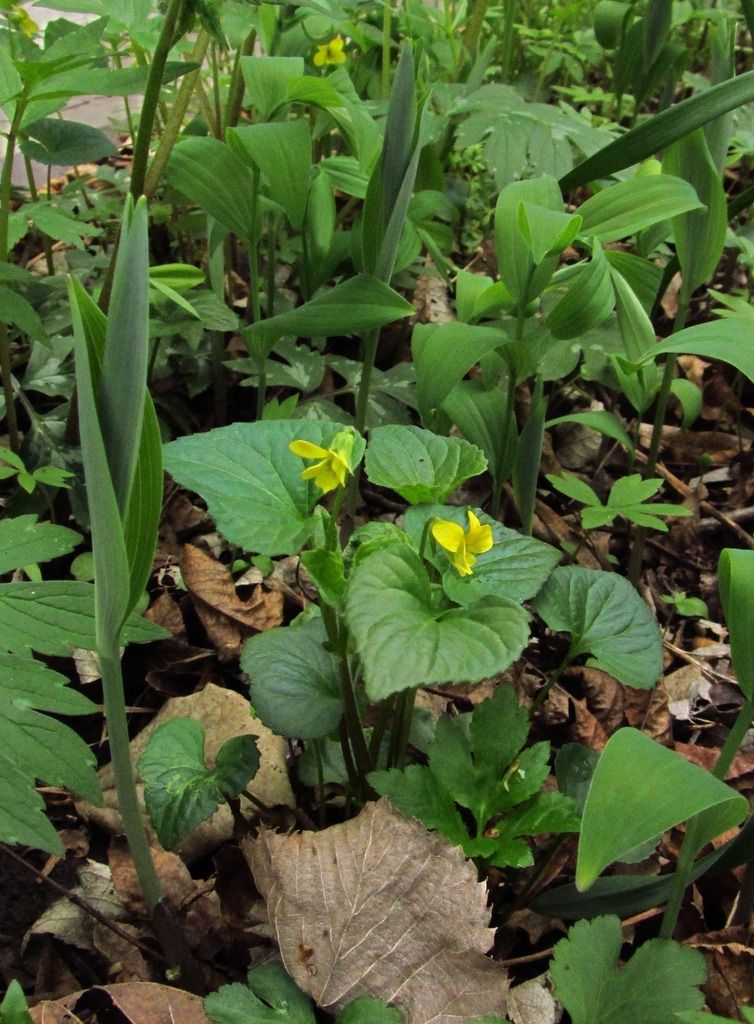 Another picture from a visit to Dolliver park last year: tall, starry false Solomon's seal (not yet blooming) are growing near a colony of yellow violets. The white flowers in the background are false rue anemone.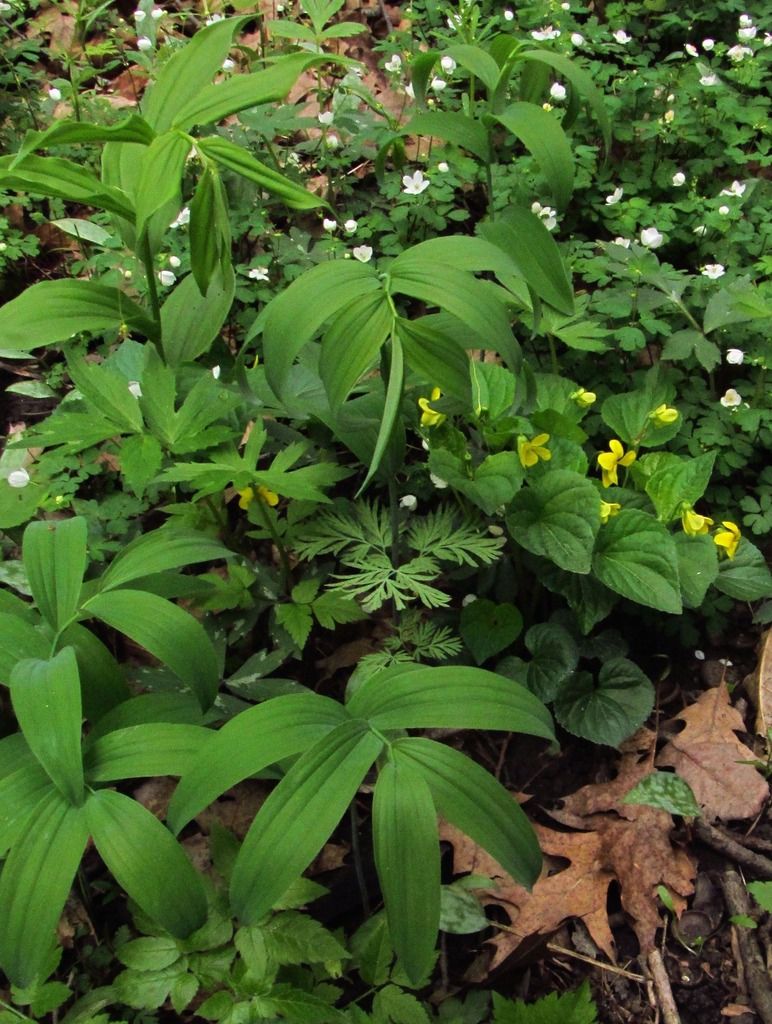 Near one of the parking areas at Dolliver, I saw downy yellow violets growing near the palest sweet William I've ever seen. Usually those flowers are bluish purple or pink. Scattered around this image, you can see buds on spring beauty plants.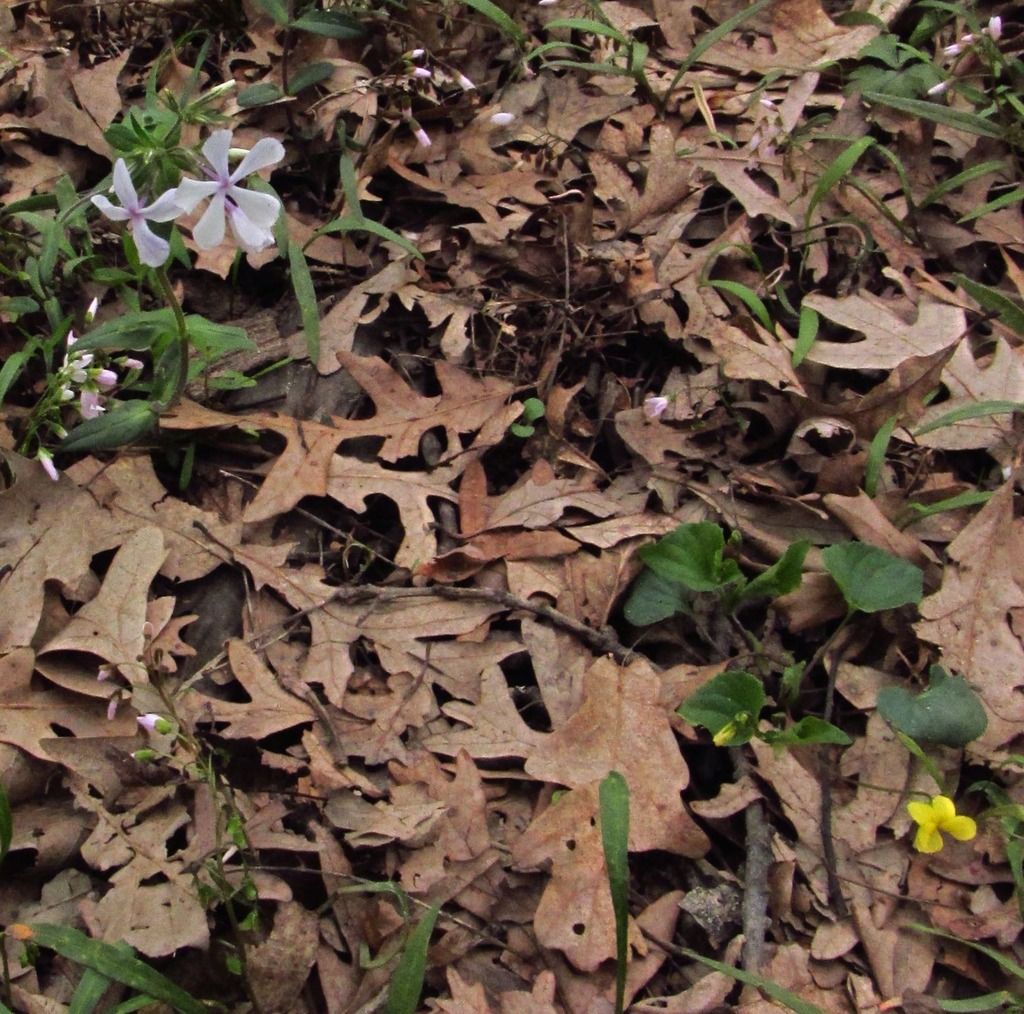 Flowers on a Virginia waterleaf plant dominate this picture, taken in June two summers ago. All around, you can see the leaves of downy yellow violets, along with their seed pods. Those capsules should eventually explode to disperse the seeds. The Minnesota Wildflowers site explains, "When ripe, the pod becomes erect and splits into 3 sections, shooting the brown seed several feet from the plant."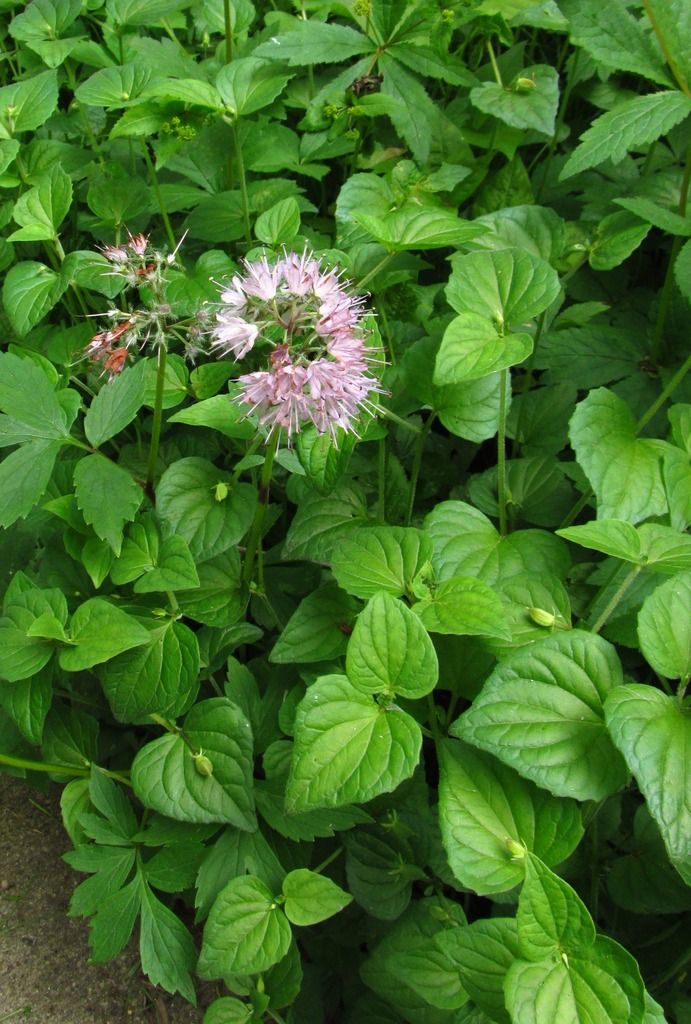 I've never tried to observe a violet seed explosion, but Dana at the Abundant Nature blog suggests a couple of fun science experiments.
A good way to experience the seed launches and the recoil, is to hold some open seed pods by their stems. You can feel the "kick" when the shots are fired. Another good way to visually experience a seed dispersal explosion is to prop a few seed pods in a natural position on a table top and place a clear plastic cup over them. This way when the seeds are fired you can see the stalks recoil and hear the seeds ricocheting around in the cup. [...]

Violet's explosive seed dispersal method is driven by a turgor mechanism (see the collapsing pod just beyond the outer seeds?)...the seed pods dry out and this creates pressure along the sides, squeezing the seeds until one pops out.... much like pinching a watermelon seed or cherry pit until it shoots away.