Today's featured plants are among the few wildflowers I could identify before I embarked on the journey that led to the Iowa wildflower Wednesday series. I grew up calling them dogtooth violets. More often, I hear others use the common name white trout lily. Alternative names include thousand leaf or white fawnlily.
Erythronium albidum is native to most of North America east of the Rocky Mountains. According to Wildflowers of Iowa Woodlands by Sylvan Runkel and Alvin Bull, dogtooth violets are "found throughout the state in rich moist woodlands, especially in bottomlands with open woods." The Illinois Wildflowers site notes,
An abundance of this plant indicates that a woodlands has never been subjected to the plow or bulldozed over. White Trout Lily is one of the spring wildflowers that is threatened by the spread of Alliaria petiolata (Garlic Mustard) in wooded areas.
Picking these flowers kills the plant, so leave them alone. Runkel and Bull write that the bulbs underground used to be a common food source for American Indian tribes. I've never tried to dig them up.
Dogtooth violets are "one of the first woodland flowers to bloom in the spring," but they don't last as long as some other early bloomers. In my corner of Windsor Heights, the dogtooth violet flowers have come and gone, whereas I still see lots of violets, rue anemone, and spring beauty. I took all of the enclosed pictures in mid-April.

For botanically accurate descriptions of dogtooth violet foliage, flowers, and seeds, I recommend the Minnesota Wildflowers or Illinois Wildflowers sites. Runkel and Alvin Bull explain,
For the first 2 or 3 years, only a tiny single leaf is produced. The next 2 or 3 years, a larger leaf is produced. Thereafter, two leaves are formed. But a new plant may not flower until 6 or 7 years old–always after it starts producing two leaves. […]

Colonies of leaves appear 2 to 4 weeks before the flowers, giving rise to the common name "thousand leaf."

A nodding star of a flower is carried on a single leafless stalk which arises from between the paired leaves. Three petals and three sepals look so much alike the flower appears to have six petals. They open from a straight tight bud to a strongly re-curved star-like appearance.
The green leaves mottled with brown are distinctive. Here a group of dogtooth violet leaves are growing near an emerging May apple/umbrella plant shoot.
Here a dogtooth violet flower is starting to open.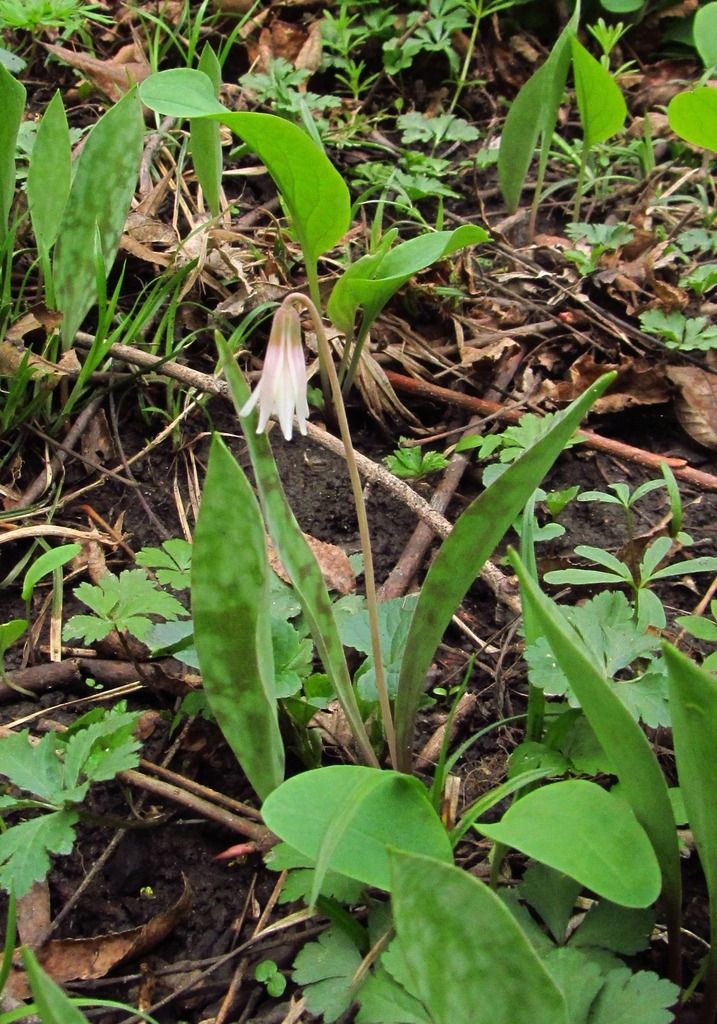 In this picture, one flower is blooming, and a bud will open soon. Near the lower left you can see buds forming on spring beauty plants.
Two shots of fully open dogtooth violet flowers.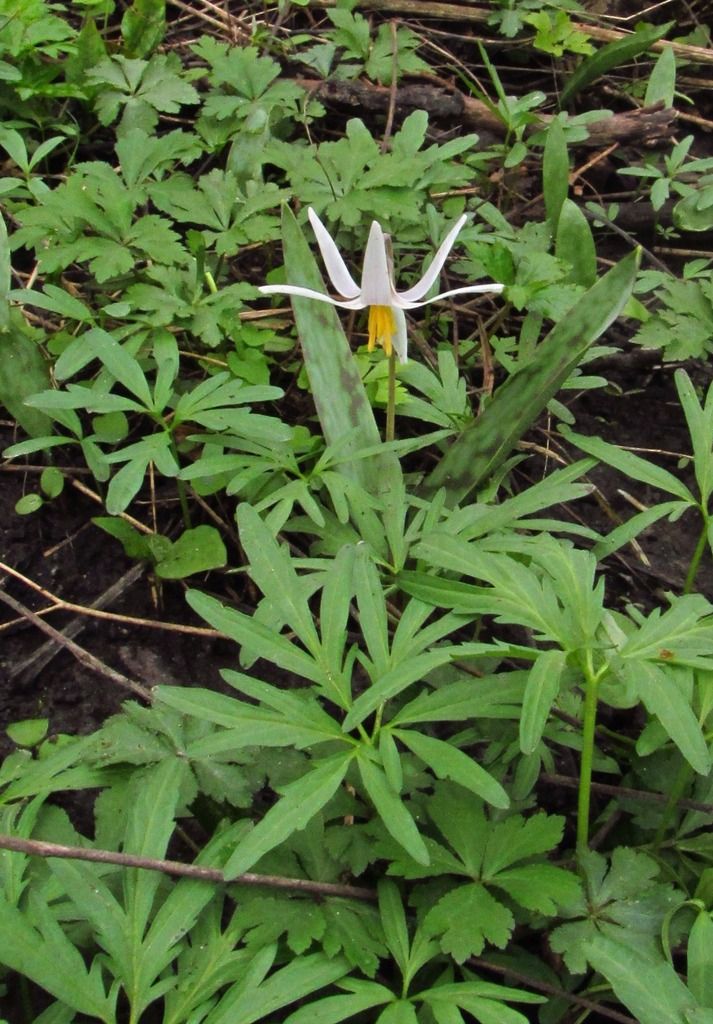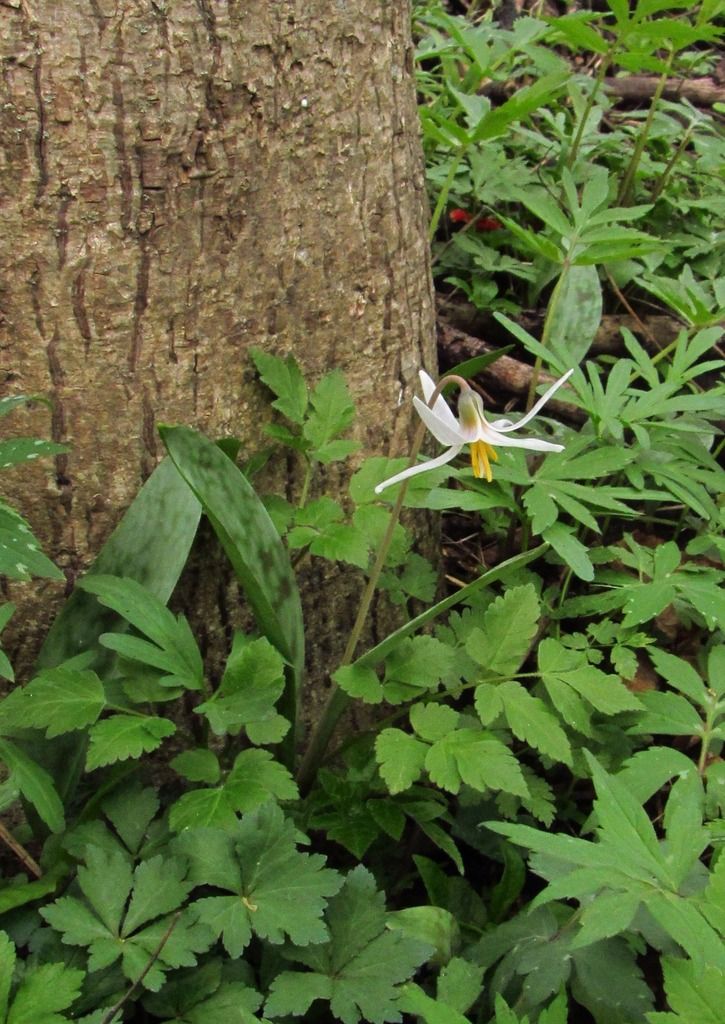 In any colony of dogtooth violets, most of the plants won't have flowers.
Dogtooth violet blooming near spring beauty flowers.
Dogtooth violet in the foreground, wild ginger leaves in the middle ground, toothwort flowers in the background.
Dogtooth violet near a colony of toothwort. The large leaves in the upper right corner belong to Virginia bluebell plants.
Two shots of Virginia bluebells dwarfing dogtooth violets.