The authors of this post are Des Moines students Finn Andersen, Hunter Andersen, Isabelle Brace, and Ayanna Minnihan. -promoted by Laura Belin
Heather Anderson is truly a champion for students. Students lack diverse administration, but Heather, as a woman of color herself, will help bring representation and fight for underrepresented students.

Ayanna Minnihan: I'm a leader and facilitator in Community of Racial Equity, a group that actively works to achieve equity for students of color in schools and our communities. Heather advocates for us, listens to all students, and thoroughly considers how decisions will affect each individual student. She is the only classroom teacher on the board and therefore the candidate most capable of actively seeing the daily challenges students of color face.
Isabelle Brace: Heather is someone who truly cares about students and their well-being. As a leader in the Iowa Climate Strike, I have seen that Heather respects student activism on all levels. For that reason, she has continually fought for their real-world education. If children are our future, shouldn't we be preparing them for it? She believes in all students and in their equitable futures. Having Heather on the school board makes me feel like my education is secure. To me, my education is everything. And it is for Heather too.
Finn Andersen and Hunter Andersen: As former students, the only current school teacher on the school board, we experienced first-hand how caring and welcoming Heather Anderson is as a person. She uses those traits to positively impact a student's education like no other teacher we have had.
She has proposed adding a permanent student voice on the school board, which has been done in many other districts. That representation would mean a lot to us as student activists. It is an incredibly important time to hear from students as districts nationwide keep getting ravaged by budget cuts and overcrowding. Because if we don't hear from students on making the decisions that impact them every day, the only input we will get from them is their standardized test scores, and that is problematic for many reasons. Heather Anderson is unafraid to stand up for what is right and get feedback from all sides, this is why you should vote for her on Tuesday.
As a classroom teacher, Heather Anderson has a unique lens into the daily impact of policy decisions in schools. That perspective is why she has fought so hard as chair of the Community Legislative Action Team to provide the funding needed for our schools at the legislature.
Not only has she been a ceaseless advocate for students and teachers, but she has also developed a more inclusive and accountable platform by organizing meetings throughout the district, ensuring that every community member had a chance to make their voice heard. In addition, her experience working in schools enables her to empathize with all workers in the district, not just fellow teachers.
She practices that empathy on the board, as she cast the lone vote against recent contract negotiations with AFSCME, which upended established norms on discipline and removal of workers. Her continued commitment to everyone in our schools, from students to parents to employees, is why she must remain as a strong independent voice on the board. As students, we urge you to vote for Heather Anderson on Tuesday, November 5.
Facebook: @heather4schools
Donations: Heather19 on ActBlue
Website: https://heather4schools.weebly.com/
State legislators supporting Heather: State Representatives Jo Oldson, Marti Anderson, Jennifer Konfrst, Bruce Hunter, Brian Meyer, Kirstin Sunde, Ako Abdul-Samad, and Karin Derry; State Senators Claire Celsi, Janet Petersen, Tony Bisignano, and Nate Boulton.
Current and former school board members: Dionna Langford, Kyrstin Delagardelle, Rob Barron, Natasha Newcomb, Nathan Blake, Pat Sweeney, Suzette Jensen (all of Des Moines), Jen Ulie Wells (West Des Moines), Lori Lyon (Waukee), Josh Hughes (Interstate 35)
Des Moines City Council Members: Mayor Frank Cownie, Bill Gray
Community Leaders: Kimberley Strope-Boggus, CeCe Ibson, Sean Bagniewski, George Davis, Izaah Knox, Nate Monson, Dr. Anita Fleming-Rife, Joe Henry, Mitch Henry, Randy Richardson, Mike Delaney, Michael Libbie, Jenna Knox, Ruth and Scott Thompson, Mike Inia, Marie Herring, Mary Kahl, Darcie Vandegrift and Victor Tonelli, Amber Gustafson, Shane McQuillan, Prakash Kopparapu, Taylor Frame, Kittie Weston-Knauer, Mike Draper, Lynn Hicks, Chris Draper, Dean Fiihr, Emily Shields, Heather Puri, Andrew Joseph, Jenn Riggs, Darren Fife, Walnut Creek Watershed Assoc., Lisa Bene-Artusa-Treptow, Petra Lang, Lora Fraracci, Kathy Schneider, Jason and Kati Medick, Howard and Megan Shapiro, Teresa Moore, Sarah Nevins, Kelly Augustine Donnelly, Julie Harned-Klein, Debbie Crowley Noe, Rosemary Kirlin, Bill Ekhardt, Nathan Erickson, Kari Stecher, Marc Wallace, Karen Nyholm Wallace, Karen Viste-Sparkman, Mickey Carlson, Stefanie Collins Stenberg, Shelly Gillet Poole, Jillian Sonksen, Carla Ruble, Nate and Erin Reagen, Zachary Mannheimer, Kelly Barnum, Jay Hamilton Radcliff, Steve and Rachel Wilke-Shapiro, Dennis L. Smith, Virgil and Marilyn Moore, Seth Andersen, Maeve Callan, Max Knauer, Joseph Nolte, Jackie Wellman, Andrea J. Phillips, Deb Copeland, Dr. Keith Summerville, Dr. Gholam Mirafzal, Peggy Mirafzal, Val Jansonius, Kelli Lydon, Karen Elizabeth, Laural Clinton, Ilima Young-Dunn, Frank Dunn-Young, Paula Martinez, Liz Jacklyn.
Heather Anderson (second from right) with supporters including some of the authors: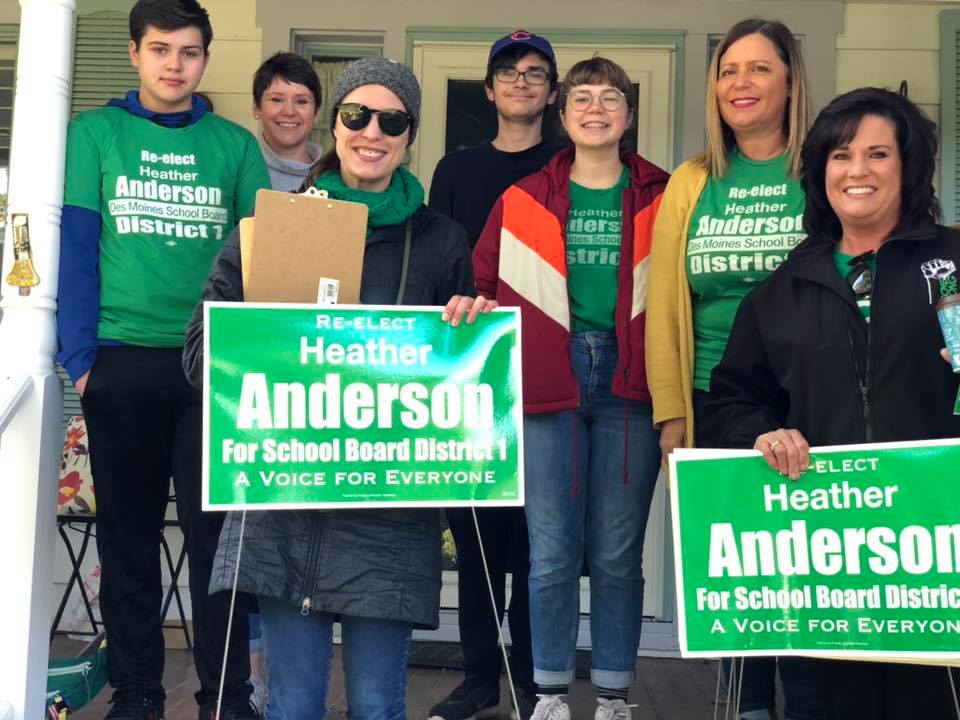 Editor's note from Laura Belin: Heather Anderson was an early elementary school teacher for both of my children, and I wrote this post in 2015 advocating for her election to the Des Moines School Board.