The latest Iowa poll by Selzer & Co for the Des Moines Register, CNN, and Mediacom did what November Des Moines Register polls often do: shake up perceptions of the presidential race.
Buttigieg's historic rise (I will show how historic in a minute) is stunning. While I am skeptical he is really ahead of everyone else by 9 points--another poll released on November 17 showed him 1 point behind both Bernie Sanders and Joe Biden--the idea that he leads and is well over 20 is believable. But the horse numbers underestimate what Buttigieg has accomplished. He is the best-liked candidate as well as the one being considered by the most voters.

My own view of the race is that Buttigieg's rise is primarily a sign of how weak Biden is for a front-runner. I wrote in March that he looked weak, and I wrote in June he was probably going to lose Iowa. His weakness created a vacuum.
It may be that Elizabeth Warren and Sanders have a joint ceiling around 40 percent. If that is true, then neither is likely to get much over 20. I believe that one of the lower-tier candidates will likely emerge. Amy Klobuchar is the most obvious candidate, but Kamala Harris is still well-liked.
This chart shows the recent polling in Iowa. Buttigieg is either ahead or trailing by 1 point in the last three polls. I would focus on the averages here, though it is possible Warren may have slipped some in the last week (I doubt it).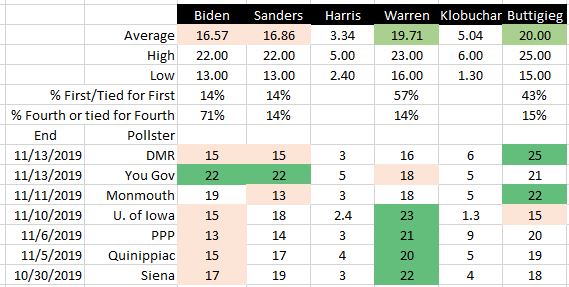 With that, here are three observations on the race:
Buttigieg can win
Electability is an argument for losers
It is still early
History tells us Buttigieg can win
This chart is based on polling averages for each month.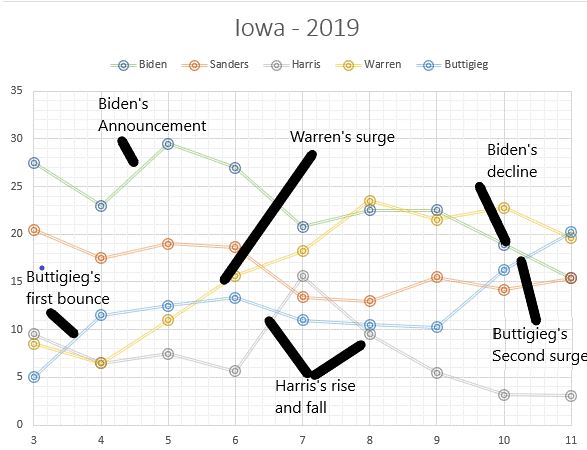 I perceive six moves in Iowa since March, and I have highlighted them on the chart. Buttigieg's Iowa numbers were relatively stable in the teens for months in Iowa, but the surge in the last few weeks is undeniable: he has been over 20 in four of the last five polls. Biden's collapse to the mid-teens coincides with this. Biden's numbers for a national front-runner are so bad in Iowa that they are historic: as historic as Buttigieg's rise.
But as impressive as Buttigieg's recent rise is in trial heats, they almost underestimate his position at this point. These numbers are from the Des Moines Register Poll.

This is perhaps the most impressive documentation of Buttigieg's trajectory in Iowa. His net favorable ratings are the best by 10 percent, and he is the only one of the top four who did not see his ratings decline since June. His fundamentals are the best of any candidate in Iowa. He is not viewed as either too conservative or too liberal (both Warren and Sanders are viewed as too liberal by about 35 percent of the electorate).
Only eight candidates since 1980 have had anything close to a rise like this, and six of those are Republicans (Mike Huckabee, Herman Cain, Ben Carson, Donald Trump, Newt Gingrich, and Rick Santorum). The two similar Democrats are Paul Simon in 1988 and Howard Dean in 2004.
Both Simon and Buttigieg are midwestern, were not well known at the start of the race, and had similar liberal good government messages. Simon arguably led at this point in 1987. Though he did not win, his finish was still impressive. Similarly, Howard Dean was not well known in 2003. But Dean's appeal (he more closely resembles Warren) was more ideological, and he was a more passionate, and arguably an angrier candidate that Buttigieg.
The problem for both Simon and Dean was that their lead produced an inevitable reaction. Dean's collapse came partially as a result of a negative campaign that developed between him and Dick Gephardt. Warren's trajectory may predict Buttigieg's: her rise created media attention, and with it came attacks that stalled her momentum. Buttigieg has weaknesses, the most obvious of which is his lack of experience.
I am not for him – but it is a mistake to write him off. Candidates with similar messages have won primaries before (Paul Tsongas in 1992 and Gary Hart in 1984). I do not think he has a path to the nomination – his lack of appeal to African Americans who make up 25 percent of Democratic primary voters appears an insurmountable obstacle. But he can certainly win Iowa. And his rise is nothing short of historic.
Electability is a loser's argument
No subject is more discussed among pundits and talk show hosts than "electability." This is mostly a waste of time, since as I wrote in February, it is not a major factor in how voters pick candidates. The reasons are:
1. People tend to think THEIR candidate is electable (after all if I am for him others will be too), and
2. People generally don't think there is much difference between the candidates in their ability to win (which is true, and electability is hard to predict anyway).

If I were running the Biden campaign I would stop making "I can beat Trump like a drum" my main message. Front-runners have had to keep relearning this lesson, going as far back as Ed Muskie in 1972. There are examples of front runners changing their message and recovering. But pundits who are citing Biden's electability as the major reason to support him are not helping him.
It is still early
Maybe I should have put this at the top. Most voters have not made up their minds and won't for some time. Since September, about 10 percent say they have definitely made up their mind. Based on exit poll data from 2004 and 2008, we can guess that between 50 and 70 percent of voters will make up their minds during the last month before the February 3 caucuses.

One way to evaluate the race is this chart. YouGov asked supporters of the top four candidates if they might change their minds. I took those numbers to evaluate how committed voters are each of the top four candidates. Sanders has the most committed supporters, but the vast majority of the supporters of each candidate say they might change their mind.

No one has nearly enough committed supporters at this point to win. In many ways Iowa is wide open.
Top image: Photo by Emilene Leone of Pete Buttigieg in Marshalltown, Iowa on April 17, 2019, published with permission.