UPDATE: Carlson announced on February 26 that he will not seek re-election. Original post follows.
Democrats have a solid recruit in one of the Iowa House seats on the second tier of the party's target list for 2020. Muscatine City Council member Kelcey Brackett announced on December 13 that he will run for House district 91, now represented by three-term Republican Gary Carlson.
POLITICAL LANDSCAPE OF AN OBAMA/TRUMP DISTRICT
House district 91 covers much of Muscatine County, including the city of Muscatine and Fruitland.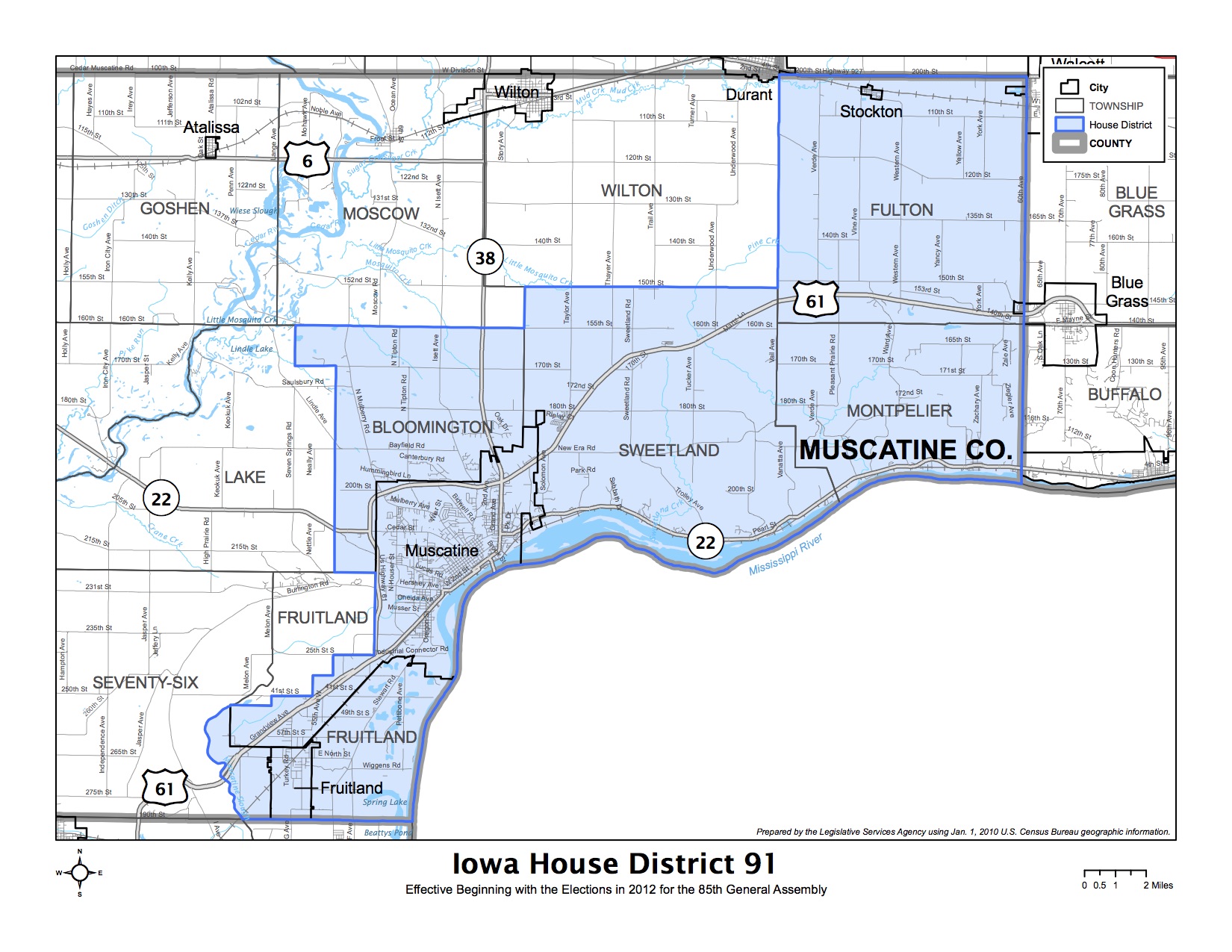 On paper, this district looks highly competitive: 5,589 active registered Democrats, 5,717 Republicans, and 7,597 no-party voters, according to the latest official figures.
But Muscatine is one of many mid-sized cities in Iowa where voters have trended toward Republicans over the past decade.
President Barack Obama received 57.6 percent of the 2012 vote in House district 91, while just 41.0 percent supported Mitt Romney– a substantially wider margin than Obama's 5-point edge statewide. Four years later, voters here supported Donald Trump over Hillary Clinton by 49.7 percent to 43.6 percent, only a few points smaller than Trump's statewide margin of victory.
In the last two midterm elections, House district 91 residents have voted much like Iowans as a whole, favoring Joni Ernst by about 7 points in the 2014 U.S. Senate race and Governor Kim Reynolds by a little more than 3 points.
Republicans have mostly swept state legislative races in this area since 2010, when Mark Lofgren defeated three-term Democratic State Representative Nathan Reichert by 57.5 percent to 42.3 percent. Lofgren easily won re-election against John Dabeet in 2012 by 53.2 percent to 47.9 percent, becoming the Iowa House Republican representing the district that voted most heavily for Obama. That same year, the House district 91 precincts were crucial in Democrat Chris Brase's victory over a GOP incumbent in Senate district 46.
Lofgren opted to run for Congress instead of seeking re-election to the state House in 2014. (He lost the GOP primary in the second district to Mariannette Miller-Meeks.) Amid a GOP landslide in the 2014 general election, Carlson took 56.5 percent of the vote against Dabeet in the House district 91 race. He outperformed Trump in the district two years later, winning re-election with 53.8 percent of the vote. (Muscatine area voters also turned against Brase, who lost his re-election bid to Lofgren.)
Democrats made a serious play for House district 91 last year, spending nearly $270,000 to support challenger Laura Liegois. Republicans spent nearly $350,000 defending Carlson. He outperformed Governor Reynolds, winning a third term with 53.7 percent of the vote.
BACKGROUND ON THE CANDIDATES
Carlson doesn't call a lot of attention to himself at the Capitol, but as chair of the House Commerce Committee, he has overseen passage of some important legislation. He floor managed a terrible energy bill that barely got through the chamber during the 2018 session.
Like many state legislators, Carlson has strong connections within the local business community. From his official bio:
Gary is a native Iowan and a graduate of the University of Iowa. Upon graduating from college, Gary went to work as a First Line Production Supervisor for Bandag, Inc. on the night shift. It was there Gary first learned how to lead a diverse team of people by maximizing the skills of each team member and creating an environment of communication. Gary's 23 year career with Bandag culminated as the Senior Vice President and General Manager of operations in Europe, the Middle East and Africa.

Currently an executive with HNI, the parent company of The HON Company and Allsteel in Muscatine, Carlson has helped lead a company focusing on excellent service and strong community involvement.

Prior to HNI, he was President and CEI of the Greater Muscatine Chamber of Commerce and Industry.

Gary has been active in the community through his involvement as Co-Chair of the Muscatine Blue Zones Initiative, Co-Chair of the Mayor's Community Improvement Action Team, Director of the Crossroads Foundation, Director of the Muscatine Community College Foundation and Director of the Trinity Hospital Foundation.
FEBRUARY 2020 UPDATE: Carlson will retire at the end of his current term.
Brackett was among several reform-minded candidates elected to the Muscatine City Council in 2017. He defeated an incumbent who was mixed up in an unprecedented power struggle between the city council and Mayor Diana Broderson. Brackett outlined his priorities in the December 13 news release announcing his candidacy. Excerpts:
"I'm running for the Iowa House because it's time for new leadership at the Statehouse that will do what's best for families in Muscatine and our community. During my time on the council, I've worked tirelessly to tackle issues like the lack of affordable housing in Muscatine and low wage jobs that are forcing our residents to work two and three jobs just to get by," said Brackett. "We need leaders in Des Moines who will listen to the people of Muscatine County and work to improve the lives of hard-working Iowans, not just those at the top."

After a brief stint in the US Army, Brackett returned to Iowa. He worked his way from the front desk of an Information Technology company to eventually starting his own IT company. After selling his successful company, Kelcey joined Stanley Consultants as the Senior Network Analyst.

"I raised my family in Muscatine and I'm proud to call it home. Over the next year, I'll be knocking doors and talking to the people of District 91 about what's important to them. I'm excited about the opportunity to serve my community in the Iowa House and make it a more attractive place to live, work, and invest," said Brackett.

Kelcey is an Iowa native and currently serving his 2nd year on the Muscatine City Council. He has lived in Muscatine for over 20 years with his wife, Rachel, who is a professor at Black Hawk College in the Quad Cities. They have two grown children who went through Muscatine Public Schools. Brackett has been involved in PCCGS, MuscatineConnect, Iowa Parrot Rescue, Toastmasters, and the Muscatine Soapbox Derby, Over the Edge, and Stinky's House of Horrors which just this year raised over 6600 lbs of food donations for area families.
WHY THE RACE SHOULD BE COMPETITIVE
Assuming he seeks a fourth term in the legislature, Carlson has to be considered the favorite. All other things being equal, Iowans tend to re-elect incumbents, and Carlson has outpolled the top of the GOP ticket the last two times he was on the ballot.
On the other hand, Trump performed less well in House district 91 than in many other Obama/Trump state legislative districts, and the 2020 election is likely to be a referendum on Trump. Signs point to higher turnout next year than in the last presidential election. Whether Trump helps or hurts down-ballot GOP candidates will become more clear next fall.
Brackett can draw on his success in the 2017 city council race, which saw unusually high turnout for a local election. A hard-working candidate can personally contact a large share of voters in an Iowa House district over the course of a year.
Even if House Democrats decide to focus their spending on other Republican-held targets, Senate Democrats will surely invest in GOTV in the House district 91 precincts. Brase is trying to win Senate district 46 back from Lofgren, and both candidates in that race have a base in Muscatine.
Top image: Republican State Representative Gary Carlson (left) and Democratic challenger Kelcey Brackett.