UPDATE: Zumbach confirmed in February 2020 that he will retire. Two candidates will compete for the GOP nomination here: Phil High and Charlie McClintock. Original post follows.
Disclaimer: State Representative Louis Zumbach has not clarified whether he will seek a third term in the Iowa House next year. When I reached him by phone early this month, he said "I haven't made any decisions yet" on whether to run for re-election to the legislature, for Linn County supervisor, or for no public office in 2020. Zumbach had major heart surgery in May and explained, "I've been focusing on my health."
So there's a chance House district 95 will be an open seat for the third time this decade. For now, I assume this race will be a rematch of the 2018 campaign, pitting the GOP incumbent against Democrat Christian Andrews.
POLITICAL LANDSCAPE OF AN OBAMA/TRUMP DISTRICT

House district 95 covers several smaller towns outside the Cedar Rapids metro area and much of rural Linn County, along with part of Buchanan County.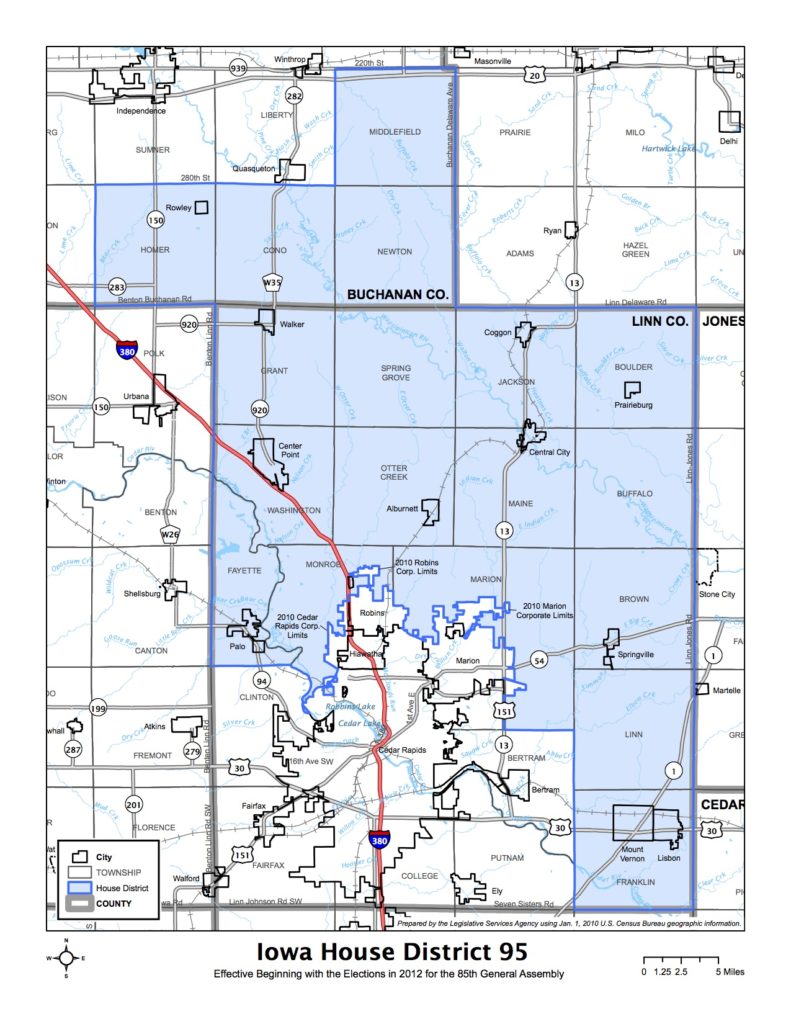 No party has a clear advantage in voter registrations. The latest official figures show House district 95 contains 6,204 active registered Democrats, 6,430 Republicans, and 8,821 no-party voters.
The district has been a good bellwether for Iowa during the last two presidential election cycles. President Barack Obama defeated Mitt Romney in Iowa by 52.0 percent to 46.2 percent and carried House district 95 by 52.0 percent to 46.7 percent. Donald Trump won the same precincts by 51.6 percent to 41.9 percent for Hillary Clinton, not far off his statewide winning margin of 50.6 percent to 41.3 percent.
Republicans have represented this area in the Iowa House for most of the past decade. The political map adopted in 2011 put Democratic State Representative Nate Willems in House district 95, but he ran for state Senate district 48 the following year. Republican teacher Quentin Stanerson narrowly won the open-seat race, one of a half-dozen heartbreaking close losses for Democratic legislative candidates in 2012.
Although Democrats made a play for House district 95 during the next cycle, Stanerson was re-elected by a comfortable margin amid a statewide GOP landslide.
Democrats caught a bit of a break in 2016, when Stanerson was among several GOP lawmakers in competitive districts who chose not to seek re-election. A surprising number of House Republicans retired during Linda Upmeyer's tenure as speaker. Stanerson was known to be unhappy about GOP policy on school funding.
As a general rule, open seats are more competitive than races involving incumbents. Democrats had a hard-working candidate in educator Richard Whitehead. But the Republican contender Louis Zumbach was also well-regarded locally. The massive shift toward Trump lifted Republicans in 2016 state legislative races all over eastern Iowa. Zumbach didn't need the help, though; he won by nearly 2,800 votes (58.1 percent to 41.7 percent), outperforming Trump.
Democrats didn't put House district 95 on their list of top 2018 targets. Challenger Christian Andrews had to raise just about all the money the party spent on his behalf. In contrast, Democrats spent hundreds of thousands of dollars trying to win some other GOP-held Iowa House seats. Zumbach won a second term with 53.9 percent of the vote, slightly outperforming Governor Kim Reynolds, who took 50.9 percent in the district.
BACKGROUND ON THE CANDIDATES
Zumbach became an assistant House majority leader before the 2019 legislative session and chaired the House Administration and Rules Committee this year. He also was vice chair of the Administration and Regulation Appropriations subcommittee and served on the Agriculture, Economic Growth, Natural Resources, and Ways and Means committees. He didn't floor manage any high-profile bill this year or during his first term.
Zumbach has a reputation for being among the more moderate Iowa Republican lawmakers. Though he rarely has spoken out against the party line during his three years in the House, he voted against the near-total ban on abortions that passed in 2018. That law never went into effect; a Polk County District Court ruled it unconstitutional, and Governor Kim Reynolds opted not to appeal.
During this year's session, Zumbach was among a group of Republicans who blocked MidAmerican Energy's bad solar bill.
His official bio highlights Zumbach's deep roots in the area.
Louie is a fourth generation farmer, born and raised near Coggon. He is a graduate of Monticello High School, Kirkwood Community College, and Auctioneer School. Louie and his wife, Deb have been involved in farming their entire married life and own and operate a small auction company, which is named after their four daughters.

Louie currently serves as the President of Linn County ISU Extension and Outreach, and is a member of the National Federation of Independent Business, the Linn County Fair Association, and the Linn County Farm Bureau. He has previously served as the President of the Linn County Fair Association as well as the Linn County Planning and Zoning Commission. He has served as a volunteer fireman for the Prairieburg Fire District, on the Coggon Lion's Club, and on his local church council.
Andrews is a union operator for the Public Works in the city of Mount Vernon, where he and his family (wife and two teenage children) have lived for nearly seven years. He's involved with Lisbon-Mount Vernon's Ambulance Service and is a member of the Mount Vernon Lions Club.
His campaign website adds,
I can speak for regular Iowans because that's who I am. I've been a truck driver, a carpenter, a small business owner, an activist and a stay-at-home dad. I've always had the ability to talk to anyone, whether you're a CEO or steelworker. […]

If we can't give hard-working families the opportunities, the benefits, the education and the quality of life they deserve, they're going to leave Iowa. I will fight to do the right thing by our teachers, by our public servants and by our kids. I will fight to make sure families stay right here and are proud to call Iowa home.
The news release announcing Andrews' candidacy in October noted that he and his wife Mariah "helped to found the education advocacy group Unify for Education to encourage the Iowa legislature and Iowa Board of Regents to institute a public comment period during Regents' meetings."
"When you cut through the noise of national politics and actually talk to your neighbors here in rural Iowa, you understand everyone wants the same things: strong public schools, affordable and accessible healthcare, and a sustainable, secure rural economy," said Andrews. "But, like my neighbors, I don't see anything being done about these issues in Des Moines."
In a telephone interview earlier this month, Andrews told Bleeding Heartland that during his first couple of months campaigning, he's noticed "there's a lot of angst with politics in general." Some of that may be chalked up to the impeachment proceedings. He's found when talking to voters on the doors or at events that many people share his perspective, but it can be challenging to get people to talk about state issues. Voters are often consumed with federal controversies, and he senses quite a bit of anxiety and negativity.
Early conversations have driven home that voters are "concerned about their paychecks." Water quality "is coming up a lot" too. Many people sense that Iowa needs to be doing more to protect drinking water and making rivers and lakes safe for recreation.
Some Republican leaders have suggested that the legislature may raise the sales tax in 2020. If that happens, revenue from the first 3/8 of a cent increase would fund the Natural Resources and Outdoor Recreation Trust Fund, which Iowans approved through a statewide vote in 2010. Andrews is "absolutely in favor of keeping that promise to our voters," but before committing to any sales tax increase, he would want to make sure Republicans don't change the funding formula agreed to before the constitutional amendment passed.
He's also not in favor of investing a lot of new money into solely voluntary water programs "without any kind of standard" and "no oversight."
We need to have a measurable program if we're going to spend our money that way, to help our landowners be the best stewards they can be, and give the voters who are spending that money accountability.
Andrews described Zumbach as "a good opponent" and "a tough opponent" who "makes me work hard." He hasn't put a lot of thought into a possible open-seat race. He's telling his supporters and volunteers that "we're planning to beat Louie."
What's the best way that people could help his campaign, this far out from the election? Andrews said any donation, even a small contribution, would have the biggest impact. He speculated that if he raises a substantial amount of money during his first few months as a candidate, that might influence Zumbach's decision on whether to run again. (State legislative candidates will file reports in January on their fundraising during the 2019 calendar year.) Supporters can contribute through ActBlue.
Although House district 95 is currently on the second tier of Democratic pickup opportunities, it should be competitive and could become a top target as an open seat. The Flip it Iowa group, which connects donors living in safe Democratic areas with candidates running in competitive districts, has already held one fundraiser for Andrews and will likely continue to help next year.
Zumbach has a campaign Facebook page. Andrews has a campaign website and is on Facebook and Twitter at AndrewsforIowa.
Top image: State Representative Louis Zumbach (left), Democratic challenger Christian Andrews (right).