State legislator retirements are typically a problem for the party out of power. Members of the majority can chair committees, drive the agenda, and get plenty of attention from lobbyists. Life in the minority caucus is much less satisfying.
Although Iowa House Republicans enjoy a 59-41 majority, four GOP representatives have already confirmed plans to step down this year, with more retirements likely before the March 16 filing deadline. When incumbents don't seek re-election, party leaders sometimes must spend more resources defending open seats, leaving less money available for top and especially second-tier targets.

Here are the four confirmed GOP retirements, from most competitive to least competitive district:
• Ken Rizer was on retirement watch all of last year, having reportedly moved out of House district 68 following a divorce in late 2016. The State Government Committee chair finally announced in mid-January that he won't seek a third term. Covering the Cedar Rapids suburb of Marion and some other parts of Linn County, House district 68 was already one of this year's best Democratic pickup opportunities. According to the latest figures from the Iowa Secretary of State's office, the district contains 6,678 active registered Democrats, 6,193 Republicans, and 8,217 no-party voters. Hillary Clinton outpolled Donald Trump here by 48.2 percent to 44.5 percent in 2016. Two years earlier, U.S. Senate candidate Bruce Braley trailed Joni Ernst by less than 1 percent in the House district 68 precincts. Many observes expect substantially higher Democratic turnout this year than for the last midterm election.
Two Democrats are seeking the nomination: Rizer's 2016 challenger Molly Donahue (website, Facebook, Twitter) and Scott Foens (website, Facebook, Twitter). I am not aware of a declared GOP candidate. According to multiple Linn County sources, Rizer and Republican Party of Iowa chair Jeff Kaufmann have tried to recruit former talk radio host Bob Bruce. UPDATE: A reader informed me that Randy Ray announced last week that he will seek the GOP nomination here. He previously ran unsuccessfully for a Linn County supervisor seat.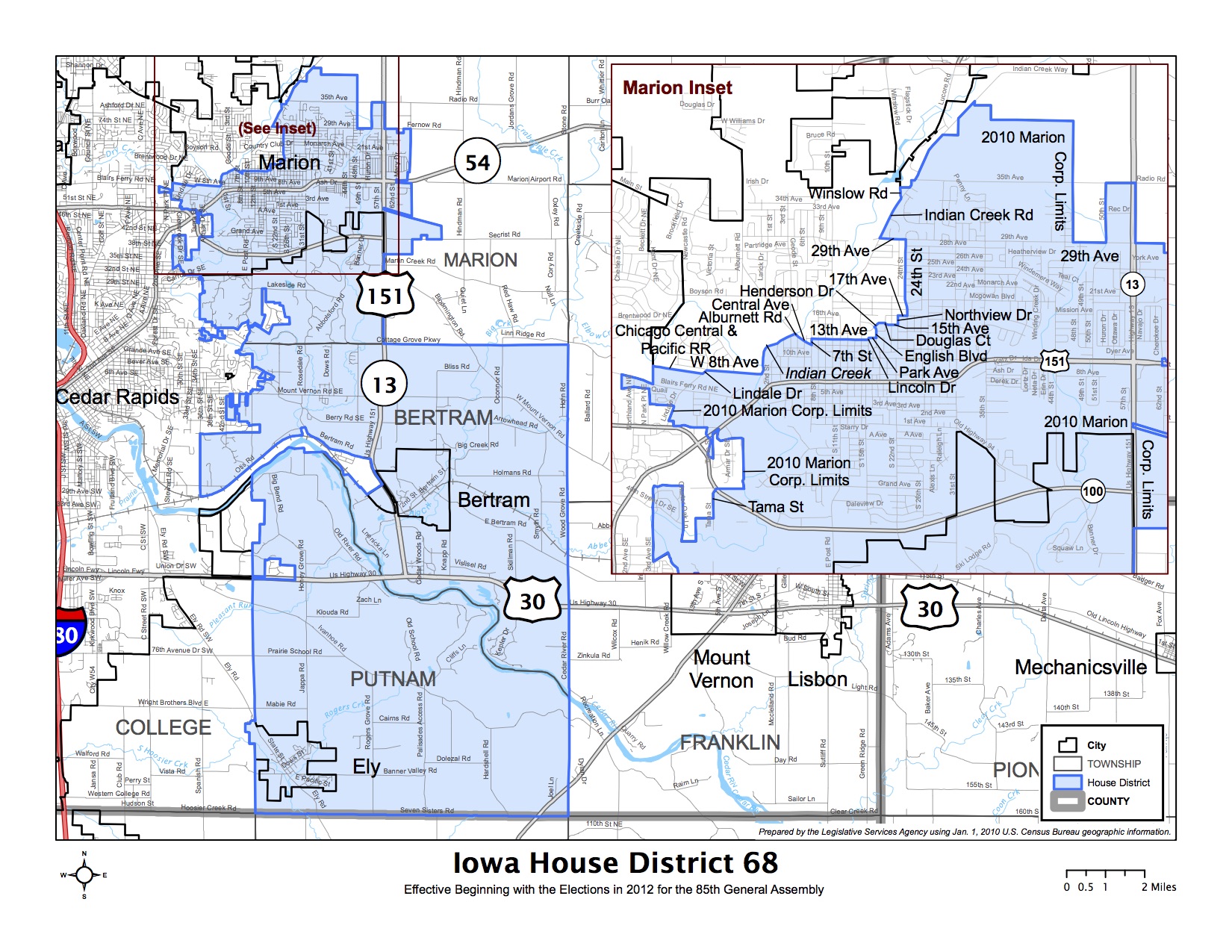 • Ten-term incumbent Clel Baudler announced his retirement last week. The Public Safety Committee chair and retired state trooper had been rumored to be unhappy during last year's session. He was one of six House Republicans to oppose the bill revoking almost all collective bargaining rights from public employees. After missing the floor vote on a bill to overhaul the workers' compensation system, Baudler made a point of noting in the House Journal that he would have voted against the legislation.
House district 20 leans to the GOP on paper, with 4,396 active registered Democrats, 6,498 Republicans, and 7,675 no-party voters. Trump received 59 percent of the vote here in 2016, Clinton just 35.4 percent. Ernst outpolled Braley in the 2014 U.S. Senate race by a nearly identical margin. Democrat Warren Varley launched his campaign on February 1. The only declared Republican candidate is Ray "Bubba" Sorensen II. I would not be surprised to see at least one other Republican file for the primary. UPDATE: Dodge Michael Perrigo is also seeking the GOP nomination here.
The district covers Guthrie and Adair counties, a few Cass County precincts, and the northwest corner of Dallas County, including Perry.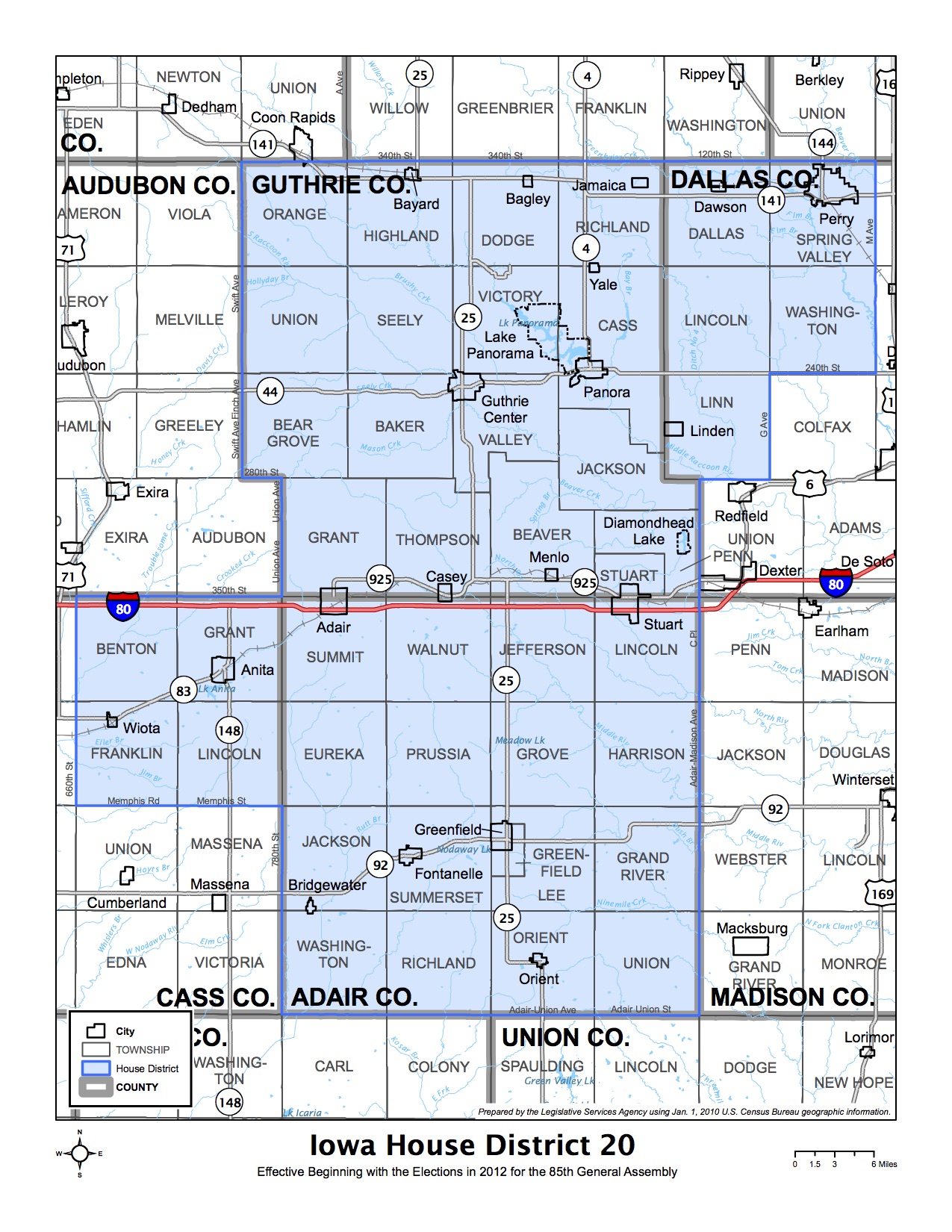 • Ralph Watts, one of the most mean-spirited Republican lawmakers, confirmed his long-rumored retirement in a late Friday night Facebook status update on February 2. Not only is he unpopular in the Bleeding Heartland community, he commands little respect from his own party leaders. Though serving his eighth term in the legislature, Watts wasn't assigned a leadership role on any committee--not even a co-chair position.
House district 19, covering most of Dallas County outside the cities of Waukee, West Des Moines, and Perry, tilts strongly toward the GOP, with 5,283 active registered Democrats, 9,777 Republicans, and 9,744 no-party voters. Trump gained 56.7 percent of the vote in 2016, and Ernst 62.3 percent in 2014. No Republican or Democratic candidates have announced yet. I would expect substantial interest from area Republicans, and at least two Democrats are said to be considering the race. UPDATE: Richard Dedor is running in this district as an independent candidate.
SECOND UPDATE: House Majority Leader Chris Hagenow is leaving a suburban swing district in Polk County to run for the seat Watts is vacating. That move was likely in the works for weeks or months before Watts made his retirement official. The Democratic candidate here is Gregg Gustafson.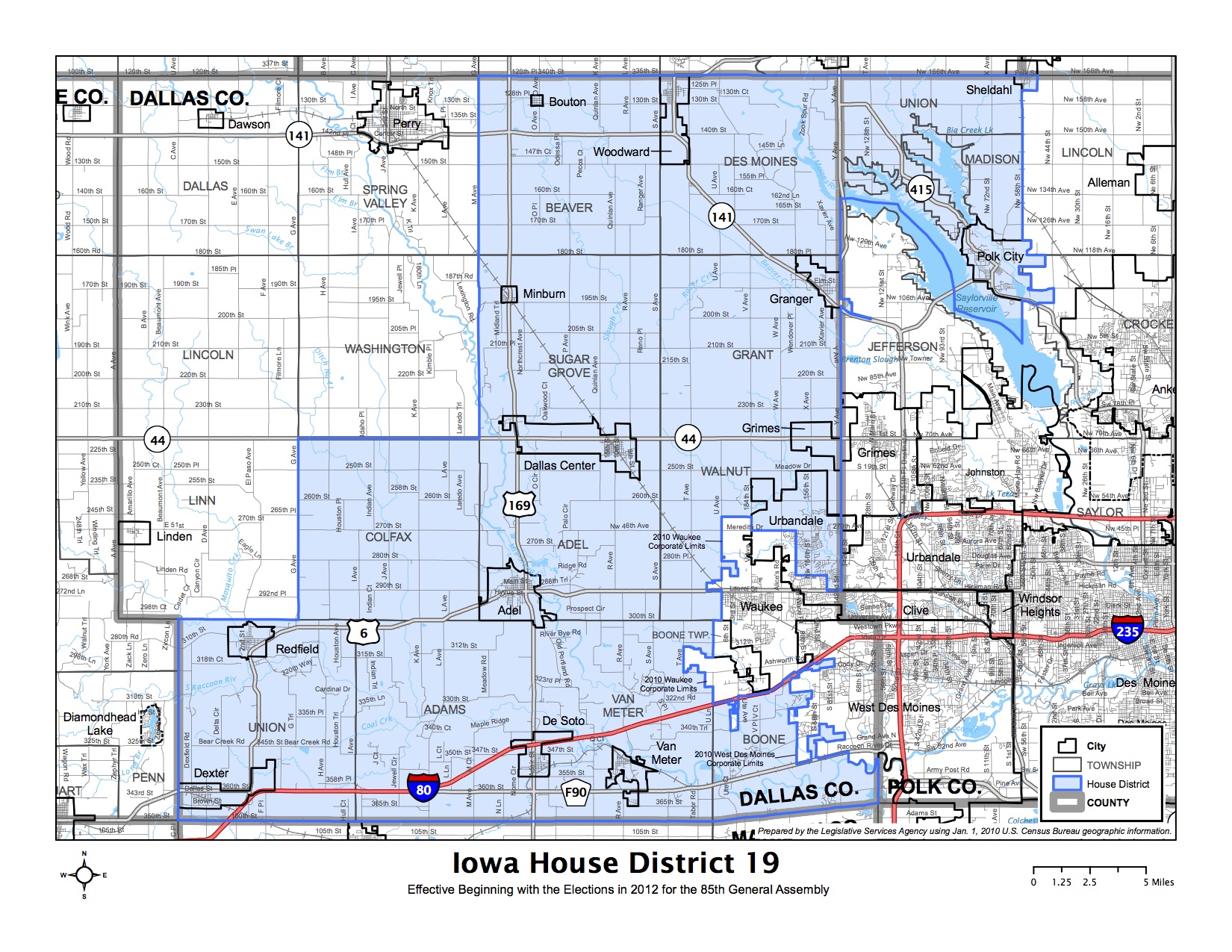 • Chuck Holz will retire after only three years in the legislature, Bret Hayworth reported for the Sioux City Journal on February 2. The vice chair of the Agriculture Committee has decided "to move out of my district to be closer to my family." House district 5 has more than twice as many registered Republicans as Democrats, and Trump gained nearly three-quarters of the vote here, so this seat should be an easy GOP hold. I haven't heard of any candidates from either party. UPDATE: Two Republicans filed to run here: Thomas Jeneary and Joseph Small. The Democratic candidate is Andrew Emanuel.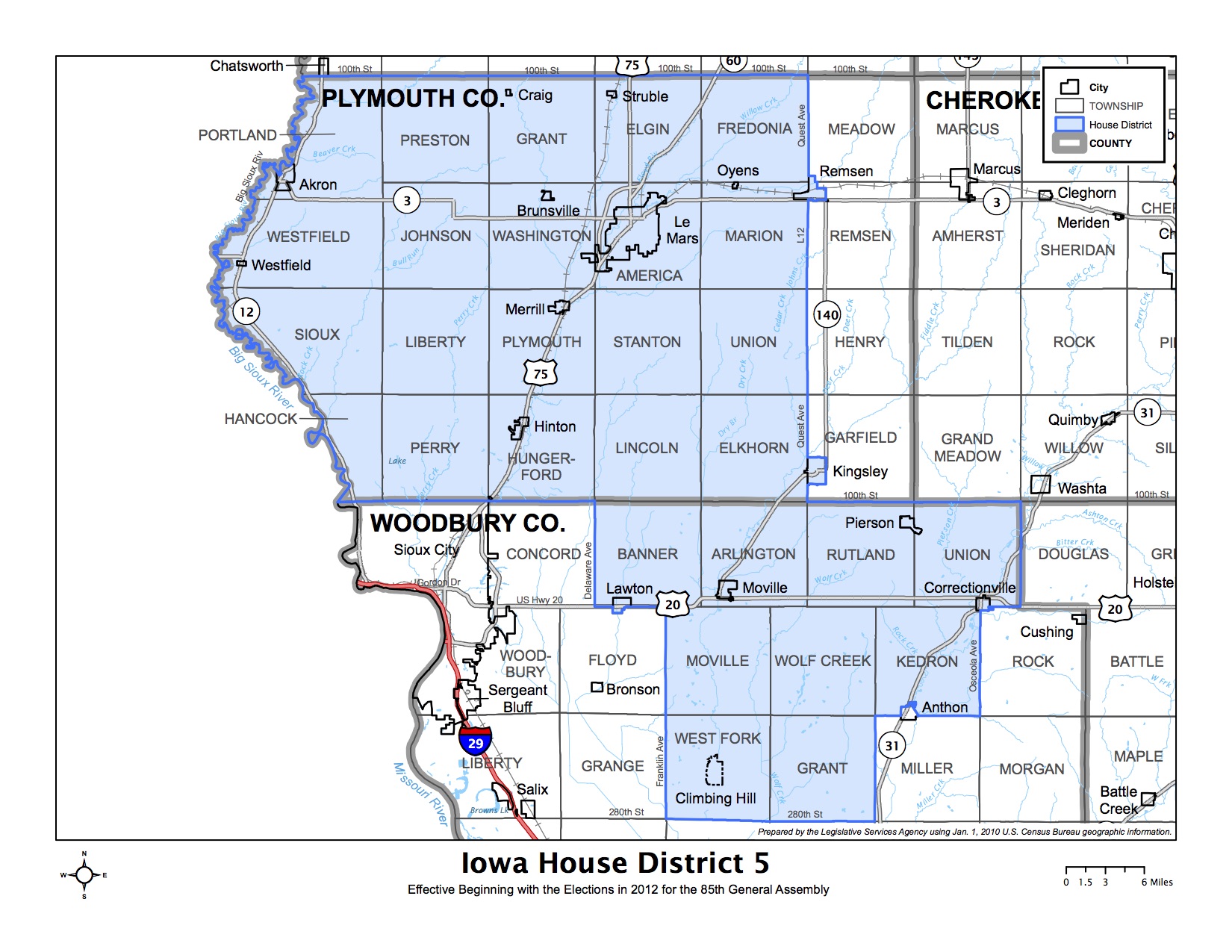 At least eight more House Republicans may be considering retirement. Such rumors don't always pan out, but they did for Rizer, Baudler, and Watts. So for what it's worth, I'm naming them here.
Before Democratic readers get too excited, remember that open seats do not automatically produce gains for the party out of power. Eight Iowa House Republicans retired in 2016, four of whom represented potentially competitive districts: Josh Byrnes in House district 51, Darrel Branhagen in House district 55, Brian Moore in House district 58, and Quentin Stanerson in House district 95. The GOP held all of those seats.
Tips are welcome on other Iowa lawmakers who belong on this list:
• Chip Baltimore told the Des Moines Register's Kathie Obradovich last month that he hasn't decided whether to seek a fifth term. House Speaker Linda Upmeyer recently removed him as Judiciary Committee chair following Baltimore's arrest on drunk driving and weapons charges. Few legislators every publicly call out members of their own party the way Baltimore did during the January 23 debate on a water quality bill. (Click here for a video and transcript of that speech.) UPDATE: On March 16--the last day major-party candidates can file to run for the state legislature--Baltimore confirmed he will retire.
Democrats would have better prospects in House district 47 if the seat opens up. But this seat covering Greene County and most of Boone County could become competitive anyway, especially since Democrats have a good recruit, David Weaver. The district contains 5,522 active registered Democrats, 6,781 Republicans, and 7,692 no-party voters. Trump gained 55 percent of the vote here in 2016, Ernst 54.4 percent in 2014. UPDATE: Victoria Sinclair, a staffer in U.S. Representative Steve King's Ames office, announced on March 16 that she will seek the Republican nomination here. Phil Thompson, a GOP activist who clerked for State Representative Dawn Pettengill, will also run in the primary. LATER UPDATE: Donald Batt filed for the GOP primary as well.
• Peter Cownie won a fifth term in House district 42 by less than a 10 percent margin in 2016 after panicked Republicans spent more than $300,000 bailing him out. Whether or not the Commerce Committee chair retires, his seat covering much of West Des Moines and the city of Cumming will be a top Democratic target in 2018. Barack Obama narrowly outpolled Mitt Romney here, but Clinton carried the district by 51.2 percent to 42.2 percent in 2016. Latest registration numbers: 6,836 Democrats, 6,954 Republicans, and 6,245 no-party voters. Democrat Kristin Sunde rolled out her campaign two weeks ago (website, Facebook, Twitter). UPDATE: Cownie announced on March 10 that he will seek another term in the House. LATER UPDATE: Ralph Haskins filed to run against Cownie in the GOP primary.
• Kristi Hager may run for Allamakee County supervisor this year, rather than seeking a second term in the legislature. Either way, Democrats will contest House district 56, where Lori Egan has been actively campaigning since last June. The district has a GOP voter registration advantage, and Trump won nearly 60 percent of the vote, but Democrat Patti Ruff knocked off a GOP incumbent here (Hager's husband) in 2012 and held the seat in 2014 before losing to Hager last cycle. UPDATE: Andy Kelleher is also seeking the Democratic nomination in House district 56. FEBRUARY 15 UPDATE: Hager announced she is running for county supervisor. LATER UPDATE: Dale Bolsinger is the only Republican candidate for this seat.
• Mary Ann Hanusa was among the House Republicans who opposed last year's collective bargaining bill. More recently, the Economic Growth Committee chair voted with the Baltimore faction against accepting the Senate GOP version of water quality legislation. House district 16 covers part of Council Bluffs and leans Republican in terms of voter registration numbers. Trump's 10 percent advantage over Clinton here was comparable to his statewide margin of victory. Hanusa was a surprise last-minute filer for this seat in 2010, so if she does plan to retire, she may keep her intentions secret until just before the March 16 deadline to submit nominating papers. UPDATE: Hanusa filed for re-election on March 15. Her Democratic challenger is Steve Gorman.
• Dave Heaton is one of the longest-serving statehouse Republicans, having been elected for the first time in 1994. The Health and Human Services Appropriations Subcommittee chair has at times criticized the management of privatized Medicaid and was another vote against the collective bargaining bill. Cautionary note: multiple sources indicated in 2014 or 2016 that Heaton was planning to retire, yet he's still at the capitol. Republicans would be favored to hold House district 84, based on voter registration totals and Trump gaining 63 percent of the vote here. UPDATE: Heaton released a statement on February 5 confirming that he will retire at the end of this year. LATER UPDATE: Four Republicans are competing for the nomination here: Martin Amos, Trevor Lynn, Sheila Matheney, and Joe Mitchell. The only Democratic candidate is Jason Moats.
• Dawn Pettengill was first elected to the Iowa House as a Democrat in 2004. In an unusual move, she became a Republican in 2007, a few months after Democrats had gained control of the lower chamber. She currently chairs the Administrative Rules Review Committee, made up of five lawmakers each from the House and Senate. House district 75 covers Benton County and part of Iowa County. Republicans lead in voter registrations, and Trump won 60 percent of the vote here. Paula Denison, Pettengill's 2016 Democratic challenger, is running again (website, Facebook). UPDATE: Pettengill confirmed her retirement on February 22. LATER UPDATE: Thomas Gerhold is the only Republican running in this district. Three Democrats are seeking the nomination: Paula Denison, Doris Guilford, and Dennis Mathahs. Libertarian John George is also running.
• Rob Taylor cast the only Republican vote against the cruel workers' compensation bill during the 2017 session. Republicans outnumber Democrats in House district 44, covering Waukee, but suburban voters have been trending away from the GOP, and Democratic candidate Kenan Judge has a solid business background (website, Facebook, Twitter). UPDATE: Taylor announced on Facebook on February 8 that he will not seek a fourth term, saying he needs to "focus additional time on our family businesses." LATER UPDATE: Two Republicans filed for this seat: Anna Bergman and Travis Grassel.
• Guy Vander Linden is a close ally of Baltimore and was among the handful of Republicans to vote against leadership's position on the water quality bill. Even so, I will be surprised if the Ways and Means Committee chair retires. Regardless, House district 79 will surely stay in GOP hands, since there are three times as many registered Republicans as Democrats in this district, containing Oskaloosa and the conservative stronghold of Pella. UPDATE: An alert reader pointed me to the latest newsletter from Vander Linden: "After eight years representing District 79, I have decided to retire from the Legislature at the end of this term. It has been an honor to serve in the Iowa House, but it is time for me to devote more time to family." LATER UPDATE: Surprisingly, only one Republican filed to run here: Dustin Hite. The Democratic candidate is Samantha Keith, and Nicholas Ryan (not the more famous Iowa GOP operative Nick Ryan) is running as a Libertarian.
Final note: so far, three Iowa House Democrats have confirmed that they will not seek re-election in 2018. The best GOP pickup opportunity will be in House district 9, covering Fort Dodge and some other parts of Webster County. Assistant Minority Leader Helen Miller announced last week that she won't seek a ninth term. Republican candidate Ann Meyer raised more than $27,000 in 2017, which is a lot of money for a non-incumbent in the off-year.
Todd Taylor is running for Iowa Senate district 35, where the longest-serving current Iowa lawmaker, Wally Horn, is retiring. The Democratic nominee should be a lock for House district 70, covering part of Cedar Rapids. Tracy Ehlert has been running since last July (Facebook, Twitter).
Jerry Kearns announced his retirement last week. House district 83 covers most of Lee County and should also be an easy hold, with a large voter registration edge for Democrats.
UPDATE/CORRECTION: I forgot to mention Abby Finkenauer, who is running for Congress in Iowa's first district rather than for re-election to House district 99, covering part of Dubuque. That's a safe Democratic seat as well.
LATER UPDATE: State Representative Greg Heartsill announced on March 7 that he won't seek a fourth term in House district 28, covering most of Marion County other than Pella and parts of Lucas and Jasper counties. I hadn't heard that he was considering retirement. MARCH 16 UPDATE: Republicans Jon Van Wyk and Jon Thorup and Democrats Ann Fields and Zachary Pendroy are running for this seat.
Three-term Republican Larry Sheets is also apparently retiring. Though I haven't seen a formal statement, two other GOP candidates have filed nominating papers in House district 80: Holly Brink and Richard Harold Keilig, Jr. The Democratic candidate here is Susan McDanel. The district covers Appanoose and Monroe counties, along with part of Wapello (but not the city of Ottumwa) and part of Mahaska (but not the city of Oskaloosa). UPDATE: Sheets made his retirement official at the Wapello County GOP convention on March 10.