Some Iowa statehouse Republicans are more extreme, more ignorant, more unhinged, more dishonest, or more mean-spirited than Peter Cownie.
But few lawmakers make less effort than Cownie to demonstrate that they deserve to be in a position of power.
A television commercial in heavy rotation on Des Moines stations doesn't name even one legislative accomplishment from Cownie's eight years in the Iowa House, including two years leading the State Government Committee and two as Commerce Committee chair. Cownie has rarely if ever knocked doors to talk to his constituents in West Des Moines. He doesn't show up at many local public forums. He doesn't consistently answer e-mails. He doesn't follow through on some of his promises.
Recent campaign disclosure forms show the Iowa GOP has spent more than $300,000 on tv ads promoting Cownie or trashing his Democratic challenger, my friend Claire Celsi. Tens of thousands more went toward direct mail to benefit Cownie's campaign.
Why did Republicans hit the panic button?

In many ways, House district 42 (map enclosed below) resembles House district 43 next door in the western suburbs of Des Moines: a once-red area becoming more diverse and trending purple. Going into the 2012 presidential election, 7,110 registered Democrats, 7,908 Republicans, and 6,554 no-party voters lived in the district.
The latest figures from the Secretary of State's office show the GOP registration advantage has shrunk from nearly 800 four years ago to 137 this month: 7,298 active registered Democrats, 7,435 Republicans, and 6,095 no-party voters.
President Barack Obama barely outpolled Mitt Romney in House district 42 by 49.9 percent to 48.8 percent. But unlike fellow GOP State Representative Chris Hagenow, who carried House district 43 by a 23-vote margin, Cownie was re-elected comfortably by more than 2,200 votes during the last presidential election cycle. Before Celsi announced her candidacy last fall, some Democrats discouraged her from taking on what they viewed as a hopeless cause.
The joke's on them.
Celsi has been a relentless canvasser, speaking in person to dozens of voters almost every day for months. She has reached many other residents by phone or through hand-written postcards. Iowa House districts are small enough for a hard-working candidate to make direct contact with a large share of likely voters. Celsi put in the long hours to make that happen.
Her efforts have paid off: as of November 5, Democrats living in House district 42 had returned 3,206 absentee ballots, compared to 2,361 ballots from Republicans and 1,304 from no-party voters. In reality, Celsi probably leads Cownie by well over 845 votes banked, since she has canvassed many non-Democratic households. Her Facebook friends enjoy reading her daily door-knocking stories, often involving Republicans or independents who committed to vote for her.
Just under 17,000 residents of House district 42 voted for either Cownie or his Democratic opponent in 2012. Nearly 7,000 ballots were already at the Polk County auditor's office by Saturday, with hundreds more possibly arriving by election day. Cownie will likely have to make up a deficit of more than 1,000 votes among only 10,000-odd election day voters.
By mid-October, House Republican leaders were concerned enough to put $106,135 into tv ads supporting Cownie. A 30-second positive spot ran first and went back on the air on November 2 to close out the campaign. My transcript, with some pictures to give you a sense of the visuals:
Female voice over: To make our state better, Iowa needs leaders who are making a difference at home.

Having led Junior Achievement of Central Iowa, Peter Cownie invested in the next generation

Teaching students the values of entrepreneurship and financial savings.

Reaching 27,000 students annually.

Driven to find bipartisan solutions,

Peter Cownie's priority is making Iowa the best state to live, work, and raise a family.

Husband, father,

champion for local communities.

Peter Cownie for Iowa.
My kids have participated in one of Junior Achievement's programs for elementary school students ("Biztown"). They and their classmates had fun and learned a lot. Cownie wasn't personally teaching 27,000 students a year, of course. He was a 20-something from a well-connected family when picked to lead this organization. I know nothing about how he managed Junior Achievement's affairs or why he departed from the organization in 2013. Let's assume Cownie did a great job there and in his roles as husband and father.
How is any of the above a case for voters to give him another two years in the Iowa legislature?
"Driven to find bipartisan solutions"--give me a break. If Cownie had any significant accomplishments as an Iowa House member, this commercial could have cited one. He isn't known among Democrats as a guy who will go the extra mile to find a compromise.
For some unintentional comedy, read the priorities Cownie cited in the bio submitted to the Des Moines Register this fall.
1. Medical cannabidiol: It is time for the state of Iowa to adopt a comprehensive and meaningful cannabidiol program to help the Iowans who need it most. I have been a leader and advocate for a comprehensive medical cannabidiol program the past three sessions. Too many Iowans have tried too many forms of medication that do not work. Medical cannabidiol is their last option and the state should help our most vulnerable.

2. Jobs and economic development: The state of Iowa should always examine its tax structure and economic development policies in order to attract and keep jobs here. Nothing is more important to our economy than putting more Iowans to work and attracting new jobs. Removing unnecessary regulation is imperative to ensuring employers are able to hire more Iowans and increase family incomes. The state can play a critical role in this regard and should do whatever it takes to put more money back into the hands of hardworking taxpayers of Iowa.

3. Water Quality: Iowa's water quality needs to be addressed. I believe that funding is a critical part to the problem. What many Iowans do not realize is they pay a sales tax on their own personal water bills. This equated to approximately $20 million in 2015. These dollars should be used to help make Iowa's water better. It is good government to use specific dollars for specific needs, in this case sales tax on an Iowan's water bill going towards better water in our state. This is a good start to addressing the critical issue of water quality in Iowa.
Reality check on Cownie's so-called leadership regarding medical cannabis: he introduced a good bill early in the 2016 legislative session. Modeled on legislation that had passed the Iowa Senate last year, Cownie's bill would have legalized the use of cannabis derivatives (not smokeable marijuana) for a wider range of health problems. But as Celsi pointed out in a recent blog post,
Unfortunately, the bill was dead on arrival in the House of Representatives. You see, the Speaker of the House told legislators that it was not going to pass. Then Cownie's bill was gutted and sidelined for the rest of the session. The advocates who traveled to the capitol on a daily basis to lobby for the bill were ignored.

Peter Cownie did not lead. He did nothing to build support, held no forums, and then voted for a watered-down ineffective substitute bill that was looked upon by experts as a half measure – the proverbial, "throwing a bone" to the public.
Bleeding Heartland described here how two other Republicans on Cownie's Commerce Committee scaled back his medical cannabis bill. They didn't consult with House Democrats or health care professionals. They spoke with other members of the GOP caucus, then made "arbitrary" decisions about which diseases to remove from the list that would justify obtaining medical cannabis in Iowa. Cownie voted for the watered-down bill, which soon died in another committee.
During House floor debate on a different medical cannabis bill, which would have done nothing for Iowans in need, Cownie said, "I am so sorry we are not able to pass a comprehensive bill." Where are those leadership skills? Why should Iowans expect better results next year if Cownie returns to the Capitol to elect the same House speaker and majority leader?
The second point on Cownie's priority list is a mash-up of generic talking points: "unnecessary regulation," "put more money back into the hands of hardworking taxpayers," and so on. What regulations does Cownie see hurting job growth? Whose taxes would he cut, and by how much?
The third point is a sick joke. Having been active in Iowa's environmental community for longer than Cownie's held political office, I assure you, he has never been a voice for cleaning up our filthy waterways. I've never heard of him participating in any round-table discussions on how to improve water quality, or working with fellow lawmakers to increase funding. In contrast to some Iowa House and Senate members, Cownie has never accepted an invitation to attend the Iowa Environmental Council's annual conference. (I've served on that non-profit board since 2007; Cownie was first elected to the statehouse in 2008.)
To suggest as Cownie does that $20 million in sales tax revenues could make a dent in our water quality problems is either ignorant or deliberately misleading. Addressing the problem will require a much larger commitment of funds. Anyway, why should consumers bear the full cost through their water bills? How about those who generate most of the pollutants kicking in some cash?
Speaking of cash, Iowa Republicans put an additional $246,726.10 into Cownie's campaign in late October. Most of the money went toward more tv ads, specifically a hit piece highlighting two obscure blog posts by Celsi from 2005. My transcript:
Female voice-over: Some don't have the temperament for public office. Take Claire Celsi.

After receiving a ticket, look what Celsi said: "I hate cops. I hate their shiny little shoes and their tight pants and their stinky butch wax"; "a stupid black & white"

Picked up again, this time she called the cop "little _____ cop."

Claire Celsi is unfit for office. The rest of her comments are unfit for tv. See the worst at ClaireCelsiUnfitForOffice.com .
That website includes screenshots of the posts from a personal blog Celsi has since taken down. She responded to the "desperate attack" on her campaign website:
Recently, my opponent Peter Cownie started running nasty TV ads against me, using an 11-year -old blog post as "evidence" of my character.

I am writing this to say unequivocally: No, I do not hate cops. I was having a bad day. After a long frustrating day at work, I was late getting home. An officer stopped my car and gave me a ticket. I didn't say a word to him, hadn't had a drop to drink, signed the form and drove home.

I wrote an online journal and forgot all about it. I paid my ticket promptly.

At that time, I was keeping a journal that only I could see. Later, I rolled all my old posts into a public blog that almost no one read. Eleven years later, my bad day is being used against me. Fair enough, I guess, but not an accurate representation of who I am as a person.

Unlike my opponent, I've never taken a public vote to defund mental hospitals. I've never voted to intentionally underfund our public schools. I've never voted to weaken law enforcement pensions. I've never gone out of my way to kill on a bill to help 11,000 kids who have autism – like Peter Cownie has done.

He's got nothing on me. I have no criminal record or other debacle. So, he has to attack me to distract attention from his own terrible record.

I've worked hard in this campaign, knocking on thousands of doors. I've knocked on a fair number of law enforcement officers' doors. They are rightly concerned about some of the issues I've raised in my campaign, especially education and mental health funding. They want us to have a vibrant community with a well-educated workforce just as much as anyone. [...]
Celsi was inspired to run for office in the summer of 2015, when Governor Terry Branstad vetoed tens of millions of dollars in education funding as well as a compromise to keep mental health institutions open. Cownie ignored Democratic appeals to override those vetoes. I never heard him criticize the governor's actions, which blew a $1 million hole in the West Des Moines school district's budget.
About that autism bill Celsi mentioned: she discussed Cownie's actions in a guest post for Bleeding Heartland in April. Most insurance policies in Iowa do not cover Applied Behavioral Analysis therapy for children on the autism spectrum. Parents were lobbying for a bill to mandate that private insurers cover ABA therapy for people under age 21. Celsi wrote, "Cownie had challenged the bill's advocates to 'find him seven Republican votes' so he could bring the bill up and pass it out of his committee for consideration by the entire House." Yet after they did so, he didn't bring up the legislation in the Commerce Committee before this year's "funnel" deadline.
The following month, House Democrats tried to add the autism insurance mandate to the health and human services budget bill. Cownie voted for the amendment, knowing it didn't have enough votes to pass. Now a conservative interest group supporting his re-election is running online advertising touting that vote as "work to protect our children."
After the legislature adjourned for the year, many Republican lawmakers assured constituents that health insurance would cover autism services for Iowans next year. That's not true: Wellmark Blue Cross/Blue Shield policies policies won't be available statewide, nor will they cover ABA interventions.
Celsi's campaign has received a little in-kind support from the Iowa Democratic Party for mail, and she's been running online advertising. Cash-strapped Democratic leaders were unable to provide support for tv ads on Celsi's behalf, which is regrettable when Cownie's ads are running so frequently.
But money doesn't always carry the day in Iowa legislative races. Here's hoping voters in House district 42 will recognize Cownie hasn't earned another term in the House.
Any relevant comments are welcome in this thread.
Iowa House district 42 covers most West Des Moines precincts in Polk County and the northwest corner of Warren County (Cumming and Linn township).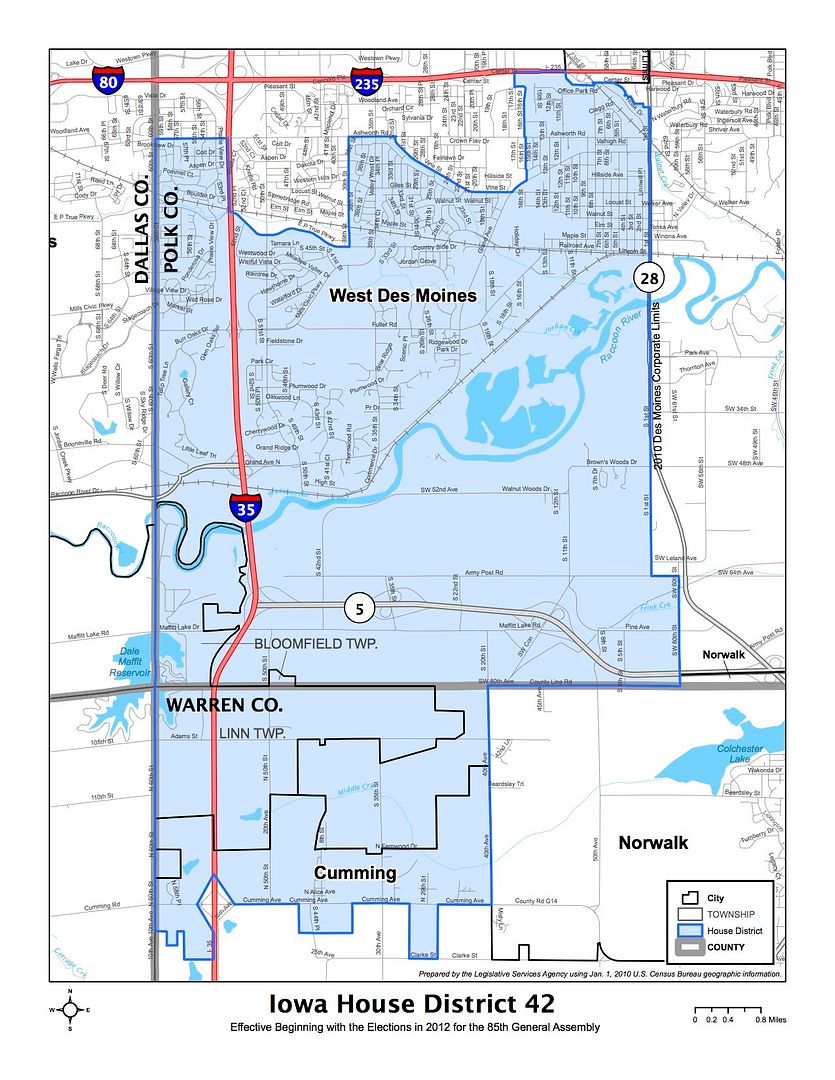 Top image: State Representative Peter Cownie and Claire Celsi, his Democratic challenger in Iowa House district 42