Of the five Democrats who flipped Iowa House seats in the Des Moines suburbs in 2018, Karin Derry had the steepest uphill climb. Jennifer Konfrst and Kenan Judge were campaigning in open seats (House districts 43 and 44). Kristin Sunde was running against a GOP incumbent, but Hillary Clinton had carried House district 42, and registered Democrats outnumbered Republicans there. Heather Matson faced an incumbent in a district that had voted for Donald Trump, but the GOP had only a slight registration advantage in House district 38.
Derry challenged State Representative Jake Highfill in House district 39, where Trump outpolled Clinton and registered Republicans outnumbered Democrats by more than 2,300 going into election day.
It's long been obvious that Derry's seat will be among the GOP's top targets for 2020 state House races. But until last week, Republicans didn't have a declared candidate. Eddie Andrews made his campaign official on January 20. If elected, he would be only the second African-American Republican to serve in the Iowa legislature and the first in more than five decades.

POLITICAL LANDSCAPE
House district 39 covers Johnston, Grimes, Jefferson township, and one Urbandale precinct in northwest Polk County.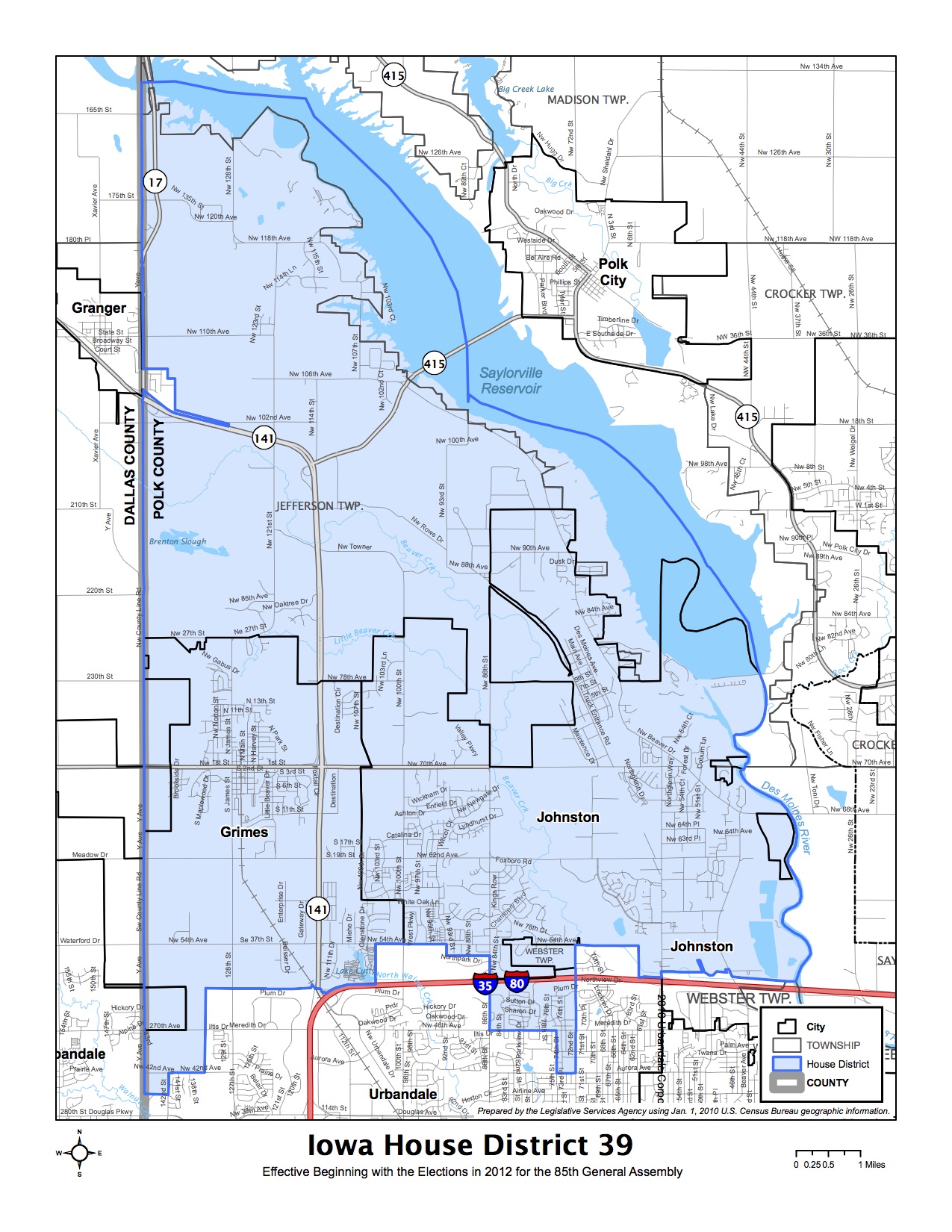 Republicans have long dominated this part of the Des Moines suburbs. Mitt Romney outpolled Barack Obama here by 55.8 percent to 43.0 percent in 2012. Trump's advantage over Clinton four years later was 49.0 percent to 43.9 percent, even as Clinton carried some nearby districts. But reflecting trends toward more purple suburbs, Governor Kim Reynolds barely edged out Fred Hubbell in the House district 39 precincts, 49.9 percent to 48.4 percent.
The latest official figures indicate that the voter registration gap has narrowed only slightly since the last election. As of early January, 7,593 active registered Democrats, 9,498 Republicans, and 9,687 no-party voters lived in House district 39.
Although State Representative Jake Highfill was not the brightest star in the House Republican caucus, Derry's win was still impressive. Her campaign manager Nor Kelly described here how Derry's hard work and a small army of volunteers delivered a win by 305 votes (49.8 percent to 48.3 percent). In addition to knocking thousands of doors to introduce herself to voters, Derry had a good positive television commercial running. Republicans ran a desperate hit piece against her, featuring Nancy Pelosi in the background.
BACKGROUND ON THE CANDIDATES
Derry had lived in Johnston with her husband and three kids for nearly two decades before running for the legislature. From her official bio:
Karin is the daughter of small-town business owners and she understands the importance of providing a favorable environment for employers. After watching the Iowa legislature's attack on middle-class, hard-working Iowa families, women, and Iowa's educational system in 2017, Karin was moved to action and decided it was time to stand up and fight for what she believes in and run for the Iowa House.

With a University of Iowa bachelor's degree in Sociology, Karin worked in Human Resources for over 15 years, primarily with not-for-profits, Broadlawns, Easter Seals, and Lutheran Social Service. She later earned a master's degree in Public Administration, and in 2006 graduated with highest honors from Drake University Law School.

After clerking for Justice David Baker on the Iowa Court of Appeals and the Iowa Supreme Court, Karin worked in private practice for two years and then prosecuted dependent abuse cases for the State of Iowa's Department of Inspections and Appeals. From 2011-2018, she was in-house counsel with DHI Group.

Active in her community for many years, Karin has served on the boards of directors of the Central Iowa AIDS Project and Primary Health Care, and on the Iowa Dependent Adult Protective Advisory Council. She serves on the Central Committee for the Polk County Democrats, and is a member of St. James Lutheran Church in Johnston.

Karin and her husband Jeff have been happily married for more than 20 years. They have three children, David, Joseph, and Karleen, with the youngest still in Johnston High School. They regularly attend school events, including soccer, music programs, and cheerleading. They also enjoy vacationing in Colorado as a family.
Derry is considered among the more moderate Iowa House Democrats and recently endorsed Amy Klobuchar for president. Her website highlights "building an economy with better jobs and higher pay, balancing our state's budget, investing in educating all of our children, providing a health care system that is both affordable and accessible, and making sure that Iowans have clean air to breathe and clean water to drink."
While some other Republican may file for this House seat (it's not hard to collect 50 signatures on a nominating petition), Eddie Andrews is the local GOP establishment's preferred candidate. State Senator Brad Zaun, whose district includes House district 39, attended Andrews' campaign kickoff.
Some months ago, I heard that local business owner Lynn Schreder was considering running for this seat. She didn't reply to my inquiries and "liked" several posts on Andrews' Facebook page last week, so I infer that she has no plans to run for the legislature.
Andrews lives in Johnston and described himself this way in the January 20 news release announcing his candidacy.
Today, local entrepreneur and bilingual pastor Eddie Andrews announced he will seek election to the Iowa House in District 39, which includes Johnston, Grimes, Jefferson and one princinct (Precinct 4) in Urbandale. Andrews says we must "bring back a voice who represents all citizens of this area."

Andrews was born on the east side of Des Moines, elected student government president at East High, graduated in Electrical & Computer Engineering from the University of Iowa, with further education in engineering management and religious studies, and is completing another Masters of Divinity at Shiloh University. As an entrepreneur, he's provided innovative tech solutions for several of the leading biotech, insurance, agricultural and retail firms, and more importantly, many small businesses and startups. Eddie has a reputation of thinking differently to win, and is an "intense" listener, getting the best ideas from all sides.

His passion has always been to lift others and living the true example of servant leadership. As part of the ministerial and worship teams, Eddie has been involved in a number of English, Spanish and Swahili language church plants, having served stints as co-pastor and music director of Iglesia Pentecostal del Nombre de Jesus, Life Church Multi-Cultural Director, and Director of Purpose Institute ministerial school.

With unending drive and passion for student excellence, Andrews founded #mentoromics to teach free coding and business skills to youth at the Johnston Library. Participating students now have apps in the App Store, Google Play and Alexa Skill stores, earning their own funds from these ventures. Eddie live streams these sessions and mentors the students nationally.

Mr. Andrews is actively involved in many of the festivals and justice forums throughout Central Iowa and is found in Johnston and Grimes wherever he can make a positive difference. He also founded Des Moines Spanish Conversation weekly meetup. Andrews visits local schools so often, he is affectionately called "Grand Dude" by the Horizon Elementary students.

"Because I know we together can make a positive difference, it's my honor to run for – and win – this House seat. But I need your help to win it. Give, donate, volunteer at eddie4iowa.com Why? It is our sacred duty to pass on the principles of liberty, premier education — college and vocational, healthy neighborhoods and respect to our children through limited governmental interference, schools that excel, with a health safety net and continued taxpayer relief" said Andrews. In my 10-Point Plan I've proposed mental health rapid response units, entrepreneur zones, and "SMART" education. To prevent people from falling through the cracks, we must proactively make all Johnston, Grimes, Jefferson and northern Urbandale citizens participate in this great economy, equipping teachers, cutting excessive red tape, creating economic opportunities, making it easier for employers to create jobs. "When they win, we all win."

Andrews has been a consistent faith-forward conservative, proudly pro-life, pro-Constitution (and all amendments), pro-mental health, pro-STEM, pro-entrepreneur, pro-family community voice, often giving impromptu lessons about what makes this country and state so special.

Eddie is married to his high school sweetheart Betty and is the proud father of two daughters, Bridgette and Alexis, a son Tyrese "Eli", a recent Johnston High graduate who passed away, is "Grand Dude" to Josh, and honorary "dad" to a growing number of millennials.
The candidate's wife Betty Andrews is president of the Iowa-Nebraska Conference of the NAACP. Governor Reynolds recently named her to a criminal justice reform task force.
A challenger needs to convince voters to replace the incumbent, so I asked Eddie Andrews about specific disagreements with Derry, or ways he feels she is not representing the district well. He replied, "It's more about what I will be presenting, not what anyone else is/isn't doing," adding that a campaign website to be launched soon will include some detailed proposals. Andrews did not respond to my follow-up question about whether he voted for Trump in 2016 and/or plans to vote for him this November.
If elected, Andrews would be the nineteenth African American to serve in the Iowa legislature and only the second Republican to do so. Cecil Reed ran successfully as a Republican in 1966 and represented part of Cedar Rapids in the House for one term.
According to information provided by the Office on the Status of African-Americans in the Iowa Department of Human Rights, the other black Iowans who have served in the state House are Democrats Willie Stevenson Glanton, James Jackson, June Franklin, William Hargrave, Peter Middleton, Albert Garrison, Tom Baker, Wayne Ford, Deborah Berry, Helen Miller, Kerry Burt, Ako Abdul-Samad, Phyllis Thede, Ruth Ann Gaines, Ras Smith, and Ross Wilburn (the last five currently serve). Thomas Mann, a Democrat, is the only African American to have served in the Iowa Senate.
Both parties spent six figures in House district 39 during the last election cycle, and I expect Republicans and Democrats to invest heavily here in the fall. Derry will not be outworked, and Trump at the top of the ticket may be a drag on down-ballot GOP candidates in the suburbs. However, given the GOP's structural advantage in this area, I consider the race a toss-up.
Andrews filed organizational papers with the Iowa Ethics and Campaign Disclosure Board in December but did not file a campaign finance report this month, suggesting he didn't start fundraising before the end of 2019. Derry raised $42,245.41 last year and had $52,087.89 cash on hand as of December 31. While many Iowa legislators raise more money from political action committees than from individuals, most of Derry's funds came from individual donors; a range of PACs gave a combined $6,800.
To follow Derry: website, Facebook, Twitter
To follow Andrews: Facebook, Twitter (a website at eddie4iowa.com will apparently be launched soon)
UPDATE: Derry informed supporters in a March 23 email that she was diagnosed with breast cancer after a routine annual mammogram. She said the cancer was caught early and "My prognosis is very good." She plans a lumpectomy followed by radiation.
I do not anticipate that my treatment will interfere with my ability to represent the people of House District 39. I plan to return to session when we reconvene.

And yes, I'm absolutely running for re-election and plan to win in November.