State Representative John Landon filed for re-election in Iowa House district 37 on the morning of February 24, the first day candidates could submit their nominating papers at the Iowa Secretary of State's office.
I had wondered whether the four-term Republican from Ankeny might retire this year. The chair of the Administration and Regulation Appropriations subcommittee is not part of the GOP leadership team, having reportedly favored Chris Hagenow instead of Pat Grassley when the caucus voted on a new House speaker last fall.
He'll also be facing his toughest re-election bid yet against Democrat Andrea Phillips.

POLITICAL LANDSCAPE
House district 37 covers part of Ankeny and Alleman in northern Polk County: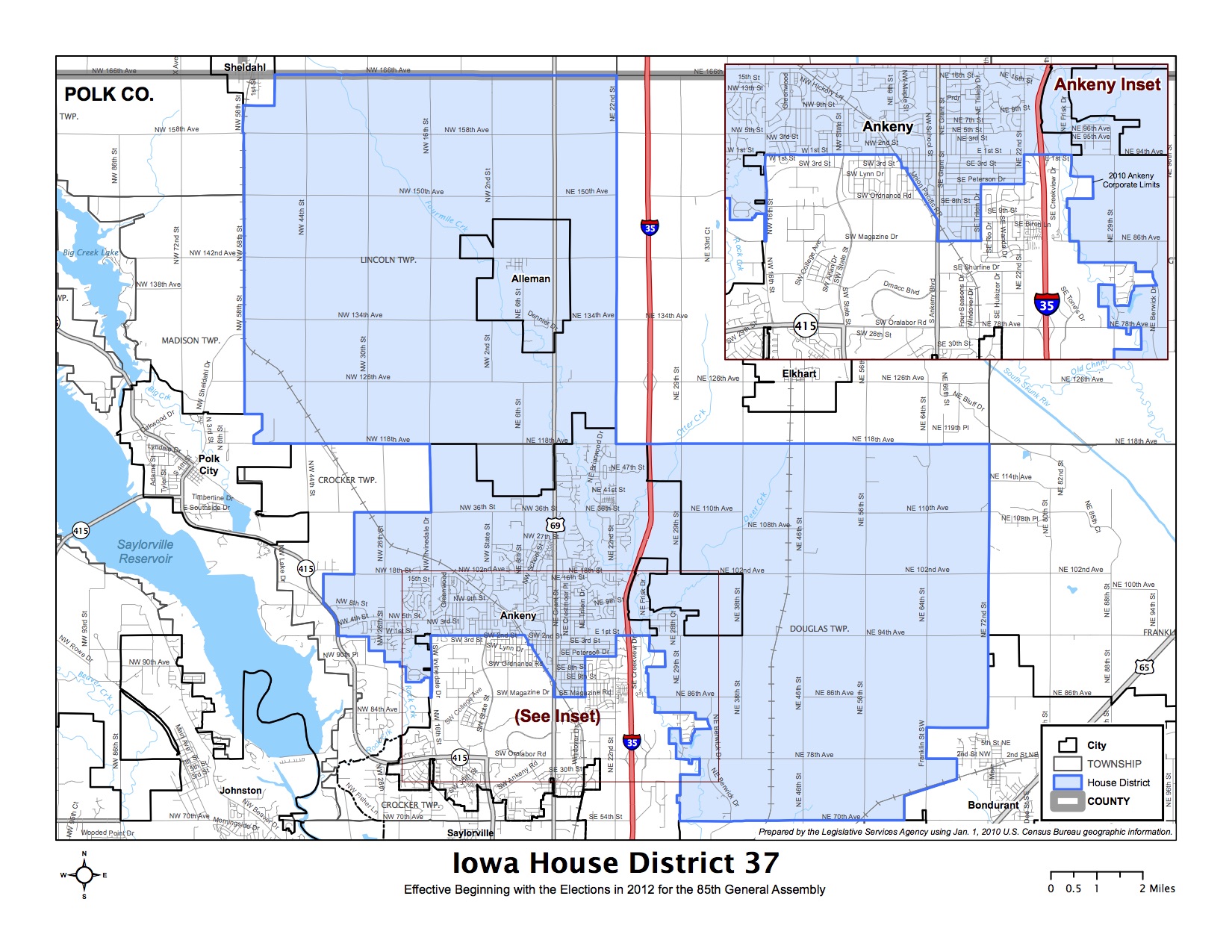 This district was viewed as so red that Democrats didn't field a candidate against Landon when he first ran for the legislature in 2012, or in 2014.
But as in many suburbs across the country, this once-solid Republican territory has been drifting toward purple status. In 2012, Mitt Romney outpolled Barack Obama in this district by a 12-point margin, 55.4 percent to 43.3 percent, even though Obama won statewide by nearly 6 points. Four years later, Donald Trump outpolled Hillary Clinton in House district 37 by 50.5 percent to 42.1 percent, a bit less than his statewide margin. Fred Hubbell received 47.5 percent here in the 2018 governor's race, to 50.6 percent for Republican incumbent Kim Reynolds, which was close to the gap between the candidates statewide.
Going into the 2016 general election, registered Republicans outnumbered Democrats in House district 37 by more than 3,600. The latest official figures show 7,924 active registered Democrats, 10,174 Republicans, and 10,139 no-party voters. Those numbers don't include anyone who changed registration on February 3 to participate in the Iowa caucuses.
Phillips became Landon's first Democratic challenger in 2016. House Democrats spent nothing on her race. She lost by a little more than 3,000 votes (57.3 percent to 42.5 percent).
Andrew Rasmussen, a teacher in Des Moines public schools, ran against Landon in 2018. Again, Democrats spent nothing on behalf of their candidate. The Iowa GOP spent a token amount, about $4,000, on direct mail for Landon. In a show of confidence, Landon donated most of what he raised last cycle to the state party for use in more competitive House districts. Nevertheless, the result was surprisingly close: Landon won by about 800 votes, 52.0 percent to 47.9 percent.
Although House district 37 isn't on the top tier of Democratic pickup opportunities, the party will not ignore this race in 2020 after flipping five House seats in the Des Moines suburbs last cycle.
BACKGROUND ON THE CANDIDATES
Landon keeps a lower profile than some of his House colleagues. He rarely spouts off during floor debate. He can be a bit prickly; relatively early in last year's legislative session, he ended regular meetings of the appropriations subcommittee he chairs. This year, that subcommittee is meeting on a more regular basis.
Landon's official bio describes him this way:
A lifelong Iowan with a background in business, Landon is a pro-life, pro-family conservative committed to balancing the state budget creating jobs in a favorable climate for business and agricultural growth eliminating costly regulations and making education more cost effective.

Landon is retired from a nearly 40 year career in agricultural business. He is a Vietnam veteran who served in the Navy Seabees prior to graduating from Iowa State University. He attends Prairie Ridge Church and has served many years as a Boy Scout leader with Troop 188. He has also been a leader in the Polk County Republicans.

Landon, and his wife Marvis, have two children, Eric (married to Rebecca) and Morgan who both graduated from Ankeny High School, having attended Ankeny schools K-12.
Phillips has lived in Ankeny for the last ten years. She was first vice chair of the Iowa Democratic Party until last fall, when she stepped down to focus on her candidacy. From her campaign website:
Neither of my parents graduated from college; my mother worked her way up from bank teller to bank manager while my Dad worked as a blueprint machine repair man, instilling in me there is no substitute for hard work. I worked my way through college, with the help of scholarships, Pell Grants, and student loans, graduating with a degree in economics.

I spent most of my career in China before deciding to raise our family here in Iowa. I worked as the director of marketing for a multinational company, and became the youngest person ever elected to the Board of Governors of the American Chamber of Commerce in Shanghai, where I spearheaded their corporate social responsibility programs. I worked with people from across the globe — people from different countries, with different cultures, different languages, different world views. Living somewhere with language and culture barriers, you learn to embrace your differences and cherish your similarities. […]

Ten years ago, with my second child on the way, we decided to move to Iowa to raise our family, to give our kids an all-American childhood. Everyone we told we were moving to Iowa said, "Oh, you'll love it there! The people are nice, there's a great quality of life, and the public schools are amazing." And we have loved it here. The quality of life is great, and their public schools have been outstanding.

But I have watched as year after year the state legislature failed to increase education funding to keep pace with inflation, and kept passing bills that were more and more extreme, with no input from across the aisle and no input from the people their bad bills would affect. I've been struck with how out of touch the extremist bills proposed are with our community. Ankeny is a great place to live, and we need to keep it that way by focusing on legislation working families care about, like strong public education and affordable and accessible healthcare.
FACTORS FAVORING EACH CONTENDER
Iowans tend to re-elect incumbents, and House district 37 still leans Republican on paper, so Landon has to be considered the favorite. But he also has more baggage than a fresh face would. He has voted for every controversial bill that became law under the GOP trifecta.
Many public employees live in Ankeny and were angered by the 2017 collective bargaining law, and state budgets that have underfunded education. Landon has also backed extreme anti-abortion bills that may be out of step with suburban moderates. Phillips clearly intends to highlight those votes. Her campaign website notes,
In business, people can have disagreements but still find common ground to fight for a common cause. I think it's time the state house in Iowa learned that lesson. […]

The politics we see on the news and at our state house is an active choice — a choice between short-term partisan gain and long-term investments in the economic security of our state. It's time we put people in the state house who are willing to work across the aisle, and pass good legislation that will outlast changes in power.
Democrats have substantially improved their performance in the Des Moines suburbs lately, winning lots of school board and city council races in 2017 or 2019 as well as five GOP-controlled state House seats in 2018. One reason: Trump's presidency and the overreaches of Iowa Republicans have energized more Democrats to get involved in politics.
Writing for this website last year, Norene Kelly described the massive volunteer effort that helped Karin Derry defeat a GOP incumbent in a tough suburban district last cycle. In that context, Landon should be worried that Phillips got more than 20 supporters to attend a planning meeting on February 23. Those people will be able to knock lots of doors, make lots of phone calls, and stuff lots of envelopes over the next eight months.
Landon's latest campaign finance report shows a surprisingly small amount of contributions, considering that he represents a generally well-off area. Landon raised only $12,025.00 during the 2019 calendar year, nearly two-thirds from individual donors and the rest ($4,300) from political action committees. As of December 31, his campaign had $12,397.90 cash on hand.
Phillips had a strong fundraising year, especially for a challenger. She raised $28,228.80, almost all from individuals, and had $27,734.68 in the bank at the end of 2019.
The political parties typically spend six figures in the most competitive state House races. If internal polling in the late summer or early fall shows a close contest between Landon and Phillips, I expect both parties to spend significant resources to influence the outcome in House district 37.
One wild card will be the impact of the presidential campaign. While Iowa legislative races don't always follow the top of the ticket, it never hurts to have the wind at your back. Suburbs are not the strongest terrain for the current Democratic front-runner, Bernie Sanders.
Using the New York Times interactive map, I looked at the Iowa caucus results for the eleven precincts that are part of House district 37. Pete Buttigieg won six precincts and tied with other candidates for the lead in two precincts. Bernie Sanders won one precinct and tied with other candidates for the lead in two precincts. In most of the other precincts, he was viable, but he missed that threshold in two precincts.
Phillips did not endorse a presidential candidate before the Iowa caucuses.
Any comments about the House district 37 campaign are welcome in this thread.
To follow the contenders:
John Landon: Facebook