The scale of the economic collapse caused by the novel coronavirus (COVID-19) pandemic is beginning to come into view. The national economy may contract by 40 percent in the second quarter, with unemployment reaching 20 percent. One nationwide survey published this week indicated that 33 percent of voters–including 52 percent of respondents under age 45–have either lost their job, had work hours reduced, or been furloughed.
Iowa's latest unemployment figures show yet another record number of new claims.

Since COVID-19 prompted widespread business closures and reduced travel, Iowa Workforce Development has received 167,677 new unemployment claims: 41,890 for the week of March 15 to 21, 58,453 for the following week, and 67,334 for the latest period, which runs through April 4.
Tyler Jett noted in his write-up for the Des Moines Register, "In the pre-coronavirus era, the single-week record in Iowa was 14,201," which happened in December 2000. Incredibly, Iowa has lost two and a half times as many jobs in the past month as the 64,600 jobs lost here during the "Great Recession" from May 2008 to January 2010.
Nearly a decade later, some mid-sized Iowa cities still had not recovered all of the jobs lost during that recession.
Iowa residents filed 161,102 of the new unemployment claims Iowa Workforce Development received during the past three weeks. People living in other states and working here filed the other 6,575 claims.
The U.S. Department of Labor regularly notes which industries had the most new unemployment claims. Adding the totals for the last three weeks, "Accommodation and Food Services" is Iowa's hardest-hit sector, with 33,006 job losses.
Some of those jobs will come back once restaurants can provide regular service. But with so many people losing income, lots of families will cut back on eating out for the foreseeable future. The Iowa Restaurant Association warned last month that some 20 percent of establishments may not be able to reopen. Small-town restaurants may be worst affected.
Other sectors suffering the most job losses in Iowa over the past three weeks, according to official figures:
Health Care and Social Assistance: 22,058
Manufacturing: 16,368
Retail Trade: 15,686
Other Services: 5,779
The latest weekly report showed construction in fifth place with 2,696 new claims, which is concerning, because typically construction projects pick up with the warmer spring weather.
Speaking at Governor Kim Reynolds' April 9 press conference, Iowa Workforce Development Director Beth Townsend said her agency paid out more than $27.5 million in unemployment insurance benefits during the past week. The previous week, benefits paid totaled about $13.7 million.
Unemployed people across the county should soon begin to receive an additional $600 in benefits a week under the COVID-19 relief bill Congress passed in late March (commonly known as the CARES Act). Those extra payments will last for only four months, however.
Townsend also announced on April 9,
I want to remind you that you cannot voluntarily quit your job in an effort to obtain the weekly benefit, or unemployment benefits. Voluntary quits are a disqualifier for unemployment benefits. You must be either laid off in a temporary layoff, or have reduced hours to qualify for unemployment insurance benefits.

We have been waiving the charges to employers accounts for all employers who filed unemployment due to COVID-19 related claims. Today, we are announcing that we have put in place a trigger so that once the UI, or the Unemployment Insurance Trust Fund, reaches this balance, we will need to begin charging employers with these unemployment claims. That trigger is 950 million dollars. We are currently at 1.13 billion dollars in our trust fund, so about 180 million dollars away from the trigger.

None of the benefits from the Cares Act will be taken from the trust fund, so this applies only to unemployment claims that are made by employees with employers in the state of Iowa.
She explained that "setting this trigger" will help to ensure Iowa doesn't fall into a different tax table, which would increase employers' baseline tax rates in the future.
UPDATE: Iowa State University economist Dave Swenson created this table showing the 23 counties that "accounted for three-fourths of the new Iowa unemployment claims in the past 3 weeks." Half of the statewide job losses came from six counties. "46 counties, though, only contributed to 10 percent of the total," he commented.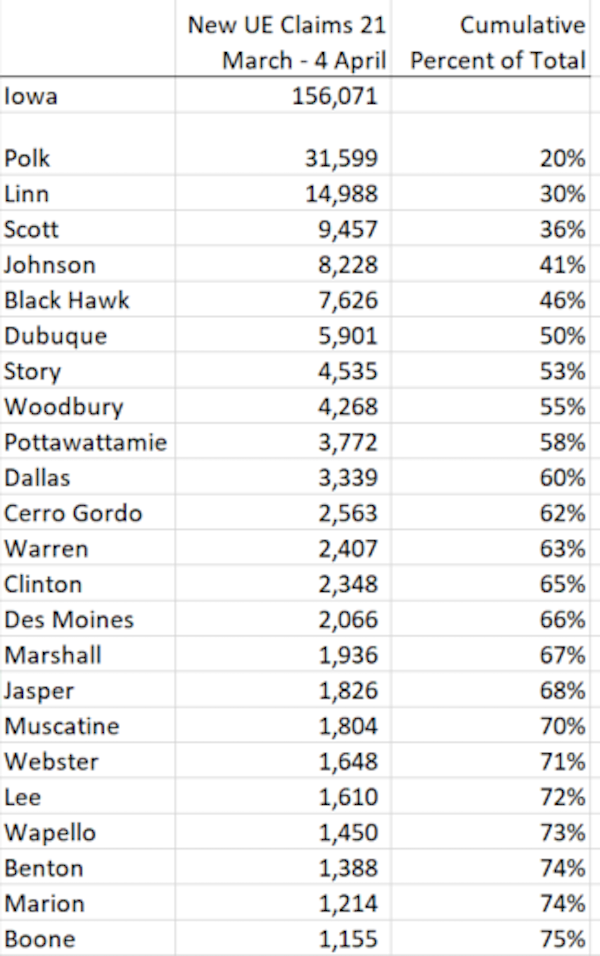 He also created these graphics presenting the unemployment numbers by industry.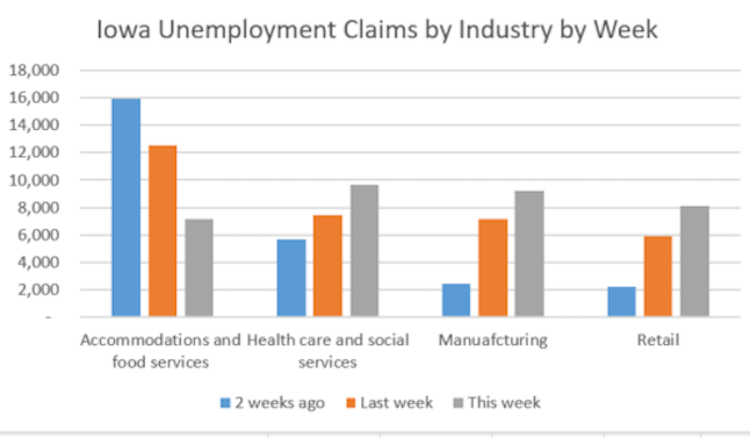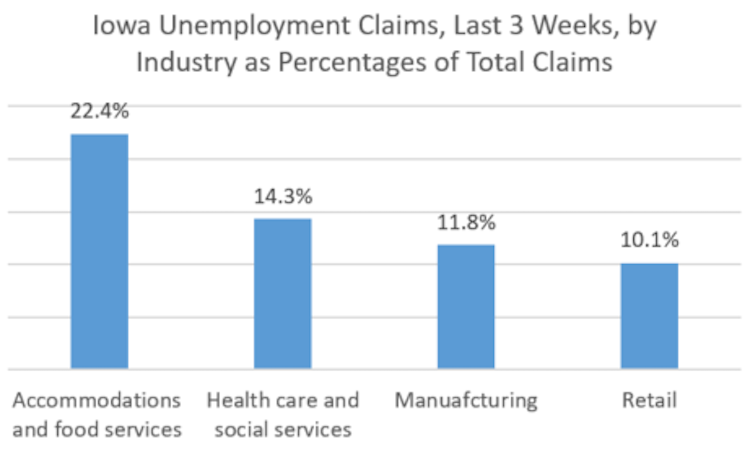 Top image: Iowa Workforce Development Director Beth Townsend speaks during the governor's press conference on April 9. Screen shot from the Iowa PBS video.