"I do want to encourage every Iowan to go to TestIowa.com and take the assessment," Governor Kim Reynolds said as she rolled out a program to increase the state's coronavirus testing capacity during an April 21 news conference. The governor announced the following day that more than 80,000 Iowans had completed an initial assessment during the first 24 hours the website was online.
However, the online survey at the new site is not accessible to all Iowans in high-risk groups for COVID-19 infections and complications. Representatives of the governor's office and Iowa Department of Public Health did not respond to Bleeding Heartland's repeated questions about barriers to taking the survey.

"EVERY INDIVIDUAL...CAN GO ONLINE TO TESTIOWA.COM"
Under a $26 million contract (enclosed below) with the Utah-based companies Qualtrics, Domo, Nomi Health, and Silicon Slopes, Iowa will acquire materials need to perform an additional 540,000 COVID-19 tests, with a view to testing up to 3,000 people daily for the next six months.
Individuals who complete the survey and meet the state's current testing criteria will be able to schedule a test at a drive-through location. The first will be in Des Moines on April 25. Health care workers and first responders will be prioritized during the first phase of testing. For those who test positive for COVID-19, staff will follow up with contact tracing.
The second main purpose of the Test Iowa program is to give public health officials a better sense of virus activity around Iowa, so they can "zero in on new outbreaks and clusters," the governor said. "Your information can also help us identify areas where minimal virus activity is occurring, so that we can begin to safely reopen our state as soon as possible." As more people take the assessment, officials will be able to gauge the level of infections in Iowa regions, counties, or zip codes.
Throughout the April 21 news conference, speakers emphasized the importance of having all Iowans enter their information and symptoms into the database. (The state owns the data, and officials promised personal medical information would be protected under federal privacy laws.) Dave Elkington, who spoke on behalf of Silicon Slopes, described the assessment as "critical" for "everybody in the state" to take.
Answering a question about insufficient testing materials in Black Hawk County, Reynolds said,
They should go and do the assessment. [...] So we can say to those individuals in that whole area, Waterloo, every individual there in Black Hawk County can go online to TestIowa.com, and they can go through an assessment, and we can start to figure out who is symptomatic or how we can start to schedule and walk through the testing. [...]
Reynolds later described the online tool as a way for "Iowans to really manage their own health." The intro page on the survey also speaks to the goal of obtaining information about every Iowan: "It is important that every person in your household fill out their own assessment."
INTERNET ACCESS REQUIRED
The online assessment is the linchpin of Test Iowa's plan to "Crush the Curve." But not every Iowan has internet access or a computer at home. Many locations where people can typically access the internet for free (public libraries, schools) are closed due to the pandemic.
The website addresses that concern near the bottom of the Frequently Asked Questions page.
How can I take the Test Iowa assessment if I don't have internet access?

Currently, you can take the assessment at TestIowa.com from a computer, tablet or smartphone. If you have a cellular data plan for a tablet or smartphone, you should be able to take the assessment from either device. If you do not have internet service or a device with a data plan, ask a trusted family member or friend with internet access to assist you with taking the assessment.
How Iowans would find their way to that advice without a device or internet access is unclear. Even if they did, friends or family members may face the same barriers.
During her April 22 news conference, Reynolds said Iowans with no internet access could call 211 or call her office, or their own doctor, to walk through the assessment tool. But promotional materials all refer to TestIowa.com.
CELL PHONE AND EMAIL ADDRESS BOTH REQUIRED
The first page of the survey lists both email and cell phone number as required fields.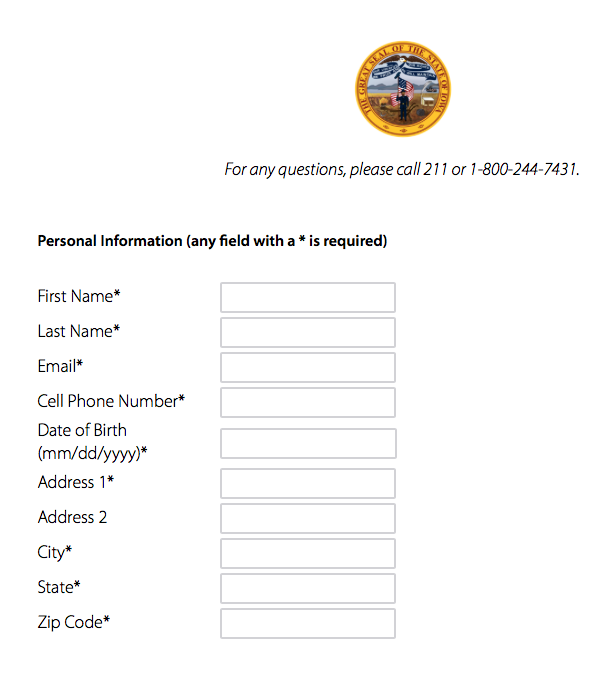 Most adults in the U.S. live in households with a cell phone, and the same is true for Iowans. However, landline usage is still common, especially in older age groups.
I was not able to find current estimates for the number of Iowans who do not own a cell phone. Data collected by the National Center for Health Statistics in 2015 indicated that about 4.6 percent of Iowa adults lived in households with only a landline.
Let's assume the percentage is lower now. Even if only 2 percent of Iowa's approximately 2.4 million adults live in a landline-only setting, that works out to 48,000 people. Younger age cohorts were faster to adopt cell phones, so it's likely the Iowans who don't have a cell phone are largely in the age group at higher risk for COVID-19 complications.
What was the thought process behind designing the survey this way? Does the Iowa Department of Public Health have a plan for collecting information about Iowans who may warrant testing but don't have a cell phone and/or email account? Spokespeople for the governor's office and health department did not respond to Bleeding Heartland's questions.
Dr. Eli Perencevich, an infectious disease specialist and epidemiologist at the University of Iowa, told me in an April 22 email that he was "pleased" to see Iowa increase its COVID-19 testing capacity, one of three "critical components" to an effective containment strategy. But he noted that widespread testing is effective only if "combined with extensive contact tracing."
Public health officials need to rapidly contact all newly COVID positive Iowans and track down all their contacts for quarantine and testing. This requires the ability to telephone or email all of those tested. If Iowans don't have a cellphone, email or regular telephone it makes it incredibly difficult to implement contact tracing. Test Iowa should collect land-line telephone numbers and not just mobile phone numbers.
Reynolds and Iowa Department of Public Health officials have said contact tracing will be stepped up as part of the state's expanded testing program. Excluding landline-only households could impede that work.
UPDATE: The governor during her April 23 news conference that Iowans without these resources could ask a trusted friend or relative to help them complete the Test Iowa assessment. But those who qualify for testing will receive a QR code via email that they will need to show at the drive-through site. It's not clear how that would work for Iowans who don't use email or don't have a cell phone.
ASSESSMENT AVAILABLE ONLY IN ENGLISH
Racial disparities in Iowa's COVID-19 cases continue to widen as more infections are confirmed among employees of meatpacking plants. Communities of color make up a large share of the meatpacking labor force, and many workers are immigrants from Spanish-speaking countries, Africa, or Asia.
The latest official figures on the state's coronavirus website indicate that Latinos make up 20.8 percent of confirmed COVID-19 cases (they comprise 6.2 percent of the state's population). African Americans make up 13.8 percent of confirmed cases, and Asians 6.2 percent; they comprise 4.0 percent and 2.7 percent of the state population, respectively.
Test Iowa's online assessment tool is provided only in English. And while many immigrants living in Iowa speak English, some of the survey questions (enclosed below as Appendix 2) contain technical language that might be difficult for a person whose native language was not English. UPDATE: A Spanish-language version was added within a few weeks.
IS TEST IOWA ENDORSING MEDICATIONS PROMOTED BY PRESIDENT TRUMP?
Several Iowans who checked out the survey on April 21 flagged the top two questions on this page as concerning: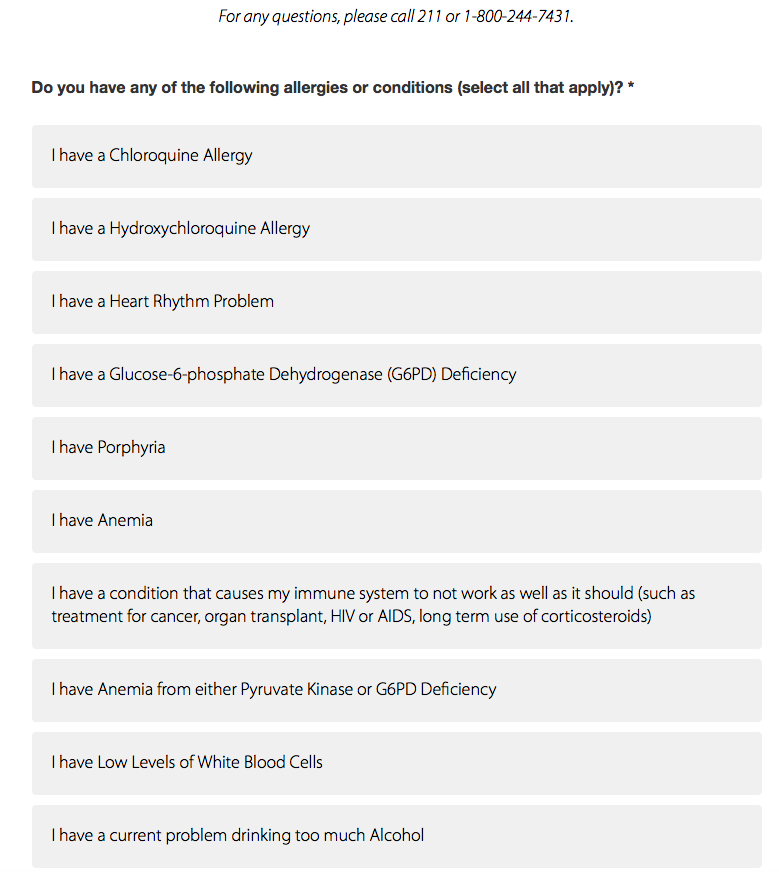 President Donald Trump has repeatedly asserted that two drugs frequently used to treat malaria or lupus might be helpful for COVID-19 patients. Early research suggests they are not effective and could even increase death rates for those with coronavirus infections. Trump's public comments have led to a shortage for patients who need those medications to treat other conditions.
Whether someone is allergic to any class of medications should not affect their eligibility for a COVID-19 test. So why include these questions on an assessment tool?
In comments posted on Twitter, Dr. Nathan Boonstra, a pediatrician in Des Moines, characterized screening questions about chloroquine allergies as "misguided," since the information is not useful to determine whether a person merits COVID-19 testing. He added,
What it can do, is make some people think "Huh, they're asking about this drug. Must be something to it after all. Our governor must think so anyway." We see things like this in medicine all the time. These choices by our leaders matter.
For that reason, the questions struck Boonstra as "a subtle way of legitimizing the president's misinformation."
Neither the governor's office nor the public health department has explained why Test Iowa put those questions at the top of a page mostly devoted to underlying conditions that would put someone in a higher-risk category for COVID-19. I will update this post as needed.
UPDATE: WHO-TV's Dave Price asked about the references to the two drugs at the governor's April 22 news conference. Reynolds said she didn't know why question was included but said State Medical Director Dr. Caitlin Pedati had reviewed the questionnaire developed for Utah's testing program. "We were able to adapt some of the questions to make it fit Iowa." She did not clarify whether those questions were part of Utah's survey or were added to the Iowa version.
Iowa Department of Public Health Deputy Director Sarah Reisetter added that collecting the information was "proactive" in case those drugs ever become an approved treatment for COVID-19. Reynolds mentioned that South Dakota is doing a statewide clinical trial of the drugs, but Iowa is not currently considering that step.
LATER UPDATE: Erin Alberty and Nate Carlisle reported for the Salt Lake Tribune on April 24,
Mark Newman, the founder and CEO of Nomi, also serves on the board of directors of the pharmacy that had already has won an $800,000 state contract for 20,000 doses, according to federal documents obtained by The Salt Lake Tribune.

Newman on Thursday [April 23] argued the dual roles — leading a company that is identifying potential patients and helping to steer Meds in Motion, a supplier of the debated treatment — don't pose a conflict of interest.

Even if the drug proves effective against COVID-19 and the statewide data-collection websites he's running facilitate its use, he said, patients won't necessarily buy their doses from Meds in Motion.
Lyz Lenz reported for the Cedar Rapids Gazette on April 24,
In the contract between Nomi Health and the state of Iowa, there is a line item stating, "If individuals in the pool test positive and are in high-risk category consider medication treatment (e.g. Hydroxychloroquine or Chloroquine) administered by the Health Department in order to keep hospital bed load low." [...]

When I asked Newman about the question on the assessment, he said at the time the assessment was made that hydroxychloroquine was one of the few drugs being considered as a treatment for COVID-19. He admitted that since that assessment was made, the recommendations have changed and is considering taking the hydroxychloroquine question off the assessments.In response to the conflict of interest, Newman stated, "Meds in Motion has no contracts with the state of Iowa and is not included in this program." In a second interview conversation, Newman admitted he didn't consider the possible implications of his membership on the board of Meds in Motion. "Everything was moving so fast," explained Newman. "I am on the board of a lot of medical companies so I can get experience in health care. We've had to scale up very quickly."

When I asked if he would step down from the board, he said he'd consider it if his position became too much of an issue.

In response to questions about the potential conflict, Pat Garrett, Reynolds' spokesperson, explained through email that the state of Iowa has not purchased hydroxychloroquine, and "there's currently no plans to use hydroxychloroquine."
In a close look at the Utah startups for the Iowa Informer, Gavin Aronsen noted. "Nomi Health's founder and CEO, Mark Newman, has been promoting hydroxychloroquine as a potential treatment for more than a month now."
MAY 8 UPDATE: At some point, Test Iowa created a Spanish language version of their assessment.
Barbara Rodriguez reported for the Des Moines Register on "accessibility problems" for the elderly and immigrants. She spoke to several Iowans who don't have a computer or cell phone, as well as non-native English speakers who found it difficult to complete the assessment.
____________________
Appendix 1: State contract underlying the Test Iowa program
Appendix 2: Screen shots from the online assessment tool at Test Iowa
Introductory page (in two shots):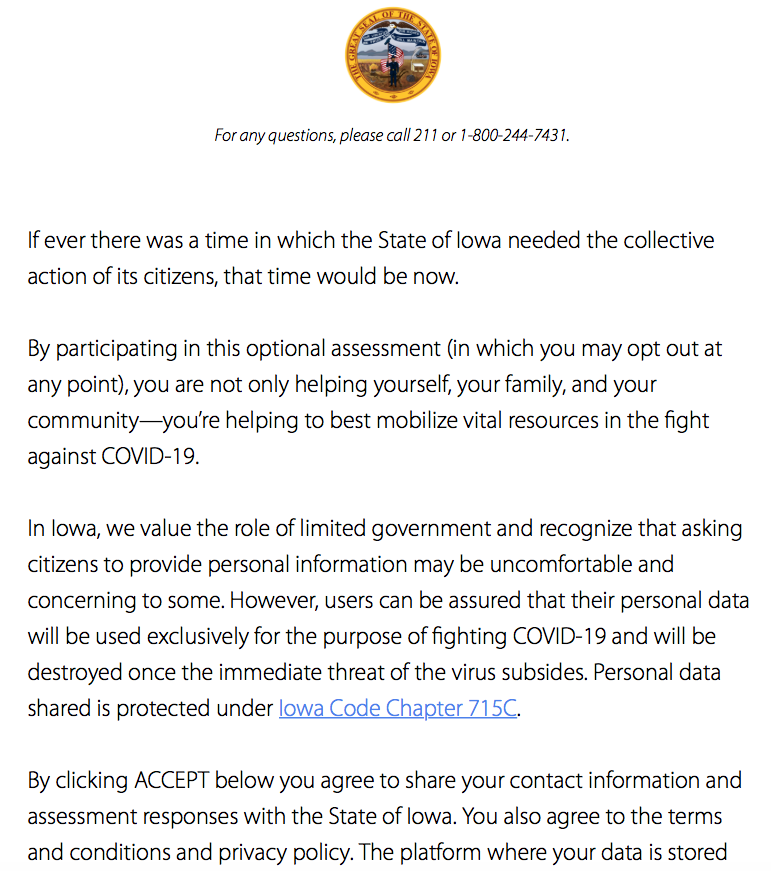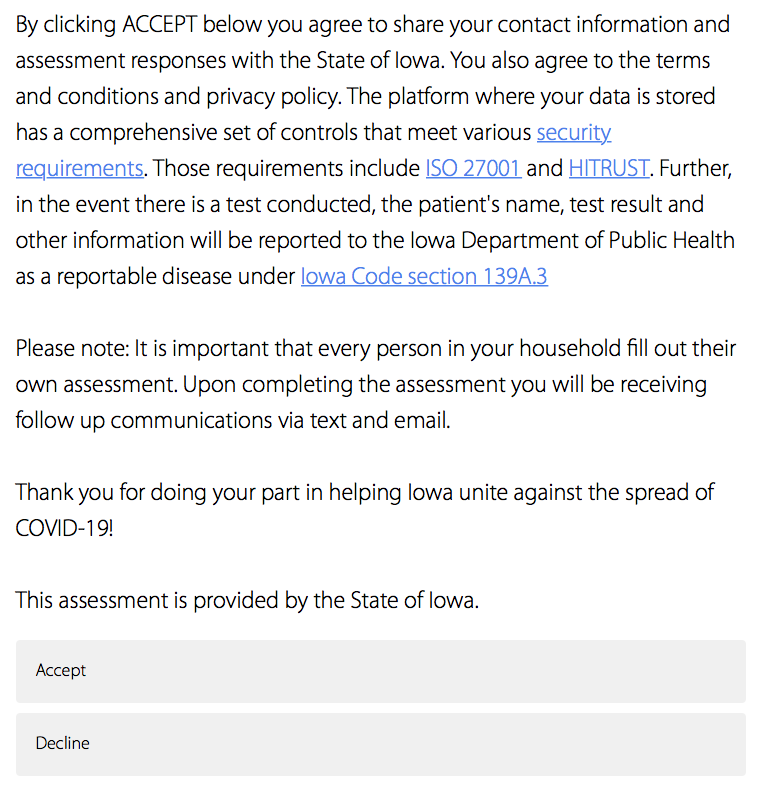 First page that appears after clicking "Accept":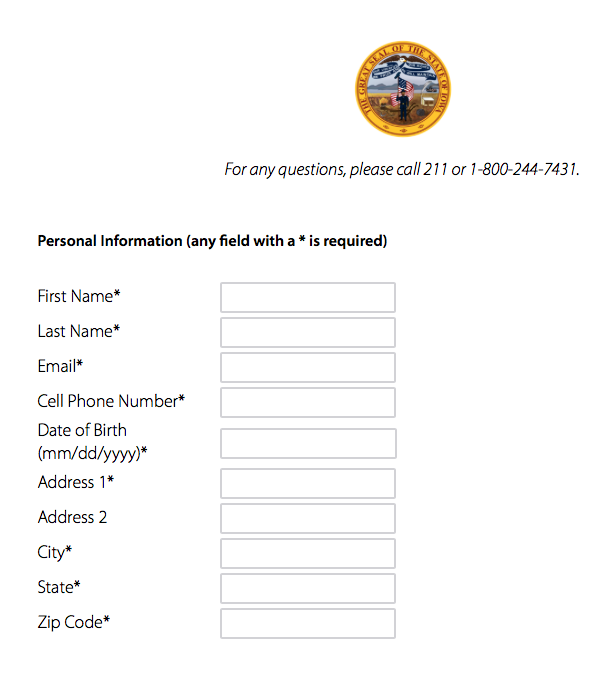 Second page: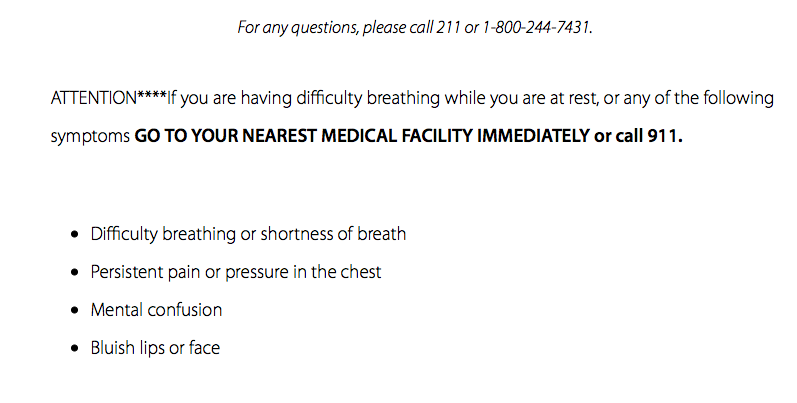 Third page (two screen shots):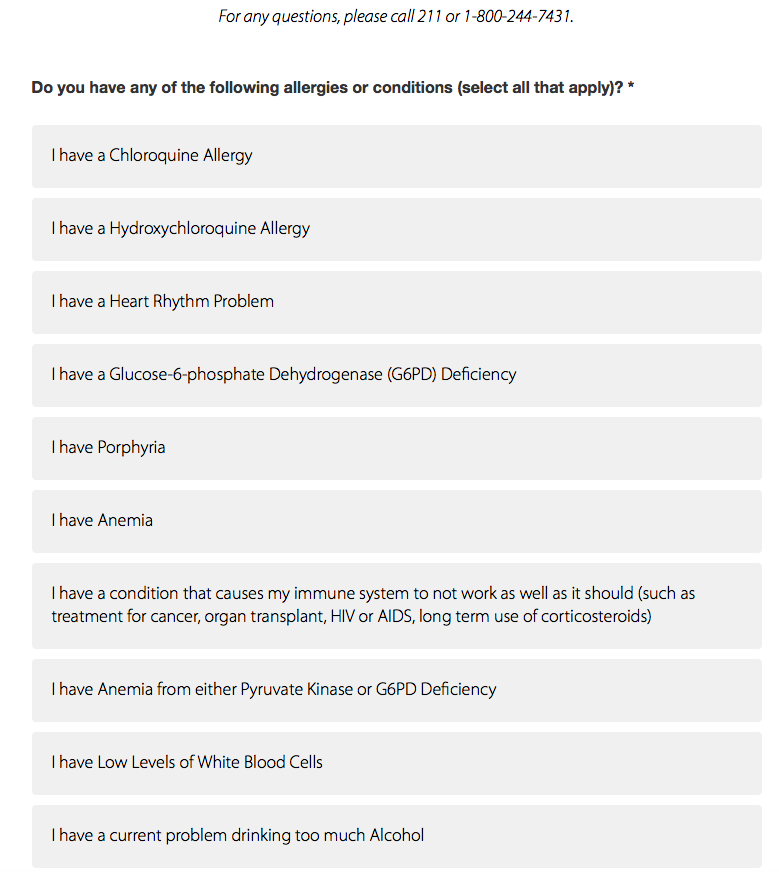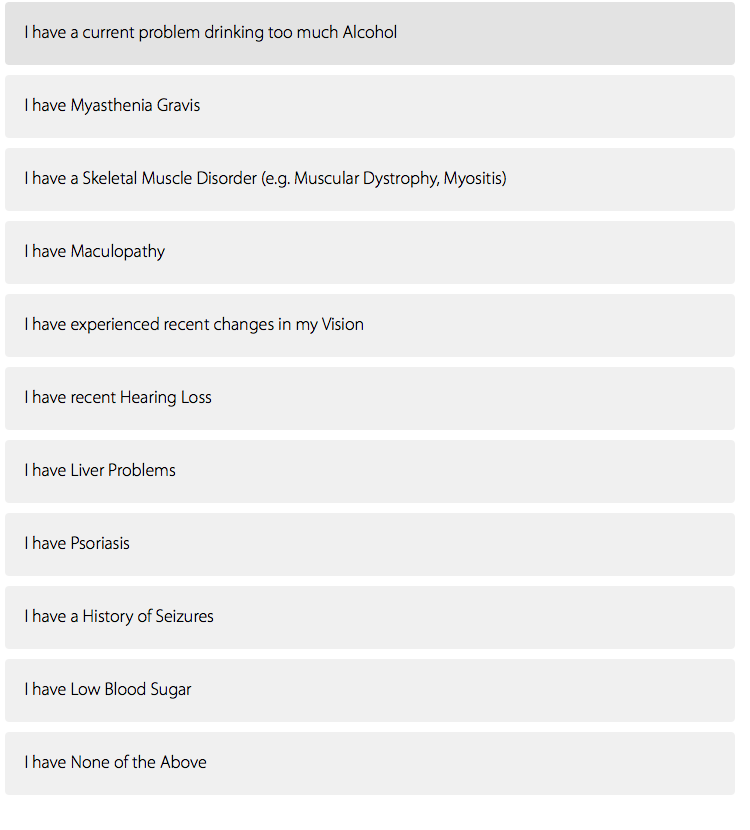 Result for someone who does not qualify for a COVID-19 test: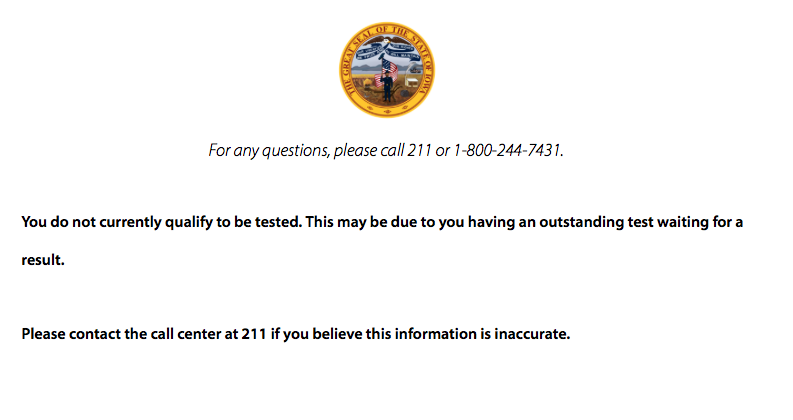 End screen after completion of survey (two shots):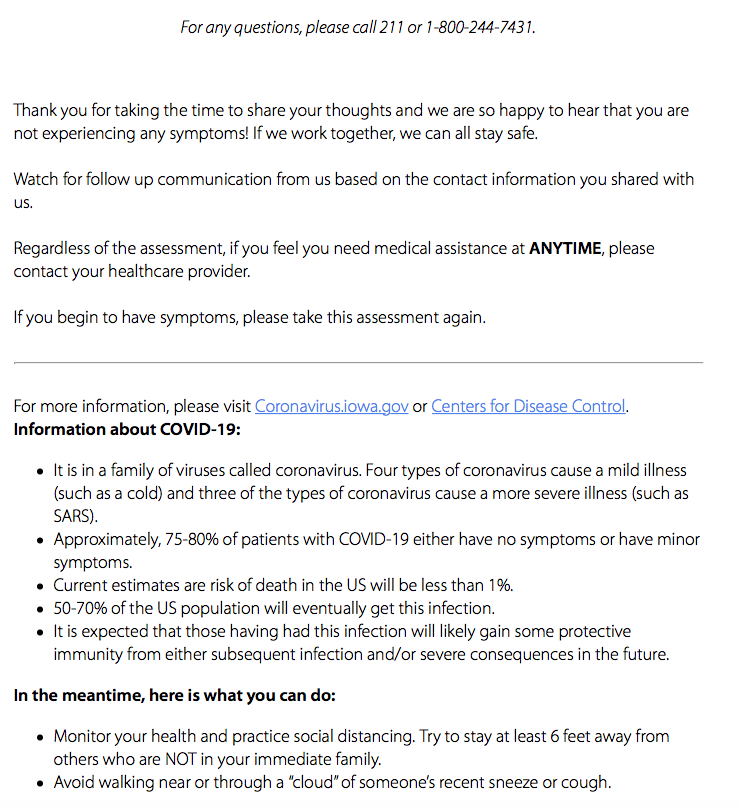 Top image: Governor Kim Reynolds speaks during her April 21 press briefing. Photo by Zach Boyden-Holmes/Des Moines Register (pool).