Top Iowa House Democrats advised members of the caucus to get tested for novel coronavirus this week, House Minority Leader Todd Prichard confirmed on June 19.
"In addition to wearing masks, socially distancing, and going through the health screenings daily during session, we did recommend members get tested following session," Prichard said via email. He added that his team was "not aware of any members or staff" exposed to COVID-19 at the capitol as legislators wrapped up their work for the year.
Prichard had no comment on Bleeding Heartland's other questions, related to Republican State Representative Gary Worthan's absence from the Iowa House chamber beginning on June 5.

"A PRECAUTIONARY MEASURE"
Democratic State Representative John Forbes posted on Facebook on June 18,
Getting a Covid-19 test today following adjournment in the legislature on Sunday. Doing it as a precautionary measure following exposure to a few hundred people at the Capitol over the past two weeks. I'm feeling fine. Recommended by our leadership team.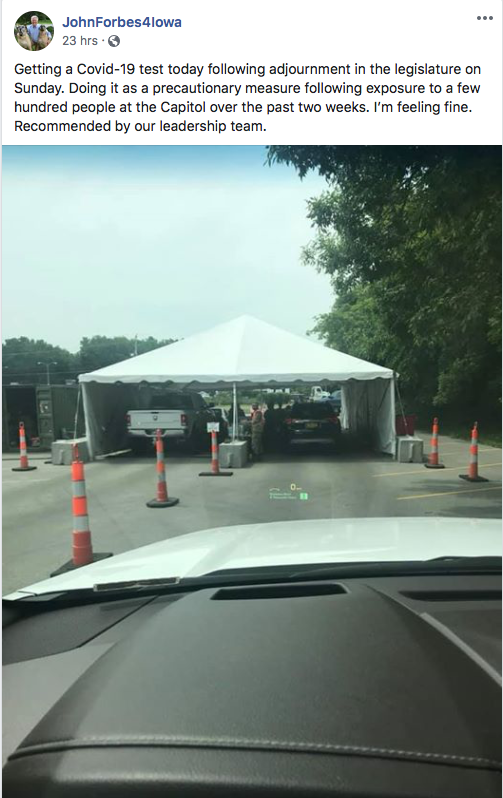 During a June 19 telephone interview, Forbes said he wasn't aware of any contact with someone who had tested positive, but felt it was prudent to get a test "within a three- to five-day time frame" after the legislature adjourned, given how many people passed through the capitol. He said he would hope that if any lawmakers did test positive, they would let their leaders know so they could inform colleagues who might need to self-quarantine.
As a pharmacist, Forbes qualified for COVID-19 testing earlier this spring, but had never sought to be tested, since he had no symptoms and didn't want to use testing materials another person might need more.
Forbes went through Test Iowa, the state's public-private partnership, and found it easy to schedule a time and complete the test at a drive-through site in Des Moines.
Speaking on behalf of Senate Minority Leader Janet Petersen, Senate Democratic staff told Bleeding Heartland leaders "have talked individually with Senators and staff but have not made a blanket recommendation" on COVID-19 testing.
STEPS TO "LIMIT PERSONAL CONTACT" WHEN LEGISLATIVE WORK RESUMED
House Speaker Pat Grassley and Senate Majority Leader Jack Whitver issued protocols in May to reduce the risk of COVID-19 spread when the legislature resumed its work. The new rules kept clerks, interns, and pages out of the legislative chambers and required journalists to use one of the public galleries, rather than press row in the House or Senate chambers. They also advised lobbyists, constituents, and others "to conduct as much business with legislators and staff via phone, email, or text to limit personal contact."
Even so, hundreds of lobbyists or members of the public did come to the capitol between June 3, when the legislature reconvened, and adjournment on June 14.
Prichard and Petersen had recommended stricter mitigation policies, including more use of face coverings and restricting access to the chambers to legislators scheduled to speak during debate. They also suggested staggering voting or developing "procedures to vote remotely" so that not all representatives or senators would be in the chamber at any one time.
House and Senate leaders did not alter methods of voting or reduce attendance during floor debate. And while Democratic representatives and senators universally wore face masks or shields, only a small number of Republican lawmakers did so.
According to the protocols, "All Legislators and staff will be encouraged to comply with social distancing recommendations, when possible." But Democratic State Senator Claire Celsi commented on June 3 that there was "no social distancing and handshakes all around" among GOP colleagues. Similarly, various Republican lawmakers and staff were unmasked and standing close together at Governor Kim Reynolds' June 12 ceremony to sign a police reform bill.
"THERE HAS BEEN A RUMOR ABOUT A HOUSE MEMBER"
In the last exchange on the Senate floor before lawmakers went home for the year, Democratic State Senator Liz Mathis had some questions for the majority leader. "There has been a rumor about a House member leaving due to a family member having COVID," Mathis said. (Multiple sources brought the same rumor to my attention last week.)
Mathis wondered whether Whitver could provide any information "that we should be hearing about someone in the building maybe having exposure." I pulled this clip from the official video on the legislative website.
Whitver replied, "I don't know of anybody in the building that has exposure to coronavirus. There may be, but nobody has brought that to my attention over the last eleven days we've been here. So, any guidance from the Department of Public Health is if no one here has had it, there's nothing to report."
Mathis followed up: "Do you feel that leadership should find out for us?"
"Certainly, if there's something to share with the body, we would share it, yeah," Whitver said.
Mathis didn't name names and had no further comment when contacted by Bleeding Heartland this week. But only one House member missed every vote during the last nine days of the session. He lives in Storm Lake, Iowa's biggest COVID-19 hot spot.
UNANSWERED QUESTIONS ABOUT A SUDDEN DISAPPEARANCE
Seven-term Republican Gary Worthan represents House district 11, covering Buena Vista and Sac counties. Outbreaks in meatpacking plants have fueled massive community spread of COVID-19 in the Storm Lake area. By the end of May, Buena Vista County had Iowa's highest per capita rate of infections, with more than 3.5 percent of residents testing positive. By June 4, the day after lawmakers came back to Des Moines, confirmed cases exceeded 5 percent of Buena Vista's population. At this writing, more than 8 percent of county residents are known to have COVID-19.
House records and official video show Worthan participated in House proceedings on June 3 and June 4. He led debate on a bill related to trucking contractors.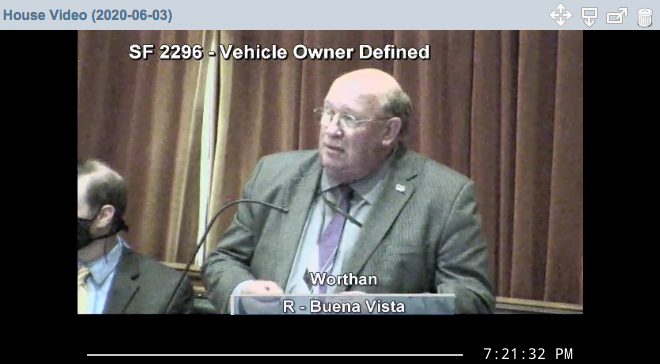 Note that even when he wasn't speaking, Worthan wore no mask in the House chamber. He can be seen near the upper right corner in this screen shot, which I took during a different part of the June 3 floor debate. Many House Democrats wore masks at all times in the statehouse, even while speaking on the floor.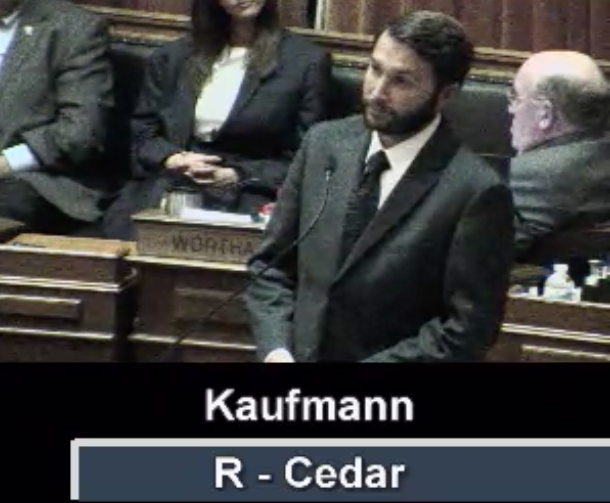 From June 5 on, House Journals show Worthan missed every vote. As an Appropriations subcommittee chair, he would normally present the justice systems budget to colleagues. Not this year.
Worthan did not respond to Bleeding Heartland's inquiries about why he missed the last week of session, whether he had close contact with someone who tested positive for COVID-19, what he disclosed to leadership, and whether he had been tested for coronavirus himself. Grassley and House Majority Leader Windschitl likewise ignored questions about what Worthan told them about his absence and whether they relayed that information to members of the House GOP caucus, House Democratic leaders, or top Senate Republicans.
The Republican from Storm Lake was supposed to floor manage a bill leaders brought up on June 10, related to a state public defender pilot project and legal representation in child welfare cases. Instead, the House Journal shows GOP Representative Dustin Hite led debate on that bill, which passed unanimously. Hite didn't respond to questions about when he was asked to pinch hit and what reason was given for Worthan being unable to floor manage.
"SELF-IDENTIFYING IS NOT MANDATORY"
State lawmakers suspended their work on March 16 in light of the COVID-19 pandemic. The following week, House Chief Clerk Meghan Nelson and Secretary of the Senate Charlie Smithson issued a memo on an "Emergency Pandemic Plan," which included the following guidance. (emphasis in original)
It is not the practice of the Iowa Department of Public Health to notify employers or organizations of a positive COVID-19 case. The General Assembly is not able to share specific news unless someone self-identifies. Reporting of each time someone with access to the Capitol or the Miller Building tests positive may be impossible. However, it is important that the below processes be utilized to ensure communication of potential/confirmed cases in order to protect all persons.

While self-identifying is not mandatory, Leadership has directed the following protocols when an employee has self-identified or has otherwise indicated contact with another individual who has a confirmed case of COVID-19:

Representatives/Senators: Representatives or Senators should contact their respective Leaders who will then notify the Chief Clerk or the Secretary of the Senate as appropriate, who will then notify their remaining respective Leaders what information may lawfully be disclosed.
As mentioned above, House Democratic leader Prichard had no comment on Worthan's absence. Nor did Senate Democratic leader Petersen, other than to confirm that top GOP senators had not informed her of any lawmaker's possible exposure to COVID-19.
In a May 28 email to Whitver and Senate President Charles Schneider, Petersen had expressed "growing concern by our Senators and staff about what protocols and notifications will be in place for the Iowa Legislature" if someone who had been at the capitol tested positive. That message linked to news reports about Pennsylvania legislative leaders failing to inform Democratic colleagues that at least one state lawmaker had tested positive while the Pennsylvania House was in session.
I will update this post as needed with further developments.
UPDATE: Forgot to mention that the capitol building was fogged on June 18, Radio Iowa's O.Kay Henderson noted on Twitter. A June 17 email from Senate Secretary Smithson announced plans to fog and clean Senate-controlled space but did not provide any specific reason for doing so.
_____________________
Appendix 1: Protocols House Speaker Pat Grassley and Senate Majority Leader Jack Whitver issued on May 14
Appendix 2: April 29 memo to members of the Iowa Legislative Council from Senate Minority Leader Janet Petersen and House Minority Leader Todd Prichard
Appendix 3: March 26 memo on the legislature's COVID-19 Emergency Pandemic Plan