At least 702 Iowans have died from novel coronavirus infections, according to the state's official website at midday on June 26. Less than four months since the state recorded its first case, the death toll from COVID-19 alone is higher than the number of Iowans who have died in any recent year of flu or pneumonia, which has been the state's eighth leading cause of death. Those fatalities occurred despite social distancing and other unusual precautions like restricted nursing home visits since March.
Statistics archived by the U.S. Centers for Disease Control indicate that 697 Iowans died of flu or pneumonia in 2018, reflecting a worse than usual flu season. Iowa deaths in that category numbered 582 in 2014, 618 in 2015, 504 in 2016, and 578 in 2017.

Daily COVID-19 deaths have been trending downward for about a month in Iowa, following the decline in hospitalizations, which peaked here in early May. After fatalities passed the 200 mark on May 3, it took only seven days for that number to reach 300, eight days to reach 400, and another eight days to reach 500. Twelve days passed before the state reported that 600 Iowans had died. Nineteen days later, the number now exceeds 700.
I plotted Iowa's recorded coronavirus deaths on this graph. Totals for the last several days will likely increase as more fatalities are reported to the Iowa Department of Public Health. Also note that official numbers likely understate the real death toll, as some Iowans exposed to the virus died before a test could be taken or processed.
The red line represents the seven-day moving average, and the green line represents the linear trend. Numbers for each day reflect the date listed on the death certificate. The record number of deaths for a single day was 19, reported on May 22 and May 24.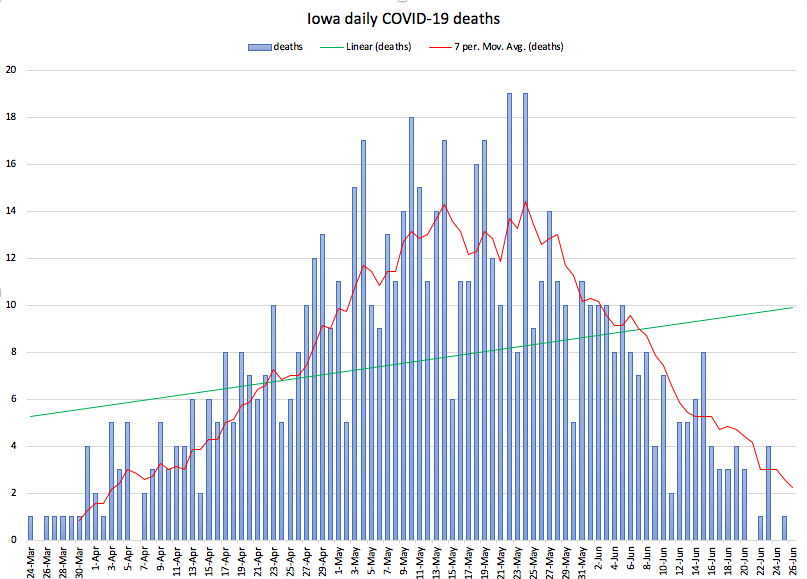 The state website includes this map, showing COVID-19 deaths by county. Polk County has lost the most residents to the virus (174), followed by Linn County (81), Black Hawk (57), and Woodbury and Muscatine (44 each).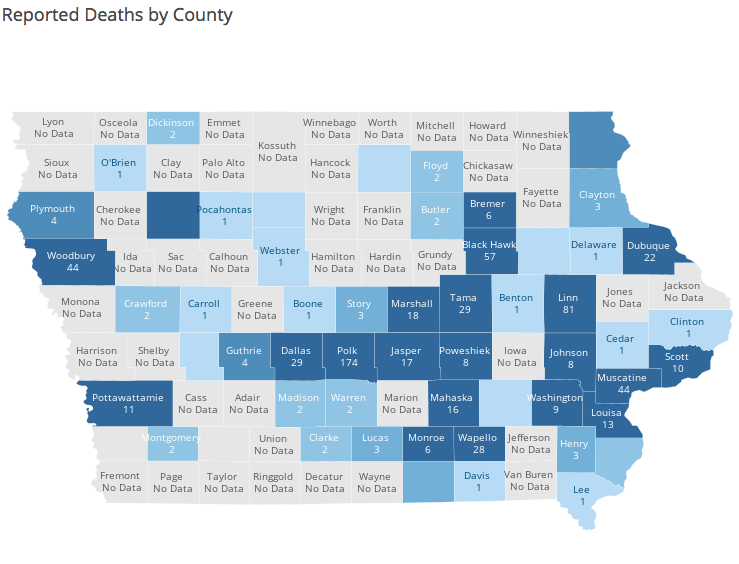 The latest official figures show 141 Iowans are hospitalized for COVID-19, down from more than 400 seven weeks ago. The state continues to report hundreds of new coronavirus cases daily, but a majority of the affected people are adults between the ages of 18 and 40, Governor Kim Reynolds said at her June 25 news conference. Since younger people are less likely to have life-threatening complications, this rapid community spread may not immediately cause an uptick in hospitalizations.
However, the COVID modeling website created by University of Iowa researchers projects that with no further intervention, daily infections will surge sometime in July, and deaths will begin to increase rapidly shortly thereafter.
The tool allows users to see how different approaches could affect the number of new cases and deaths. I created the next four charts on the morning of June 26. They project cases or deaths with no intervention (the red line), as well as how recommending that all Iowans wear face shields in public might mitigate COVID-19 spread and save lives. The colored lines assume universal PPE recommendations take effect on the date specified.
Projected daily new COVID-19 cases: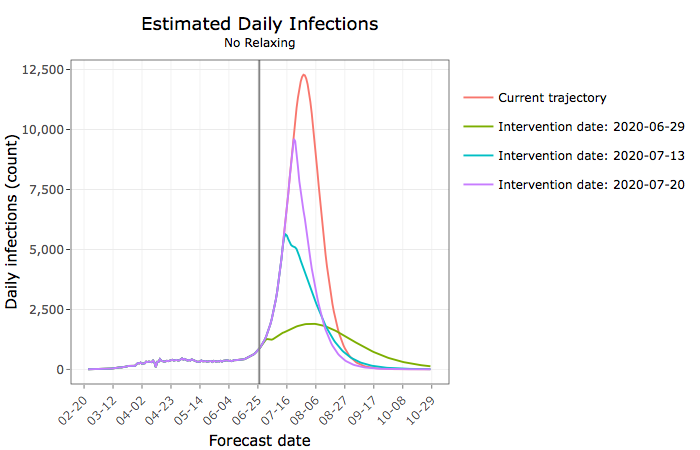 Projected total cases: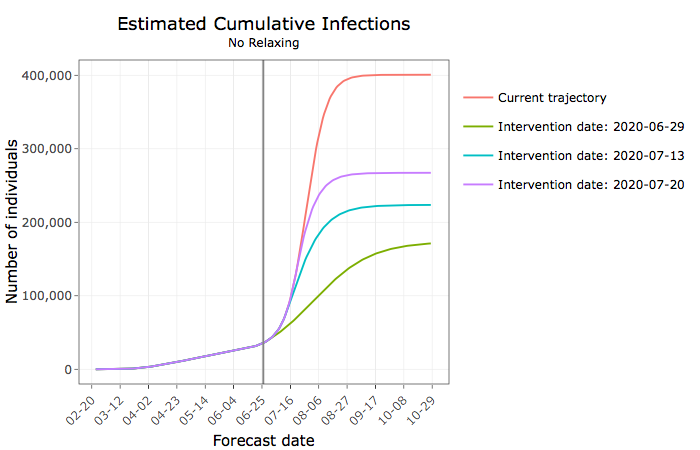 Projected daily deaths: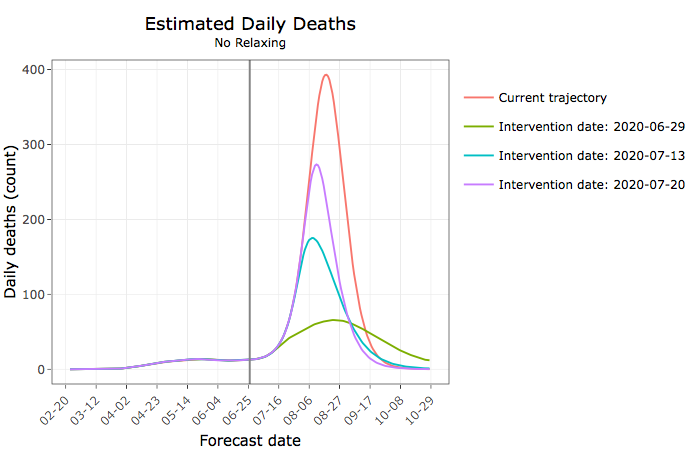 Projected total deaths: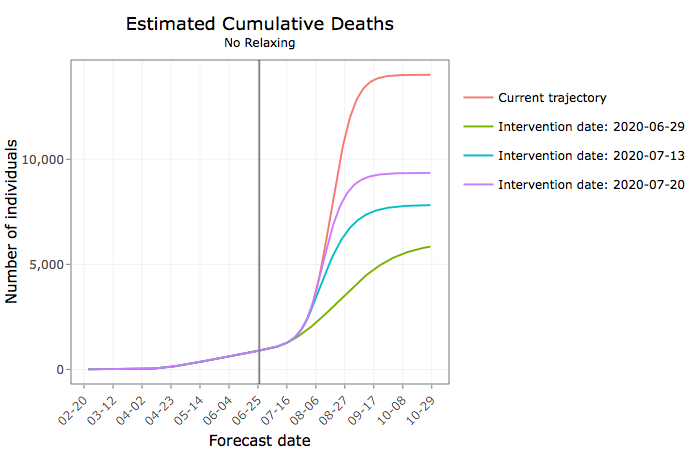 On June 18, the state website began to break down COVID-19 cases and deaths according to whether the person had a known pre-existing condition. Here's a screen shot of that part of the deaths page, shortly before noon on June 26.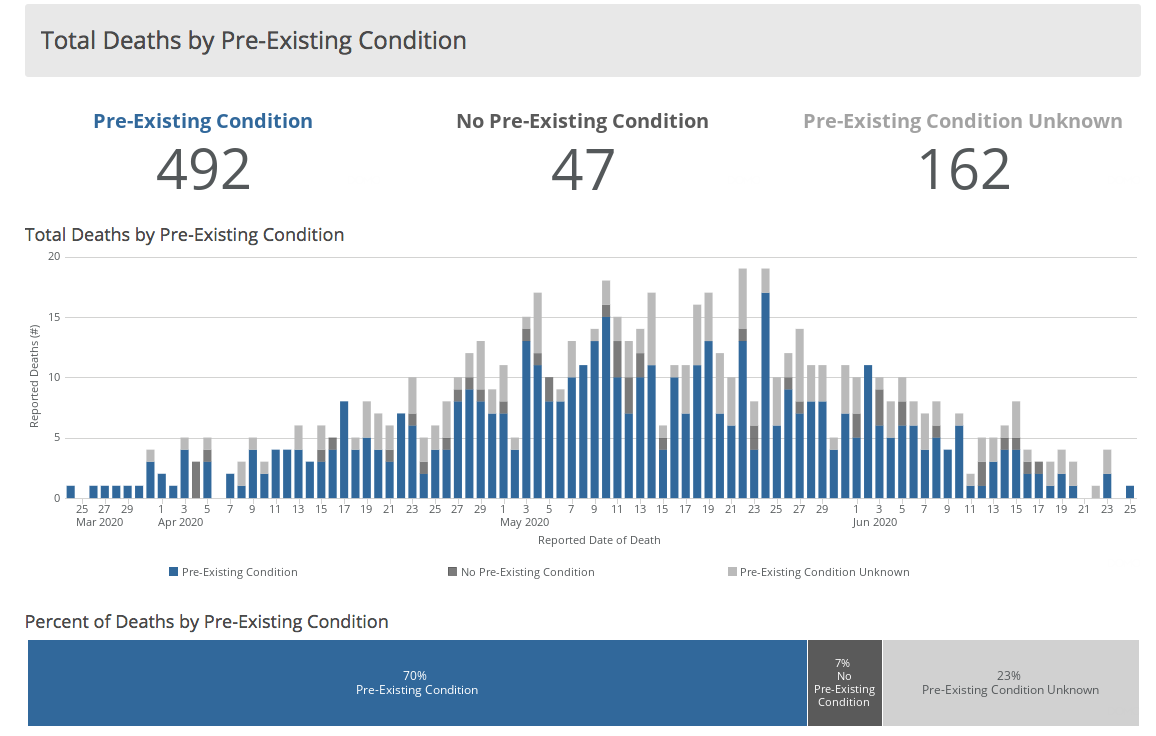 The site doesn't specify which diseases or chronic conditions factor into those calculations. A spokesperson for the Iowa Department of Public Health told me they consider medical conditions like those the CDC lists as elevating a person's risk for severe COVID-19 illness, such as diabetes, obesity, an immunocompromised state, or chronic conditions of the heart, lungs, or kidneys.
Dr. Megan Srinivas, an infectious disease specialist practicing in Fort Dodge, commented on Twitter that presenting the data this way is "very misleading. Pre-existing conditions like high blood pressure or asthma can be well-controlled & NOT significantly shorten someone's life."
Following the pattern observed everywhere the pandemic has struck, older Iowans are far more likely to die if they contract COVID-19. About 47 percent of those who have died were "elderly" (over age 80), and another 40 percent were between the ages of 61 and 80. But only 4 percent of known Iowa cases occurred among the elderly group, and 12 percent among older adults.
Conversely, younger adults (ages 18 to 40) represent 46 percent of known coronavirus cases in Iowa but only 2 percent of the deaths. Middle-aged people (41 to 60) represent 33 percent of confirmed cases but 10 percent of deaths.
Racial disparities in Iowa's COVID-19 deaths continue to be less pronounced than the disparities in confirmed cases. That is likely because the overwhelming majority of Iowans living in long-term care facilities are white, and because many people of color employed in workplaces that have had massive outbreaks are in the younger age groups, where severe complications are less common.
The latest official figures show that Latinos (who make up about 6.0 percent of Iowa's population) account for 26 percent of known COVID-19 cases and 7.1 percent of deaths. African Americans (4.0 percent of the population) account for 10 percent of cases and 4.8 percent of deaths. Asian Americans or Pacific Islanders (2.9 percent of the population) account for roughly 8 percent of known cases and 5.0 percent of deaths. American Indians (0.5 percent of the population) account for 1 percent of cases and 0.7 percent of deaths.
Top image created by the Centers for Disease Control to illustrate "ultrastructural morphology exhibited by coronaviruses."