Nick Mahlstadt responds to the latest newsletter by Republican State Senator Julian Garrett, which is titled "Black Homicide Victims" and enclosed in full at the bottom of this post. -promoted by Laura Belin
Let's be clear. This is a racist dog whistle piece written by the state senator representing my district, and I won't be silent. The so-called black-on-black defense is intellectually dishonest and deflects from the actual issues at hand.
Senator Julian Garrett clearly is not interested in grappling with the reality of police brutality, which disproportionally affects people of color in the state of Iowa and the nation. Not only is his commentary a lazy, GOP talking point copy and paste, it perpetuates thinking that causes physical and mental harm to males who are not white and don't hold power.
First, let's address his lazy assessment of black-on-black crime.

As I noted above, this is a typical racist dog whistle to white people, as is the insertion of "Chicago crime." To insinuate that Black people aren't concerned with crime is appalling.
Garrett then uses Chicago and Baltimore crime rates to pivot to his disdain for the Black Lives Matter movement, stating, "If you take their name literally, you would think that they would be concerned by the hundreds, if not thousands, of black people killed by other blacks. The truth is their goal is not primarily to protect black lives."
That is the epitome of not actually caring about your neighbor but instead dismissing the plight of people. If the senator would take some time to self-educate, he'd come to realize a vast number of studies and reports demonstrate racism in policing, over-policing communities of color, the racial wealth gaps that inform housing policies, the economic disparities that exist, the climate issues that affect people of color more than whites, and on and on and on. To take a highly complex issue and summarize it as Black people not caring is tremendously harmful.
Secondly, Garrett cites two articles on crime to try and dismiss the Movement for Black Lives as a whole, completely missing the point. He admits to being on the Black Lives Matter website, but he obviously wasn't reading for content. Rather, he cherry-picked a sentence to try to prove his point.
Had he read what the Black Lives Matter movement is and why it exists, he wouldn't have published this opinion piece. What the senator failed to mention was the formation of this movement to serve as a call to action in response to state-sanctioned violence and anti-Black racism.
Garrett also cites an often used quote "by any means necessary" to fear-monger. It is exactly because of dismissive pieces like this and senators like him, who wholly dismiss anti-Black racism, that Black people have to push, demonstrate, and demand action by any means necessary as a matter of survival. Not simply as a fear tactic, like Garrett would have you believe. I encourage everyone to read the About section of the official Black Lives Matter website to truly understand what the movement is about.
The senator also casually throws in a reference to defunding the police. Again, it's clear he has no idea what this term means. If he did, he would know we are calling for the removal of funds that are overwhelmingly allocated to police departments and dispersing some of those funds to other services such as education and mental health, which will truly serve our communities in meaningful and helpful ways.
Again, let's be honest about what this piece is. People in Iowa Senate District 13 must remove this man from office, as we have no place for racism or people who uphold it.
Nick Mahlstadt is an Indianola resident, business professional in the health care industry and president and co-founder of the non-profit The Move Project, which focuses on alleviating poverty in Tsipasi, Ghana.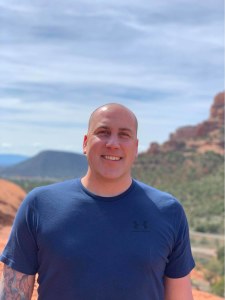 Editor's note from Laura Belin: An earlier version of Nick Mahlstadt's response appeared in the Indianola Independent Advocate, which had previously published Garrett's newsletter. Iowa Senate district 13 covers Madison County and most of Warren County. Garrett's current term runs through 2022.
Here is the full text that Garrett submitted to area news editors:
SENATOR JULIAN B. GARRETT
LEGISLATIVE NEWS
Statehouse, Des Moines, IA 50319
Julian.Garrett@legis.iowa.gov

Black Homicide Victims
"Chicago saw its highest number of gun violence victims in a single weekend this year with 104 people shot across the city from Friday evening to Monday morning, 14 of them fatally. Five of those killed were minors."
Chicago Sun Times Monday June 22, 2020.
The Sun Times reports that there have been more homicides in Chicago so far in 2020, (254), than in all of 2019, (238). Most of the victims are young black men, according to the Sun Times.
"Of the more than three hundred people killed in the streets of Baltimore last year, just about all of them were African Americans. The shooters (killers) were most likely black as well. This is a devastating plague acutely affecting black communities across the country."
Baltimore Sun, April 3, 2020. By Professor John L. Hudgins, Coppin State University
Even in Des Moines, police report that there have been 13 murders so far this year. Nearly all the victims are black.
Of course, this pattern is not unique to Chicago and Baltimore. The point of these stories is that most black murder victims are killed by other blacks. So why bring up this point? The Black Lives Matter movement has been in the news lately. It is not uncommon for commentators to raise the question of why aren't they concerned about black murders of other blacks. If you take their name literally, you would think that they would be concerned by the hundreds, if not thousands, of black people killed by other blacks. The truth is their goal is not primarily to protect black lives. If that was their goal they would be concentrating on black on black killings because that is where the numbers are.
Black Lives Matter is a far left political movement that uses incidents such as the Floyd killing to advance their leftist political agenda. I know there are a number of young people who participate in the marches who are not extremists, but they are not the leaders. BLM is even advocating "defunding the police" though it is hard to believe that elected city officials would really do that.
Talking about blacks killed by other blacks does not advance their political agenda. It is that simple. If Mr. Floyd had been killed by a black, who was not a law enforcement officer, they would not have been interested. If you are in doubt, take a look at their website or listen to some of their comments.
Here is the lead paragraph on one of their websites:
"Four years ago, what is now known as the Black Lives Matter Global Network began to organize. It started out as a chapter-based, member-led organization whose mission was to build local power and to intervene when violence was inflicted on Black communities by the state and vigilantes."
I saw no reference to blacks killed by other blacks.
Another significant point is their defending of the destruction of property, looting and violence against police that has taken place at some of their events, even in Des Moines.
At the conclusion of an interview on the Fox network Hawk Newsome, BLM president in Greater New York stated, "I just want black liberation, and black sovereignty. By any means necessary."
It is unfortunate that extremists are the ones who get the publicity. The many blacks who are not extremists are almost ignored. Why not talk about the many blacks who are doctors, nurses, teachers, police officers, businessmen and women, religious leaders and may others. They should be the role models who are celebrated.

As always please feel free to contact me with your ideas or concerns.