Independence Day was established to celebrate the July 4, 1776 vote by the Second Continental Congress to adopt Declaration of Independence. But many other noteworthy historical events also happened on this day. Thomas Jefferson and John Adams both died on July 4, 1826. New York state abolished slavery on this day in 1827.
July 4 has also been a significant date in Iowa history. Two of the events described below happened within the lifetimes of many Bleeding Heartland readers.

1838: Iowa becomes a territory
The Iowa History Project website explains that Iowa was originally part of the Louisiana Territory, but became part of the Missouri Territory when Louisiana became a state in 1812. After Missouri obtained statehood in 1821,
All of the country north of the northern boundary of Missouri was left without any government at all. It was a political orphan and had no one to take care of it. The men at Washington did not think that settlers would cross the Mississippi. Indeed, the territory did not at this time have even a name. But some white settlers did cross the river, and after the Black Hawk War was over, many came over to the western side of the Mississippi River.
Eventually Iowa became part of the Michigan Territory, and after Michigan was admitted to the Union, part of the Wisconsin Territory in 1836. But "Every one knew that the territory west of the Mississippi River was to be separated from Wisconsin. Already a petition for a separate territory had been sent to Congress."
On the twelfth day of June, 1838, President Martin Van Buren signed the bill which created the Territory of Iowa. It went into effect on the fourth of July. The President also appointed a governor and secretary for the new territory and three justices of the territorial supreme court. The people were to elect the legislature.
The first capital of the territory was Burlington, but the legislature elected in 1838 "decided to start a new city in Johnson County to be called Iowa City," which would become the state capital. "The cornerstone of the new capitol building was laid on July 4, 1840."
The original boundaries of the Iowa territory included what is now part of Minnesota and North and South Dakota.
1966: Good Park Rebellion happens in Des Moines
Excessive use of force by white police officers against Black youths sparked a large protest in Des Moines on July 4, 1966.
The Des Moines Register's Andrea May Sahouri interviewed University of Iowa assistant history professor Ashley Howard last month about those events and the more recent protests sparked by George Floyd's killing in police custody in Minneapolis. Howard said,
It's often called the Good Park Rebellion. July Fourth weekend in 1966, we see about 200 Black youth in the park. They are throwing rocks at police cars, they barricaded them up, and this all happens after the police rough up two young people for staying out past curfew. We also see the Des Moines police rounding up people, doing random sweeps, and they arrested several teenagers, all of this is kind of beginning to feed into this broader narrative that the police in Des Moines at the time were not there to serve the Black community, but rather to intimidate them.

One of the outcomes of this is the Des Moines chapter of the Black Panther Party for Self Defense. It was a local Des Moines woman by the name of Mary Rem who began it. She was rightfully horrified by what happened after the Good Park incident, and so she is looking for an opportunity to really think about what it means to have Black control of the Black community. And at the time, the Black Panther Party was one of the best organizations for people to realize that dream.
I pulled up the front-page article from the Des Moines Register on July 5, 1966 through Newspapers.com. A banner headline described the events: "YOUTHS BATTLE POLICE HERE," with a subheading, "200 NEGROES THROW ROCKS IN GOOD PARK."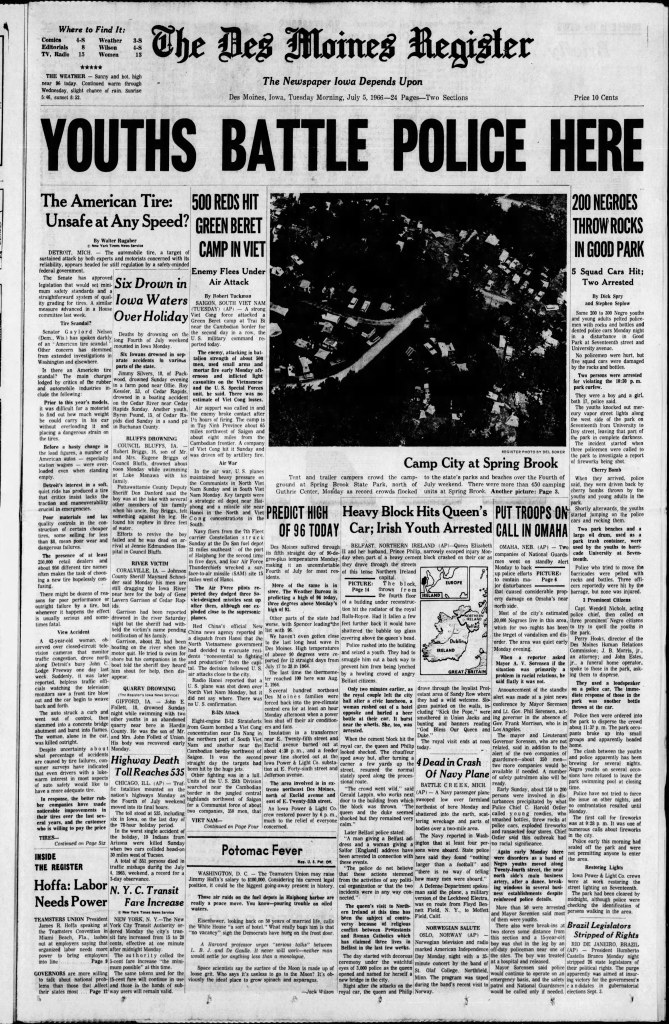 You can read the article by Dick Spry and Stephen Seplow by clicking on the next several images: first, second, third.
Bruce Fehn and Robert Jefferson discussed the incident and its aftermath at length in their article "North Side Revolutionaries in the Civil Rights Struggle: The African American Community in Des Moines and the Black Panther Party for Self-Defense, 1948–1970," which was published in the Winter 2010 edition of The Annals of Iowa.
What some African American leaders at the time saw in the July 1966 Good Park insurrections as "defiance of law and order" perpetrated by a "few misguided youngsters" was in fact a watershed moment in the city's racial politics. Simmering frustrations associated with racial discrimination in housing, education, and employment and de facto segregation of swimming pools and other public facilities boiled over into demonstrations demanding recreational space where African Americans could comfortably assemble and socialize.4 With the 1966 Good Park riots, young African Americans began a process of bold and public agitation to secure changes in their neighborhoods, including defense of the park and the near north side black neighborhood from police intrusions. Over the next five years, young African Americans' many subsequent confrontations with police and city officials reshaped a much longer African American movement advocating social change and justice in Iowa's capital city. […]

The Des Moines white establishment's decisions in the late 1950s to begin urban development projects, including freeway construction, drove daggers into the Center Street neighborhood. [Hobart] DePatten, whose father for many years ran a printing business on Center Street, expressed the magnitude of the disaster for many of Des Moines's black residents: "Urban renewal was our 9/11."10 Urban renewal projects and the new freeway wiped out affordable housing for black families. White realtors worked with white residents to keep displaced African Americans from moving into white neighborhoods. As a result, blacks found themselves ever more tightly confined within the deteriorating near north side neighborhood.11 […]

Small wonder, then, that young African Americans cherished Good Park as a social and recreational space more or less isolated from the racism and discrimination that permeated the city. Good Park was one place where black children and teenagers went to play, socialize, and recreate. The park was roughly a square block of green space with a wading pool, shelter house, and basketball courts. Located near the west end of Des Moines's black neighborhood, the park was bordered on the south by the Des Moines freeway. On the north, the park sloped down to University Avenue, a busy east-west city thoroughfare. To the park's immediate west, along and near 17th Street, was an integrated working-class neighborhood that was increasingly African American in composition. To the east a steep incline dropped down to Keosauqua Avenue, a busy street that cut northwest–southeast through the African American community. Historian Ralph Crowder, who grew up near Good Park, remembered it as a "wonderful Black institution in Des Moines."
In August 1966, a white police officer
shot dead Dwight Green, who allegedly had refused Park's order to halt as he was leaving through the window of a laundry that had closed for the day. Four days later, an integrated group of young people marched on Des Moines police headquarters, demanding that police form a "grievance board" and establish stringent rules regarding the use of highly lethal "riot guns" of the kind that killed Dwight Green. Once assembled, the crowd taunted police. Soon African Americans formed the "Citizens Committee to End Police Brutality." "Organized at Good Park," the African American newspaper the Bystander reported, "its first aims are the removal of shotguns from patrolman's cars and a review board to investigate such police violations as shotgunnings, mis-arrests and 'trips up the elevator.'"19
More than 50 years later, Des Moines still lacks proper citizen review of its police force, and officers have used excessive force to disperse peaceful protesters numerous times in the past six weeks.
Speaking to the Register's Sahouri last month, Professor Howard observed,
What we're witnessing happening since the dawn of the Black Lives Matter and Say Her Name movements is we're seeing a mainstreaming of the narratives that African Americans have been telling in their communities for decades. People are beginning to acknowledge this truth. Sadly, it seems that Black truth telling is not enough; it has to be corroborated with evidence. What we're seeing, especially in the ways police are using violence in so many national protests, is people are beginning to get a glimpse of how African Americans have been suffering for decades. I think that's a really important pivot point, when that violence is so on display I think it causes people to really question the frames they've been telling themselves about police brutality in America.

And so for Black Iowans, I think this is a moment of being seen in a way perhaps they haven't had before. That this story is not just something that happens far away, in places like Ferguson or Oakland, California, but it's happening in their own communities and thus people who are seeing this and are outraged have a responsibility to do something, not in the national sense, but at the local sense where it's happening.
2005: Tens of thousands of Iowans regain voting rights
Governor Tom Vilsack issued Executive Order 42 on July 4, 2005. The Des Moines Register's report from that day noted that since becoming governor, Vilsack had individually restored voting rights to 2,665 Iowans with felony convictions and denied applications by 836 people, either because the applicants still owed restitution to victims or court fees, applications were incomplete, or because of "their prior criminal record or new charges pending against them."
In his second to last year in office, Vilsack established an automatic process for restoring voting rights. His order required the Iowa Department of Corrections to submit a list of those who had completed felony sentences each month. The governor retained the power to review those and deny citizenship rights to some offenders. An estimated 100,000 Iowans benefited from the order during the five and a half years it was in effect.
Speaking to the Register recently, Vilsack recalled receiving many letters afterward from people who had regained the right to vote, or their close relatives.
They captured how appreciative people were "for the action and opportunity because it enabled their son or daughter or husband to feel whole again," Vilsack told an editorial writer on Tuesday. "If you can't participate in democracy, it's hard to feel totally connected and feel like you are, indeed, a citizen. They were just really incredible letters."

He said the date of July 4 was by design. A day to celebrate independence was a fitting day to celebrate democracy and give people the ability to participate in it.

"It's about freedom, liberty and being a citizen. They were some of the most heartfelt, honest, tear-jerking letters about the importance of what we had done and what a difference it made in the mental health of someone's spouse and how excited they were about being able to vote."
Former Governor Terry Branstad told the Register in 2005 that it was a "mistake" for Vilsack's order not to require payment of restitution and court costs. He would go on to rescind that order within hours of being inaugurated as governor in January 2011. Over the next six and a half years, he restored voting rights to just 206 people, far less than 1 percent of those affected by the disenfranchisement policy.
Vilsack defended his executive order this way in 2005.
"Do we disqualify people that haven't fully paid their child support? Do we disqualify people who haven't fully paid their Visa bill, who have filed bankruptcy, that owe money on civil judgements?" Vilsack said.

"If the (reoffense) rate goes down because we give these people the right to vote and reconnect them to society, there's a greater chance restitution is going to get paid," he said.
Governor Kim Reynolds has promised to issue a new executive order soon restoring voting rights to most Iowans who have completed felony sentences. However, she has signaled she plans to make voting contingent on someone's ability to pay all restitution and/or court fees. The Register's editorial board recently argued,
Reynolds does not need more meetings or legal advice.

Iowans do not need more talk or stalling.

They need Reynolds to pick up a copy of Vilsack's executive order, change a few dates and sign it. That executive order was a mere two pages. It is straightforward, without strings, and as relevant today as it was 15 years ago.

It recognizes "the right to vote is the foundation of a representative democracy," and "disenfranchisement of offenders has had a disproportionate racial impact thereby diminishing the representation of minority populations."
Amen to that.