A showdown is brewing between the Iowa Secretary of State's office and county auditors planning to make it easier for voters to submit accurate and complete absentee ballot request forms for the 2020 general election.
A top deputy to Secretary of State Paul Pate warned county auditors this week not to mail absentee ballot request forms with the voter personal identification number (PIN) field filled in.

A WORKAROUND TO AN IRRATIONAL LAW
Auditors in at least seven large Iowa counties are preparing to send absentee ballot request forms to all active registered voters in their jurisdictions in the coming months. The form typically looks like this: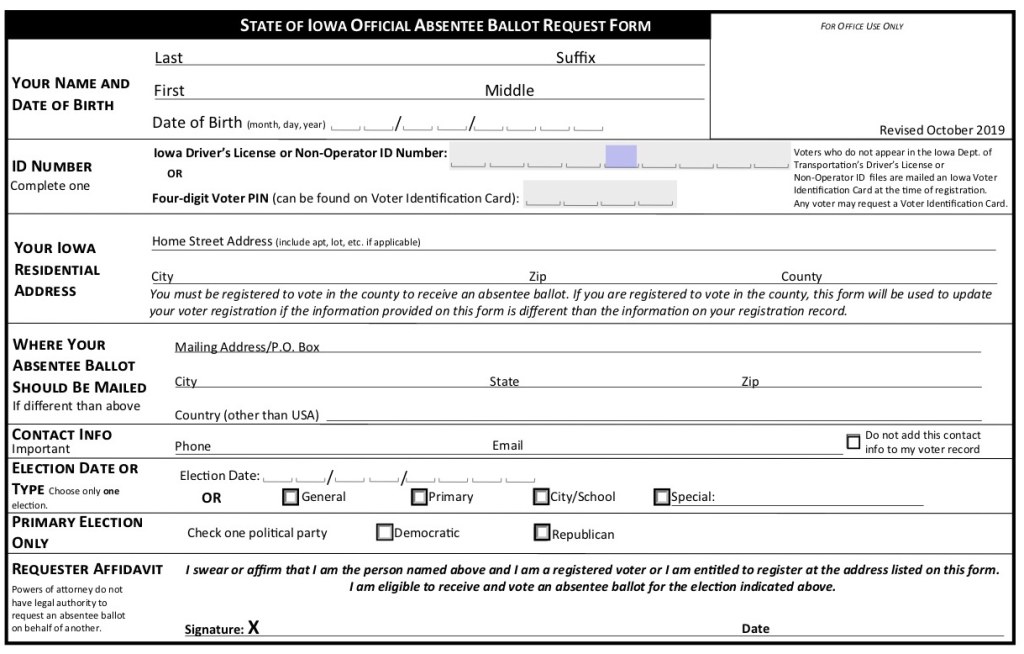 Johnson County Auditor Travis Weipert and Linn County Auditor Joel Miller are poised to take it one step further. As James Q. Lynch was first to report for the Cedar Rapids Gazette, those two auditors plan to send "forms prefilled with voters' personal identification number in hopes of avoiding confusion caused by people entering their Social Security numbers or driver's license numbers."
Voters without a driver's license or non-operator ID–a group including many elderly Iowans and those who don't drive because of a disability or economic barriers–are supposed to provide their four-digit voter PIN when requesting an absentee ballot. But hardly anyone knows that number. During a middle-of-the-night legislative debate on June 14, Democratic State Senator Zach Wahls challenged GOP colleagues: "I will buy you a beer if any senator in this chamber knows the last four digits of their voter ID PIN. I definitely don't know mine."
One of the most common mistakes Iowans make on an absentee ballot request form is to leave the voter PIN field blank or provide the last four digits of their Social Security number, which is frequently used for identification purposes. In the past, county auditors or their staff could check a computer database and add the correct PIN.
Last month, Republican legislators approved and Governor Kim Reynolds signed language that prohibits county elections officials from using the database to correct obvious errors or omissions on absentee ballot request forms. Rather, they must try to reach the voter in question through phone, email, or a letter sent through regular mail. Guess where they would find that contact information? In the same database they can't consult to add the correct PIN.
The new restrictions on county auditors are modeled on an administrative rule that was struck down in Polk County District Court as "irrational, illogical, and wholly unjustifiable." So I don't expect this statute to hold up after a lawsuit is filed. But county auditors can't wait for months to see how litigation proceeds. They need to start sending absentee ballot request forms soon.
"THE ID NUMBER FIELD CAN NOT BE PRE-POPULATED"
Heidi Burhans, the director of elections for the Iowa Secretary of State's office, sent the following email to county elections officials on July 6.
Dear County Auditors, Deputies and Staff:

We understand that many counties are going to issue a countywide mailing of absentee ballot request forms to their voters, and some counties plan to pre-populate the fields with voters' details.

The ID Number field can NOT be pre-populated because it is considered a confidential record per Iowa Code §22.7.72–73. The voter verification number is defined in §53.2(4)(c).

Please contact either Molly or me with any questions regarding this topic.
The last line refers to the secretary of state's legal counsel Molly Widen. Neither she nor the office's communications director has responded to Bleeding Heartland's repeated inquiries about the legal interpretation.
"TRYING TO FIT A SQUARE PEG INTO A ROUND HOLE"
Iowa Code Chapter 22.7 spells out which records are considered "confidential" and therefore exempt from the open records law. Sub-section 72 mentions the voter verification number "that is assigned to a voter and maintained and updated in the statewide voter registration system. Point 73 mentions the "personal identification number assigned by the state commissioner of elections."
The purpose of 22.7 is to limit what custodians can provide to individuals seeking public records. It's sensible that if I ask to see records for certain voters residing in Linn or Johnson County, auditors wouldn't give me those people's PINs.
Those code sections don't address what information county auditors can send voters about themselves, outside the context of any public records request.
Gary Dickey, a Des Moines attorney who has worked on election-related lawsuits, told me in a July 6 email,
Secretary Pate is trying fit a square peg into a round hole by relying upon sections 22.7(72) and 22.(73) of the Iowa Code to put up yet another unnecessary roadblock to voting by mail. Those sections simply exempt voter verification numbers and person identification numbers from the public disclosure requirements of the Iowa Open Records Act. Of course, the county auditors are not proposing to publicly disclose this information. Instead, they simply intend to include the information in prepopulated absentee request cards confidentially mailed to individual voters.

Because each voter has a right to access his or her own identification numbers, its does not violate the law–and the Secretary of State knows better than to argue otherwise.
"EXPLAIN IN DETAIL THE EXACT CODE SECTION I'M VIOLATING"
I also sought comment from the two auditors who were the obvious targets of Burhans' warning. In a July 7 message, Johnson County's Weipert challenged the Secretary of State's office to "explain in detail the exact code section I'm violating. This isn't a public request for information, this is providing [voters'] PIN number which is rightfully theirs."
He added that he has received calls from voters who didn't know everyone was assigned a PIN and wondered why that card hadn't already been mailed to them.
Weipert hasn't altered his plan to add the PIN when the first wave of absentee ballot request forms goes out to voters in the county's rural areas and senior housing complexes in late July.
"I HAVE A DUTY TO HAVE ACCURATE RECORDS"
Miller said in a July 7 email that he doesn't agree with Pate's legal analysis and is "leaning towards populating the PIN" onto absentee ballot request forms. He will make a final decision before Linn County's mailings go to the printer next week.
He rejected the idea that "by sending an active voter a prefilled ABRF, I am violating my duty to keep certain information on the ABRF confidential."
I have a duty to keep certain voter provided information confidential, but I also have a duty to ensure my records are accurate – see Code of Iowa Chapter 721 et al. The facts are: data input errors have occurred by members of my staff, e.g., names misspelled, and voters have provided illegible information or misinformation on their absentee ballot request forms, e.g., they reside in an apartment complex and provided the street address, but not the apartment number. We need both for a lawful voter registration.

The purpose of prefilling an ABRF is to provide the voter with the data we have on the voter so they can review the data and correct the data (if appropriate). At least one organization (Judicial Watch) has filed lawsuits in multiple jurisdictions accusing election officials of maladministration regarding voter registration databases, e.g., Judicial Watch has alleged that voter registrations exceed the number of eligible electors in several Iowa counties. You should not accuse an election official of having faulty records, and then tell him that he cannot clean up his records by confirming the data in the records with the source, i.e., the registered voter. One way to confirm the data in a voter's record is by sending the voter a prefilled ABRF.

I am a county auditor. My fundamental duty is to audit. I am auditing records within my custody. I have a duty to have accurate records. Even CPA firms, when auditing companies, mail out unsolicited, confidential information to clients/vendors of those companies, asking those clients/vendors to confirm the information on file is correct, and to contact the CPA firm if it's incorrect.
As for complaints that auditors should not send voters unsolicited information, Miller recalled,
Prior to the 2012 and 2016 general elections, I mailed voter registration cards to every active voter in Linn County to confirm our voter registration records were accurate, and to advise the voters of their polling places.

These mailings contained confidential information. I am an official authorized by law to release that information and I released that information to a person that was authorized to receive that information, i.e., the voter. I received no complaints related to mailing out those voter registration cards. On the contrary, I recall voters thanking me for reminding them where to vote.
I will update this post as needed with further developments or comments from the Secretary of State's office, if they ever answer my questions.
Top image: Lucas State Office Building in Des Moines, where most of the Secretary of State's staff work. Photograph taken by Ctjf83 in September 2010 and available via Wikimedia Commons.