July 6 was the first day Iowans can request an absentee ballot for the 2020 general election. Under normal circumstances, I prefer voting early in person and have encouraged others to do the same. But voting by mail is by far the safest option for 2020, in light of the COVID-19 pandemic.
Republican legislators signaled last week they won't allow Secretary of State Paul Pate to send absentee ballot request forms to every registered voter again.
Election officials in Iowa's largest counties aren't waiting to see how things play out. Several auditors are already making plans for their own universal mailings. Higher turnout in those counties should benefit Democratic candidates for federal offices and state legislative seats.

NO GOOD DEED GOES UNPUNISHED
Pate's decisions to extend the early voting window from 29 days to 40 days and to mail an absentee ballot request form to every Iowa voter are widely credited with boosting turnout to unprecedented levels for the June 2020 primary. Official figures show 531,131 Iowans (approximately 24.5 percent of all registered voters) participated in the election, of whom 420,389 voted by absentee ballot. Though some cast early ballots in person at their county auditor's office, the vast majority voted by mail.
The previous highest turnout recorded for an Iowa primary was 449,490 in 1994.
Campaigns and political parties typically mail absentee ballot request forms to voters expected to lean their way. But John Deeth, a longtime elections worker and active Democratic volunteer in Johnson County, noted recently that "no mailing has ever succeeded as well as Pate's primary mailer. The keys were 1) targeting EVERYONE and 2) return postage paid. We set an example for the whole country this primary."
Republicans responded to this smashing success by rushing through a law to limit Pate's emergency powers. The statute requires the secretary of state to seek permission from the Legislative Council (where Republicans hold a majority of seats) for any change in election procedures.
During that council's July 1 meeting, GOP lawmakers voted down a Democratic request to allow Pate to use federal COVID-19 relief funds to pay for a universal absentee ballot request mailer.
It was a bizarre move, considering that about 70 percent of GOP state legislators (including several who serve on the Legislative Council) themselves voted absentee in the primary, Pat Rynard reported for Iowa Starting Line. Perhaps some are still holding a grudge against Pate for the screw-up in his office that undermined efforts to add pro-gun language to our state constitution.
Whether Pate will seek permission to send a general election mailing is unclear; staff for the Secretary of State's office have not replied to Bleeding Heartland's repeated inquiries. He could avoid the hassle and possible humiliation by turning over federal election assistance dollars to county auditors to use as they see fit.
Some auditors are already working on making a universal mailing happen.
COUNTIES WITH PLANS UNDERWAY
The Dubuque County Elections Office, led by Auditor Denise Dolan, was first to announce plans for the general election, promising in a June 30 Facebook post to send every registered voter an absentee ballot request form "around Labor Day."
Linn County Auditor Joel Miller and Johnson County Auditor Travis Weipert confirmed soon after that they will mail the forms to all active registered voters. ("Active" voters have cast a ballot in at least one election during the past four years.)
Scott County Auditor Roxanna Moritz told me during a July 3 telephone interview she is "extremely supportive of sending an absentee request form to every single active registered Scott County voter." She is exploring funding options to make sure "every voter has the opportunity to vote from the safety and security of their home during a pandemic." UPDATE: Moritz announced on July 9 that she will mail the forms in August.
Also on July 3, Black Hawk County Auditor Grant Veeder said via Facebook message there is a "strong likelihood" absentee ballot request forms will be mailed to all active voters in that county as well. UPDATE: Veeder informed me on July 7 that he has "made a firm decision to mail ABRs" to the county's active registered voters.
Polk County Auditor Jamie Fitzgerald tweeted on July 6,
Polk County is in the process of working with vendors to send all registered voters in Polk County an absentee ballot request similar to what the Iowa Secretary of State did successfully in the 2020 Primary Election.
Woodbury County Auditor Pat Gill has sent universal absentee ballot request mailings in previous election cycles and will do so again, he confirmed in a July 6 email.
Those seven counties alone are home to more than 850,000 of Iowa's 2,003,793 million active registered voters, according to the latest official figures. As a group, those counties lean substantially more Democratic than the state as a whole.
HIGHER TURNOUT COULD BOOST DEMOCRATIC CANDIDATES IN KEY RACES
Neither party currently enjoys a voter registration advantage in Iowa. The Secretary of State's office reported on July 1 that there were 681,148 active registered Democrats, 681,789 Republicans, and 627,444 no-party voters statewide.
More than half of all Iowa Democrats (356,949) live in the seven counties that appear likely to mail ballot requests to all residents. But only about a third of registered Republicans do (233,084).
Looking at the three U.S. House races considered most competitive:
About 66 percent of the 179,951 registered Democrats in the first Congressional district live in Linn, Black Hawk, or Dubuque counties. Only 53 percent of the 150,611 Republicans and 55 percent of the 164,279 no-party voters do.
Just under 50 percent of the 180,015 Democrats in the second Congressional district live in Johnson or Scott counties. Just 32 percent of the 151,808 Republicans and 41 percent of the 159,087 no-party voters do.
Polk County contains about 56 percent of all active voters in the third district and 67 percent of the registered Democrats. But only 46 percent of the district's Republicans and 53 percent of the no-party voters live there.
At least two state Senate and four state House districts likely to be targeted by both parties are located in Polk County. Several others cover parts of Linn, Scott, or Black Hawk counties.
If there's no statewide mailing from the secretary of state, and federal funds aren't released to county auditors to cover the cost of sending everyone a postage-paid absentee ballot request form, GOP candidates could be at a disadvantage.
The Republican Party of Iowa and several campaigns will surely send pay for their own absentee ballot mailing to reach Republicans and certain no-party voters. But many irregular voters don't appear on party lists. Many voters don't have internet access at home or the ability to print a form downloaded from a website.
The turnout surge for Iowa's 2020 primary showed that a postage-paid mailing from a government source has the potential to pull in a large number of voters who would not normally participate.
That is why I believe Republicans may come to regret their revenge mission against Pate.
HOW TO REQUEST AN ABSENTEE BALLOT
Iowans don't need to wait for someone to mail them an absentee ballot request. Those with internet can download absentee ballot request forms at any time on the Secretary of State's website or via their county auditor. The form looks like this.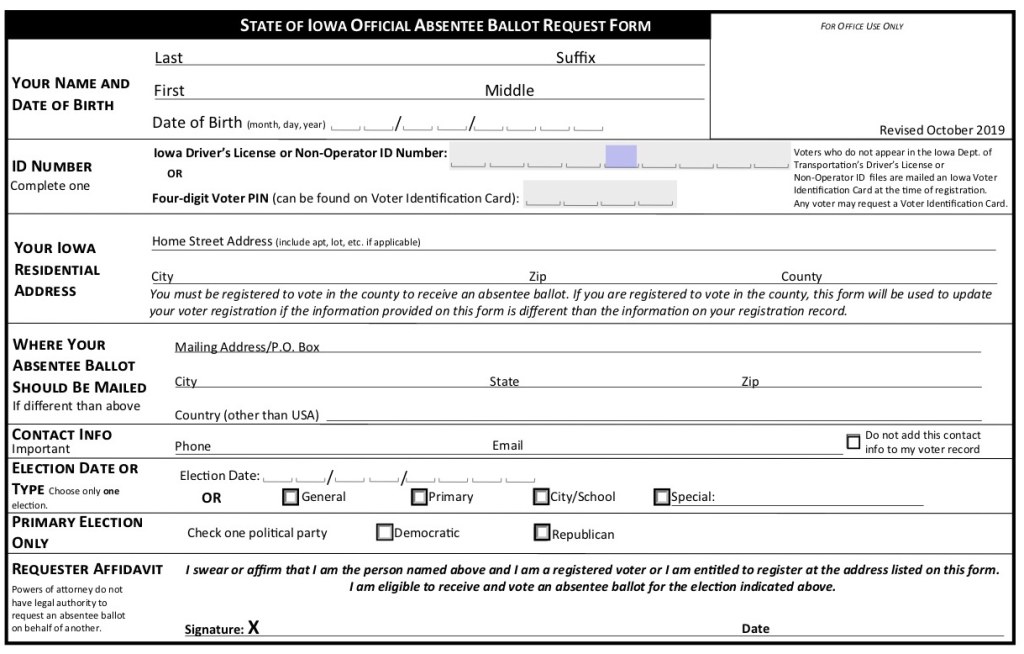 Those without internet should reach out to county or state party leaders, who can have an absentee ballot request form mailed or hand-delivered to the right address. The Iowa Democratic Party's phone number is (515) 244-7292.
Important note: County auditors won't be able to mail ballots until October 5, which is 29 days before the general election. (Pate has indicated he won't attempt to extend early voting to 40 days this fall.) So if there is any chance you may change addresses before October, don't request an absentee ballot now.
UPDATE: Auditors in Linn and Johnson counties plan to send absentee ballot request forms with some voter information pre-filled. Pate's office is not happy about it. Bleeding Heartland has more on that story here.
Clinton County Auditor Eric Van Lancker announced on July 9 that his office will send all active registered voters in the county an absentee ballot request form. While the Democratic voter registration advantage in Clinton is not large in absolute terms (10,074 Democrats, 8,932 Republicans, 11,643 no-party voters), it is the home county for Rita Hart, Democratic nominee in the second Congressional district.
Top image: Front side of the absentee ballot request form the Secretary of State's office mailed to all Iowa voters in April 2020.