Iowa continues to attract national media attention due to our high coronavirus case numbers, uncontrolled outbreaks on college campuses, Governor Kim Reynolds' refusal to mandate face coverings, and her stubborn insistence that all school districts return to in-person instruction.
Another milestone in our state's losing battle to contain the virus passed with little notice this week. Iowa moved up to eleventh place among the 50 states in terms of COVID-19 cases per capita, surpassing early hot spots New York and New Jersey.
There's no excuse for how poorly we are managing the pandemic.

MORE CASES PER CAPITA THAN THE MOST DENSELY POPULATED STATES
The New York Times provides interactive maps and user-friendly graphics that make it easy to compare coronavirus statistics by state. As of September 12, Iowa has 73,547 COVID-19 cases, which works out to 2,331 per 100,000 population and eleventh among the states.
New York is in twelfth place with 2,300 cases per 100,000 residents. New Jersey is fourteenth with 2,226 cases per 100,000 residents.
Iowa should be doing far better than states on the east coast, where COVID-19 arrived early and hit large metro areas. Among the 50 states, New Jersey is the most densely populated, with an estimated 1,210 residents per square mile. New York is seventh on that metric, with 416.4 people per square mile. Iowa ranks 36th in terms of population density, with about 56.1 residents per square mile.
In terms of COVID-19 cases per capita, Iowa is doing worse than all of the ten most densely populated states except for Florida.
Looking at graphs of daily COVID-19 case counts, you can see how many of the early hot spots dramatically reduced transmission rates and have kept their case counts relatively low in recent months. Here's the New Jersey data from Johns Hopkins University's Coronavirus Resource Center.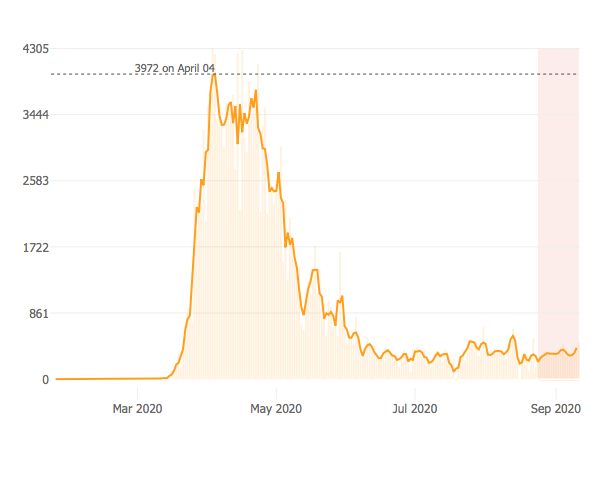 The New York graph from the same source.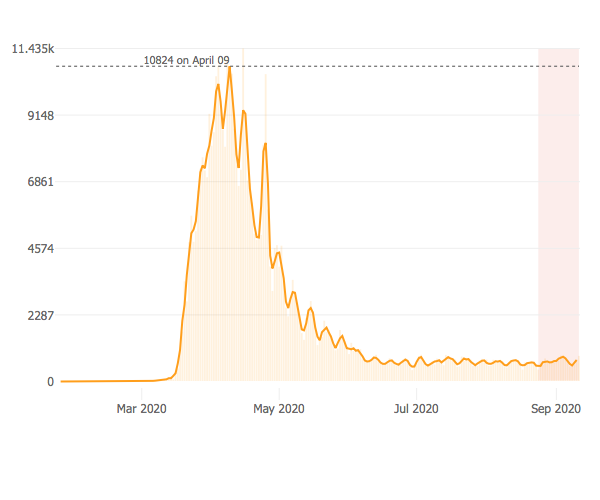 Our state's leaders had weeks longer to prepare for the pandemic, and our residents are much more spread out. But look at Iowa's trendlines over the summer.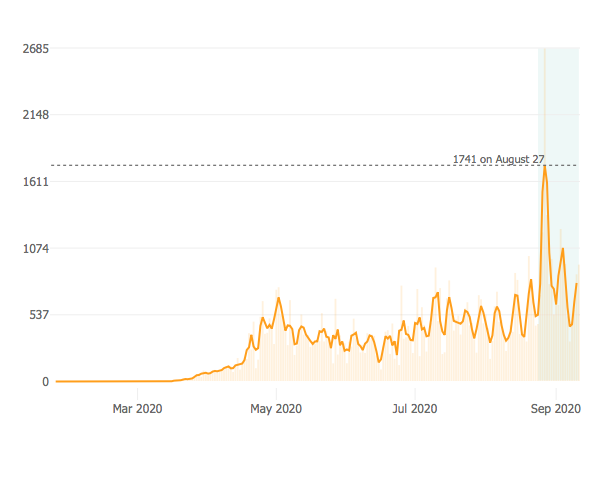 That huge spike on August 27 and 28 reflects the Iowa Department of Public Health's decision to start reporting positive results from antigen tests.
LATEST CASE NUMBERS UNDERSCORE IOWA'S POOR PERFORMANCE
Iowa's total confirmed case number (73,573 at this writing) routinely increases by more than 500 in a day, sometimes by more than 1,000. Our state has recorded 147 new COVID-19 cases for each 100,000 residents over the last seven days, according to New York Times data published on September 12. We rank fourth among the states on that metric, after North Dakota (224 cases per 100,000 residents), South Dakota (172), and Missouri (150). New Jersey is 45th (28 cases per 100,000 residents over the past week), while New York is 47th (just 25 cases per 100,000).
The Covid Act Now website, a collaboration of several research centers, notes that "COVID in New Jersey is spreading in a slow and controlled fashion, and New Jersey's COVID preparedness meets international standards." The positive test rate for the state is 1.4 percent. New York also has slow growth in COVID-19 cases, with an even lower test positivity rate of 0.9 percent. Both New York and New Jersey are judged to have enough contact tracers.
Meanwhile, Covid Act Now describes the current situation in our state as follows: "Iowa is at risk of an outbreak. COVID cases are either increasing at a rate likely to overwhelm hospitals and/or the state's COVID preparedness is below international standards." Our positive rest rate of 14.5 percent "indicates insufficient testing."
Although Reynolds and State Medical Director Dr. Caitlin Pedati have frequently talked up our state's case investigation and contact tracing, Covid Act Now assesses the situation differently.
With 663 new daily cases on average, Iowa needs an estimated 3,315 contact tracers on staff to trace each new case to a known case within 48 hours of detection. Per our best available data, Iowa has 403 contact tracers, fulfilling 12% of this staffing requirement. With insufficient contact tracing staff, Iowa is unlikely to be able to successfully identify and isolate sources of disease spread fast enough to prevent new outbreaks.
The Des Moines Register's Tony Leys reported on September 8, "State and local health departments have about 350 people working full time on contact tracing, according to the Iowa Department of Public Health. The Iowa National Guard, universities and school districts also have people pitching in."
Iowans who have personal stories to share about their interactions with contact tracers after testing positive for COVID-19 are encouraged to contact Laura Belin confidentially.
REFUSAL TO ENACT POLICIES THAT COULD SLOW THE SPREAD
Since lifting almost all restrictions on business activity and mass gatherings over a six-week period in May and early June, Reynolds and the Iowa Department of Public Health have put all of their eggs in one basket, as if expanded testing alone would be sufficient to contain the virus. Other approaches to reducing community transmission have been a no-go.
In contrast, states that have kept their COVID-19 outbreaks under control reopened slowly and have required residents to wear face coverings in most public settings for months.
Notably, New Jersey only just resumed indoor dining at restaurants on September 4. That state still has relatively strict limits on capacity and total attendance at indoor gatherings.
Indoor dining is set to resume in New York state on September 30, with no bar service and many other restrictions on capacity to remain at restaurants serving patrons indoors.
The White House Coronavirus Task Force has urged Iowa leaders to impose more restrictions since late July. Reynolds has ignored most of their advice.
Here's the most recent report for Iowa, which was first published by the Des Moines Register.
First finding:
Iowa is in the red zone for cases, indicating more than 100 new cases per 100,000 population last week, with the 3rd highest rate in the country. Iowa is in the red zone for test positivity, indicating a rate above 10%, with the 6th highest rate in the country.
The White House experts said, "Bars must be closed, and indoor dining must be restricted to 50% of normal capacity in yellow zone and 25% of normal capacity in red zone counties and metro areas." (The red and yellow zone combined account for 61 of Iowa's 99 counties.) Reynolds closed bars in six counties in late August but has done nothing to limit mass gatherings. Rules on social distancing at restaurants are not enforced.
Reynolds even argued that it would be safe to allow 25,000 fans to attend an Iowa State University football game, despite skyrocketing COVID-19 case numbers in the Ames area. The governor's message to critics: we need "to find ways that we can get our lives back to normal [....] If you don't think it's safe, don't go."
The White House task force recommended that Iowa "Require masks in metro areas and counties with COVID-19 cases among students or teachers in K-12 schools." Reynolds is like a broken record on mask mandates. Here's a clip from her latest news conference on September 10.
While the governor repeatedly expresses her belief that Iowans are "doing the right thing," almost anyone, anywhere in the state could tell you that few wear masks, especially outside major metro areas.
Reynolds also hasn't been consistent about covering her face or social distancing herself (see here and here). When that topic came up on September 10, she wasn't honest about her habits.
David Pitt of the Associated Press asked the governor about being photographed at Republican Party events without a mask, in close proximity to others. Reynolds deflected to talk about an official visit to a business, where she wore a mask most of the time.
It's not hard to find pictures of the governor ignoring her own advice on masks. Matthew Rezab photographed her hugging or huddling close to many people, some of them senior citizens, at a Hardin County GOP fundraiser in August.
IOWA DEATHS PASS 1,200 MARK
The official count of Iowa deaths from COVID-19 passed 1,200 on September 9 and was 1,217 as of 5:00 pm on September 12.
Iowa ranks 22nd among the states in terms of total deaths per capita (39 per 100,000 residents), according to the New York Times. New Jersey and New York top that list and will likely continue to do so for some time. In each state, thousands of residents died in the early weeks of the pandemic, having contracted COVID-19 before stay-at-home orders and other mitigation practices were widespread.
Looking only at the last seven days, the 58 COVID-19 deaths reported in Iowa put this state in eleventh place on a per capita basis (1.8 deaths per 100,000 residents). On that metric, New Jersey ranks 39th (0.5 deaths per 100,000), New York 46th (0.2 deaths per 100,000).
Iowa is now losing about 200 people a month to the pandemic. COVID-19 will almost certainly be the state's third leading cause of death in 2020, after heart disease and cancer. I created this graph using daily deaths as reported on the state website, which are based on dates on death certificates. You can see how COVID-19 fatalities peaked in May, declined in June, then trended upward in July and August. The red line represents the seven-day moving average in daily deaths.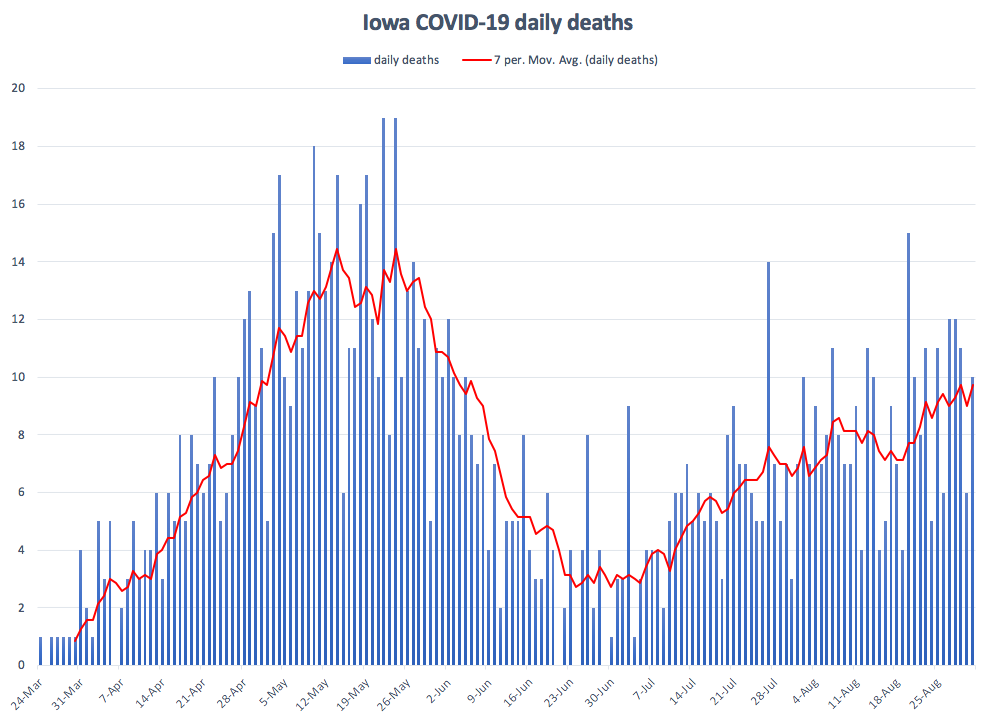 I didn't include deaths for September, since several days often pass between when an Iowan dies and when the Department of Public Health reports the death. (Pedati explained the process during the governor's September 10 news conference.)
Final note: Official numbers likely understate the true number of fatalities. For example, the state website is still showing only one COVID-19 death for Van Buren County, where local public health has been reporting since August 12 that two residents died of the virus, and has been reporting three deaths in the county since August 24. The Iowa Department of Public Health has not replied to Bleeding Heartland's inquiries about that discrepancy.