"Much of the spread that we're seeing in Iowa continues to be tied back to young adults" between the ages of 19 and 24, Governor Kim Reynolds said during an August 27 news conference, where she announced a new proclamation closing bars in Polk, Dallas, Linn, Johnson, Story, and Black Hawk counties.
Reynolds noted that young adults are spreading coronavirus to classmates, co-workers, and others "by socializing in large groups" and "not social distancing." She added, "While we still know that this population is less likely to be severely impacted by COVID-19, it is increasing the virus activity in the community, and it's spilling over to other segments of the population."
The official narrative seems designed to conceal three inconvenient facts. Reynolds didn't follow expert advice that could have prevented this summer's explosive growth in cases. For months, she discouraged young, healthy Iowans from worrying about the virus. And despite her "#StepUpMaskUp" public relations campaign, Reynolds has failed to practice what she preaches when attending large gatherings herself.

"PLEASE CONSIDER THE CONSEQUENCES OF YOUR ACTIONS"
Reynolds rolled out the case against young people in prepared remarks at her August 20 news conference.
Some 44 percent of new COVID-19 cases since August 1 had been among people between the ages of 18 and 40. While young people "are most likely at low risk for illness, they are highly likely to spread it to others," she said. "And that's why virus activity among the college age and young adult populations continue to be a concern."
"Even if you aren't sick, if you aren't acting responsibly you could be spreading COVID-19"–not only to roommates or classmates, but also to co-workers, parents, grandparents, or others with health conditions.
"So again, we just ask that you please consider the consequences of your actions, especially if you work in a health care setting, a long-term care facility, or a school."
The governor took no additional steps that day to reduce virus transmission among Iowans of any age. A week later, she was ready to act, but only in six counties with relatively high concentrations of young people.
"REALLY, THE DATA IS COMPELLING"
Iowa PBS posted the full video from the governor's August 27 news conference. I pulled this clip from her prepared remarks.
"Really, the data is compelling," Reynolds said. During the previous two weeks, 23 percent of all new positive cases statewide were among adults aged 19-24. "That number is dramatically higher" in several counties: 58 percent in Johnson County (containing Iowa City and the University of Iowa), and 67 percent in Story County (Ames and Iowa State University).
Looking only at the previous seven days, the governor said, young adults accounted for 69 percent of new cases in Johnson County and 74 percent in Story. The trend was "not unique to Iowa"; similar patterns have emerged across the country.
Reynolds didn't mention she'd been warned to impose stronger COVID-19 mitigation measures weeks earlier, as case counts and positivity rates rose in Iowa's population centers.
ADVICE FOR "RED ZONES" IGNORED
COVID-19 cases spiked around the Fourth of July, and hospitalizations and deaths have been trending up since then as well.
Starting in mid-July, Reynolds and the Iowa Department of Public Health put a little more effort into encouraging Iowans to wear masks around others, when they can't keep a safe distance. But the governor didn't even follow that advice consistently in her own public appearances.
Outside experts urged Iowa leaders to reimpose some of the restrictions Reynolds had lifted in May and June. A White House coronavirus task force report dated July 26 recommended that officials close bars and gyms and limit gatherings to ten people or fewer in eight "red zone" Iowa counties. To "preempt exponential community spread" in 53 "yellow zone" counties–including all of Iowa's large metros and most mid-sized cities–the report recommended measures such as closing bars, limiting gyms to 25 percent capacity, and banning gatherings of more than 25 people.
Reynolds did none of those things.
The White House experts suggested stronger actions in an August 9 report, which task force leader Dr. Deborah Birx discussed with Iowa's State Medical Director Dr. Caitlin Pedati on August 13. Tony Leys reported for the Des Moines Register the following week,
The federal task force's recommendations include that Iowa officials close bars and mandate mask wearing, "especially in indoor settings," in 17 metro areas and 48 counties. The regions, designated as "red" or "yellow" zones because of coronavirus spread, include the Des Moines area, Council Bluffs, Cedar Rapids, Waterloo, Dubuque, Iowa City, Ames and the Quad Cities.

The report also says that in the affected areas, bars should be closed, gyms should be closed or limited to 25% of normal capacity, and social gatherings should be limited to 25 or fewer people.

Such measures should stay in place until coronavirus transmission falls in each area to the point where fewer than 3% of residents being tested come up positive for the virus, the White House report says.
Reynolds hasn't taken most of those steps even in the six counties where she shut down bars. She's not doing anything in the other "red zone" or "yellow zone" areas.
During the latest news conference, Radio Iowa's O.Kay Henderson noted that counties with the highest positivity rates weren't affected by the August 27 proclamation. What additional measures should people be taking in Plymouth, Carroll, Henry, or Marion counties? Would Reynolds close bars there?
The governor's answer was brazen and revealing.
After repeating that case investigation had shown many new infections could be traced to large social gatherings among 18 to 24 year olds, Reynolds explained,
That's why it's so important that we put into context the positivity rates and the numbers. A lot of times in some of these smaller communities, there's a small number of individuals that are testing, and a lot of times they're only going in when they're symptomatic. And so out of the number that are testing, a higher number is positive, and that really sometimes skews the positivity rate.
Sorry, no. Lots of things can and did skew Iowa's county-level positivity rates: recording thousands of new infections as occurring weeks or months earlier, reporting numbers the Iowa Department of Public Health knew to be inaccurate, and omitting antigen test positives from case counts until late last week.
Several factors could explain why few asymptomatic people are getting tested in a community with rising case numbers. Perhaps locals lack adequate access to testing, or contact tracing is insufficient. A high positivity rate in rural Iowa is hardly a reassuring sign that community spread isn't bad enough there to dial up mitigation efforts.
Like many independent experts, the White House task force considers new COVID-19 cases per 100,000 population as well as positivity rates when determining whether more restrictions are needed. By those standards, many Iowa counties, large and small, are in the danger zone.
UPDATE: Leys reported on August 31 that on August 23, the White House task force "urged Iowa to require mask-wearing statewide." In the most recent recommendations dated August 30, federal experts encouraged the governor to close bars in 61 counties and limit indoor dining at restaurants to 50 percent capacity in the yellow zone and 25 percent of capacity in the red zone.
Sunday's White House report also said social gathering should be limited to fewer than 10 in all "red zones." Those include 28 counties, including Polk, Johnson and Story. On Monday, Iowa State University announced it plans to allow 25,000 fans into its Sept. 12 football game despite such recommendations.
PUTTING THE BLAME ON RETURNING COLLEGE STUDENTS
Reynolds announced on August 27 that she had spoken by phone with the presidents of Iowa's three state universities the previous day. She praised the work of administrators at all Iowa colleges and universities, "especially those who have taken strong positions on holding students accountable for violating social distancing norms through large parties or gatherings." (Never mind that the University of Iowa failed to test students moving into residence halls and was unprepared to provide suitable isolation rooms for confirmed cases.)
The governor said officials were "actively working" to bring Test Iowa resources to college campuses.
What on earth?
Anyone could have predicted that massive virus transmission would occur when tens of thousands of students returned to state universities, and hundreds to smaller colleges. We've known for six months that COVID-19 spreads quickly in congregate settings. "It's almost like dorms are cruise ships," quipped Dr. Eli Perencevich, an epidemiologist and infectious disease specialist at the University of Iowa.
The Department of Public Health had months to line up testing sites on college campuses, but they are still "actively working" on the task now, after Iowa leads the nation in new COVID-19 cases per capita.
Indoor bars and parties are nothing new for college towns and are among the riskiest places for COVID-19 spread.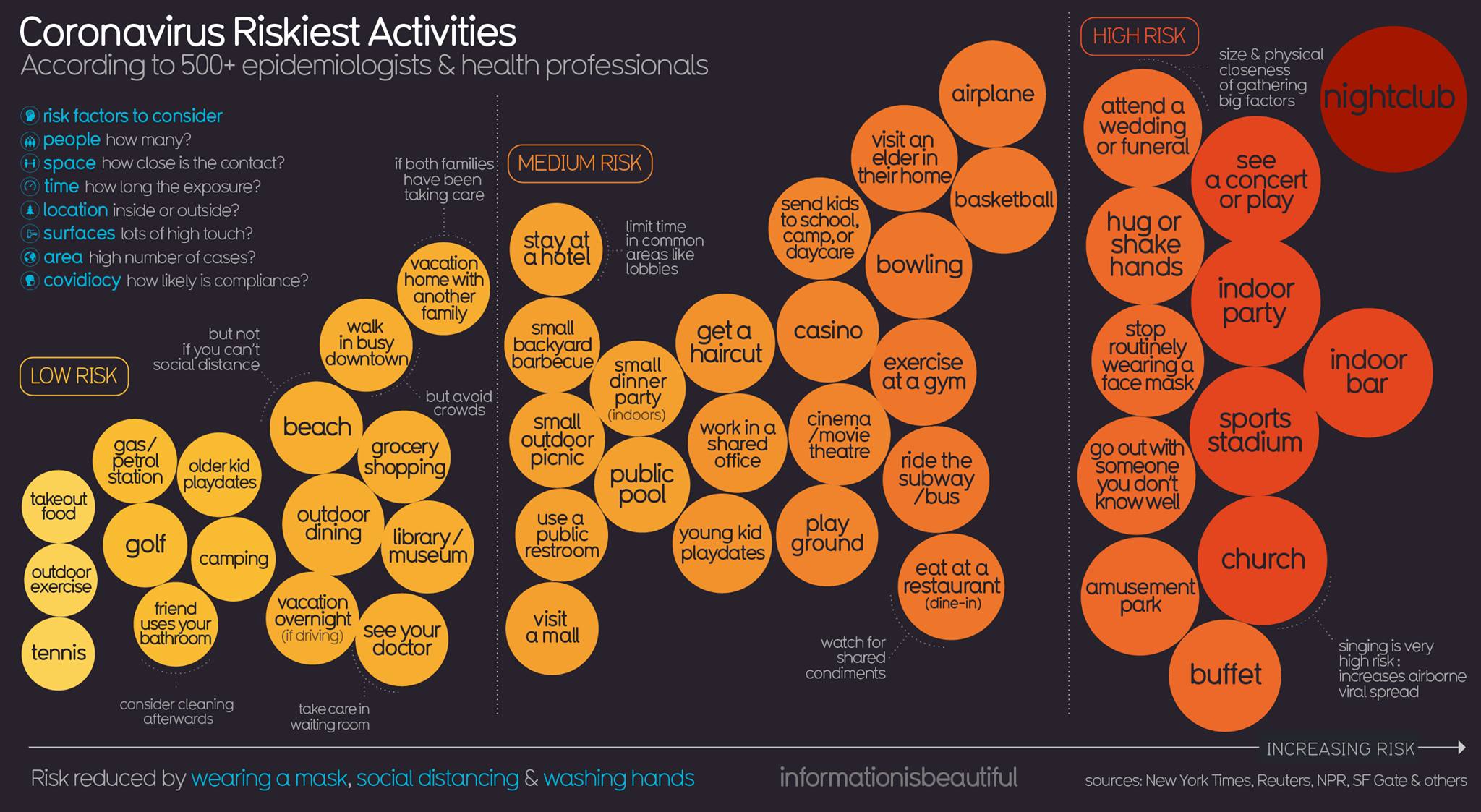 Reynolds could have shut down the bars and banned large gatherings before the students came back. She could have discouraged the Board of Regents and university presidents from calling students back in the first place.
Kathie Obradovich of Iowa Capital Dispatch asked at the latest news conference why Reynolds waited so long to close bars, doing so only after big parties at Iowa State University and the University of Iowa had led to hundreds of students testing positive.
The governor portrayed her team as proactive. Officials had been monitoring "an uptick" in coronavirus cases since the July 4 holiday. As "the kids" started going back to college campuses, case investigation showed many infections were related to large social gatherings of young people.
"I don't take these decisions lightly," Reynolds said. She strives to balance public health concerns with protecting people's livelihoods. With her latest actions, her team wanted "to get in front of what could potentially be, you know, a bad flu season."
Far from getting in front of the problem, the governor's too-little-too-late step provided an opportunity for me to teach my teenage children the expression, "closing the barn door after the horses have gone."
"WE HAVE TO GET THINGS BACK TO NORMAL"
It was hard not to cringe at the sight of unmasked college students crowding together for drinks in Ames and Iowa City this month. But if young adults felt little fear when "violating social distancing norms," part of the blame rests with Reynolds.
She has regularly spoken of COVID-19 as a problem mainly for older people and those with underlying health conditions. The following clips represent a few examples from televised news conferences. I could have pulled many more.
On May 13, Reynolds asserted, "We can and must reopen our economy" and can do so "in a stable, safe, and responsible way."
I want you to remember what the data tells us: that 80 percent of the people who get the virus will experience a mild or moderate illness and will recover at home without any issues.

20 percent of people who test positive can be significantly impacted, especially older adults over the age of 65 and anyone with pre-existing health conditions. For this population, COVID-19 can have devastating consequences."

Sadly, the vast majority of deaths in our state are among this very vulnerable population, and 57 percent of those who have lost their life to the virus are residents of long-term care facilities.
On May 21, Reynolds reminded viewers that officials never promised people would not get COVID-19. "That's unrealistic, it's unattainable. What we have to do is learn to live with it and manage the virus, and we have to get things back to normal."
Asked the same day whether high daily death tolls had prompted her to reconsider some of her decisions on reopening, Reynolds remained firm: "We're doing it very responsibly and safely." She emphasized that the virus "can be devastating" to approximately 20 percent of Iowans in high-risk groups (over age 65 and those with underlying conditions), and the state's advice to those people had not changed.
Reynolds announced on June 18 that the state website (coronavirus.iowa.gov) would begin breaking down cases and deaths by who had a pre-existing condition.
With this new data, we know that nearly 70 percent of Iowans who've died of COVID-19 had a chronic health condition. While every death is tragic and heartbreaking for the families who have lost a loved one, understanding these details about COVID-19 can help clearly identify populations at risk and target our efforts appropriately.
From the same media availability:
I think it's important to remember that we never guaranteed that anybody would not get COVID-19. What our goal was to really identify those most vulnerable and make sure that we were doing everything to protect them.

And that still applies. If you are a vulnerable Iowan over the age of 65 and/or have underlying conditions, you still need to be very mindful of your health and when you go out in public, and wear a face covering […].
Who can blame young, healthy adults for assuming they don't need to worry much about the pandemic?
By the way, Reynolds (age 61) is not always so mindful of COVID-19 safety.
"WHERE WAS THE PERSONAL RESPONSIBILITY?"
Last month, Bleeding Heartland published more than half a dozen pictures of Reynolds standing close to others in June or July, with no one's face covered. Since then, the governor's been more careful to bring a mask to her news conferences.
When tv cameras are gone, it's another story.
The Iowa Falls Times Citizen quoted from Reynolds' remarks to the news media on August 6: "we encourage Iowans to wear a mask when they're interacting with others and they're unable to social distance."
The next day, the governor and at least 150 others attended a Republican fundraiser in Hardin County. Matthew Rezab covered the event for the Times Citizen and took dozens of photos, published here.
The Times Citizen gave me permission to republish this one, of Reynolds preparing to give former Iowa Senate Majority Leader Stew Iverson (age 70) a hug, after embracing his wife (see photos 16 through 19).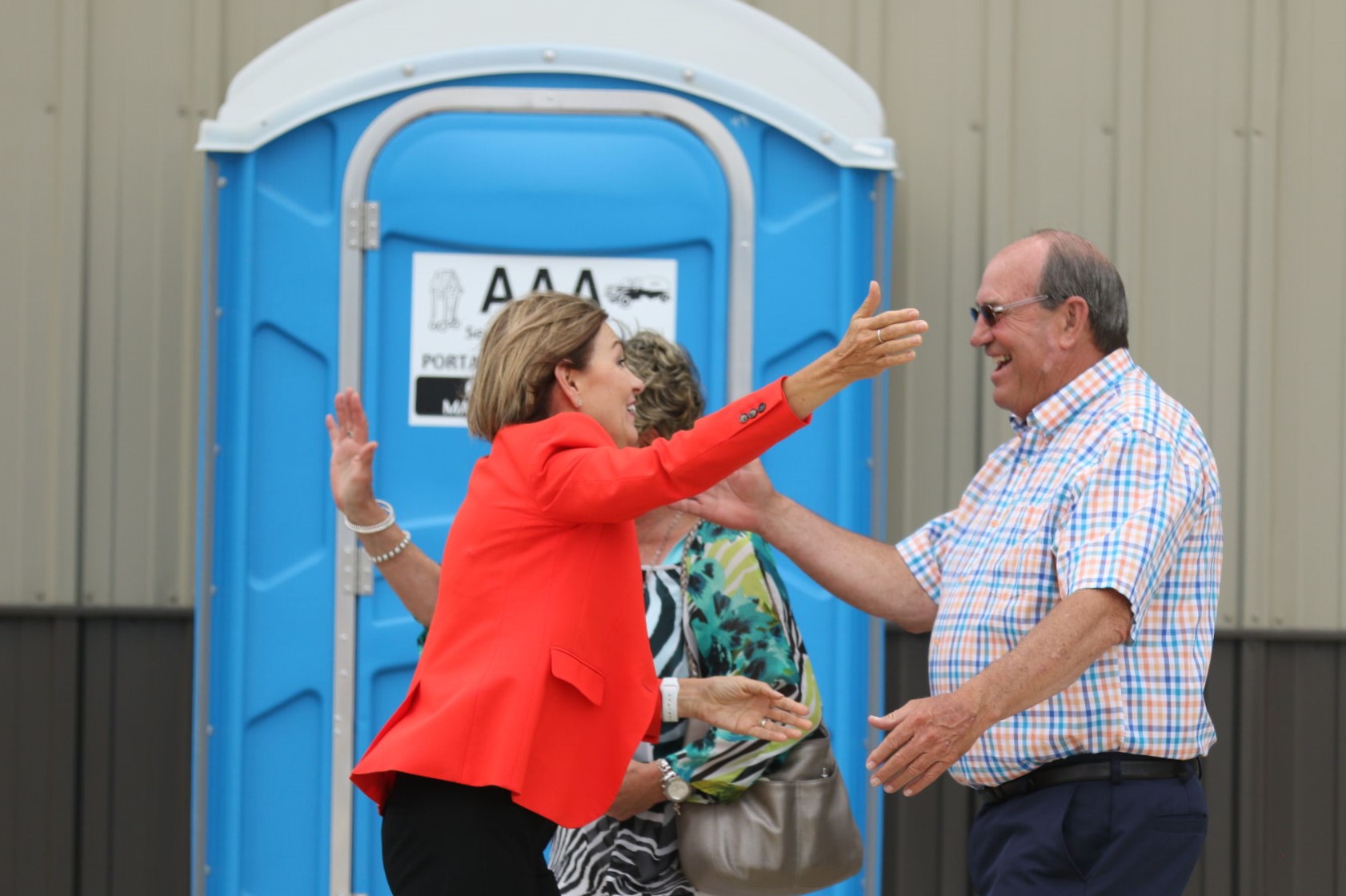 Reynolds hugged, shook hands with, or stood close to many other unmasked supporters (see photos number 29, 30, 35, 41, 48, 51, 52, and 53).
Other prominent Republican politicians embracing or leaning in close to non-relatives included:
U.S. Senator Joni Ernst (photos 22, 23, 24, 27, 31, 50, 57, 62)
State Senator Annette Sweeney (photos 21, 45)
House Speaker Pat Grassley (photo 63)
State Representative Dave Deyoe (photos 4, 25)
State Senator and Congressional candidate Randy Feenstra (25, 34)
Readers with local knowledge helped me identify other Republicans who showed no regard for social distancing or face coverings: Iowa Falls Mayor Gene Newgaard (photo 40), Hardin County Supervisors Lance Granzow (36) and BJ Hoffman (33 and 34), Hardin County Attorney Darrell Meyer (49), and Hardin County Sheriff Dave McDaniels (44 and 66).
Rezab reported,
Even with the large turnout, very few attendees practiced social distancing or wore masks to prevent the spread of the coronavirus. Not a single candidate or speaker wore a mask or other personal protection equipment during the event. Ernst was not overly concerned about the matter.

"I think that as long as we're in open air, I know there's a lot of folks out and about," she said. "It was a bigger turnout than I think they expected. I think we're OK."
The Times Citizen editorial board criticized the governor in an August 12 commentary.
These actions are irresponsible at best, and reckless at worst. We know that people can be infected with coronavirus, show no symptoms, and still spread it to others. Which is why preventative measures – like wearing a mask – are so vital to stopping its spread.

Thirty-four U.S. States have mask mandates, but Reynolds has said that she doesn't think that's the right move for Iowa. Instead, she puts her faith in Iowans to "do the right thing." She insists that "a one-size-fits-all from a government mandate" isn't the right move for Iowa. But in the same press conference she defends her administration's Return to Learn guidelines that are one-size-fits-all and strip local decision making abilities from Iowa's school districts.

Reynolds said last week that it's primarily "social activity" that's spreading COVID-19. So much so that her administration is imposing stiffer penalties on bars and restaurants that don't enforce social distancing rules. But where were those rules at the GOP fundraiser last week? Where was the personal responsibility? Where was the governor setting an example of Iowans doing the right thing?
Naturally, the governor did not scold the Hardin County Republican faithful, many of whom were in a vulnerable age group.
Framing the conversation around irresponsible college students is a cynical ploy to divert attention from Reynolds' own leadership failures.
UPDATE: In a Facebook post that was later deleted, an ice cream shop in Huxley shared this picture of Reynolds (front row center, in short-sleeved red shirt) with more than 40 people, no one masked or social distancing. The governor visited the area to survey damage from the August 10 derecho.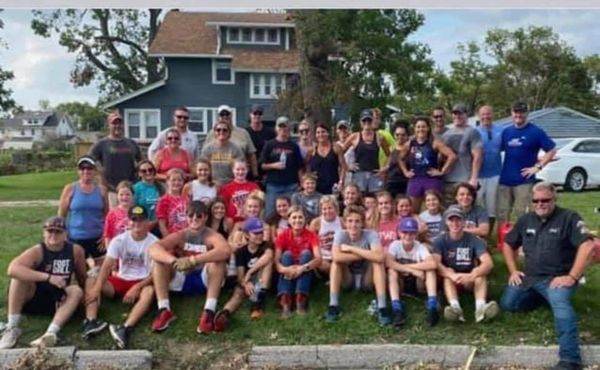 Here's Reynolds at a Republican fundraiser in Clinton on August 21.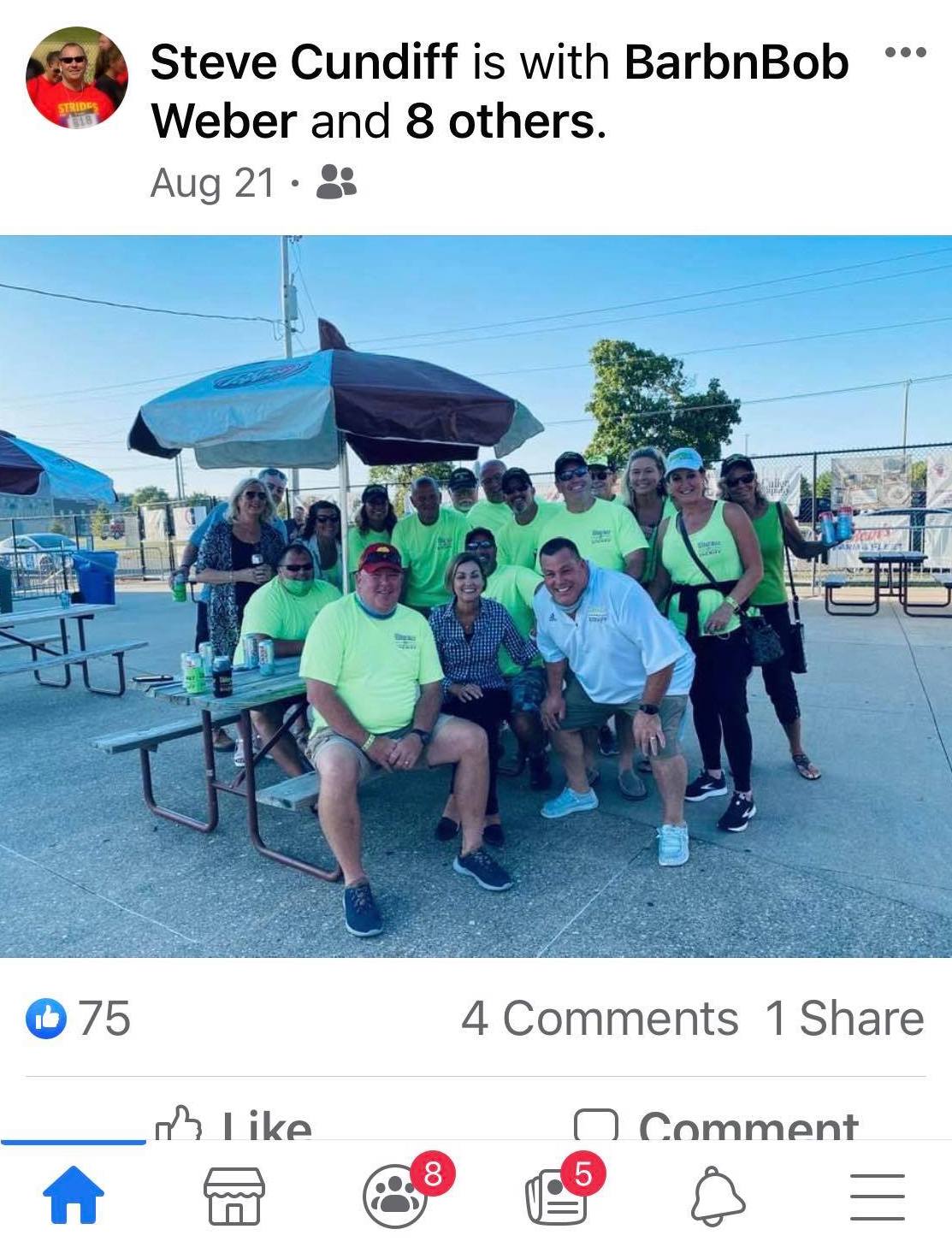 Joma Short, the GOP candidate in Iowa House district 98 (which includes Clinton) posted this picture on Facebook. Short is standing next to Reynolds, and State Senator Chris Cournoyer is second from the right, wearing a red shirt. Others pictured, according to Short: Clinton County Treasurer Dustin Johnson, county supervisors Dan Srp, Jim Irwin, and Tom Determann, and GOP sheriff candidate Bill Greenwalt.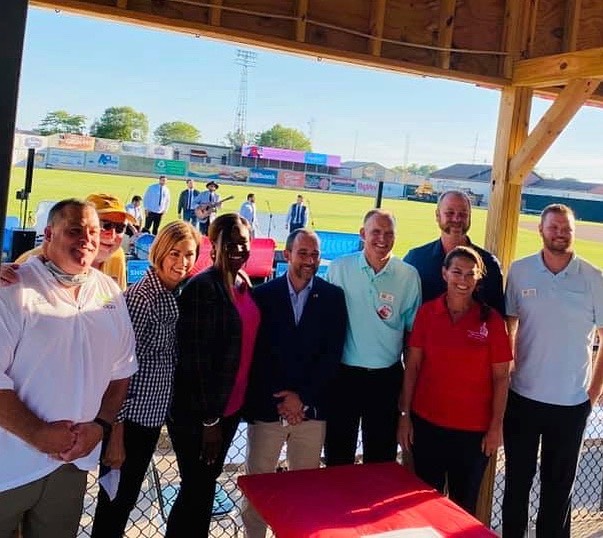 Short posted more pictures from the same event. Here's the governor giving her a hug.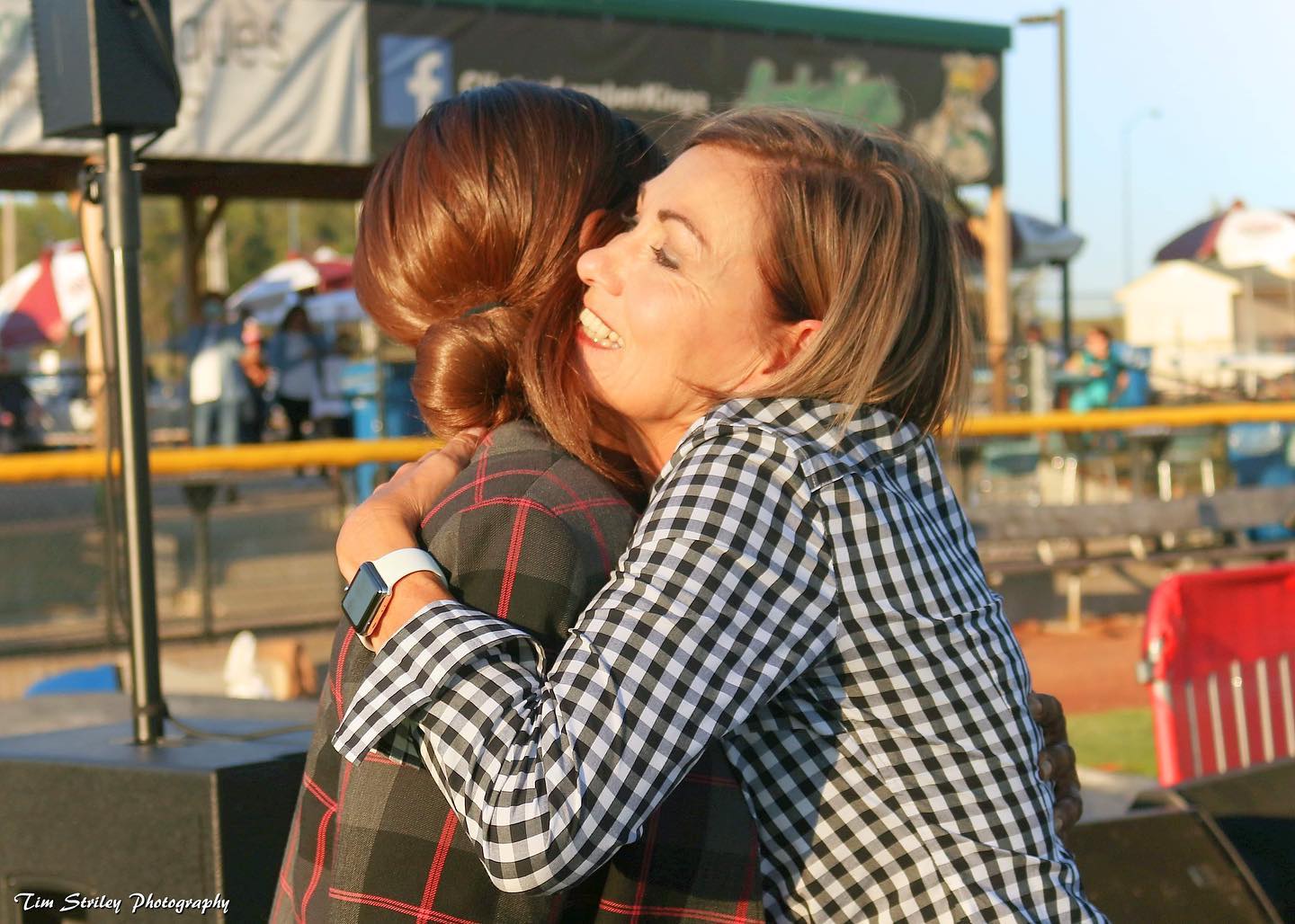 So much for "Step up, mask up, Iowa!"
The White House task force report from August 9 put Clinton County in the "yellow zone," but it's in the "red zone" for COVID-19 spread now.
Top image: Governor Kim Reynolds speaks at a news conference on August 27, 2020. Photo by Brian Powers/Des Moines Register (pool).