Less than five months after the first Iowan succumbed to the novel coronavirus, the official count of COVID-19 fatalities reached 1,002 on the evening of August 18.
The pandemic has now claimed more Iowa lives than 60 years of foreign wars. Data compiled by the Iowa Department of Veterans Affairs shows 868 military service members died in Vietnam, as did two in Panama or Grenada during the 1980s, seven in the Persian Gulf war of the early 1990s, 64 in the Iraq War that began in 2003, and 31 in Afghanistan.
COVID-19 has killed more Iowans in five months than diabetes, the state's seventh-leading cause of death, does in a typical year.
More Iowans have passed away of coronavirus since March than died in vehicle accidents during 2017, 2018, and 2019 combined.
Publicly available data show the pace of deaths has been accelerating, even before most Iowa students return to K-12 schools or colleges. Those official numbers almost certainly undercount the lives lost.

FOLLOWING DECLINE, DEATHS RISE AGAIN
After the Iowa Department of Public Health announced the state's first COVID-19 fatality on March 24, it took 28 days for our state's death toll to surpass 100 on April 21. Then, the state's count shows:
twelve days to pass 200 (May 3)
seven days to pass 300 (May 10)
eight days to pass 400 (May 18)
eight days to pass 500 (May 26)
twelve days to pass 600 (June 7)
nineteen days to pass 700 (June 26)
26 days to pass 800 (July 22)
fifteen days to pass 900 (August 6)
twelve days to pass 1,000 (August 18)
You can see the first peak in deaths around the third week of May, then a six-week trend toward fewer deaths before more Iowans began dying of COVID-19 again last month. I created this graph using the state data, which records fatalities by the date on the death certificate.
The fourteen-day rolling total of coronavirus deaths, according to the IDPH, reached its highest point (193) on May 23. The low point came during the first three days of July, when the total deaths for the previous two weeks was only 41. The rolling total has more than doubled since then and exceeded 100 on several days last week.
I created this graph using the state data. Blue bars represent daily death totals and the orange line shows the seven-day moving average. Newly reported deaths may be added to totals for anytime in the past seven to ten days, so the numbers for the last week or so are not final.
The state website shows the 14-day rolling total for deaths as well, so I used arrows to indicate high and low points for that metric.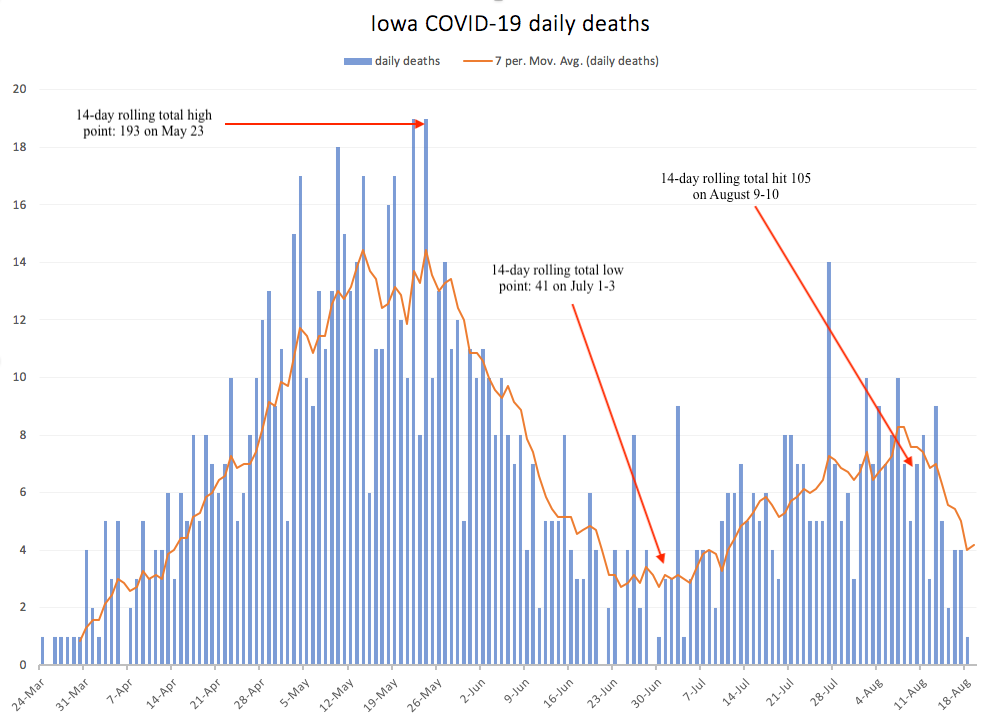 This graph shows the total number of Iowa deaths, with some annotations based on the spreadsheet I've been updating with each day's official numbers.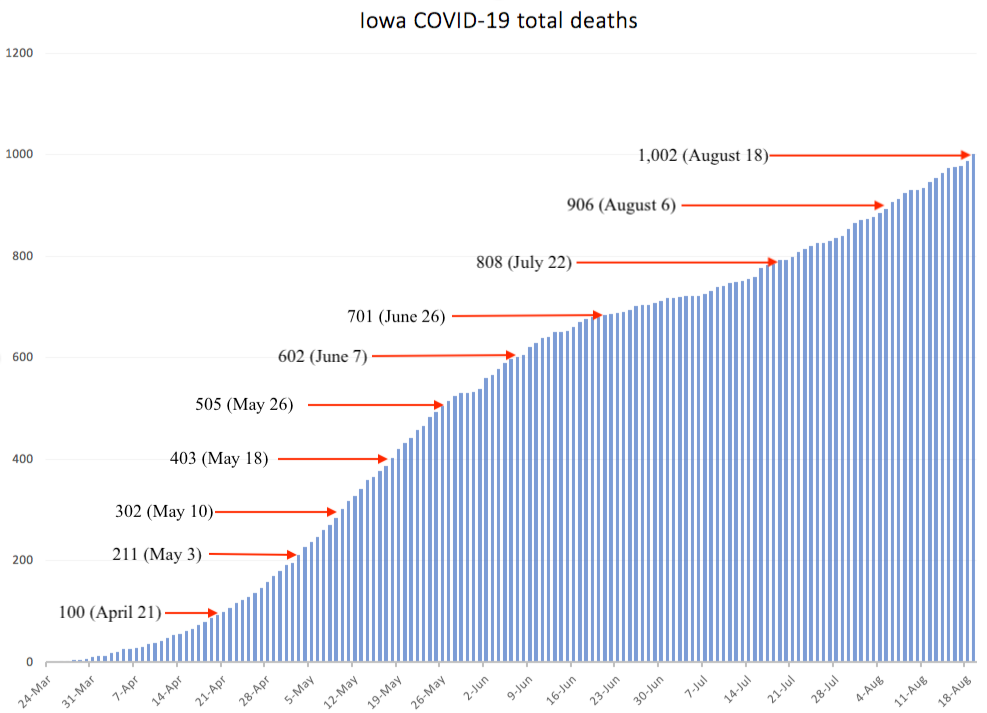 Every one of these deaths represents a tragedy for an Iowa family. The real scale of suffering is larger.
OFFICIAL COUNT UNDERSTATES REAL DEATH TOLL
The state's numbers understate the real cost in human lives. By how much is unclear.
Some people with known exposure died before getting tested for COVID-19, including several who had worked at the Tyson pork processing plant in Waterloo and passed away in mid-April.
As of August 19, the state website shows one coronavirus death in Van Buren County and ten in Washington County. But the Van Buren County Public Health department has been reporting two deaths in the area since August 12. Washington County Public Health administrator Danielle Pettit-Majewski told her board of supervisors on July 28 that staff had confirmed eleven deaths in the county. (Please contact me confidentially if you are aware of similar anomalies in your area.)
Communications staff for IDPH never answered my questions about the method they use to count deaths reported on the state website. As Bleeding Heartland discussed in more detail here, the U.S. Centers for Disease Control lists fatalities two ways: deaths where COVID-19 was the primary or "underlying" cause," and deaths where the virus was a contributing factor among multiple causes. If Iowa's official total includes only "underlying cause" deaths, the numbers released by the state could be undercounting fatalities associated with the virus by several per week.
Because the CDC table is too large to display on one screen, I created this table using the COVID-19 data that appeared on the federal website as of August 19.
There's a time lag between when the IDPH discloses fatalities on the website and when that information is forwarded to the CDC, but you can see deaths rise, fall, then rise again.
CDC data on Iowa's COVID-19 deaths in 2020

Week ending date

COVID-19 deaths (multiple causes)

COVID-19 deaths (underlying cause)

April 4
17
16

April 11
22
21

April 18
36
36

April 25
52
49

May 2
69
66

May 9
91
83

May 16
101
94

May 23
101
93

May 30
91
85

June 6
67
64

June 13
39
34

June 20
32
27

June 27
20
19

July 4
19
16

July 11
25
20

July 18
37
33

July 25
38
33

August 1
33
30

total
890
819

At the current pace of fatalities, COVID-19 is on track to be Iowa's third leading cause of death in 2020. Unfortunately, the situation will get worse before it gets better.

A recent rise in hospitalizations points to more daily deaths in the coming weeks. Forcing students and teachers back into crowded schools won't help matters this fall.
Governor Kim Reynolds and the IDPH epidemiology team need a better strategy to reduce community spread of COVID-19. That should involve more Iowans covering their faces in public, fewer Iowans spending hours together in enclosed spaces like school buses and classrooms, and a better way to quarantine people who could be infectious.
Putting blind faith in testing to "manage the virus with precision" isn't working. Trusting Iowans to "do the right thing" while rejecting advice from public health experts isn't working. Blocking local efforts to slow the spread through mask mandates isn't working. Appealing to a sense of duty ("we're all in this together") isn't working.
UPDATE: As of the afternoon of August 24, the state website was showing 1,044 total COVID-19 deaths. I have been unable to get a straight answer out of the IDPH on why the state is reporting only one death for Van Buren County. I suspect it may be related to the fact that the state does not count people who test positive on antigen tests as confirmed cases. About half of Van Buren County's cumulative coronavirus cases had antigen tests.
Speaking by phone on August 24, Pettit-Majewski said she didn't know why the state website was still showing only ten deaths for Washington County. She confirmed that the eleven she mentioned to the board of supervisors in July did not include one county resident who died in March. The coroner ruled that person's death to be COVID-19 related, but a test administered postmortem could not be processed. Counting that fatality, Pettit-Majewski said, Washington County's death toll would be twelve.