More than four months into the novel coronavirus pandemic, Governor Kim Reynolds and the Iowa Department of Public Health are finally acknowledging that slowing the spread of COVID-19 will require many more Iowans to routinely cover their faces in public.
Their "#StepUpMaskUpIA" campaign might have been more successful if state officials had pushed the message before reopening businesses and lifting other COVID-19 mitigation strategies in May and June. Instead, top officials waited until new coronavirus cases, hospitalizations, and deaths had been trending upward in Iowa for weeks.
Public health experts at the University of Iowa urged state leaders months ago to call for universal use of face coverings. But at her televised news conferences, Reynolds repeatedly asserted that expanded testing would allow the state to "manage" and "control" the virus. At the same events, the governor regularly portrayed face masks as something vulnerable Iowans might need, or a precaution people could bring with them in case they found themselves in a crowded setting.
As recently as last week, Reynolds was photographed in close proximity to others, with no one's face covered. Even now, she refuses to delegate authority so local governments can issue enforceable mask orders.

"I DON'T WANT TO GO BACKWARDS"
The IDPH announced the launch of "a new outreach campaign" called #StepUpMaskUpIA on July 23, but the rollout began with a YouTube video Reynolds released ten days earlier.
Reynolds praised Iowans for making sacrifices "to do the right thing," claiming "that's why we were able to flatten the curve, open back up, and get our state back on the road to recovery." In fact, the governor began reopening the state in the absence of evidence Iowa had turned the corner. But that's a topic for another day. Reynolds continued in that July 13 video,
But COVID-19 is far from over, and I don't want to go backwards. I don't want to reverse the progress that we've made since the pandemic began.

I believe in Iowans, and I believe that we can continue to step up and take personal responsibility–not because it's mandated, but because it's the right thing to do.

Whether it's wearing a mask, social distancing, practicing good hygiene, or staying home when we're sick, these simple steps continue to be the best defense against the virus. So let's step up, Iowa! Protecting yourself means that you're protecting your friends, your family members, your co-workers, and your fellow Iowans.

Each and every one of us has it in our power to slow the spread of COVID-19. That's how we'll keep Iowans safe and healthy, keep our economy up and running, and keep our state moving forward. I'm confident that we can continue to do this together.
The governor followed up with a Facebook post and tweet at midday on July 17.
Practice personal responsibility for yourself and help keep Iowans safe and healthy! #StepUpMaskUpIA pic.twitter.com/4HRBNs5J0p

— Gov. Kim Reynolds (@IAGovernor) July 17, 2020
Hours earlier, Reynolds had announced that her administration will require Iowa school districts to offer at least 50 percent of instruction on-site, even though that policy will make social distancing impossible at some schools, and many districts won't require masks. The governor wrongly implied that research shows kids are unlikely to transmit COVID-19 to others.
The idea that schools can reopen safely before virus transmission is well-controlled in the community goes against common sense and the latest recommendations from the U.S. Centers for Disease Control. But that's also a topic for another day.
EXPERTS: FACE SHIELDS "COULD RAPIDLY AND DRAMATICALLY REDUCE THE NUMBER OF INFECTIONS"
A research team at the University of Iowa prepared several whitepapers for the IDPH earlier this year. They observed in late April that social distancing policies slowed infection and mortality rates, but said they had found no evidence "a peak has been reached" in Iowa. Furthermore, they wrote, a "second wave of infections is likely" if the state lifts COVID-19 prevention measures like business closures. Their analysis of "current data does not support a conclusion that the reproductive number has been brought below 1," the level indicating uncontrolled spread. (At this writing, multiple independent sources estimate Iowa's reproductive number has been above 1.0 for months.)
Reynolds lifted many business restrictions in 77 counties on May 1. A few days later, the university researchers submitted another whitepaper to IDPH. It noted, "our models continue to show strong evidence that social distancing policies and the emergency declaration have strongly slowed the spread of the infection in Iowa, but not that these measures have been sufficient to prevent uncontained spread."
During the last week of May, the researchers sent their last whitepaper to the health department. By that time, Reynolds had allowed most kinds of businesses and venues to reopen statewide. The public health specialists suggested that widespread use of face shields would have decreased COVID-19 incidence in Iowa, if adopted along with social distancing policies. They added that universal use of face coverings "provides a recourse for safely relaxing social distancing measures during 'reopening,' even if the face shields offer small levels of protection." If the face shields "offer high levels of protection, implementing them could rapidly and dramatically reduce the number of infections across the state, allowing society to reopen safely while continuing to decrease the number of new infections."
In early June, the University of Iowa team released its own COVID-19 modeling app. The tool allowed users to adjust for mitigation strategies including use of personal protective equipment. The app indicated that encouraging more Iowans to wear face shields could sharply decrease expected COVID-19 cases, hospitalizations, and deaths. The sooner that policy went into place, the better.
GOVERNOR: "IOWANS CAN MAKE THOSE DECISIONS FOR THEMSELVES"
Although mandatory policies on face coverings helped many countries get their COVID-19 outbreaks under control, Reynolds has repeatedly portrayed face masks as a matter of personal choice rather than pressing urgency.
During her May 20 press conference, the governor announced plans to reopen several categories of businesses. In this clip, Iowa Public Radio reporter Katarina Sostaric asked why the state wasn't doing more to encourage Iowans to wear face masks or shields, or provide face coverings for those who need them, since many public health experts see that as a way to drive down transmission of COVID-19.
Reynolds said the Iowa Department of Public Health's guidance already talks about "having a facial covering with you" in case it's not possible to maintain social distancing. Face coverings are "part of the conversation," she said, and some "businesses are out in front of us" on the issue.
That's very different from advising people to routinely wear masks in public or encouraging indoor businesses to require masks for customers.
During her last televised press conference on June 18, Reynolds rejected a mask mandate. Monica Madden of WHO-TV noted that the governor of Arizona was allowing local governments to require masks in public. Would Reynolds consider allowing public health officials to require face coverings in places where cases were rapidly rising, like Story or Dickinson counties?
In line with her steadfast faith in Iowa's testing capacity, Reynolds said state officials would base their recommendations on data showing "what we're seeing happening on the ground." She added,
We've said all along, you know, individuals are responsible. I trust Iowans. I trust our businesses, they're doing the right thing. […]

And so Iowans need to decide that. The more information that we give them, then personally they can make the decision whether they feel that they need to wear a mask or not. If you're social distancing and it's not an issue, it's not necessary. If you're out and about and that's a concern of yours, then you should have a face covering with you, so that you can put that on.
Around the one minute mark of this video, the governor turned to State Medical Director Dr. Caitlin Pedati to see if she had anything to add. She didn't.
Reynolds continued,
So, you know, Iowans can make those decisions for themselves. We don't know the health of every Iowan, or if they have underlying conditions. So the best thing, I think, that we can do is provide them the information, educate them. The Department of Public Health has put great guidance out there, from various sectors, to help people make the decisions so that they can do the right thing.
The clear message here is that most people don't need to worry about masks. It's only an issue for people with some underlying condition making them vulnerable to COVID-19.
The reality is that people without symptoms can and do spread the virus. If I'm grocery shopping and others get close to me, by the time they or I pull masks out of our pockets and put them on, it would be too late to prevent one of us from inhaling the other's infectious droplets.
At that same June 18 press conference, Iowa Public Radio's Sostaric asked about case numbers spiking in rural areas like Dickinson and Buena Vista counties. Didn't that show the state was reacting to outbreaks, not getting ahead of them? Reynolds and Pedati defended the state's strategy and response. Then the governor returned to the lectern for a few more words.
I think it's important to remember that we never guaranteed that anybody would not get COVID-19. What our goal was to really identify those most vulnerable and make sure that we were doing everything to protect them.

And that still applies. If you are a vulnerable Iowan over the age of 65 and/or have underlying conditions, you still need to be very mindful of your health and when you go out in public, and wear a face covering […]."
Again, the governor's message was unambiguous: cover your face around others if you're at especially high risk from COVID-19. Otherwise, no worries–we got this.
NOT WALKING HER TALK
While Reynolds often reminded Iowans to use a face covering if they couldn't maintain a safe distance from others, she didn't follow her own advice consistently once she resumed a more typical schedule last month.
On June 3, when state lawmakers returned to the capitol after a two-and-a-half-month break, State Senator Randy Feenstra (center) posed in the governor's office with Reynolds and Lieutenant Governor Adam Gregg.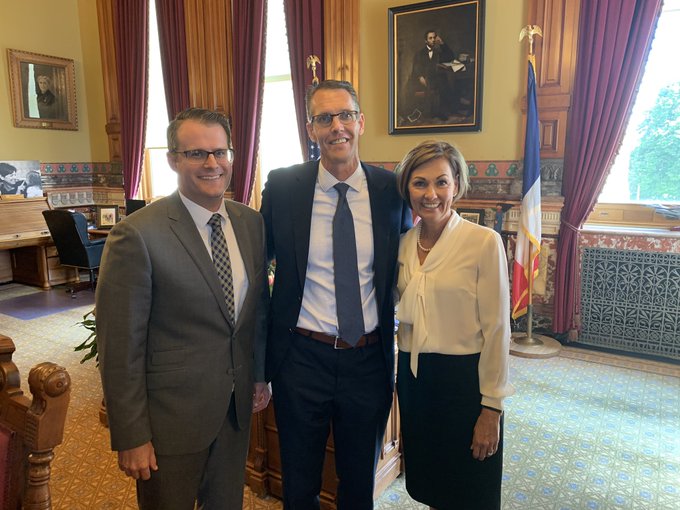 The governor wore no face covering when she came to the Iowa House chamber to watch the historic June 11 debate on a policing reform bill. She could be seen hugging people afterwards. At the next day's bill signing, many Republican lawmakers stood close to the governor's staff, not masked. Reynolds also was uncovered as she passed out pens to some observers.
Here's the governor thanking "local emergency managers and public health officials" in Cedar County on June 22. That's State Representative Bobby Kaufmann on the far right.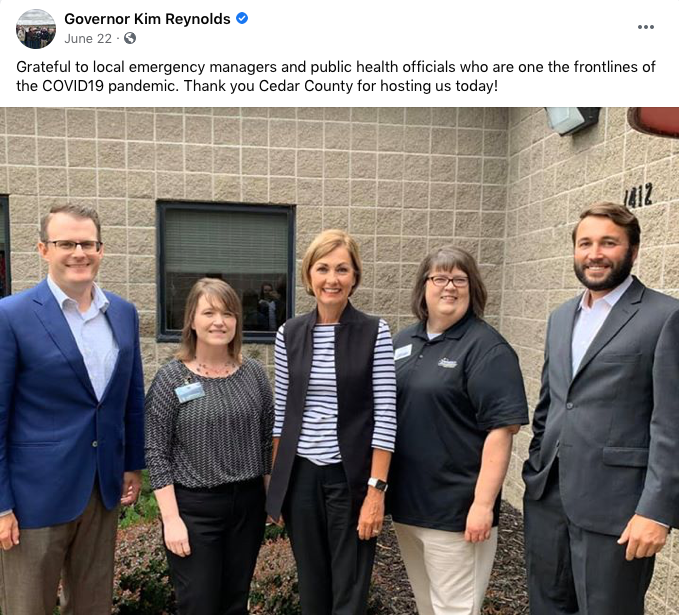 Reynolds signed many bills last month, often with groups of observers standing close together with no mask. WHO-TV posted video of one such event on June 25. Republican State Senator Charles Schneider tweeted these photos on June 29. A half-dozen other GOP lawmakers are among the onlookers.
Happy to witness @IAGovernor sign HF 737 (increasing penalties for animal cruelty) and HF 2589 (improving Iowa's medical cannabis program) this afternoon! #ialegis pic.twitter.com/ggdEirouHm

— Charles Schneider (@SenSchneider) June 29, 2020
Reynolds did sometimes appear in public wearing a mask–for instance, when she visited new Test Iowa sites in Osage on June 16 and in West Burlington the following week. She and Gregg were both masked during a June 23 visit to a health care provider.
But the same day, no one wore a mask when Reynolds and Gregg stood shoulder to shoulder with ten Iowa State Patrol officers and posed at a family-owned meat locker in Keota. Republican State Representative Jarad Klein is standing second from the right in this picture.
Thanks Keota Meat Processing for showing me how family owned meat lockers are stepping up to maintain food production during COVID-19! #99CountyTour pic.twitter.com/jxqr8driNw

— Gov. Kim Reynolds (@IAGovernor) June 23, 2020
More mixed signals ensued on June 30. First thing in the morning, unmasked Republican lawmakers and biofuels industry representatives gathered round to watch Reynolds sign another bill. The Renewable Energy Group posted photos on Twitter; you can watch the video here. This screen shot shows House Speaker Pat Grassley on the far left, with Gregg, Feenstra and others watching the governor speak.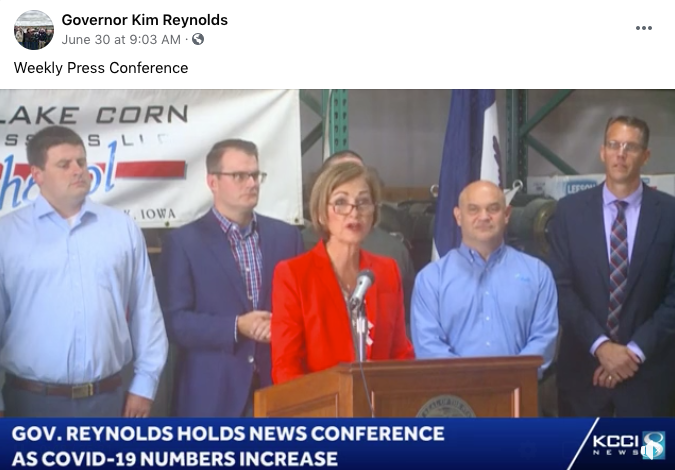 A few hours later, the governor and lieutenant governor wore masks while touring the Family Traditions Meat Company in Ackley, but didn't bother when posing for this photo with their hosts. That's State Senator Annette Sweeney on the far right.
However, Reynolds and Gregg wore masks while touring the Northeast Iowa Food Bank on the afternoon of June 30.
Going into the July 4 holiday weekend, the governor's official Facebook page posted a reminder to "Stay six feet apart" and "Wear a face mask when social distancing isn't possible."
The governor's July 7 press conference was the first where staff and state employees wore masks when not speaking. Kathie Obradovich observed, "That's a change from the past few weeks, when Reynolds held bill-signings at which no one except reporters were wearing masks."
But here we go again: the governor stopped by multiple businesses in southern Iowa on July 9, standing next to people with no mask.
On July 10, Reynolds tried on a face shield manufactured by former State Senator Mark Chelgren's company. Earlier the same day, she was photographed unmasked standing near strangers at another business.
Staff were masked at Reynolds' most recent news conference on July 14, and she and Gregg covered their noses and mouths outdoors at a groundbreaking later that day.
Priority Electric is creating real opportunities for our young people in rural Iowa! Congrats on the groundbreaking in Kanawha. #99CountyTour pic.twitter.com/slA0fq9yOG

— Gov. Kim Reynolds (@IAGovernor) July 14, 2020
But for whatever reason, they didn't feel the need when stopping by the Hunter family's Purple Ribbon General Store later that afternoon.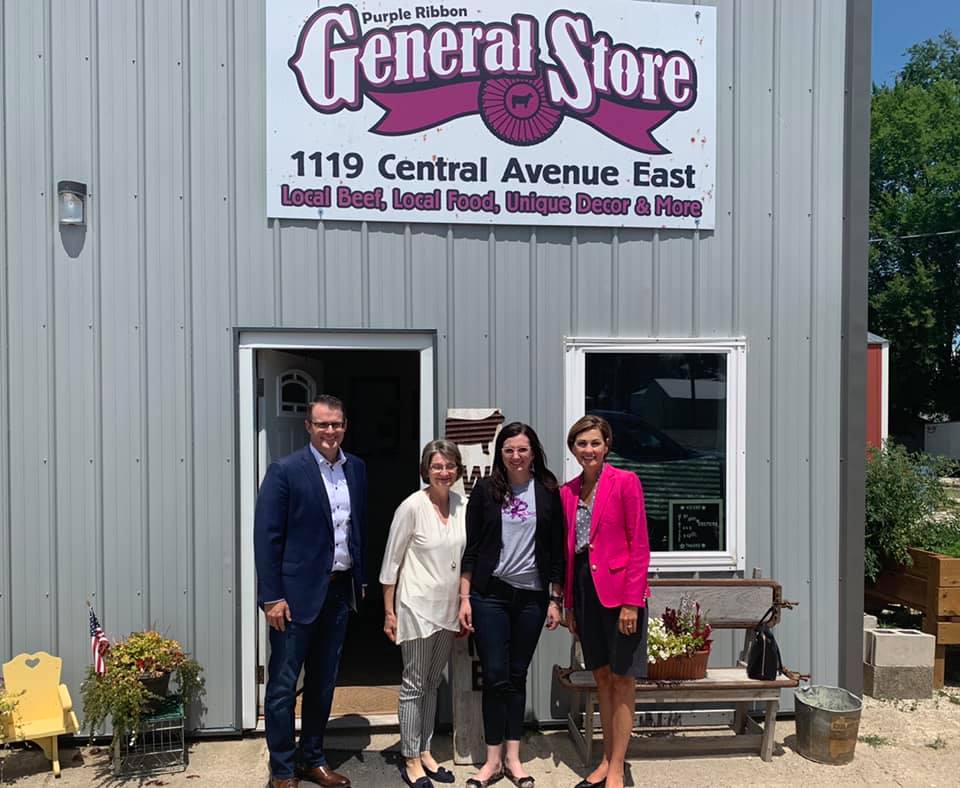 The IDPH has prepared #StepUpMaskUpIA graphics. Prominent Iowans tweeting out the hashtag this week include Gregg, the Iowa Department of Homeland Security and Emergency Management, Carson King, and University of Northern Iowa athletics director David Harris.
But why would Iowans who don't feel vulnerable "mask up" every time they are with people outside their household, when the governor and other Republican elected officials haven't been vigilant about doing so?
FINAL NOTE: A "SLAP IN THE FACE" TO LOCAL GOVERNMENTS
The Iowa Attorney General's office has taken the position that state law doesn't allow city or county governments to mandate face coverings to slow the spread of COVID-19. A forthcoming Bleeding Heartland post will explore the legal context in more detail. Not everyone reads the relevant code sections the same way.
But everyone agrees that the governor could delegate authority to local governments to impose stricter COVID-19 mitigation measures.
Just as she refused to allow cities and counties to issue shelter-in-place orders in March, Reynolds ruled out allowing local mask orders on July 7, falling back on her talking points about "personal responsibility." She repeated the mantra in her "Step up, Iowa!" video of July 13: "I believe in Iowans, and I believe that we can continue to step up and take personal responsibility–not because it's mandated, but because it's the right thing to do."
The mayors of Muscatine and Iowa City have issued mask orders anyway, and Johnson County supervisors voted for an order they can't legally enforce on July 23. During that meeting, Zachary Oren Smith reported, Supervisor Royceann Porter said, "It's a slap in the face to see the governor will not support us," adding, "This is about people's lives. People are dying. Numbers are going up daily in the state of Iowa. We have to step up."
If Reynolds expects others to #StepUpMaskUpIA, she should do everything in her power to bring COVID-19 transmission rates down. She's already failed to lead by example on face coverings. The least she could do is let local officials try to contain outbreaks and save lives in their communities.
UPDATE: The governor's spokesperson Pat Garrett told the Cedar Rapids Gazette on July 21, "Gov. Reynolds encourages Iowans who are interacting with others where social distancing is impossible to wear masks. But she does not believe a governmental mask mandate is appropriate."
A reader flagged for me that current CDC guidance calls for everyone over age 2 to cover their faces and keep a safe distance.
COVID-19 can be spread by people who do not have symptoms and do not know that they are infected. That's why it's important for everyone to wear cloth face coverings in public settings and practice social distancing (staying at least 6 feet away from other people).
We can't always predict who will get close to us in public settings. The more Reynolds emphasizes that covering your face is only for those who expect to be in crowded places, the less effective her #StepUpMaskUpIA campaign will be.
SECOND UPDATE: Reynolds spoke at the 100th anniversary celebration at Backbone State Park on July 24. Her staff didn't announce that appearance in advance or post pictures on her social media feeds. Photographs by Jim Slosariek of the Cedar Rapids Gazette show that chairs for onlookers were fairly far from each other and from the speakers. However, photo number 13 of the series shows the governor and eight other people (including Department of Natural Resources Director Kayla Lyon) posing in front of a new park sign. The group is standing close together, and no one is wearing a mask.
LATER UPDATE: State Senator Randy Feenstra, the Republican nominee in Iowa's fourth Congressional district, posted these pictures taken at an event in Sioux Center on July 28. No masks are visible, and attendees are seated close together.