UPDATE: The state began reporting antigen test positives on August 28. Original post follows.
"I'm just imploring anybody who would listen," Dr. Ryan Flannery said near the end of our interview. "I just want accurate data."
The family physician who helped plan the Washington County Hospital and Clinics pandemic response has little trust in statewide or county-level COVID-19 testing and case numbers released by the Iowa Department of Public Health (IDPH).
Foremost among his concerns: the state's dashboard (coronavirus.iowa.gov) does not report positive results from antigen tests.

WHY WASHINGTON COUNTY'S HOSPITAL CHOSE ANTIGEN TESTING
Washington County had an early cluster of COVID-19 cases, in part because of its location. Many residents commute north to jobs in Johnson or Linn counties, which were early coronavirus hot spots in Iowa, or east to Louisa County, where the state's first meatpacking plant outbreak occurred in Columbus Junction.
In addition, the county hospital was "proactive" about testing, county public health director Danielle Pettit-Majewski told the Southeast Iowa Union in early April.
Flannery was part of the command team that guided the local response. A graduate of the University of Iowa's medical school, he has practiced family medicine at the Washington County hospital since 2002. "So from the very beginning I was one of the clinicians on this team that dove into the ins and outs of COVID illness," he told Bleeding Heartland during an August 24 telephone interview.
The team developed policies to minimize spread of the virus, orchestrate care for infectious patients, and ramp up testing to determine how prevalent the virus was in the community. They realized that without reliable methods to identify cases, they wouldn't be able to manage the disease.
The hospital implemented the PCR (polymerase chain reaction) testing that was available in the early weeks of the pandemic, sending samples to the State Hygienic Laboratory in Coralville for processing. PCR tests detect the viral RNA material of COVID-19 and are considered the "gold standard" for accuracy.
"We realized right away" we had to be careful, Flannery said, because testing materials like nasal swabs were in short supply in March and April. Another problem: obtaining results from a PCR test typically took days and sometimes a week or more.
When the U.S. Food and Drug Administration approved the first antigen testing in May, the Washington County hospital decided to purchase one of Quidel's "Sofia 2" machines.
Antigen testing was appealing for several reasons.
High degree of accuracy
Antigen tests are designed to find a protein that's associated with a COVID-19 infection. "So it doesn't identify the virus directly, but it indirectly identifies the protein that you use to identify an illness," Flannery explained, "similar to a strep test or a flu test that we use in office settings all the time."
Antigen tests "are very specific for the virus, but are not as sensitive as molecular PCR tests," which means that a positive result is almost certain to be a true positive (the patient is infected with COVID-19).
Because of their slightly lower sensitivity, antigen tests may miss more infections than PCR tests. For that reason, Flannery said, practitioners may order another test to validate a negative finding. That could happen if the patient had close contact with a confirmed case or looked sick with symptoms suggestive of coronavirus.
The key point for Flannery is that a highly specific test "shines in the setting where a patient is positive. You can feel extremely confident if somebody has a positive antigen test, they have active infection going on." An FDA fact sheet notes that Sofia antigen tests were "designed to minimize the likelihood of false positive test results."
PCR tests used to be the go-to for a second opinion on people who receive a negative result on an antigen test. Now Washington County hospital has another option: an antibody testing platform brought online this week, Flannery said. Antibody tests (sometimes called serology tests) were not designed to diagnose active cases, but rather to confirm that someone had COVID-19 weeks or months ago. In contrast, the new "total antibody test" will identify the virus in the early stages of infection, in later phases, or after recovery.
An antigen test coupled with a total antibody test "can dramatically improve the sensitivity," Flannery said, citing research by the manufacturer Quidel. If either test comes back positive, and the patient is symptomatic or had a confirmed exposure, it "heightens the suspicion that this person has COVID."
Rapid results
Dr. Eli Perencevich, an epidemiologist and infectious disease specialist at the University of Iowa, commented early this month that "from a clinical diagnosis perspective, we need a sensitive and specific test" for COVID-19. But in "public health, we are now learning speed and turn-around time are more important."
Flannery expressed the same view. Antigen tests and total antibody tests can get results to the patient and health care provider in less than an hour, a big advantage over PCR tests.
[R]ight now, if you want people to have a diagnosis that they can act upon immediately, and then public health departments can act upon contact tracing immediately to get our hands around the disease, you have to be doing tests that give you more immediate information and results. The PCR tests that go to an outside lab are not going to be that way.
The quick turnaround is also helpful for people with no symptoms, but who need evidence they don't have COVID-19 in order to undergo an elective procedure, or return to work after travel to a high-risk area.
Usually accompanied by a medical evaluation
Governor Kim Reynolds and IDPH officials have touted the Test Iowa program, a public-private partnership involving online assessments and PCR tests administered at drive-through sites and health clinics in some towns.
Flannery challenged the idea that the Test Iowa approach is best for identifying coronavirus. "I bet you that the majority of the patients that are getting antigen tests, I would bet money that they are actually getting some type of medical evaluation in conjunction with that antigen test," he said. A visit with a health care provider will more accurately reveal a disease process, whether that be COVID-19 or some other illness.
For Flannery, that's "a far better marker" than "people doing the Test Iowa drive-up, no evaluation, they get swabbed and they go home."
STATE DOESN'T COUNT CASES FOUND THROUGH ANTIGEN TESTS
As Bleeding Heartland reported last month in the context of Van Buren County, the IDPH considers antigen tests to produce "probable" positive results, not "confirmed" cases. "Only confirmed positive results are reported at coronavirus.iowa.gov at this time," department spokesperson Amy McCoy informed me.
The Des Moines Register's Tony Leys asked State Medical Director Dr. Caitlin Pedati about the antigen tests on August 19 and paraphrased her reply.
Those tests provide quicker results than more traditional tests, which must be sent to a lab, but they're not quite as accurate, she said. Front-line physicians can use them effectively, along with information about symptoms or exposure to the virus, to determine how to care for patients, she said, but they're less useful for epidemiological tracking.
Whether on the record or in private conversations, I have yet to speak with an epidemiologist, doctor, or public health staffer outside state government who agrees with the policy. As explained above, antigen tests reveal active COVID-19 cases. They are no less useful for contact tracing than a PCR test. On the contrary: the quick turnaround arguably makes contact tracing more feasible and effective.
For his part, Flannery has "huge concerns" about leaving antigen positives out of the publicly available case totals. "I just feel like they're completely ignoring probably a better test right now, if we're trying to do immediate point-of-care testing." Granted, antigen tests are "not perfect, but none of the tests are." Even PCR tests are not 100 percent accurate.
He noted that six states recently joined forces to buy millions of antigen tests. They are stockpiling them for use in the autumn or winter to separate people with COVID-19 from those suffering from other viruses. "If other states are doing it, why are we not doing that?"
The bottom line for Flannery is that practitioners around Iowa are managing patients with antigen tests, and "that truly should be reflected in our positivity rate." Especially since the governor, Iowa Department of Education, and IDPH have set the 14-day positivity rate as a metric determining whether school districts can shift to online learning. (Washington County children went back to school in person on August 24.)
"I WAS ASSURED THAT THEY WERE GOING TO BE CHANGING THIS"
After nurse practitioner Dana Jones revealed that that the state website was backdating thousands of positive COVID-19 cases, Flannery reached out to various people at the IDPH. He discussed the need to publish antigen test results with Washington County's regional epidemiologist and public health director. In conversations with people in the know last week,
I was assured that they were going to be changing this at the same time that they were also going to be updating this glitchy data problem to make all of the data more accurate.

But then I think on Friday [August 21], when it was supposed to happen, there was a sudden change, and powers that be put it off to make those changes.
Flannery emailed the governor's office and some state legislators last week to share his "concerns about the lack of transparency and inaccurate data being published by the state about COVID-19 diagnoses." Excerpts from the message he shared with Bleeding Heartland:
I have just discovered though discussions with county health officials and state epidemiologists that our current calculations of COVID-19 cases have NOT included any of the Antigen testing data. They claim that these Antigen tests are not CONFIRMATORY tests for COVID-19 infection but are PRESUMPTIVE test results. These antigen test results are being used in context of medical evaluation and treatment to make diagnoses and they should absolutely be used in our data collection especially if these Antigen test results are positive. [...]

I am worried that if we are not including all the testing data, the complete picture of the community spread of COVID-19 will be sorely inaccurate. Also the burden of accurately calculating our percentage of community spread has significantly increased with the future opening of our schools and the mandates from the Governor and Iowa Department of Education associated with Return-To-Learn plans. The State of Iowa and the Iowa Department of Public Health need to reflect these test numbers and results into our community calculations immediately.
Flannery heard back from several state lawmakers. He received a boilerplate email from the governor's office acknowledging receipt, but no substantive reply from the governor's staff.
In addition, Flannery is concerned that the IDPH may be including all of the antigen tests in their total testing numbers (the denominator for the positivity rate), even though they don't count positives as COVID-19 cases. Doing so would be "a second layer of skewing the data inaccurately."
I am investigating whether that is occurring statewide or in any counties. A prime suspect is Webster County, which recently had Iowa's highest positivity rate but now has the lowest (1.9 percent), according to the state website on August 25. Last week the IDPH removed several hundred cases that derived from antigen tests at a Fort Dodge clinic while adding in about 3,000 negative results that supposedly had been "delayed." I am seeking to confirm whether those newly reported negative results also came from antigen tests.
"OUR DATA LOOKS HORRIBLY DIFFERENT"
IDPH officials supposedly "fixed" the backdating problem on August 19, but case and testing numbers continue to be altered for dates going back to the spring, Jones and other data miners have found.
The Washington County hospital has been posting weekly COVID-19 testing and case numbers on the front page of its website. (I've posted five graphics below as Appendix 1.) Those figures cover the various kinds of tests administered at the facility. However, hospital staff don't have access to data on county residents who obtain COVID-19 tests at other clinics.
As a result, area physicians and public health staff lack comprehensive information about the scope of the pandemic.
Flannery told me, "Our data looks horribly different than what they're calculating at our county level currently."
Aside from the backdating, his broader concern was the positive antigen tests missing from the state website.
Publicly available state data is flawed in other ways too. John Kruse published troubling details in the Dubuque Telegraph-Herald on August 22 after speaking with Pedati.
In an interview with the TH, Pedati also disclosed that inconclusive tests were being counted — factored in basically as negative results — when the state calculates 14-day positivity averages. Their inclusion drives down positivity rates. As of Friday night, Dubuque County had about 170 such tests, based on state figures, out of a total test count of about 22,800.

Statewide figures show about 13,500 such inconclusive tests.

Pedati also explained that some confirmed cases of COVID-19 attributed to a county are not counted initially in the positivity rates if they are missing key information such as the date, the individual's name or date of birth, and the test type. They only are added in after those issues are rectified, a process that can take days or weeks.

She acknowledged that this time lag results in fewer cases being calculated into the daily and 14-day positivity rates.
To illustrate the confusion public health officials are dealing with, I used Washington County hospital's graphs and the state website to create this table, showing COVID-19 case and testing numbers for the six weeks from July 6 through August 16.
Be warned: these numbers are not comparing apples to apples. The IDPH is supposedly reporting all PCR (but not antigen) tests and results for Washington County residents, wherever they were tested. Antibody (serology) tests are tabulated in a separate part the website, not on the "case counts" page.
Washington County Hospital is recording results for tests collected or processed on site. PCR and antigen tests are in the same bucket. (Antibody tests are tracked separately.)
You can see why practitioners are frustrated. Good luck using these numbers to determine the prevalence of COVID-19 in Washington County or the local positivity rate.
Note also that the total positive and negative tests for a given day, as reported on the state website, often don't add up to the total tests for that day. That's a longstanding issue for coronavirus.iowa.gov.
Comparison of COVID-19 testing data from Washington County
Week starting date
Positive results
Negative results
Total tests
Positivity rate
Washington County Hospital data
July 6
3
88
91
3.3%
July 13
6
134
140
4.3%
July 20
4
112
116
3.4%
July 27
13
111
124
10.5%
August 3
8
123
131
6.1%
August 10
16
129
145
11.0%
6-week total
50
697
747
6.7%
Data from coronavirus.iowa.gov for Washington County
July 6
11
234
247
4.5%
July 13
12
198
211
5.7%
July 20
15
169
186
8.1%
July 27
8
187
200
4.0%
August 3
16
166
185
8.6%
August 10
11
137
151
7.3%
6-week total
73
1,091
1,180
6.2%
Coronavirus.iowa.gov started publishing (inaccurate) county-level positivity rates on August 6, but the website doesn't archive the daily 14-day positivity rates. Even the invaluable Wayback Machine didn't preserve those numbers.
On the morning of August 25, the state website was showing a 2.6 percent positivity rate for Washington County over the past 14 days, the third-lowest among Iowa's 99 counties. I can't compare that directly to the county hospital's totals, because the most recent hospital data covers the week of August 10-16.
"GIVE US ALL THE DATA"
For Flannery, resolving the data problems is an urgent task. People come to family practice physicians for advice. Should they send their children to school in person or online? Do they need to worry when shopping locally?
He can't help them make informed decisions under the current circumstances.
I have to be on the front lines selling all of this. I'm the one that has to have faith in the information that I'm sharing so that I can actually boost patients' confidence in what we're supposed to do.

Because right now, if people don't have confidence in the data, then why are they going to listen to anything I recommend or anybody recommends about quarantining and isolating and other treatment options that we have right now to stop the spread of this disease?
Flannery understands controversies surrounding COVID-19 have "become more political than medical, which is definitely out of my league." He accepts that we're learning as we go and won't have all the answers for some time. "But I think we all deserve to have the most accurate information that we can generate to make the best decisions moving forward. And if we don't have that, I feel like we're doomed to fail."
I asked him about a discrepancy in deaths reported for Washington County: eleven according to local public health but only ten on the state website. It's been that way for weeks.
County public health director Pettit-Majewski said in an August 24 telephone interview that she didn't know why the IDPH wasn't recording one death in her county. My exchange with department spokesperson McCoy about the matter (enclosed below as Appendix 2) didn't shed light on the subject.
Could this be related to antigen tests?
Flannery couldn't say with any certainty, but he speculated that two scenarios seemed most likely. Either one of the county residents who passed away had an antigen test (not recognized by IDPH), or circumstances surrounding the death pointed to COVID-19, but the person never had a test. (There was a Washington County resident who died without being tested in March, but Pettit-Majewski told me that person is not one of the eleven whose deaths her staff have counted.) UPDATE: The state website updated on August 25 to show eleven deaths for the county.
One extra death in Washington County and one in Van Buren County might not seem significant. But if you multiply that by 99 counties, Iowa's death toll could be greatly understated.
Flannery agreed.
Yes, I think that that's the crux of the issue here. I think that potentially the data is being either purposely or accidentally presented to make the data look less ominous, to look less concerning in a lot of different ways.

And I think that whether that's true or not, I would challenge the state by saying, look, give us all the data. And include all the antigen tests. And rectify the issues that have plagued the data right now. And give us all of it.

You know, put it out on the public forum so that everybody can look at it. The people that are experts in the world of epidemiology and medical statistics can look at it. And we can all come to the same conclusion that this is where we're starting from with our positive case rates.
Flannery worries "it's only going to get worse" when we get into cold and flu season, with schools open and germs being spread around in ways they haven't been since March.
We just need to know where the starting point is to know how bad potentially we're going to be at if things get worse. And if we don't have the great accurate numbers to start with, it's going to really hamper our efforts to take care of people the way we need to if things were to get worse. [...]

I just want to have the accurate data. [...] That's all I'm asking.
STATE NOT INCLINED TO RELEASE FULL DATASET
At the governor's August 20 news conference, David Pitt of the Associated Press asked whether the IDPH would release the full dataset underlying the COVID-19 testing and case numbers published on the state's website, in light of the massive systemic errors recently disclosed.
Reynolds initially claimed the state was already releasing all the data. When Pedati stepped in to answer, she said that in terms of total tests, "that's definitely something that we're working on and can look into sharing." Beyond that, the state medical director hid behind the need to protect medical privacy and confidential health records. (The database could be anonymized.)
"I JUST WANT WHAT'S RIGHT"
Flannery is sticking with his simple request. "This is not political. This is medical. This is medical decision stuff that I do every day, and people ask of me every day" to help them make good decisions on caring for themselves and their families.
No doubt this physician spoke for many health care providers when he told me, "I just want what's right. And I want the right data. That's all I want. I'm not trying to be in the spotlight. I'm not trying to be political. I'm not. I have no agenda in that regard. I just want accurate data."
_______________
Appendix 1: COVID-19 testing, case, and positivity data compiled by the Washington County Hospital and Clinics. These numbers do not reflect all COVID-19 tests performed on county residents. They are drawn solely from antigen or antibody tests conducted on site or PCR samples collected on site and sent to outside labs.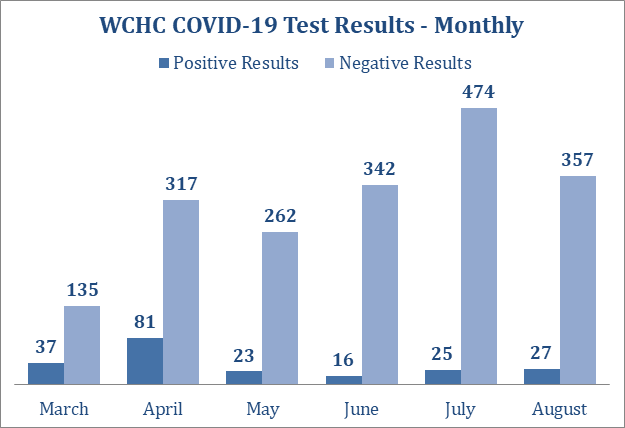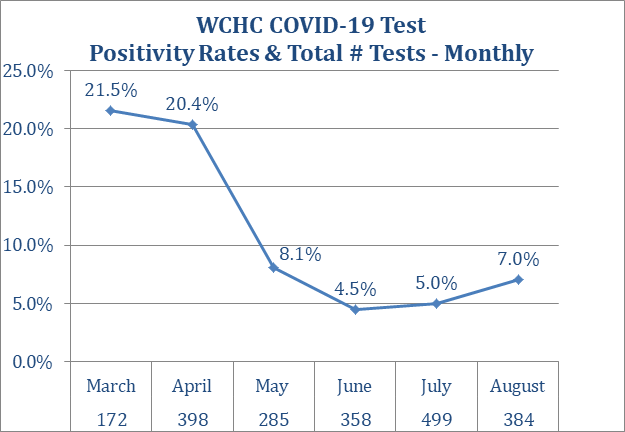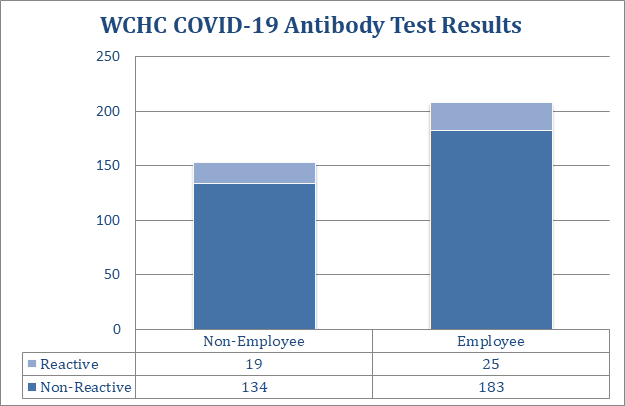 Appendix 2: Email correspondence between Laura Belin and Amy McCoy regarding a discrepancy between state and local findings for COVID-19 deaths in Washington and Van Buren counties.
Top photo of Dr. Ryan Flannery published with permission.