Iowa's official COVID-19 website will begin including positive and negative results from antigen tests in published statistics on cases and positivity rates, Governor Kim Reynolds announced at an August 27 news conference. Previously, the Iowa Department of Public Health had included antigen tests in the total testing numbers but considered all results from such tests "inconclusive."
The governor and State Medical Director Dr. Caitlin Pedati said the reporting change reflects new guidance from the U.S. Centers for Disease Control and more widespread availability of antigen tests across the state.
Physicians and public health experts had expressed concern that omitting the antigen positives from case counts was skewing the data and obscuring the spread of the virus.

1,000 CASES AFFECTED STATEWIDE, OFFICIAL SAYS
Iowa PBS live-streamed the governor's press conference, and I pulled the relevant clip, which came during the prepared remarks.
Reynolds described antigen testing as a "new" form of testing available in Iowa. (The federal government approved the first such testing machine in May, and some facilities, including the Van Buren county hospital and the Health Gauge clinic in Des Moines, have been providing the tests since June.)
Pedati said about 10,000 antigen tests had been conducted in Iowa to date, of which about 1,000 came back positive. She said some 80 percent of antigen test results the IDPH has received came over the past ten to twelve days, and that's why it was important to include the information on the state's website.
The department has also faced more pressure regarding inaccuracies in published data over the past ten days, since nurse practitioner Dana Jones revealed that coronavirus.iowa.gov was backdating thousands of COVID-19 cases.
Speaking at the news conference, Pedati asserted that state and local public health staff had already being doing contact tracing and case investigation for people who tested positive on antigen tests, and recommending self-quarantining where appropriate.
She said adding the antigen test results would increase the state's overall positivity rate by approximately 0.2 percent, and the positivity rate over the past two weeks by 0.1 percent.
Dr. Megan Srinivas, an infectious disease specialist in Fort Dodge, welcomed the newly announced policy in an August 27 telephone interview. The previous approach "made things look much better than they actually are in our communities," she said, so today's news is "definitely a change in the right direction."
At the same time, Srinivas expressed concern that Reynolds and Pedati seemed to play down the antigen tests as not necessarily reflecting the true scope of the pandemic. Antigen positives "are real positives," she added. "We need to take these positives to the bank and take them seriously when we are looking at the trajectory of infections" and setting COVID-19 mitigation policies.
UPDATE: Here is how part of the "case counts" page appeared on the morning of August 28.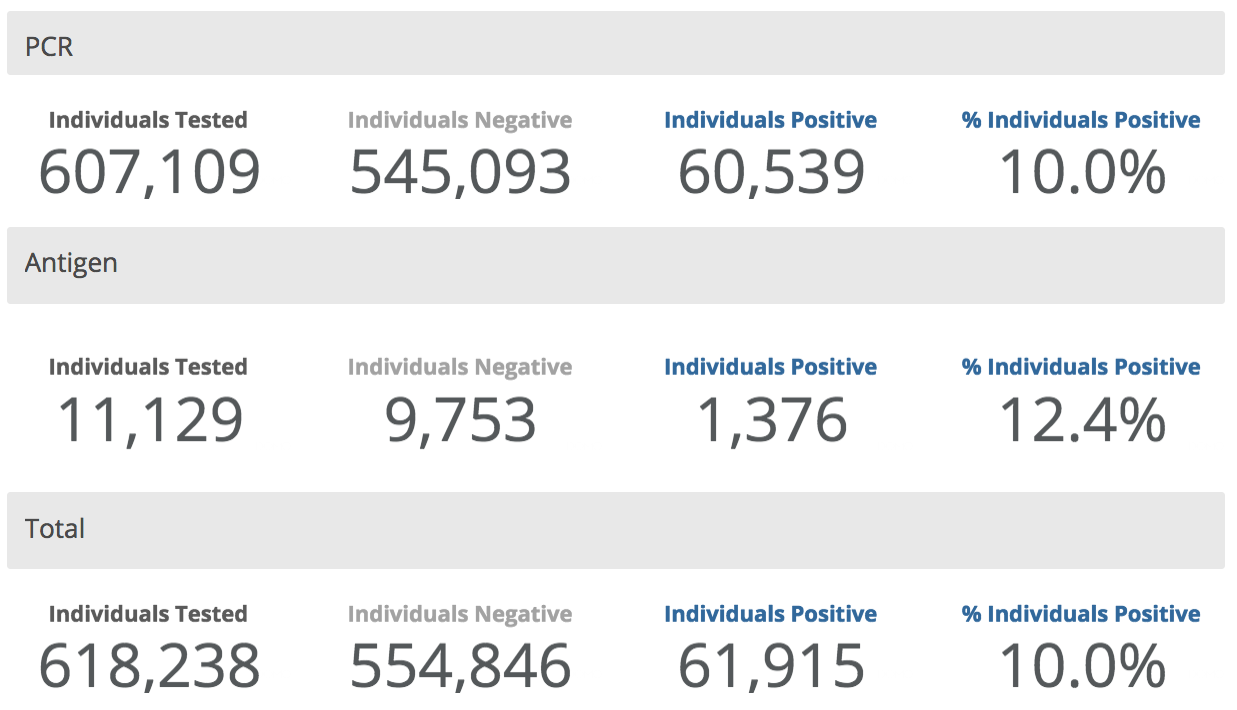 COUNTY-LEVEL TOTALS BEAR CLOSE WATCHING
A list of Iowa facilities using antigen testing machines is not publicly available. Pedati said that after taking antigen test results into account, the positivity rate over the past fourteen days would either not change or decrease in 48 Iowa counties. The other 51 counties would see an increase in the positivity rate, she said, ranging from 0.1 to 1.1 percent in 50 counties. Van Buren County's positivity rate would increase from 6.6 percent to 11.6 percent. UPDATE: That turned out to be incorrect; positivity rates in several counties increased by more than 1.1 percent.
That county's public health department disclosed last month that a discrepancy in COVID-19 numbers reported locally and on the state website stemmed from the IDPH excluding antigen positives from "confirmed" cases.
At this writing, the state website shows 49 cases for Van Buren, while local public health counts 98 cases.
When the IDPH "fixed" the website on August 19 to address the backdating problem, COVID-19 case numbers were revised downward in several counties in and around the Fort Dodge area.
State Senator Rob Hogg has closely followed county-level totals for months and regularly shares daily changes on his Twitter feed. He noted on August 20,
Here are the counties that were adjusted down:

Webster: Down 208 to 685
Humboldt: Down 37 to 97
Hamilton: Down 24 to 240
Cerro Gordo: Down 15 to 681
Floyd: Down 10 to 175
Calhoun: Down 9 to 92
Wright: Down 8 to 488
Franklin: Down 4 to 268
Pocahontas: Down 3 to 119

. . .

— Rob Hogg (@SenatorRobHogg) August 20, 2020
IDPH spokesperson Amy McCoy told Bleeding Heartland in an August 21 email that the cases subtracted from Webster County's total were antigen test positives that had mistakenly been reported as positives on PCR tests.
Those tests were conducted at the Community Health Center in Fort Dodge, which is a resource for people in surrounding counties where COVID-19 testing is not widely available. Last week's case reductions for Humboldt, Hamilton, Calhoun, and Wright counties (flagged by Hogg) most likely reflected patients who had received antigen tests in Fort Dodge.
As of 6:00 pm on August 27, the cases that disappeared with the August 19 data "fix" have not returned. The state website shows 715 total cases for Webster County, 102 for Humboldt, 249 for Hamilton, 104 for Calhoun, and 496 for Wright.
Even more worrying, the IDPH added 3,000 tests to Webster County's total last week, saying "negative result reporting was delayed." Those tests came from the Community Health Center in Fort Dodge, the Fort Dodge Messenger News confirmed. That clinic does not offer PCR testing--only antigen tests.
Including 3,000 "delayed" negative test results brought Webster County's positivity rate down from 23 percent (one of the highest in the state) to only about 2.6 percent. Similarly, Humboldt County fell from a positivity rate exceeding 22 percent to 8.9 percent, the Associated Press reported on August 19.
The IDPH gamed those numbers by including antigen tests in the denominator but not antigen positive cases in the numerator.
At this writing, the page showing county-level positivity rates shows Webster with the third-lowest rate (2.8 percent), and Humboldt at only 4.7 percent. Van Buren's rate hasn't been corrected either; it's still showing 6.5 percent.
Local watchdogs and data miners will need to keep a close eye on fluctuations in county-level case numbers and positivity rates in the coming days, to ensure promises are kept on accurately reporting antigen test results.
UPDATE: On the morning of August 28, the website showed updated case totals and positivity rates for many affected counties, including:
Van Buren (now 95 total cases, 8.3 percent positivity over past fourteen days)
Webster (994 cases, 6.9 percent positivity)
Humboldt (152 cases, 7.9 percent positivity)
Hamilton (279 cases, 5.8 percent positivity)
Calhoun (118 cases, 11.2 percent positivity)
Wright (513 cases, 5.2 percent positivity)
HOW MANY DEATHS HAVE BEEN MISSED?
If Pedati is correct, and roughly 1,000 Iowans have received a positive result on an antigen test, some small percentage of them may have died without being recorded by IDPH as a death linked to COVID-19.
Although Iowa hospitals now routinely test new admissions for the virus, some people may have died at home without getting a second test. Alternatively, their county hospital may have used an antigen testing machine upon admission. Or, a practitioner may have skipped the coronavirus test after seeing the new inpatient had already been diagnosed and was presenting obvious COVID-19 symptoms.
The state website shows one Van Buren County resident has died in the pandemic. But county public health has been reporting two deaths since August 12 and confirmed to Bleeding Heartland on August 24 that one of the local fatalities had tested positive on an antigen test.
Van Buren's death toll rose to three on August 24, according to local public health. I have been unable to confirm whether the most recent victim had a PCR or antigen test.
As IDPH updates the website to reflect antigen test positives as confirmed cases, journalists and citizen activists need to check with local public health officials to see whether the death count on coronavirus.iowa.gov matches the reality on the ground.
UPDATE: On the morning of August 28, the website still showed only one fatality in Van Buren County.
LATER UPDATE: On the morning of September 2, the state website still showed only one fatality for that county. The case count for Van Buren was 101 on coronavirus.iowa.gov, lagging only a little behind the 105 cases local public health was reporting on the afternoon of September 1.
Do you know of hospitals or clinics offering antigen testing for COVID-19 in your area? Please contact Laura Belin confidentially with details.
Top image: Screen shot of Dr. Caitlin Pedati from Governor Kim Reynolds' news conference on August 27.