Governor Kim Reynolds isn't on the ballot this November, but you wouldn't know it from her schedule lately. She's been putting in full-time hours at campaign events for other Republican candidates.
Since Reynolds' last televised news conference on October 7, and even since Bleeding Heartland last reviewed this topic a week ago, key statistics reflecting the novel coronavirus pandemic have worsened. Iowa is reporting more deaths and setting new records for hospitalizations, as new daily cases and the fourteen-day test positivity rate also increase.

IOWANS DYING AT FASTEST RATE SINCE EARLY MAY
On the evening of October 29, total deaths reported on coronavirus.iowa.gov reached 1,705. That figure likely understates the real death toll; Bleeding Heartland has noted before that the state reports only two deaths for Van Buren County, where local public health has counted five. I'm investigating another county where the state and local death figures appear to diverge. (Please let me know if you are aware of similar anomalies.)
I used the official state numbers to create this graph. The orange line shows the seven-day moving average in daily deaths.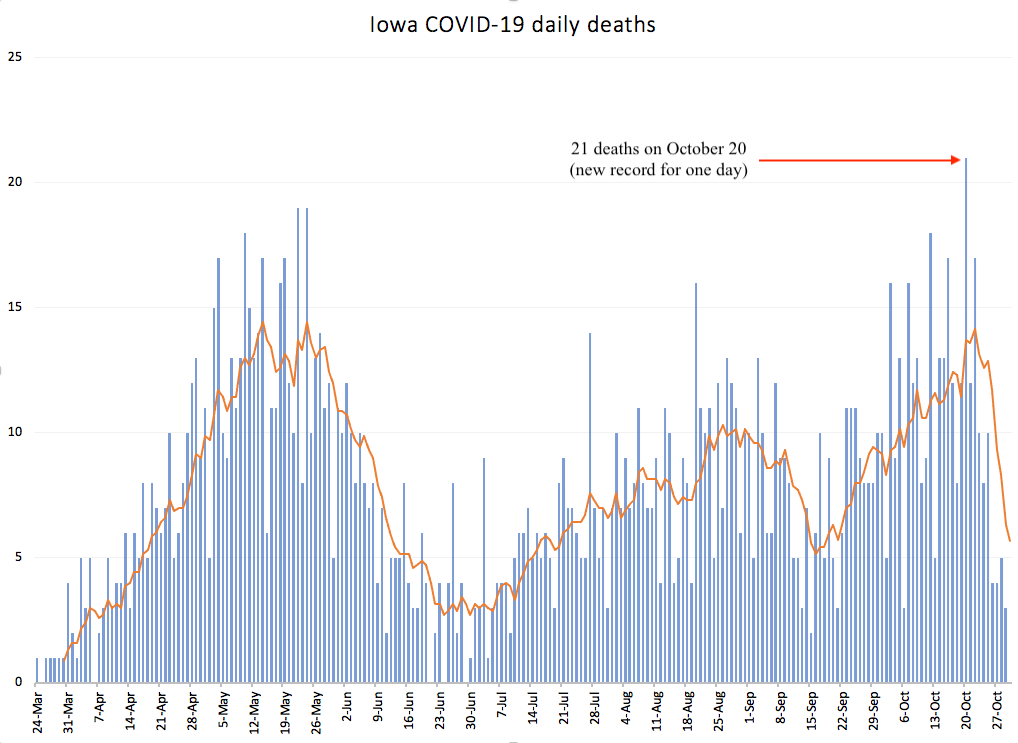 Note the tragic new high water mark: at least 21 Iowans died on October 20. That number may not be final. The Iowa Department of Public Health records deaths as occurring on the date of the death certificate, and those certificates may take ten days or more to reach state officials. A week ago, the state website was showing only twelve Iowans had died on October 20. UPDATE: On October 31 the website updated to show 22 deaths on October 20.
I find it revealing to look at the pace at which Iowans are dying from this virus. The state confirmed Iowa's first COVID-19 death on March 24. The official death toll reached 100 on April 21, a full four weeks later. Then, state data show, it took:
twelve days to pass 200 total Iowa deaths (May 3)
seven days to pass 300 (May 10)
eight days to pass 400 (May 18)
eight days to pass 500 (May 26)
twelve days to pass 600 (June 7)
nineteen days to pass 700 (June 26)
26 days to pass 800 (July 22)
fifteen days to pass 900 (August 6)
twelve days to pass 1,000 (August 18)
eleven days to pass 1,100 (August 29)
twelve days to pass 1,200 (September 10)
fourteen days to pass 1,300 (September 24)
twelve days to pass 1,400 (October 6)
eight days to pass 1,500 (October 14)
eight days to pass 1,600 (October 22)
seven days to pass 1,700 (October 29)
Even with improved treatments and protocols, more Iowans are likely to die of COVID-19 soon, as deaths typically lag hospitalizations by a couple of weeks.
HOSPITALIZATIONS NEARLY 50 PERCENT ABOVE THE FIRST PEAK IN MAY
As Iowa continues to set new records for the number of patients hospitalized with COVID-19, more doctors have been warning that the state's health care facilities could soon be overwhelmed. Iowa Public Radio reported on October 29, "The University of Iowa Hospitals and Clinics says starting Friday [October 30], it will reschedule non-emergency surgeries and procedures as needed."
At this writing, the state is reporting 606 Iowans are in the hospital for this virus. The first peak in May was 417 hospitalizations.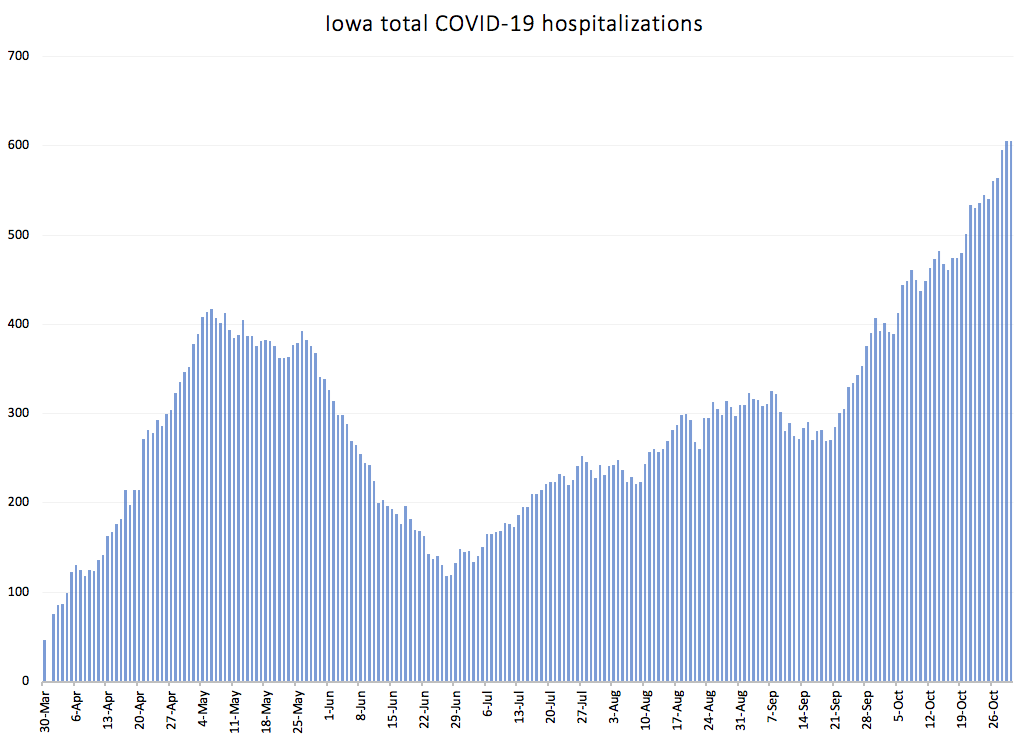 Dr. Michihiko Goto, an assistant professor of internal medicine and infectious diseases at the University of Iowa, told me early this month that the crisis in New York City's hospitals "happened so fast" in the spring, and that Iowa seemed to be "just one step before catastrophe." Dr. Eli Perencevich, an epidemiologist and infectious disease specialist at the University of Iowa, noted that due to the typical length of stay for a severely ill COVID-19 patient, it would take time to get hospitalizations to start trending downwards, even if we manage to reduce transmission rates.
That's frightening when you look at the new hospital admissions. Before late September, it was rare for the Iowa Department of Public Health to report more than 50 COVID-19 admissions across the state during a 24-hour period. Now that number often exceeds 75 and sometimes has surpassed 100.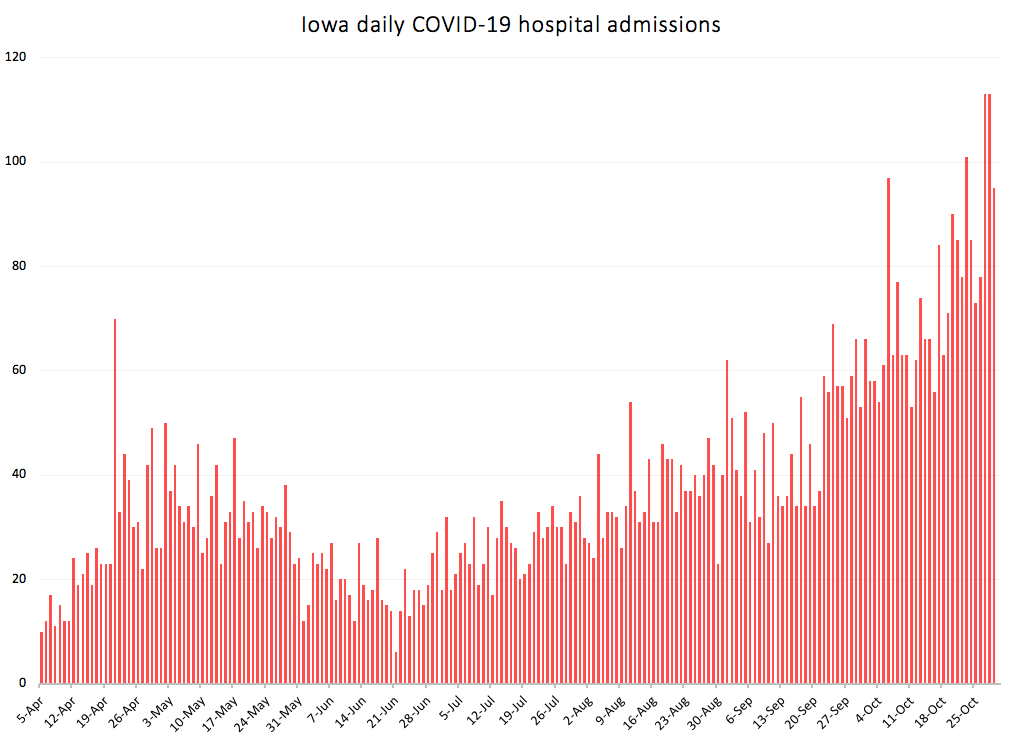 New hospital admissions are unlikely to trend downward anytime soon, given the new positive cases Iowa is now reporting on a regular basis.
MORE CASES AND A HIGHER TEST POSITIVITY RATE
In May and June, Reynolds often cited Iowa's declining test positivity rate to justify her decisions to lift most COVID-19 mitigation measures. If and when she ever resumes regular televised news conferences, you won't be hearing that refrain.
I took the next two graphs from Sara Anne Willette's Iowa COVID-19 Tracker website.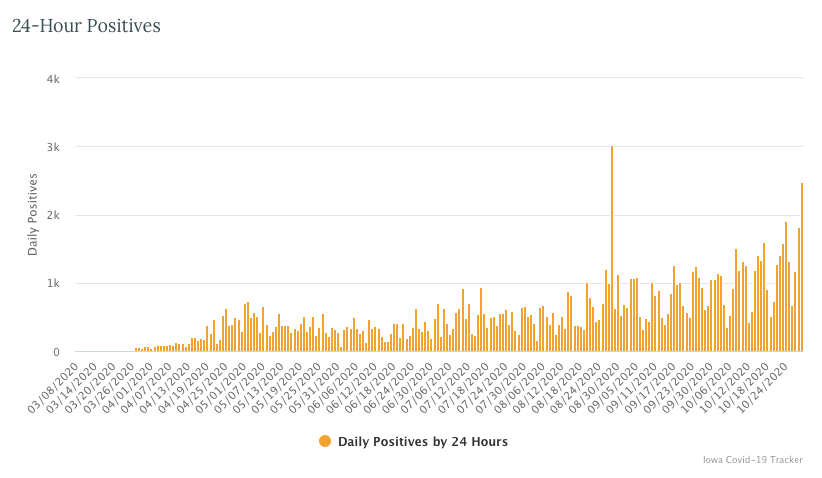 Our daily cases have set several new records this month, if you exclude August 28, the date the IDPH reported more than a month's worth of antigen test positives that had previously been hidden from public view.
Could Iowa be reporting more cases mainly because more people are getting tested? No, because the percentage of tests coming back positive is also increasing, which indicates community spread is worsening. This graph also comes from Willette's website.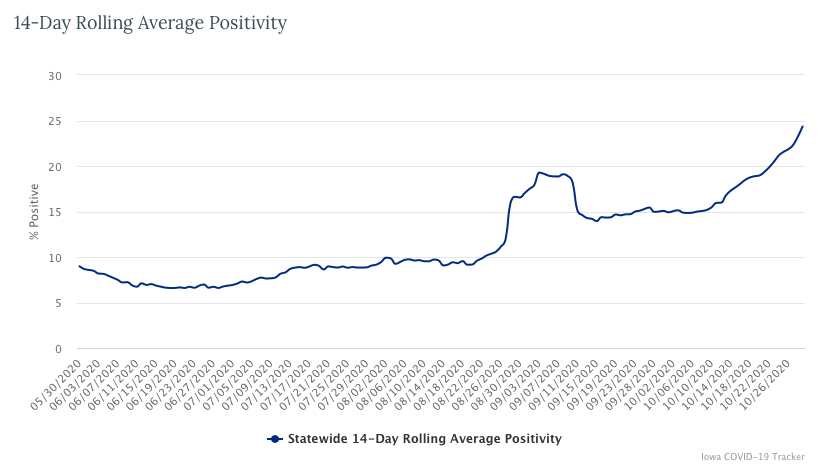 Public health experts predicted this could happen, based on seasonal properties of other coronaviruses. When unveiling a new interactive app in early June, a team of researchers from the University of Iowa noted,
if COVID-19 does indeed match the seasonality of other HCoVs, then without strong mitigation measures, we should expect a very large second peak starting somewhere around October to December that will dwarf the epidemic curve that we have seen in 2020.
That app is no longer maintained.
Although conservatives sometimes claim the COVID-19 threat is exaggerated, the opposite is true. Iowa's published data on coronavirus cases and tests is systemically flawed, and the IDPH continually lowballs statewide and county-level positivity rates. The Dubuque Telegraph-Herald reported in late September on the state's "practice of not counting recent confirmed cases until all data is received, such as the date of birth of the testee. This practice drives down the positivity rate, even though those cases have been confirmed in a specific county."
GOVERNOR STILL "MONITORING" RATHER THAN ADDRESSING THE CRISIS
Reynolds has been crisscrossing the state for campaign events, mostly with Senator Joni Ernst. As mentioned above, more than three weeks have passed since the governor's last televised press conference. The governor sometimes takes a few questions from reporters after other events, but as WOI-TV producer Sarah Beckman observes, "these aren't the same as statewide, live press conferences." Ian Richardson reported for the Des Moines Register on October 29,
"I'm very accessible," Reynolds told the Des Moines Register on Wednesday [October 28]. "I'm actually calling in and talking to Iowans in areas where we see ... the community spread a little bit higher than it should be. That's who I need to reach out to, and that's what I'm doing, and I've done it for the last two weeks." [...]

Reynolds does not have a news conference on her public schedule this week. Her comment to the Register followed an evening campaign event in Bondurant where Reynolds appeared with 3rd Congressional District candidate David Young, Iowa Rep. Brian Lohse and U.S. Sens. Joni Ernst and Chuck Grassley.

"There's a lot going on," she said. "There's a lot of chaos with the election, and so you know we're out trying to get the message to where we need to, and we're going to continue to do it. And we'll get back to a routine sooner rather than later." [...]

She said COVID-19 accounts for about 11% of the state's hospitalizations right now. Reynolds said she is monitoring the state's hospital system and bed availability. She said her office is also monitoring staffing availability and planned to work on plans to address that this week.
Staffing is expected to be a big problem for hospitals across the country soon. Because COVID-19 is spiking nearly everywhere, it won't be possible to transfer doctors, nurses, or respiratory therapists from calm regions to hardest-hit areas, as happened in April and May.
Some other Midwestern governors have done more this month to address the unfolding crisis in area hospitals, urging constituents to step up their own precautionary measures. Reynolds is trying to get past this election without reminding Iowans of the dire situation. On the contrary, she mocked Democratic Senate candidate Theresa Greenfield this week for pausing campaign events after staffers may have been exposed to COVID-19.
Ensuring the safety of Iowans should be Reynolds' top priority, not getting Republicans elected.
UPDATE: Reynolds' communications director Pat Garrett disputed my assertion that the governor has been campaigning full time for Republicans this past week. Adding an official event to the schedule here and there doesn't change the reality that Reynolds has appeared at multiple GOP campaign events every day. Adding in her travel time, it looks like full-time hours.
Elizabeth Meyer reported from a Muscatine event on October 31,
Reynolds has spent days on the campaign trail with Ernst as the senator holds events around the state for her "Fighting for Iowa" RV tour. As the governor campaigns, Iowa continues to hit records related to the coronavirus pandemic, with 630 people hospitalized with COVID-19 as of Saturday. In front of Republican crowds, Reynolds is able to get positive affirmations from supporters telling her how well she has handled the crisis, rather than the scrutiny she would face taking questions at a town hall or during a press conference.

"I am fired up," Reynolds said. "We have been criss-crossing the state. I've had so much fun having the opportunity to support Joni. I believe in her, she's a great friend. I love what she's done, and to be able to have the opportunity to travel the state with her over this last week … to Jeff's point, we have to turn that momentum and that energy and that enthusiasm into votes."
Top image: Senator Joni Ernst and Governor Kim Reynolds pose with a supporter in Atlantic (Cass County), October 28. Photo posted on Ernst's political Twitter feed.