Fifth in a series interpreting the results of Iowa's 2020 state and federal elections.
Democrat Rita Hart's campaign has asked for a recount in all 24 counties of Iowa's second Congressional district, where Republican Mariannette Miller-Meeks led by 196,862 votes to 196,815 (49.92% to 49.90%) after the canvass. It's the closest U.S. House race in the country, and one of the closest in Iowa history.
The lead has changed twice since election night: first, when fixing a tabulation error in Jasper County put Hart slightly ahead, and then when a correction in Lucas County moved Miller-Meeks back into the lead.
Recounts in Iowa rarely produce big changes in vote totals, so Republicans are confident they will pick up this seat. However, overcoming a deficit of 47 votes out of nearly 400,000 cast is certainly possible in a recount.
Either way, one fact is clear: Hart performed much better than a generic Democrat, perhaps better than any nominee not named Dave Loebsack could have in these circumstances.

IOWA'S MOST EXPENSIVE 2020 CONGRESSIONAL RACE
Although Republican groups had spent nothing in IA-02 during the 2016 and 2018 campaigns, Loebsack's retirement instantly put this seat in the toss-up category, for reasons Bleeding Heartland explored here. Southeast Iowa was once considered friendly territory for Democratic candidates, but Donald Trump outpolled Hillary Clinton in these 24 counties by 49.1 percent to 45.0 percent. Without Loebsack's incumbency advantages, the district looked like a promising target for Republicans.
Nevertheless, as the campaign developed I saw Hart as slightly favored, for a few reasons. She had an appealing biography as a farmer and educator, as well as some name recognition throughout the state from being the Democratic nominee for lieutenant governor in 2018. She had a strong base in Clinton County, the third-largest in the district, which she had represented in the Iowa Senate for two terms. She had raised more money than Miller-Meeks, and unlike the Republican, didn't have to spend part of her campaign funds to win her party's nomination.
In addition, Democratic challenger Fred Hubbell received nearly 11,000 more votes for governor than did Kim Reynolds in the IA-02 counties, even as he lost statewide by about 36,000 votes (2.8 percent). I wrongly assumed Joe Biden would be more competitive than Clinton in eastern Iowa. If Biden trailed Donald Trump in Iowa by just a few points, as many opinion polls suggested, I reckoned there was a good chance the Democrat was ahead in IA-02. So I didn't anticipate that Hart would need to rely on many ticket-splitters.
Meanwhile, Miller-Meeks had run for Congress three times already, falling short each time against Loebsack. Two of those campaigns coincided with Republican waves (2010 and 2014), when the National Republican Congressional Committee spent heavily in the district.
By Labor Day it was obvious both parties' internal polling showed no clear favorite in IA-02. Outside spending on Iowa's U.S. Senate race reached such outlandish levels this year that it was easy to miss how expensive this Congressional campaign became.
Democratic and Republican-aligned groups spent more than $7.6 million against Hart and more than $7.7 million against Miller-Meeks, according to the Center for Responsive Politics' OpenSecrets database. The spots targeting Hart included various false or misleading claims (see also here and here).
By way of comparison, the 2020 campaign in Iowa's first Congressional district attracted a little more than $10 million in outside spending. Independent expenditures totaled only about $4.3 million this year in the third district, which had been Iowa's most costly U.S. House race in 2018.
HART OUTPOLLED THE TOP OF THE DEMOCRATIC TICKET IN 23 COUNTIES
As mentioned above, I doubted Trump would carry IA-02 this year. His vote share was below 50 percent in 2016, and his approval ratings had been underwater in Iowa for some time. Polls consistently showed lower support for third-party candidates compared to the last presidential race. Biden's working-class background seemed like a good fit for the area too, so I expected he would substantially improve on Clinton's performance.
Instead, the IA-02 counties mostly followed the same pattern that played out statewide and in several other former strongholds for Iowa Democrats. Biden received more votes and a higher vote share than Clinton had, but Trump also improved on his 2016 showing. As a result, Trump received 16,421 more votes than Biden and carried this Congressional district by a 4-point margin again (this time 51.0 percent to 47.0 percent).
Down-ballot Democrats suffered big losses in the IA-02 counties. Republican challengers defeated incumbents in Iowa House districts 81 and 83 and in Senate district 42; all of those seats had been in Democratic hands for decades. Democrats failed to pick up House districts 73, 82, 91, 92, or 94, or Senate district 44; the party spent six figures on each of those campaigns.
In contrast, Hart more than held her own. She greatly outperformed Biden in her home county and finished a little ahead of him almost everywhere else, despite the onslaught of attack ads.
Meanwhile, Miller-Meeks received fewer votes than Trump in 23 out of 24 counties–including her home county of Wapello (Ottumwa area). If she'd been able to match the president's support, this race would not be recount-close.
Click on any county on this interactive map to bring up current vote totals and percentages for Hart, Miller-Meeks, Biden, and Trump. These could change slightly after the recount. The color scheme reflects the Congressional results; Biden carried only two of these counties (Johnson and Scott). UPDATE: I've revised the totals to reflect the results certified on November 30.
County Name
| | | | |
| --- | --- | --- | --- |
| D | Canidate 1 | 61% | 30390 |
| R | Canidate 2 | 39% | 10390 |
Hart won with more than 60%
Hart won with more than 50%
Miller-Meeks won with more than 50%
Miller-Meeks won with more than 60%
Miller-Meeks won with more than 70%
Here are the same figures in table form, with counties listed in descending order by number of votes cast in the 2020 presidential race.
Votes for Congress and president in IA-02 counties, 2020
County
Hart votes
MMM votes
Biden votes
Trump votes
Scott
47,562 (53.0%)
42,046 (46.8%)
46,926 (50.7%)
43,683 (47.2%)
Johnson
56,129 (69.9%)
24,101 (30.0%)
59,177 (70.6%)
22,925 (27.3%)
Clinton
12,997 (54.2%)
10,945 (45.6%)
10,812 (43.8%)
13,361 (54.1%)
Muscatine
9,731 (48.5%)
10,279 (51.3%)
9,372 (43.3%)
10,823 (52.4%)
Des Moines
9,268 (48.9%)
9,641 (50.8%)
8,893 (44.6%)
10,592 (53.1%)
Jasper
8,099 (41.9%)
11,181 (57.9%)
7,737 (38.3%)
12,084 (59.9%)
Marion
6,124 (33.4%)
12,146 (66.3%)
6,178 (32.1%)
12,663 (65.8%)
Lee
6,969 (43.2%)
9,145 (56.6%)
6,541 (39.1%)
9,773 (58.4%)
Wapello
6,153 (41.1%)
8,780 (58.7%)
5,821 (37.2%)
9,516 (60.9%)
Washington
4,650 (41.1%)
6,633 (58.7%)
4,561 (38.8%)
6,971 (59.3%)
Mahaska
3,076 (28.8%)
7,575 (71.0%)
2,894 (25.4%)
8,297 (72.8%)
Cedar
4,629 (45.5%)
5,534 (54.4%)
4,337 (40.5%)
6,161 (57.6%)
Henry
3,607 (38.0%)
5,857 (61.7%)
3,275 (32.8%)
6,507 (65.2%)
Jefferson
4,374 (50.8%)
4,226 (49.0%)
4,319 (48.2%)
4,443 (49.6%)
Appanoose
1,952 (32.3%)
4,078 (67.5%)
1,891 (29.0%)
4,512 (69.2%)
Louisa
1,917 (37.6%)
3,167 (62.2%)
1,726 (32.4%)
3,500 (65.6%)
Keokuk
1,571 (31.2%)
3,461 (68.7%)
1,414 (26.7%)
3,797 (71.6%)
Clarke
1,639 (37.6%)
2,712 (62.1%)
1,466 (31.4%)
3,144 (67.3%)
Lucas
1,297 (30.9%)
2,892 (68.9%)
1,284 (27.7%)
3,287 (71.0%)
Davis
1,129 (28.7%)
2,795 (71.1%)
1,013 (24.7%)
3,032 (73.9%)
Monroe
1,203 (31.5%)
2,612 (68.4%)
1,078 (26.4%)
2,975 (72.8%)
Decatur
1,215 (34.0%)
2,345 (65.7%)
1,120 (29.4%)
2,615 (68.7%)
Van Buren
941 (25.4%)
2,759 (74.5%)
875 (23.1%)
2,859 (75.4%)
Wayne
726 (26.1%)
2,050 (73.7%)
727 (23.4%)
2,338 (75.2%)
District-wide
196,958 (49.91%)
196,964 (49.91%)
193,437 (47.0%)
209,858 (51.0%)
Those margins may not look impressive compared to Loebsack's easy re-election in 2016. He defeated first-time Congressional candidate Christopher Peters by 198,571 votes to 170,933 (53.7 percent to 46.2 percent), while Trump outpolled Clinton by 186,384 votes to 170,796 votes (49.1 percent to 45.0 percent).
Click on any county on this map to bring up the vote totals and percentages for Loebsack, Peters, Clinton, and Trump in 2016. The colors represent the Congressional results; Clinton only carried two of these 24 counties: Johnson and Scott (barely). This post contains county-level results for that race in table form.
County Name
| | | | |
| --- | --- | --- | --- |
| D | Canidate 1 | 61% | 30390 |
| R | Canidate 2 | 39% | 10390 |
Loebsack won with more than 60%
Loebsack won with more than 50%
Peters won with more than 50%
Peters won with more than 60%
Remember, though: Loebsack was a ten-year incumbent in 2016. Outside groups spent nothing trying to unseat him that year, and he more than tripled Peters' campaign spending.
Hart didn't have an incumbency advantage, faced an opponent who was much better known than Peters, and had to contend with millions of dollars in negative advertising.
There was one county where Hart received fewer votes than Biden and Miller-Meeks more votes than Trump. It's worth a closer look.
WHAT HAPPENED IN JOHNSON COUNTY?
Residents of Johnson County, containing the Iowa City area, reliably support Democratic candidates by large margins. Hart's share of the vote in Johnson was just shy of 70 percent and far higher than anywhere else, even her home county. But Democrats were dismayed to see Hart running behind the top of the ticket. Had she kept pace with Biden, IA-02 would be outside recount territory.
No one follows Johnson County elections more closely than John Deeth. From his recent deep dive on this year's numbers:
There was one issue in this election, that issue was Trump (his mis-handling of COVID was a sidebar to that story), and it was nearly impossible for a candidate in a down ballot race to break through that noise. Voters, especially new or infrequent voters, are reluctant to make marks in races they know little about. That led to some under-voting. Not a lot more than in previous years, but enough to make a difference.

In Johnson County, Theresa Greenfield ran 2114 votes behind Biden, and Rita Hart was 3053 behind Biden. Some of that was anti-Trump voters who crossed back to the GOP down-ballot. Trump ran 848 votes behind Joni Ernst and 1174 behind Miller-Meeks. So let's say as a rough measure about 1000 Republicans, about 5% of their voters, were Never Trump.

But the most haunting numbers of the whole election, in light of the 40 vote margin as I write, are the 3907 under votes in the congressional race. That share was highest in the student precincts and in trailer court dominated West Lucas.
As Deeth noted, this year's drop-off from the presidential race wasn't much larger than in the recent past. About 4.9 percent of Johnson County residents who cast a ballot in the 2020 general election didn't check any box in the U.S. House race. There were 3,267 under-votes in Loebsack's 2016 race against Peters out of 77,476 ballots cast in Johnson County (that is, 4.2 percent didn't vote for Congress). There were 3,651 under votes in Loebsack's 2012 race against John Archer out of 76,199 ballots cast in the county (4.8 percent).
A Johnson County reader speculated that ballot design might be the culprit, so I checked it out. Here's a sample ballot from an Iowa City precinct in 2016. The Congressional race is at the top of the right-hand column.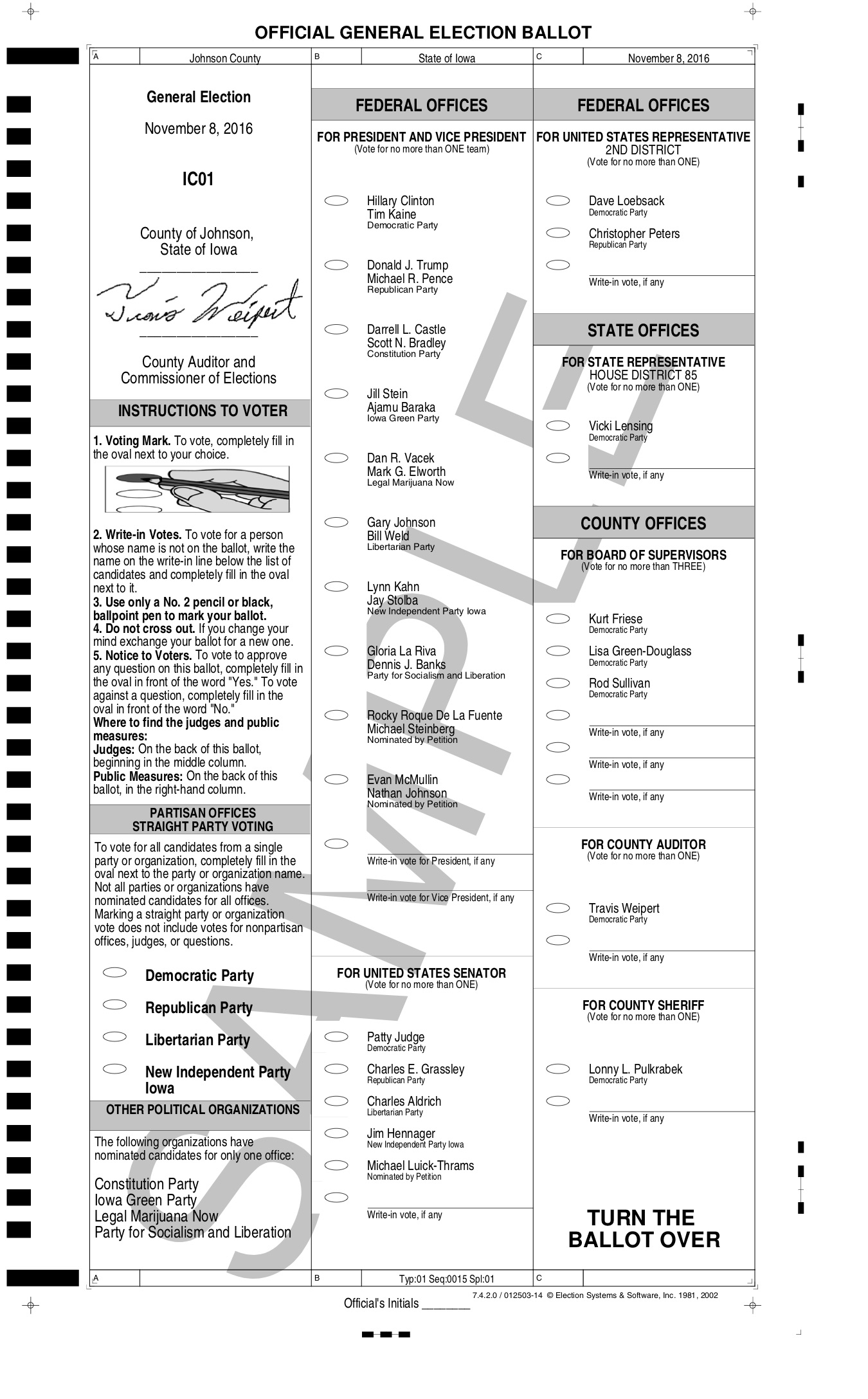 The Loebsack/Peters rematch had top billing on Johnson County ballots in 2018, when Iowa didn't have a U.S. senator up for re-election.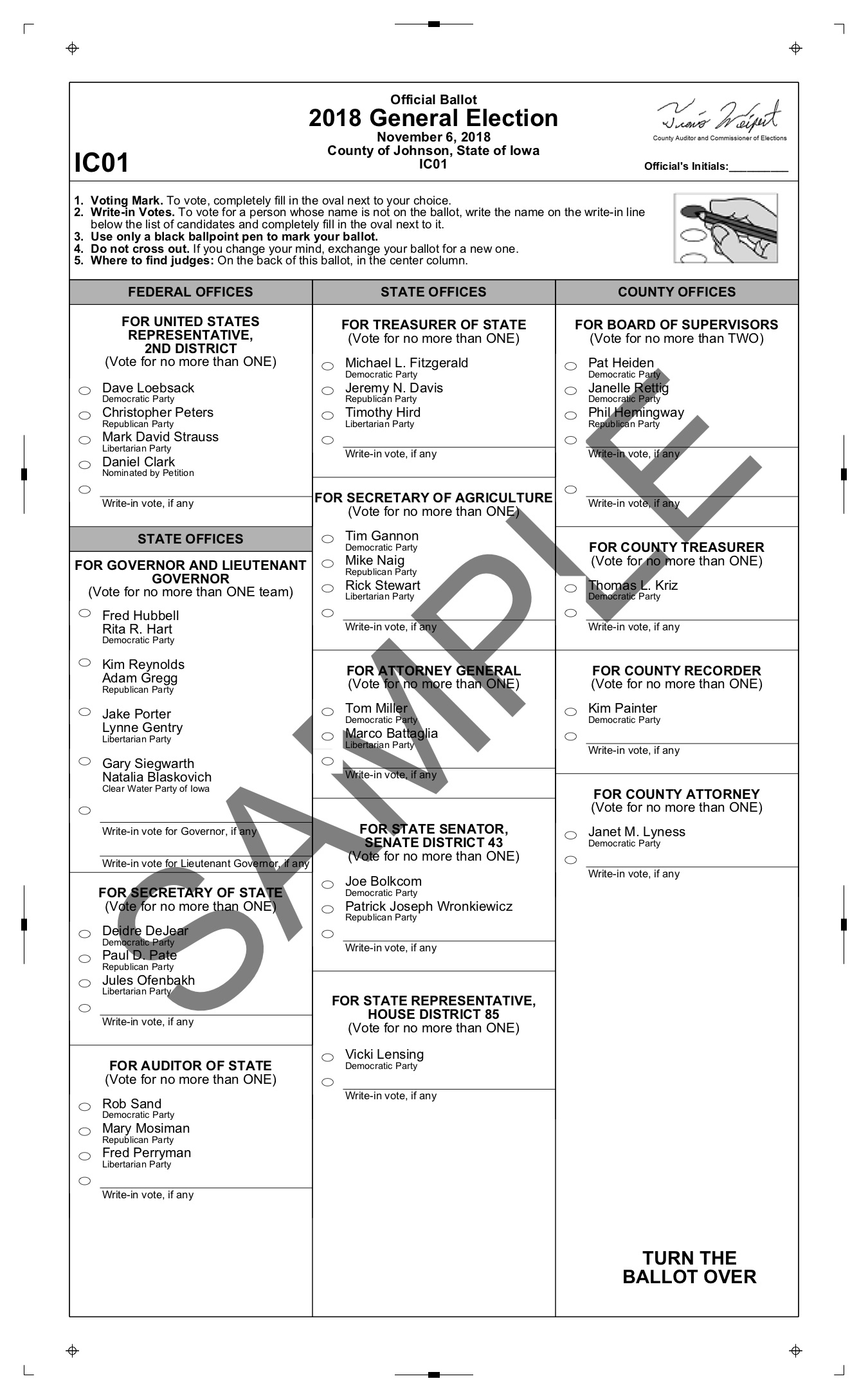 This year, the ballot lines for Hart and Miller-Meeks race were at the bottom of the left column, below a long list of presidential candidates and the Senate contenders.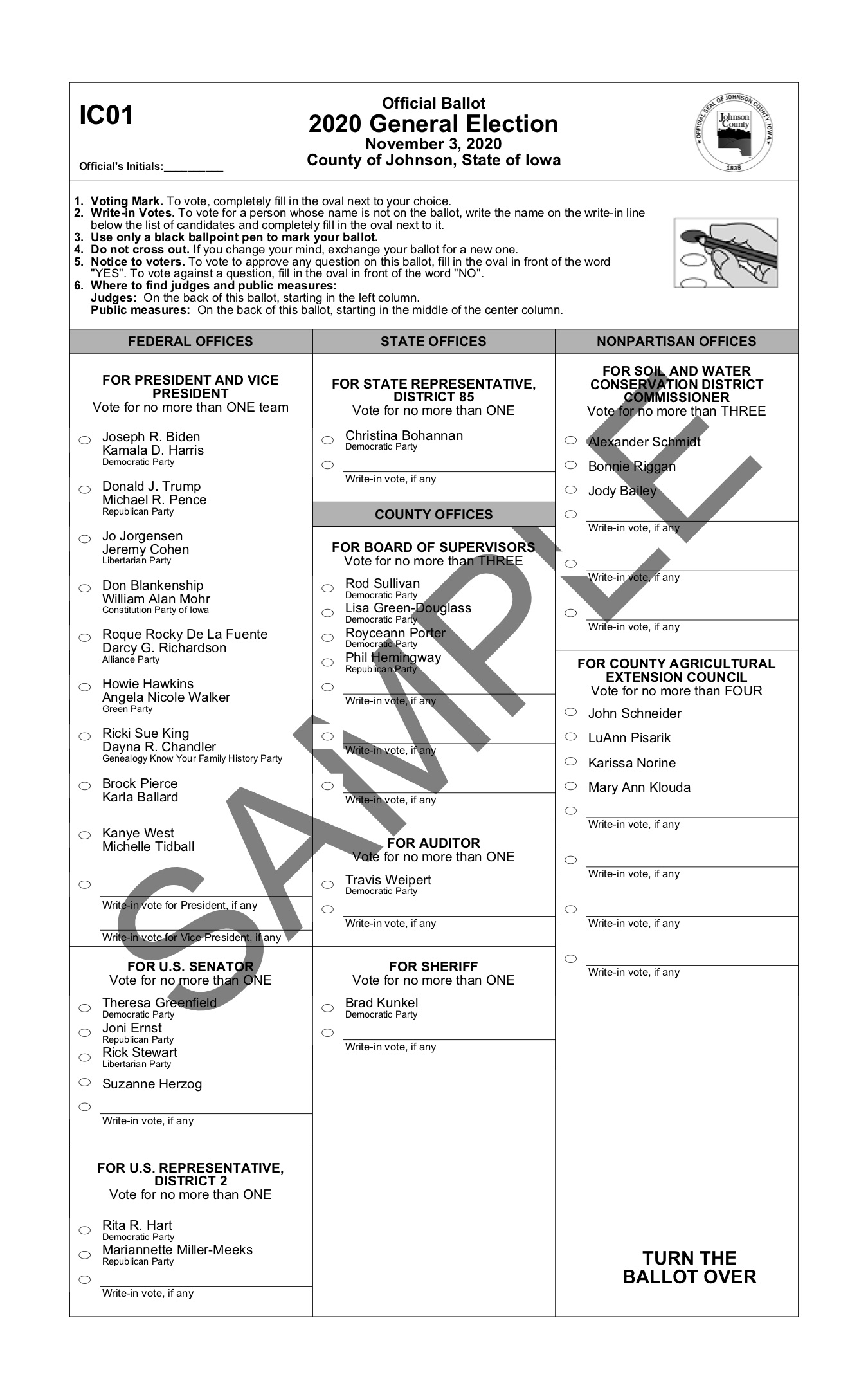 I wouldn't read too much into ballot design, because the percentage of Johnson County residents who didn't vote for either Hart or Miller-Meeks was comparable to what you'd find in a typical year. Still, it's unfortunate the House race wasn't more prominently featured, because a few dozen more votes for Hart could have produced a different result.
Speaking on behalf of the Miller-Meeks campaign–which absurdly called on Hart to concede with no recount–Eric Woolson provided an alternate hypothesis in an email to Bleeding Heartland on November 11.
As to Democratic hand-wringing about Senator Hart's underperformance in Johnson County, I would point out that the Miller-Meeks campaign targeted the county for additional attention because Mariannette Miller-Meeks is a doctor and former UI [University of Iowa] faculty member. As a result, Dr. Miller-Meeks has a unique appeal in Johnson County and outperformed President Trump in, I believe, 40 of its 57 precincts.
That could explain why Miller-Meeks did better than Trump here and nowhere else, but it doesn't account for the under-voting which hurt Hart more in this heavily Democratic county.
FINAL THOUGHTS
Since November 3, I have heard some Democrats gripe that Hart blew a race she should have won easily. They are not aware that Iowa no longer has any Democratic-leaning Congressional districts.
When a race is this close, any number of small decisions could have contributed to the outcome. But no one can reasonably argue that Hart did poorly. She's nearly tied in an open seat that Trump carried by 4 points. Trump's 2016 results in IA-02 looked like a fluke stemming from Clinton's unpopularity, but that's not a credible interpretation anymore. Hart's vote share is nearly 3 points higher than Biden's across the district, while Miller-Meeks' is about 1 point lower than Trump's.
Whoever is sworn in to represent this district in January, the 2020 election in IA-02 will be one for the history books. Our state's only U.S. House race that was closer, to my knowledge, was the 1916 election in Iowa's eleventh district, decided by a 131-vote margin. A recount conducted in 2018 following a U.S. House inquiry left the incumbent ahead by four votes.
Top image: Campaign photos of Rita Hart (left) and Mariannette Miller-Meeks.