All four Iowa Congressional districts will likely be competitive in 2020. Republicans were already targeting the first and third districts, where Representatives Abby Finkenauer and Cindy Axne defeated GOP incumbents last November. Democrats could make a play for IA-04, if Representative Steve King wins the GOP nomination again (as I expect).
Representative Dave Loebsack announced on April 12 that he will retire from Congress after completing his seventh term, rather than running for re-election in the second district. Both Sabato's Crystal Ball and the Cook Political Report immediately changed their ratings on IA-02 from "likely Democrat" to "toss-up."
A close look at Loebsack's last two elections shows why that's the right call.

A SHORT HISTORY OF REPUBLICAN ATTEMPTS TO UNSEAT LOEBSACK
Iowa's second district wasn't widely viewed as competitive when Loebsack challenged U.S. Representative Jim Leach in 2006. The National Republican Congressional Committee spent too little, too late to save a 30-year-incumbent from the Democratic wave.
Loebsack's first re-election bid was uneventful; outside groups spent less than $30,000 to influence the race, and Loebsack beat Republican Mariannette Miller-Meeks by a comfortable 57.2 percent to 38.8 percent margin. (The OpenSecrets database, operated by the Center for Responsive Politics, is the most user-friendly resource on spending in Congressional campaigns.)
Miller-Meeks challenged Loebsack again in 2010. Although national Republican groups mostly ignored the race, the conservative dark money group American Future Fund placed a negative tv ad about Loebsack. The incumbent started running his first negative television commercial in early October, and the Democratic Congressional Campaign Committee was scared enough to spend nearly $600,000 on two tv ads attacking Miller-Meeks (see here and here). Loebsack survived the Republican landslide that ended many Iowa Democratic political careers, but only by a 51.0 percent to 45.9 percent margin.
The political map adopted in 2011 changed Loebsack's territory significantly and forced him to move. The most-populous county from his old district (Linn, containing the Cedar Rapids area and Loebsack's longtime home) became part of IA-01. In exchange, IA-02 picked up Scott County.
Not only had Loebsack not represented the Quad Cities area before, Scott County has for decades been less of a Democratic vote-producer than Linn County. As of 2011, the new IA-02 had a partisan voter index of D+4, compared to D+7 for Loebsack's previous district. (The Cook Political Report developed the PVI to "measure how each district performs at the presidential level compared to the nation as a whole.")
Loebsack's voting pattern changed during his third term, partly because of his redrawn district, and also because 2011 was his first year serving in a Republican-controlled House. He occasionally voted for GOP bills opposed by most of the Democratic caucus, such as a constitutional amendment requiring a balanced federal budget, legislation against so-called "farm dust" regulations, and an attempt to block some rules affecting small business. In addition, Loebsack often highlighted his support for the Rock Island Arsenal, a major employer in the Quad Cities area.
The Democratic Congressional Campaign Committee put Loebsack in its "frontline" program for vulnerable incumbents in early 2012. Loebsack raised substantially more money for that campaign than he had the previous cycle. Both individual and political action committees gave more, with PACs providing about 60 percent of Loebsack's campaign funds.
Republicans made a big play for IA-02 in the first election under Iowa's new map, spending more than three-quarters of a million dollars against Loebsack. Internal polling didn't worry Democrats as the campaign wore on; the DCCC spent less than $100,000 here and didn't run tv ads against GOP challenger John Archer. Loebsack won a fourth term by 55.6 percent to 42.5 percent, almost identical to President Barack Obama's 55.8 percent to 42.7 percent advantage over Mitt Romney in the IA-02 counties.
Miller-Meeks took a third crack at running for Congress in 2014, and she had Loebsack worried. He raised and spent more than he had on his previous re-election bids, as the NRCC spent nearly $950,000 against him. The DCCC and the House Majority PAC (a Democratic-aligned super-PAC) spent more than $500,000 combined against Miller-Meeks. But while the 2014 general election was dreadful for many Iowa Democratic candidates, Loebsack held off Miller-Meeks by 52.5 percent to 47.4 percent.
Republicans and their conservative allies gave up on IA-02, spending nothing on Loebsack's race in 2016 or last year. Loebsack faced the same challenger, Christopher Peters, in both cycles and more than doubled his opponent's spending each time.
LOEBSACK SUBSTANTIALLY OUTPERFORMED HILLARY CLINTON IN 2016
In retrospect, Republicans may have missed an opportunity by not targeting Loebsack during the last presidential cycle. Donald Trump had led Iowa polls for months, but the scale of his victory here–by a greater margin than he won Texas–was surprising. Trump carried all four Iowa Congressional districts, gaining 186,384 votes (49.1 percent) in the IA-02 counties to 170,796 votes (45.0 percent) for Hillary Clinton. Republicans picked up two state Senate seats in Loebsack's territory and nearly took out a third Democratic senator in southeast Iowa.
Meanwhile, Loebsack defeated Peters by 198,571 votes to 170,933 (53.7 percent to 46.2 percent).
Click on any county on this map to bring up the vote totals and percentages for Loebsack, Peters, Clinton, and Trump in 2016. The colors represent the Congressional results; Clinton only carried two of these 24 counties: Johnson and Scott (barely). I took the data from the official canvass of the 2016 election. Another good resource to bookmark is the Daily Kos spreadsheet showing the 2016 presidential results in all Iowa Congressional districts and counties.
County Name
| | | | |
| --- | --- | --- | --- |
| D | Canidate 1 | 61% | 30390 |
| R | Canidate 2 | 39% | 10390 |
Loebsack won with more than 60%
Loebsack won with more than 50%
Peters won with more than 50%
Peters won with more than 60%
For those who prefer tables, here are the votes for major-party Congressional and presidential candidates in 2016, with counties in descending order by total ballots cast.
Votes for Congress and president in IA-02 counties, 2016
County
Loebsack votes
Peters votes
Clinton votes
Trump votes
Scott
44,445
38,997
40,440
39,149
Johnson
50,691
23,386
50,200
21,044
Clinton
12,185
10,214
10,095
11,276
Muscatine
9,946
8,780
8,368
9,584
Des Moines
10,190
8,089
8,212
9,529
Jasper
8,809
9,455
7,109
10,560
Marion
6,611
10,276
5,482
10,962
Lee
8,543
7,152
6,215
8,803
Wapello
7,574
6,912
5,594
8,715
Washington
4,905
5,621
3,943
6,173
Mahaska
3,384
6,585
2,619
7,432
Henry
4,141
4,861
2,904
5,779
Cedar
4,658
4,549
3,599
5,295
Jefferson
4,572
3,194
3,710
3,748
Appanoose
2,590
3,253
1,814
4,033
Louisa
2,179
2,639
1,648
3,069
Keokuk
1,945
2,754
1,342
3,390
Clarke
1,925
2,246
1,465
2,713
Lucas
1,585
2,511
1,239
2,877
Davis
1,795
1,959
977
2,723
Monroe
1,731
1,898
1,056
2,638
Decatur
1,577
1,914
1,201
2,296
Van Buren
1,455
2,001
845
2,527
Wayne
1,135
1,687
719
2,069
District-wide
198,571
170,933
170,796
186,384
LOEBSACK ALSO OUTPERFORMED FRED HUBBELL IN 2018
Though Loebsack spent more on his 2018 rematch against Peters than he had in any previous election cycle, few people considered the IA-02 race competitive. Aided by the advantages of incumbency and stronger Democratic turnout than usual for a midterm election in Iowa, the incumbent won 171,446 votes (54.8 percent) to 133,287 votes (42.6 percent) for Peters. A Libertarian took about 2 percent of the vote, mostly hurting Peters. With only two candidates on the ballot in 2016, the Republican had lost to Loebsack by a smaller margin.
Using the Iowa Secretary of State's official results, I created this interactive map to show how the leading Congressional candidates, Governor Kim Reynolds, and her Democratic challenger Fred Hubbell did in each county. Although Hubbell fared better than Clinton had two years earlier, he didn't match Loebsack's vote share anywhere. The colors represent the Congressional voting. Hubbell carried only six counties in Loebsack's district: Johnson, Scott, Lee, Des Moines, Jefferson, and Clinton (barely).
County Name
| | | | |
| --- | --- | --- | --- |
| D | Canidate 1 | 61% | 30390 |
| R | Canidate 2 | 39% | 10390 |
Loebsack won with more than 70%
Loebsack won with more than 50%
Peters won with less than 50%
Peters won with more than 50%
Peters won with more than 60%
Here are the vote totals in table form, with counties listed from most to least ballots cast in 2018.
Votes for Congress and governor in IA-02 counties, 2018
County
Loebsack votes
Peters votes
Hubbell votes
Reynolds votes
Scott
38,282
29,012
35,147
32,750
Johnson
49,010
16,998
48,758
18,119
Clinton
9,864
7,725
9,047
8,847
Jasper
7,519
7,622
7,234
8,377
Des Moines
8,546
6,138
8,038
6,827
Muscatine
7,797
6,569
7,081
7,535
Marion
5,630
8,796
5,249
9,479
Lee
6,515
5,578
6,387
5,973
Wapello
5,775
5,169
5,480
6,313
Washington
4,272
4,595
3,746
5,189
Mahaska
2,712
5,489
2,409
6,007
Cedar
4,098
3,725
3,518
4,409
Henry
3,211
3,950
2,996
4,294
Jefferson
4,201
2,644
3,750
3,146
Appanoose
2,055
2,770
1,834
3,101
Keokuk
1,574
2,377
1,294
2,716
Louisa
1,679
2,031
1,469
2,288
Clarke
1,525
1,939
1,280
2,341
Lucas
1,295
2,106
1,172
2,335
Monroe
1,294
1,717
1,061
2,053
Davis
1,389
1,646
1,002
2,070
Decatur
1,122
1,651
1,008
1,872
Van Buren
1,197
1,634
839
2,026
Wayne
884
1,406
722
1,624
District-wide
171,446
133,287
160,521
149,691
Note that even though Reynolds was an incumbent, Hubbell outpolled her by nearly 11,000 votes across Loebsack's district, winning a slight majority in the IA-02 counties. He lost the governor's race by a little more than 36,000 votes.
In other words, IA-02 still leans Democratic compared to the state as a whole. That's consistent with current voter registration totals, showing that these 24 counties contain 166,185 active registered Democrats, 143,331 Republicans, and 185,479 no-party voters. The GOP leads Democrats in statewide voter registrations by 643,447 to 619,782, with 726,226 no-party voters.
Although the incumbency advantage in Congressional races is not as large as it used to be, researchers at FiveThirtyEight.com crunched the numbers from the 2018 elections and found that House incumbents got a boost of a little less than 3 percent in their districts.
Without Loebsack on the ballot, Democrats will have to fight harder to win this district, especially since Republican and GOP-aligned groups will surely spend money here. The current Cook PVI for IA-02 is just D+1, indicating that taking the 2012 and 2016 presidential results together, residents of Loebsack's district voted about 1 point more Democratic than the country as a whole.
WHO MIGHT RUN IN 2020?
I expect competitive primaries for both major parties' nominations. The first Democrat to announce could be Iowa City business owner Veronica Tessler.
Many Democrats have encouraged former State Senator Rita Hart to run, and she is thinking about it. A farmer and former educator who represented a swing district in Clinton and Scott counties, Hart was Hubbell's running mate in 2018. She would be the favorite in the primary if she goes for it.
Newly-elected State Senator Zach Wahls has long been seen as a likely Congressional candidate someday. He could run in 2020 without giving up his position in Senate district 37. UPDATE: Wahls tweeted on April 14, that he "had a great conversation" with Hart the previous day. "If she chooses to run for Congress, she will have my full support. She's smart, tough, and a terrific fit for #IA02."
Other possible candidates include State Representative Wes Breckenridge, who is from Jasper County, and Davenport attorney Ian Russell.
A crowded field will likely emerge on the Republican side. Peters posted on Facebook on April 12 that he's on vacation in Italy and will "defer any further discussion" about IA-02 "for another week or two." Miller-Meeks was just elected in 2018 to represent Iowa Senate district 41 and could run for Congress without giving up her legislative office. So could State Senator Roby Smith, who represents part of Scott County.
State Senator Mark Lofgren sought to challenge Loebsack in 2014, but raised little money and lost the primary to Miller-Meeks. He won Iowa Senate district 46 (parts of Muscatine and Scott counties) two years later and would have to choose between seeking re-election and running for higher office in 2020.
According to Erin Murphy's article for the Quad-City Times, State Representative Bobby Kaufmann (the son of Iowa GOP state party chair Jeff Kaufmann) received 350 calls or text messages during the two hours after Loebsack announced plans to retire. Murphy wrote that Bettendorf Mayor Bob Gallagher is "Another Republican sometimes mentioned" as a Congressional candidate.
Any comments about what should be a fascinating campaign in IA-02 are welcome in this thread.
UPDATE: I forgot to mention that this could be an expensive race, since the IA-02 counties are located in five different media markets. Clinton, Scott, Muscatine, Louisa, Des Moines, and Henry counties receive Quad Cities television stations. Johnson, Cedar, Keokuk, and Washington counties are part of the Cedar Rapids market. Jasper, Marion, Mahaska, Monroe, Lucas, Clarke, Decatur, Wayne, and Appanoose counties receive Des Moines television stations. Wapello, Jefferson, Davis, and Van Buren counties are part of Ottumwa-Kirksville. Lee County is part of the Quincy, Illinois market.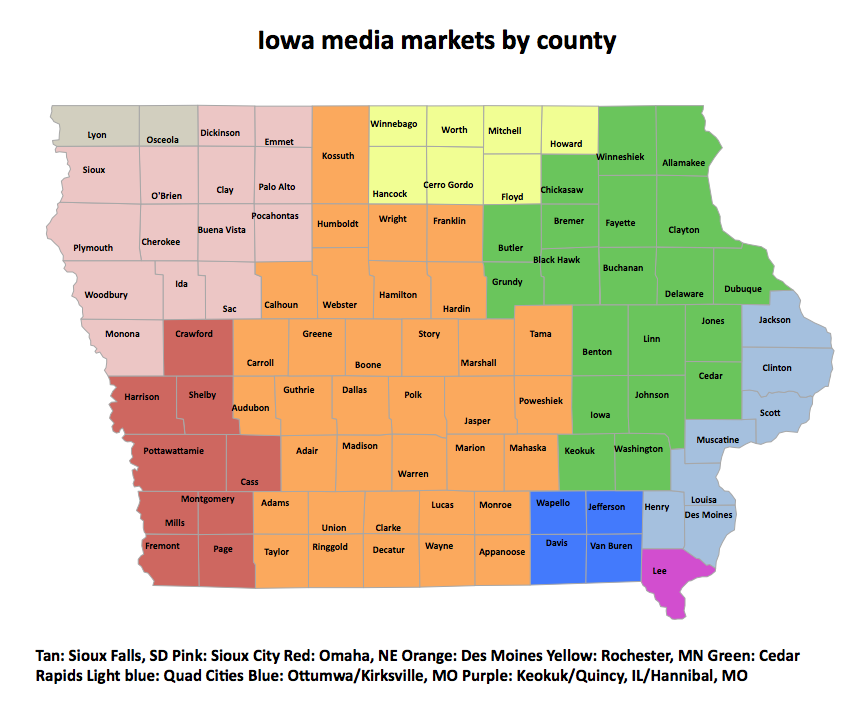 LATER UPDATE: James Q. Lynch reported for the Cedar Rapids Gazette on April 16 that State Senator Kevin Kinney may seek the Democratic nomination.
"I'm talking to people here in Des Moines, back home and my family," Kinney said, adding that he hopes to make a decision within the next few weeks.

"I feel like I would be a good fit for the district. I come from the same background that many in the district come from," he said. I've been in agriculture my entire life, been involved in law enforcement for 30 years and I just feel I would be a good representation for the whole district." […]

Kinney, 56, who was first elected in 2014, previously served on the Clear Creek Amana school board. He's the ranking Democrat on the Iowa House Agriculture and Judiciary committees and serves on Ethics and Transportation committees as well as the Agriculture and Natural Resources Appropriations Subcommittee.
On the Republican side, Michael Bousselot (a former chief of staff to Governor Terry Branstad) was floated as a possible GOP candidate during the last election cycle, because he is from Davenport. But Bousselot lives and works in the Des Moines area now, and I haven't heard any recent speculation that he may move back east.
Appendix 1: April 12 news release from Representative Dave Loebsack
Loebsack Announces He Will Retire at End of 116th Congress

Congressman Dave Loebsack released the following statement today after announcing that he will be retiring at the end of the 116th Congress. Loebsack was first elected in 2006 and will have served for a total of 14 years at the end of this 116th Congress. A list of Loebsack's accomplishments throughout the years can be found here.

"I have enjoyed beyond my expectations serving the people of Iowa's Second District for the past 13 years. Having grown up in poverty, I never would have imagined having the honor of serving as the voice of Iowans in the U.S. House of Representatives. To best achieve that, I made it a point to meet with folks where they live, work and play in order to focus on improving their lives. I have worked hard to ensure ALL Iowans have had their voice heard.

"When first elected, I had planned to serve no more than 12 years. However, after Donald Trump assumed the presidency, it became apparent that I needed to run for at least one more term in the hopes that I could provide a check on his worst impulses. Currently, there are nearly two years remaining in this term and I look forward to playing an important role in the new House majority, not only to prevent further damage done by President Trump, but to also help set the stage for a new Democratic president to be inaugurated in January of 2021.

"In the remainder of my service, I will continue to serve the people of Iowa with the same energy and commitment that I have devoted to this job from the beginning. In particular, I will continue to focus on growing the middle class and helping provide opportunity to folks seeking to move into the middle class. To that end, I will keep up my efforts to ensure access to affordable, quality healthcare for all; increase access to quality education at all levels to provide the opportunity to achieve; and expand access to quality broadband, especially in rural communities and for those who would be unable to achieve the American dream if they can't receive the service they need.

"Finally, I will never forget our veterans. These men and women were willing to make the ultimate sacrifice for our nation and we must ensure that we care for them with the same dignity and honor with which they served."
Appendix 2: Document from Representative Dave Loebsack's office highlighting his accomplishments
Dave Loebsack: Standing Up for All Iowans
15 things Dave has done to move Iowa forward
1. Bringing good-paying jobs into Iowa Dave is working to build things in America again. Dave secured the passage of portions of his SECTORS bill as part of the Workforce Innovation and Opportunity Act. SECTORS uses Iowa community colleges and local industry as models for how to create and retain good-paying jobs in rural areas while growing local industry. He is expanding on this work with his recent New Jobs training Act, which helps close the skills gap by connecting community colleges and local businesses to create training programs.
2. Fighting for Iowa's renewable industries to promote homegrown energy Dave understands the economic development possibilities for Iowa's renewable energy industry are endless. This is why he has supported and fought for greater exploration and development of renewable energy sources and has worked with his colleagues to pass increased federal investment in renewable energy.
3. Lowering the tax burden on hard working families and small businesses Dave has introduced commonsense legislation to allow working and middle class Iowans to keep their tax cuts, while protecting small businesses and family farms.
4. Standing up for our Troops and Veterans With his own children serving in the Marines, Dave is dedicated to doing all that he can to help our servicemembers and veterans, including making sure that they have the equipment and training they need to safely complete their missions and the benefits, care, and civilian jobs they deserve when they get home. He's fought for the National Guard on many fronts – including education, mental health care, benefits, and stopping cuts to the Iowa National Guard.
5. Cleaning Up Washington Dave is working to hold Congress accountable and clean up Washington. He co-introduced legislation to cut Members of Congress' pay for the first time since the Great Depression; he's pledged never to become a lobbyist and is working to stop the revolving door between Congress and lobby shops; he's pushed to stop Members of Congress' pay if a budget isn't passed on time; and he has introduced legislation to require greater disclosure of travel taken by Members of Congress.
6. Connecting rural communities Dave has been fighting to make sure that rural communities have the same broadband access as urban communities. In an increasingly connected world, broadband is no longer a luxury, but a necessity to compete in the 21st century.
7. Working to grow the economy for all Iowans Dave believes that creating jobs is not a partisan issue. He has worked across the aisle to promote legislation that increases American manufacturing, invests in infrastructure, provides tax cuts for Iowa industries, and benefits Iowa farmers.
8. Cracking down on corporations that ship jobs overseas Dave is also committed to cracking down on corporation that ship jobs overseas and use offshore accounts to create tax loopholes.
9. Standing up for Iowa families Dave will always stand up for what's right. That includes fighting for everyday Iowans and working on common-sense, practical solutions for Iowa.
10. Ensuring access to the same quality of health care Dave wants each and every Iowan to have the same health care coverage that he does as a Member of Congress. He is committed to ensuring that the Affordable Care Act works for Iowa families.
11. Improving rural health care accessibility Dave introduced a bill that was signed into law that makes it easier for Critical Access Hospitals to provide care in our rural communities. He is committed to ensuring that Iowans have access to high-quality, affordable health care no matter where they live.
12. Strengthening the Rock Island Arsenal Dave knows the Rock Island Arsenal is critical to the Quad Cities and our national security. He's worked on a bipartisan basis to strengthen the Arsenal, support the good jobs there, and ensure it remains a central piece of economic development in the Quad Cities for years to come.
13. Increasing College Access Dave grew up in poverty and without a good education and community support, he would not be where he is today. That's why he is so proud to have written a student aid bill that increases the maximum Pell Grant and keeps interest rates low on subsidized federal student loans – all at no additional cost to the taxpayer. He also led the charge in keeping interest rates low on student loans for Iowa's families.
14. Enhancing Pell Grants Dave is working to reinstate year-round Pell so that part-time students who are working and attending classes or going back to school and have other commitments can still access aid to help them attain additional education. He also supports legislation to increase the maximum Pell Grant award by $4040, making the new maximum award $8,900.
15. Addressing rising deficits As a father and grandfather, Dave knows how important it is that we address our rising deficit. That's why he supports a congressional pay cut. This would be the first pay cut since 1933. Dave knows that just like Iowa families are tightening their belts, Members of Congress should too.