U.S. Senator Chuck Grassley tested positive for COVID-19 on November 17, he announced on Twitter.
U.S. Representative-elect Ashley Hinson tested positive last week.
Grassley's spokesperson declined to say where the senator was exposed the virus. Hinson told reporters she had "no idea" how she got COVID-19 and didn't care to speculate.
Bleeding Heartland wishes Grassley, Hinson, and every person affected by coronavirus a speedy recovery.
As Iowa hospitals near the breaking point, now would be a good time for Republican politicians to apologize for holding numerous in-person campaign events in October, when our state's case numbers and hospitalizations were exploding, and virus-related deaths were accelerating.

For months, the White House Coronavirus Task Force has urged Iowa leaders to take stronger action to limit COVID-19 community spread. Every week in October, Iowa was among the ten worst states for new cases per capita.
Nevertheless, Republicans gathered at campaign events across the state, mostly indoors. And while Grassley and Hinson typically wore masks at such appearances, many attendees did not. Masks protect other people more than the wearer. If anyone with an uncovered face was unknowingly carrying the virus, they could have spread it to others, especially those with eyes unprotected from respiratory droplets.
Here's Hinson at an indoor event with Senator Joni Ernst in Dubuque on October 17.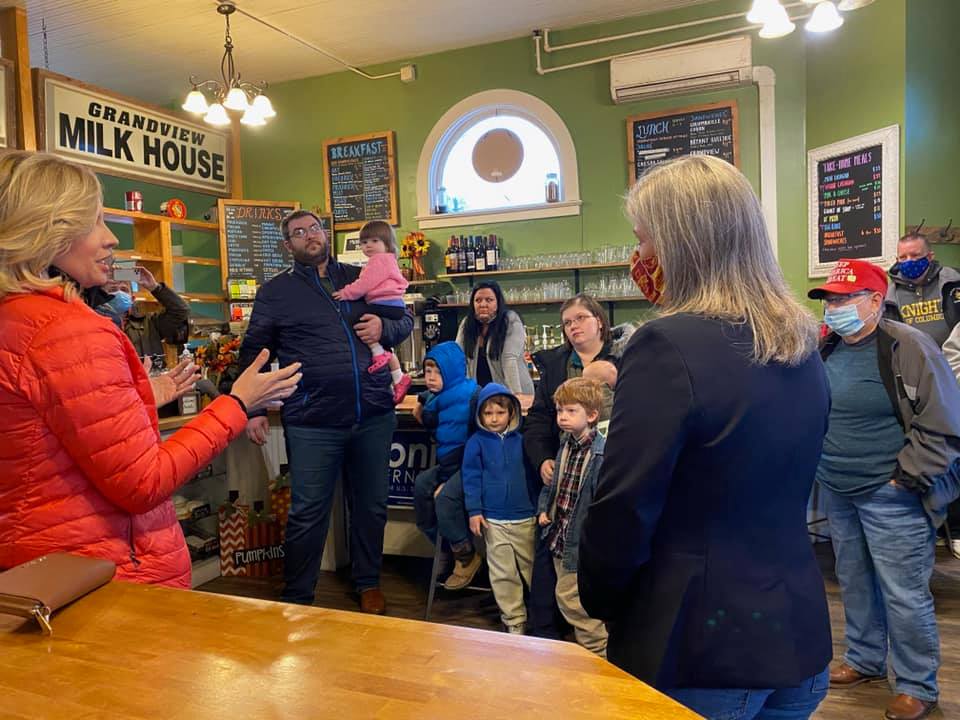 Later the same day, with an unmasked fan after dining indoors in Prairieburg (Linn County).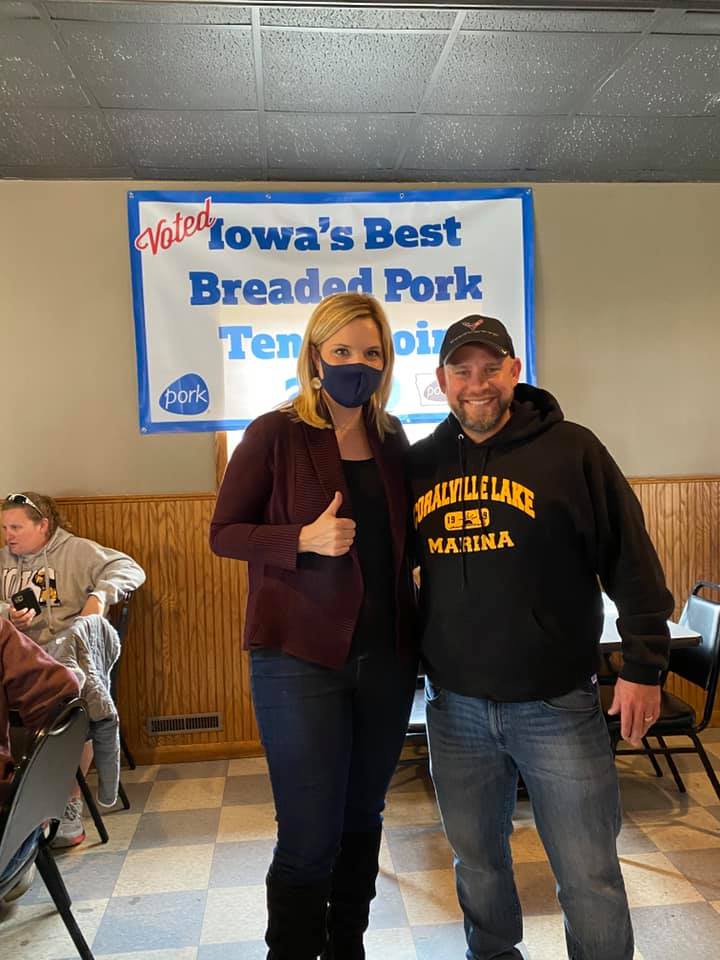 Here's Hinson with some unmasked senior citizens in Independence on October 24.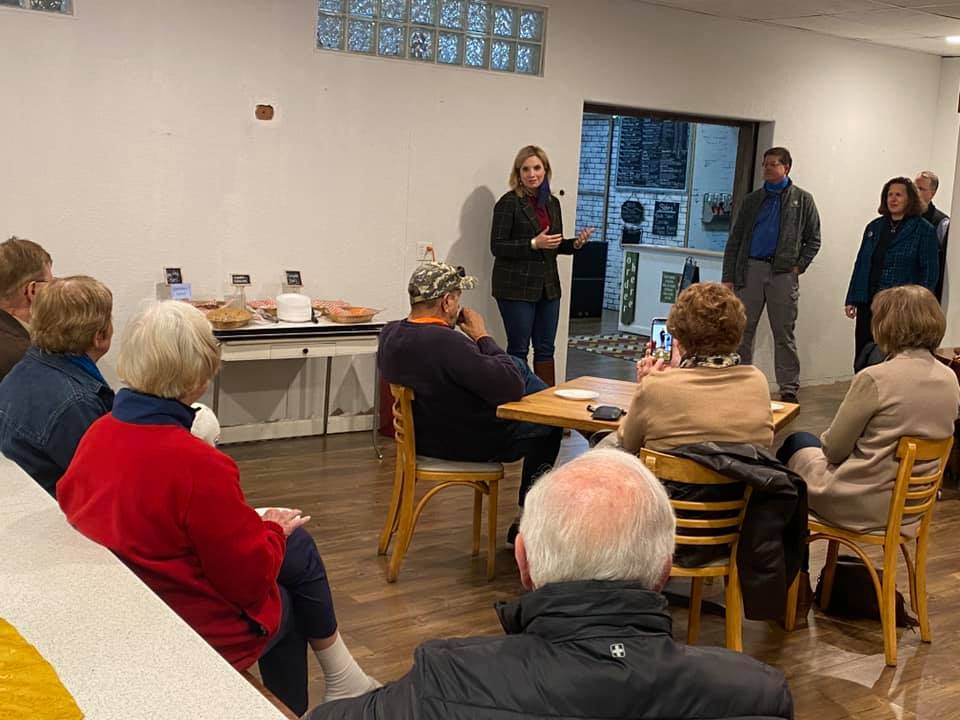 Speaking with diners at a Vinton restaurant on October 28.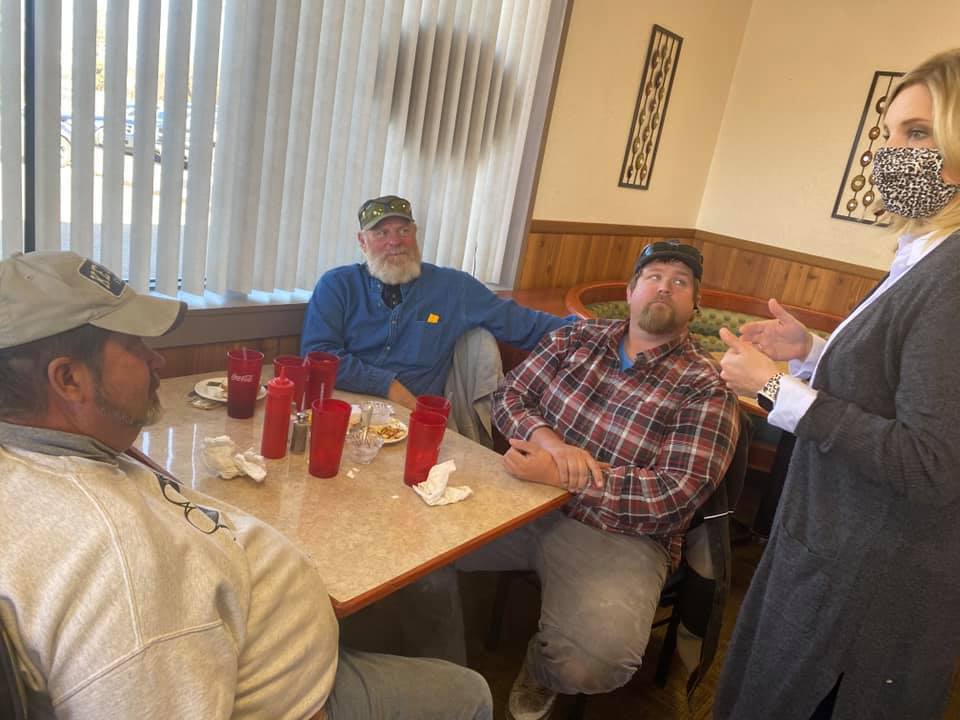 Earlier the same day, Hinson and Grassley led a round table discussion at a Marion coffee shop.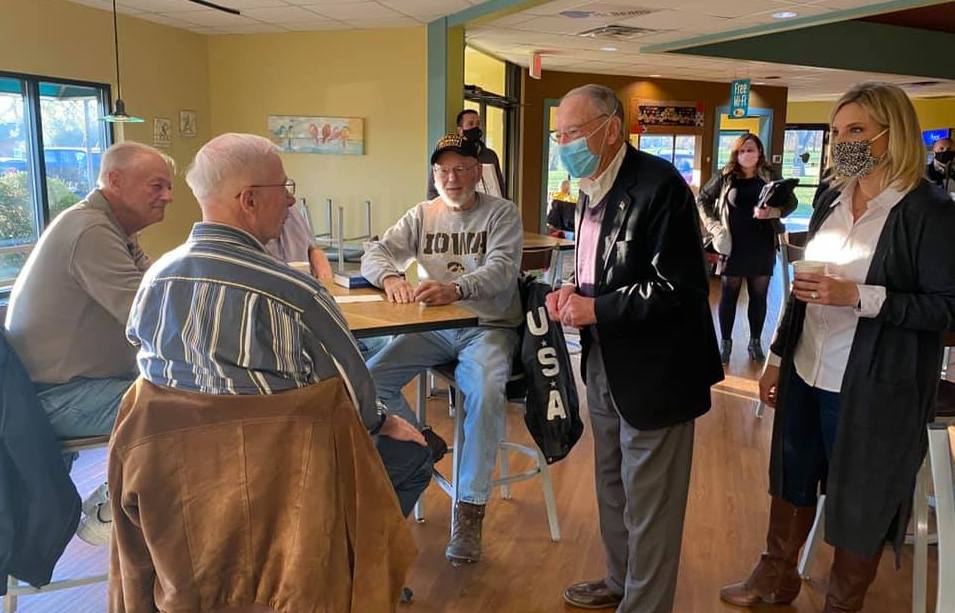 Grassley's mask at times slipped below his nose, offering less protection.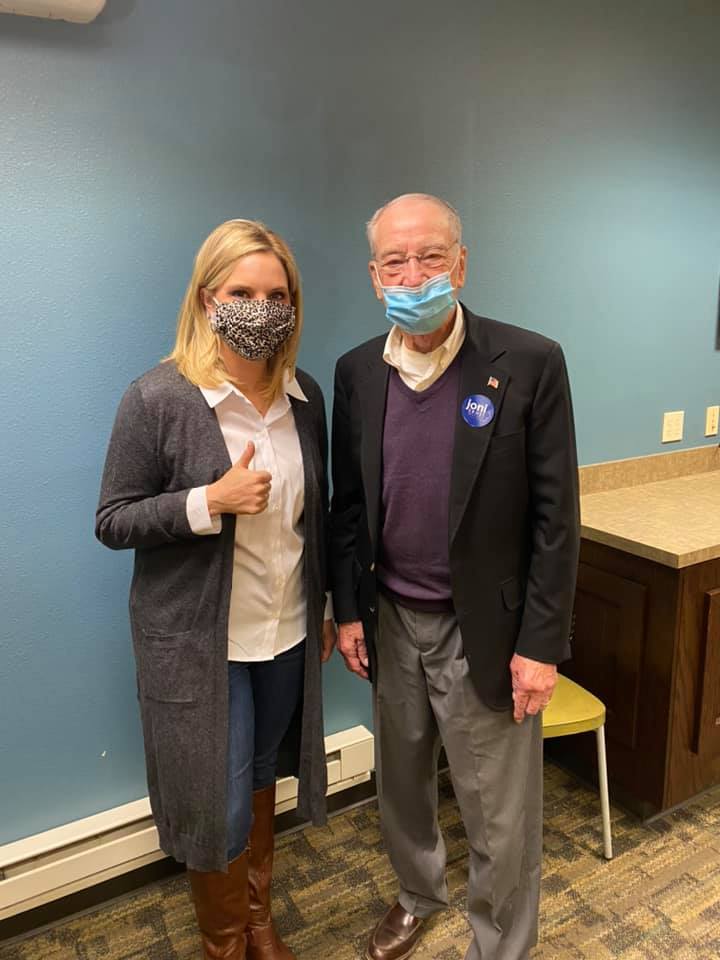 Hinson also appeared at an indoor event that drew about 400 people in Cedar Rapids on October 26. The headliner, Donald Trump Jr., used the occasion to assure fans that the COVID-19 "death rate is almost nothing," due to supposed advances in testing and treatments.
Tell that to the loved ones of more than 400 Iowans who have died since Trump Jr's visit.
Hinson wore her mask, but the younger Trump didn't as he greeted well-wishers.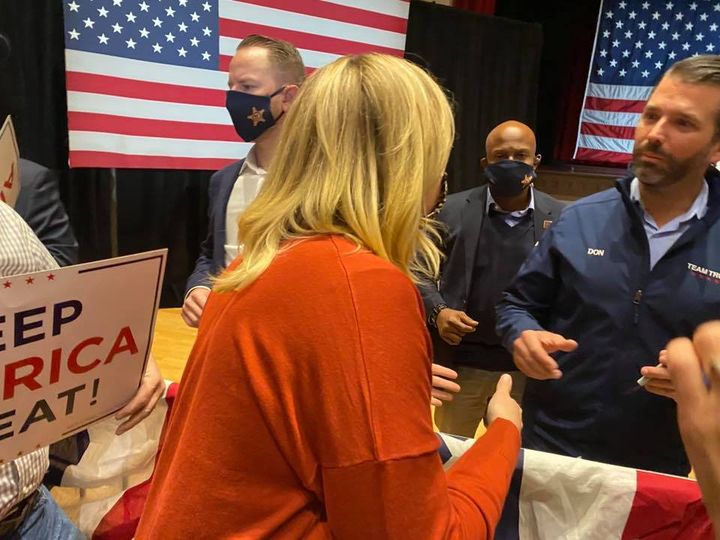 During the closing days of the campaign, Grassley, Hinson, and other Republican luminaries appeared at massive outdoor rallies featuring Vice President Mike Pence in Des Moines on October 29 and President Trump in Dubuque on November 1. Published photos showed most in the crowds neither wore masks nor kept a safe distance from one another.
Every White House Coronavirus Task Force weekly report from October noted that Polk and Dubuque counties were among Iowa's top three for new cases, with Dubuque in the "red zone" where "public and private gatherings should be as small as possible and optimally, not extend beyond immediate family."
We can rarely tie any person's illness to a specific event, but it is a statistical certainty that some people in those crowds of thousands spread the virus to others. Researchers at Stanford University examined COVID-19 cases in communities where Trump held eighteen rallies between June 20 and September 22. Berkeley Lovelace Jr. reported for CNBC,
They compared the counties where the events were held to other counties that had a similar trajectory of confirmed Covid-19 cases prior to the rally date. Out of the 18 rallies analyzed, only three were indoors, according to the research.

The researchers found that the rallies ultimately resulted in more than 30,000 confirmed cases of Covid-19. They also concluded that the rallies likely led to more than 700 deaths, though not necessarily among attendees.
Speaking to Iowa reporters on a November 13 conference call, Hinson noted that the Cedar Rapids area was a "hotspot" for COVID-19 spread.
"I don't want to speculate on where I got the virus other than I'm doing what I need to do to follow guidelines to make sure I protect my family and keep the community safe," Hinson said.
Too bad Hinson and others didn't follow guidelines last month, when the White House Coronavirus Task Force repeatedly warned that "group gathering sizes should be limited" (October 4 report), and said mitigation efforts "must be strengthened in areas with increasing cases and test positivity," to include "avoiding crowds in public and social gatherings in private" (October 11, October 18, and October 25).
Keeping the community safe should matter as much before elections as after.
Top image: Cropped from a photo posted on Ashley Hinson's political Facebook page.