Editor's note from Laura Belin: The Governmental Accounting Standards Board and the Government Finance Officers Association now discourage use of the common acronym for this report, because when pronounced it sounds like a racial slur. Bleeding Heartland will avoid using the acronym in the future. Original post follows.
The state of Iowa missed a deadline for publishing a key report on its finances because Iowa State University was unable to provide the data on time.
Iowa's public universities have typically submitted their financial information to the state by October 1, allowing the state to complete its Comprehensive Annual Financial Report (CAFR) by December 31. But ISU is more than four months behind schedule in submitting data for fiscal year 2020.
The delay stems from the university's transition to a new accounting method using Workday software, raising concerns about the functionality of the computer system state government committed to in 2019.

"HAS NOT BEEN ABLE TO PROVIDE THE REQUIRED FINANCIAL INFORMATION"
Iowa's fiscal year runs from July through June, but the state closes the books for each year on September 30. The state Department of Administrative Services then compiles the annual reports, which include numerous financial statements on entities and funds associated with state government or its component units.
Most states issue their CAFR within six months after the end of a fiscal year. Though the Governmental Accounting Standards Board lacks the authority to establish deadlines, it recommends timely financial reporting. The Government Finance Officers Association requires governments to submit their CAFR "no later than six months after the government's fiscal year end" to be eligible for the organization's Certificate of Achievement for Excellence in Financial Reporting, which Iowa received for its report on fiscal year 2018.
The state was required to post its latest annual report by January 26 on the Electronic Municipal Market Access (EMMA) website, the leading source of information on municipal bonds. Instead, on January 22 that site published a letter from Iowa Department of Management Director David Roederer, explaining the CAFR was late because a reporting entity "has not been able to provide the required financial information." The letter promised the state would "complete the CAFR and promptly post to the EMMA website once full financial information from all reporting entities has been received."
ISU communications staffer Angie Hunt confirmed last week that the university hasn't submitted all of its financial data, adding that the information "should be available by mid-February." Asked how long it would take to finish the CAFR once state officials have all the relevant data, Department of Management staff referred questions to the Department of Administrative Services, whose staff have not responded to Bleeding Heartland's iniquiry.
"LEARNING CURVE" ASSOCIATED WITH ISU'S NEW FINANCIAL SYSTEM
Reporting requirements for state entities didn't change last year. Asked for more context surrounding ISU's failure to send financial data on the usual timetable, Hunt explained via email on January 29,
There are several factors contributing to the delay. For fiscal year 2020, Iowa State transitioned from a cash-based to an accrual-based accounting method. This was a significant change to provide university departments and units with real-time financial information and reports.
In a cash-based systen, revenue and expenses are recorded "only when money changes hands, but accrual accounting recognizes revenue when it's earned, and expenses when they're billed (but not paid)."
Going back to Hunt's comments:
With any new system, there is always a learning curve, and it has taken longer than expected to complete this year's financial report. At the same time, there have been staff retirements and changes, as well as significant time and effort spent adjusting the financial system to meet critical tracking of financial issues related to the continuing pandemic.
Hunt added that staff from other ISU departments "are assisting to complete the report, submitting financial pieces to the state as they are completed."
The accounting transition has been in the works for years. ISU "signed a $17.7 million, five-year contract with Workday in September 2016," Erin Jordan reported for the Cedar Rapids Gazette last year. Extensive planning went into creating a "custom configuration of Iowa State's Workday platform," the university announced in 2017.
The system was supposed to go live during the second half of 2018, but the team working on the project recommended rolling out the human resources, payroll, and financial platforms on July 1, 2019 (the first day of fiscal year 2020). According to a March 2018 article by Erin Rosacker for Inside Iowa State,
The Workday system is being configured to meet Iowa State's needs for its financial, human capital and payroll processes. Functional testing is happening right now and will continue into early summer, followed by comprehensive testing with other on- and off-campus systems.

"The new go-live date allows us to thoroughly test all aspects of the Workday platform and ensure an implementation of the highest quality," [interim vice president and chief information officer Kristen] Constant said.
In February 2019, Rosacker reported on the planned shift "from cash-based to accrual accounting with the July 1 implementation of the Workday software system."
[Controller Kathy] Dobbs said the new system will provide nearly real-time transaction processing to help units and departments make financial decisions with timely financial reports.

Dobbs said the ISU already produces university-wide accrual-based financial statements at the end of the fiscal year, a requirement for all colleges and universities. Currently it's a labor-intensive process that brings in numbers from other financial systems to produce external financial reports.

With Workday, all of that will be done in one system, which updates every time a transaction is made.
The Governmental Accounting Standards Board has long required governments to use accrual-based accounting for financial reports. So in theory, bringing Workday online should have made it easier–not harder–for ISU to compile the year-end data the state needs for its CAFR.
I sought further information from Hunt on the problems. She replied on January 29,
Iowa State produces university-wide accrual-based financial reports at the end of each fiscal year as required. Prior to transitioning to a new system, the financial information was converted from cash-based to accrual.

The learning curve is a combination of new daily accrual accounting methods, a new accounting system, incorporating information into the new system and developing a new method to close the fiscal year books.
ISU said in early 2019 it would provide training to staff who work with financial transactions to help them understand accrual accounting methods. The university acknowledged in September 2019 some "bumps along the way" and promised more guidance for staff having trouble with the Workday platform. I circled back with Hunt: is the core problem that ISU doesn't have enough staff familiar with using Workday for accounting purposes, or that Workday isn't functioning as promised, or that the training was unsuccessful?
She repeated, "there are several factors that contributed to the delay, and the university is working to submit the information by mid-February."
"OUR PREFERENCE IS TO MEET REQUIRED DEADLINES"
I reached out to the State Treasurer's office to see whether the late CAFR could affect Iowa's credit rating. Karen Austin, chief of staff for Treasurer Michael Fitzgerald, told Bleeding Heartland on February 1 that they were "concerned" about the state's inability to publish the annual report on time. While the treasurer's office plays no role in compiling the CAFR, it is "responsible for posting documents to the EMMA system."
"After we determined that we would miss the [January 26] deadline, we consulted with our bond counsel and they indicated that it is not uncommon for issuers to have a delay in their reporting documents that are outside of their control," Austin wrote. The counsel recommended posting the statement from Roederer.
Our bond counsel did not think it would be an immediate risk to our credit rating (we did not inquire regarding Iowa State's credit rating). While that is the case, we have always prided ourselves that Iowa earns its AAA Rating by doing things the right way and our preference is to meet required deadlines.
Moody's Investor Service, one of the leading credit rating agencies, has assigned Aa2 and Aa3 ratings (the equivalent of two or three notches below AAA) to various bonds issued by Iowa State University. The Board of Regents has a continuing disclosure obligation to file its financial information within 270 days of the end of a fiscal year. Assuming ISU is able to finish extracting the data by mid-February, the university should be able to report well within the 270-day window after June 30, 2020.
How worried was the state treasurer about ISU's problems extracting the data? Is this the kind of hiccup one might expect when a large entity switches from cash-based to accrual accounting, or a possible sign of ongoing trouble? Austin replied,
It always raises concerns when we are unable to meet an obligation. The treasurer's office is not involved in the completion of the CAFR and was not made aware of the delay until we inquired about potentially missing the EMMA date. We would defer to the Department of Administrative Services for a better understanding of what is typical with a software change. […] We do not have details from Iowa State University, the Workday Team or the Department of Administrative Services to know if this will be a one-time or ongoing issue.
STATE SIGNED NO-BID CONTRACTS WITH WORKDAY
Without going through a competitive bidding process, Iowa's Office of Chief Information Officer signed contracts in October 2019 and February 2020 committing the state to using Workday systems for human resources and financial services. The no-bid contract was controversial from the start, especially since Governor Kim Reynolds' former chief of staff, Jake Ketzner, was a lobbyist for the California-based company. (State officials have denied Ketzner was involved in securing the Workday contracts.)
Jordan reported for the Cedar Rapids Gazette last February that the state would spend $21 million for "ongoing software costs" and $28 million to deploy the new systems, then planned to go live in the summer of 2021 for human resources and in 2022 for financials. Reynolds' legal counsel Sam Langholz stipulated in an October 2020 letter to the U.S. Treasury's Office of Inspector General, "The total expected cost of this project over five years is approximately $57 million."
After state lawmakers rejected the governor's proposal to use gambling revenues to cover $21 million of the Workday costs, Reynolds allocated federal COVID-19 relief funds for that purpose. She was forced to backtrack after state and federal auditors determined that expenditure was not allowable under the Coronavirus Aid, Relief, and Economic Security Act.
ISU's trouble compiling its financial data following its first year using Workday raises questions about whether the system was the best choice for government accounting purposes, and why state officials made such a large commitment without ensuring the system functioned properly for Iowa State.
Austin noted on behalf of Treasurer Fitzerald,
The treasurer's office was not consulted prior to the purchase of a new statewide accounting system. We are supportive of progress and new technology, but are also mindful that any changes to major systems affecting all state agencies, such as this, should be fully vetted and be subject to an open bid process.
Last year, Iowa Senate Government Oversight Committee chair Amy Sinclair rebuffed calls from Democrats to hold a hearing on Workday's no-bid contracts.
UPDATE: On February 4, an Iowa Senate Appropriations subcommittee considered a bill that would allocate $21 million to the Office of Chief Information Officer during the current fiscal year, to cover the Workday costs. During that meeting, Democratic State Senator Claire Celsi raised several concerns, including ISU's problems with Workday. Iowa's Chief Information Officer Annette Dunn said the state's current system is "outdated and unsupported." They didn't want to start with a new system, since ISU and the Iowa Department of Transportation "were already going on a proven system."
Dunn added that her counterpart at ISU "indicated to me that it wasn't a Workday problem" to get the financial report, "it was actually the training of their staff knowing how to do it."
Celsi said contacts at the university have told her "people are retiring and quitting, rather than trying to master Workday. So if you have a system that nobody in the institution can be trained for or knows how to use," and it makes your financial report late, "then why are we looking at implementing this type of a system that's so difficult, has a difficult learning curve […] I think this is a huge red flag, don't you?"
Dunn said she couldn't speak about the ISU problem, because she hadn't "been intimately involved" and didn't know the details about their staff training. She said the state didn't have authority over the Regents universities, which doesn't address the fact that the state signed no-bid contracts with Workday without verifying that the system was functioning well at ISU.
Republican State Senator Tim Kraayenbrink observed that it's not unusual for longtime employees to retire rather than learning a new system. He's seen it in the industry where he works, "so I'm not sure that all of it is because it [Workday] is a failed program."
Celsi posited that if a company is hired to do a job and can't get it done, "at some point the company is liable for that." Either you claw back the money in the contract, or in this case, "maybe the appropriation doesn't come through." She argued that taxpayers would be "throwing good money after bad" by funding the Workday contract. Johnson and fellow Republican Senator Craig Johnson voted to send the bill to the full Appropriations Committee for consideration on February 8.
---
Appendix 1: January 19, 2021 letter posted by Iowa Department of Management Director David Roederer on the Electronic Municipal Market Access (EMMA®) website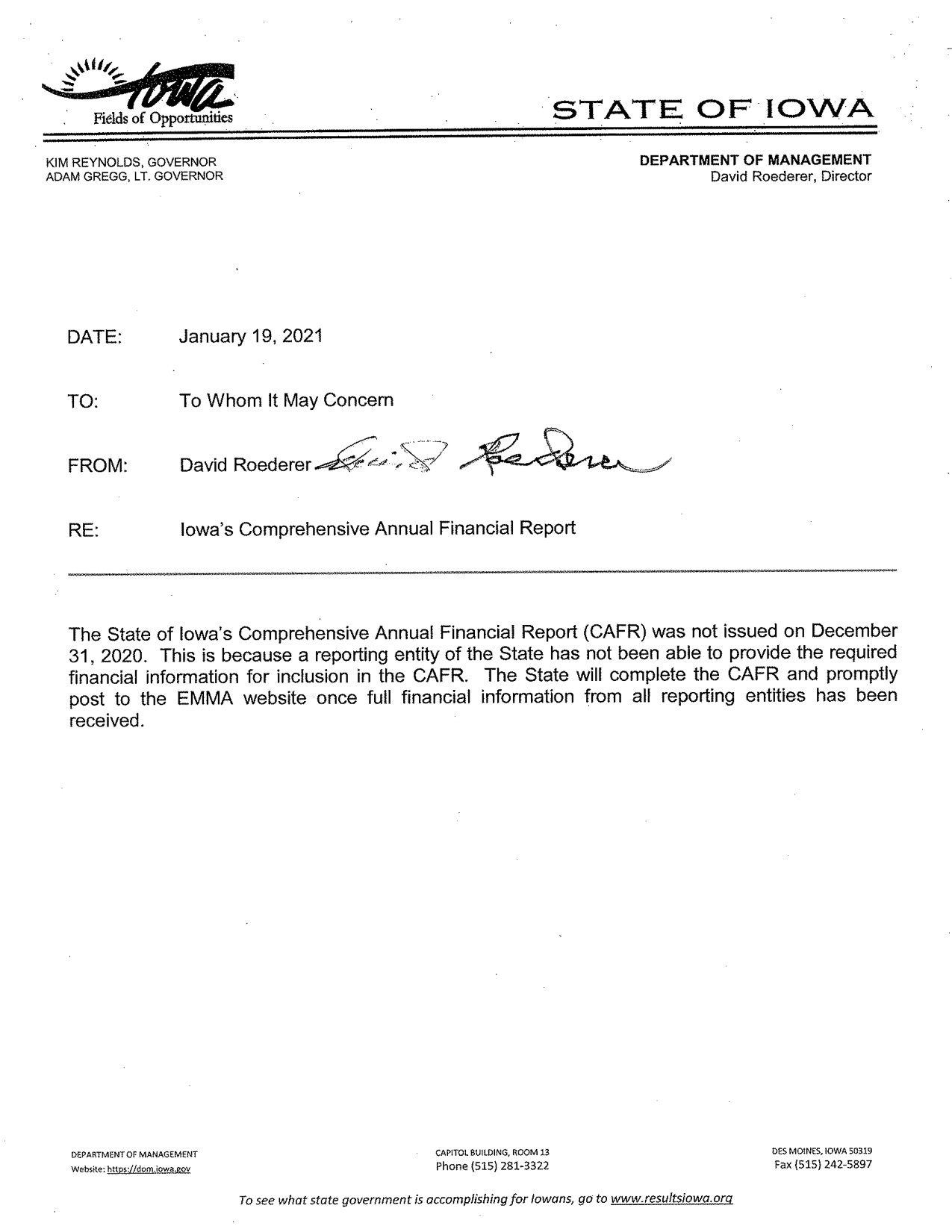 Appendix 2: Excerpts from Erin Rosacker's February 1, 2019 article for Inside Iowa State, "Accounting moves from cash to accrual with Workday"
Iowa State's financial business will move from cash-based to accrual accounting with the July 1 implementation of the Workday software system. […]

"In the current cash-based system, the departments are used to seeing things happen when checks go out or come in the door," [controller Kathy] Dobbs said. "With Workday, we'll recognize expenses and revenues at the time they occur, not at the time we actually cut or cash a check."

Real-time information

Dobbs said the new system will provide nearly real-time transaction processing to help units and departments make financial decisions with timely financial reports.

"Workday is configured to make the correct accrual accounting entries at the time transactions occur so when departments look at financial information, it's current, it's up-to-date and they don't have to wait for other things to happen to get the answers they want," Dobbs said.

Dobbs said the ISU already produces university-wide accrual-based financial statements at the end of the fiscal year, a requirement for all colleges and universities. Currently it's a labor-intensive process that brings in numbers from other financial systems to produce external financial reports.

With Workday, all of that will be done in one system, which updates every time a transaction is made.

"There's increasing pressure for institutions to produce financial statements more frequently and faster," Dobbs said. "With that environment in play, it makes sense to have all this in one system so we can get a picture of what the financials look like at any point in time." […]