Julie Russell-Steuart is a printmaker and activist who chairs the Iowa Democratic Party's Disability Caucus.
Glenn Hurst is a rural doctor in the small southwestern Iowa town of Minden and a founding member of Indivisble Iowa, whose activism helped elect U.S. Representative Cindy Axne. He faces Abby Finkenauer and Mike Franken in the June 7 Democratic primary for U.S. Senate.
Dr. Hurst has earned our endorsement for his strong experience advocating for people with disabilities and because he is laser focused on improving the lives of the American people in crucial ways.
As a country, we are in a health care crisis because of a disastrously managed COVID-19 pandemic, on top of an already stressed system that does not serve people well.
Here in Iowa, the privatization of Medicaid led to people with disabilities experiencing a significant loss in delivery of care and availability of care supports in-home. Although reform may be on the way with the recent merging of the Iowa Department of Public Health and the Iowa Department of Human Services, a federal-level change through the Medicare for All Act would dramatically improve healthcare and do the most for not only all Iowans, but all Americans.
Hurst has never wavered in his advocacy for Medicare For All. As a doctor, he's had an inside view of how the current system is broken. People delay care until it's too late and have a more critical diagnosis. The insurance industry's profit-driven bottom line dictates health care decisions, rather than what doctors consider the appropriate care for patients. For many, the best treatment can't be had.
And then there's the pandemic. How will health be managed as people recover from COVID-19 in a broken system? Long COVID, a confusing array of 200+ documented symptoms, may affect 23 million in the U.S. In a meeting with the Iowa Democratic Party's Disability Caucus, Hurst explained,
Right now, the way we address long COVID is 85 million people who are at risk for getting it will get no care. We're just not gonna take care of them— that's your current healthcare system. We've got 85 million people who are uninsured or underinsured.

Then we've got another group of people who will go bankrupt, because their healthcare provider will not have the resources to investigate, to educate themselves and understand the condition, or It'll just be an insurance product that doesn't cover those particular tests and it'll come out of your pocket. So that population will go into medical bankruptcy and will suffer and may die early as well.

And then there's people who have "good insurance", and I would argue there's no such thing as good insurance. All insurance is meant to limit your access to care, it's meant to limit the amount they pay. So those people who have good insurance […] we won't be addressing them or taking care of them until they arrive in crisis mode and only then we'll respond to it.
Senator Bernie Sanders and fourteen of his colleagues introduced The Medicare For All Act last month to guarantee health care in the United States as a fundamental human right.
The ranks of those with disabilities in Iowa will grow due to long COVID, which may persist for life. In addition to lung damage, there are four main categories of conditions: inflammation, dysautonomia, ongoing viral activity, and altered immune response. All of them can have significant, disabling health impacts, from multi-system inflammatory disease after mild COVID to permanent heart conditions.
We need to change our inadequate and often cruel system, if we are every going to adequately care for what will be huge numbers of individuals disabled by COVID-19 (on top of the 1 in 4 Americans who already have a disability). A for-profit health care system is neither an ethical nor a sustainable business model when it causes so much additional suffering. We need Dr. Hurst's voice and vote in Washington, DC to help pass Medicare For All.
Hurst believes in improving the application and enforcement of the Americans With Disabilities Act, part of Iowa Senator Tom Harkin's legacy. Even though that federal law was enacted in 1990, accessibility is still an afterthought in many public spaces. There are also more accommodations needed than the default wheelchair accessible, such as communication access for the Deaf and hard of hearing. We discussed this and other issues at our recent Disability Rights Forum.
We are proud to endorse Dr. Glenn Hurst as the Disability Caucus candidate for U.S. Senate. Whether you are an ally, a person with a disability or have family that have disabilities, please cast your vote for him, the best representation possible.
From our interview with Dr. Glenn Hurst:
How do you envision the office you seek intersecting with disability issues?
The ADA came from the disability community and was enacted through a U.S. Senate bill. I would expect this office to continue to address issues related to that act and therefore the intersection would be significant.

Whether it is helping with constituent issues related to the ADA and its enforcement, or the work to pass the Medicare for All Act, I foresee significant intersection with my personal role in the US Senate and those who have disabilities. Having been a foster parent to children with brain chemistry disabilities, and also the father of a child with disability, who have struggled with navigating a system that is supposed to support them, I have witnessed time after time how that system has failed. It will be a priority area of emphasis in my service to Iowa.
What are some disability issues you think can be addressed through the power of the office?
Medicare for All Act (M4A) will begin by providing coverage to 85 million Americans who are uninsured and underinsured, many of whom are people with chronic disabilities. It begins by providing more access points for care. It will also expand the types of services available and give patients and providers the flexibility to access them in a way that makes the most sense. It will add coverage for in-home caregivers. It will pay family members who provide medical care and give them a place on the medical team. The overarching theme of the M4A will be access and inclusion.

Better enforcement of the ADA and fully funding its components will hopefully bring private sector organizations into compliance with the act. If a community is not accessible, it is not an option for people with disabilities, therefore local libraries, schools, and government offices will be incentivized to expand accessibility beyond ramps, automatic doors, and hearing loops to include training for respecting and serving individuals with sensory disorders, PTSD, and profound brain chemistry disorders.
Do you have any specific experience advocating on disability issues?
I have been a health care and disability activist for over 30 years. As a foster parent advocating for services that benefit the children in our care I have testified in State hearings and worked directly on care teams for wards of the state.

I have also served on the Eastern Nebraska Office on Aging as a case reviewer assuring we are meeting the needs of individuals who are elderly or disabled trying to stay in their homes. I have served over ten years on the Human Rights and Dignity board for Home at Last, supporting the same goals for individuals with profound brain chemistry disabilities as well as physical disability. I am the founder of "Seniors: Fighting for our Lives", which focused on protecting nursing home patients, who often intersect as elderly and disabled, from the failed response to the Covid crisis in Iowa. T

his advocacy led to a national level of activism with appearances on CNN and NPR. Of course, as a physician, I work directly with patients with disabilities on a near daily basis.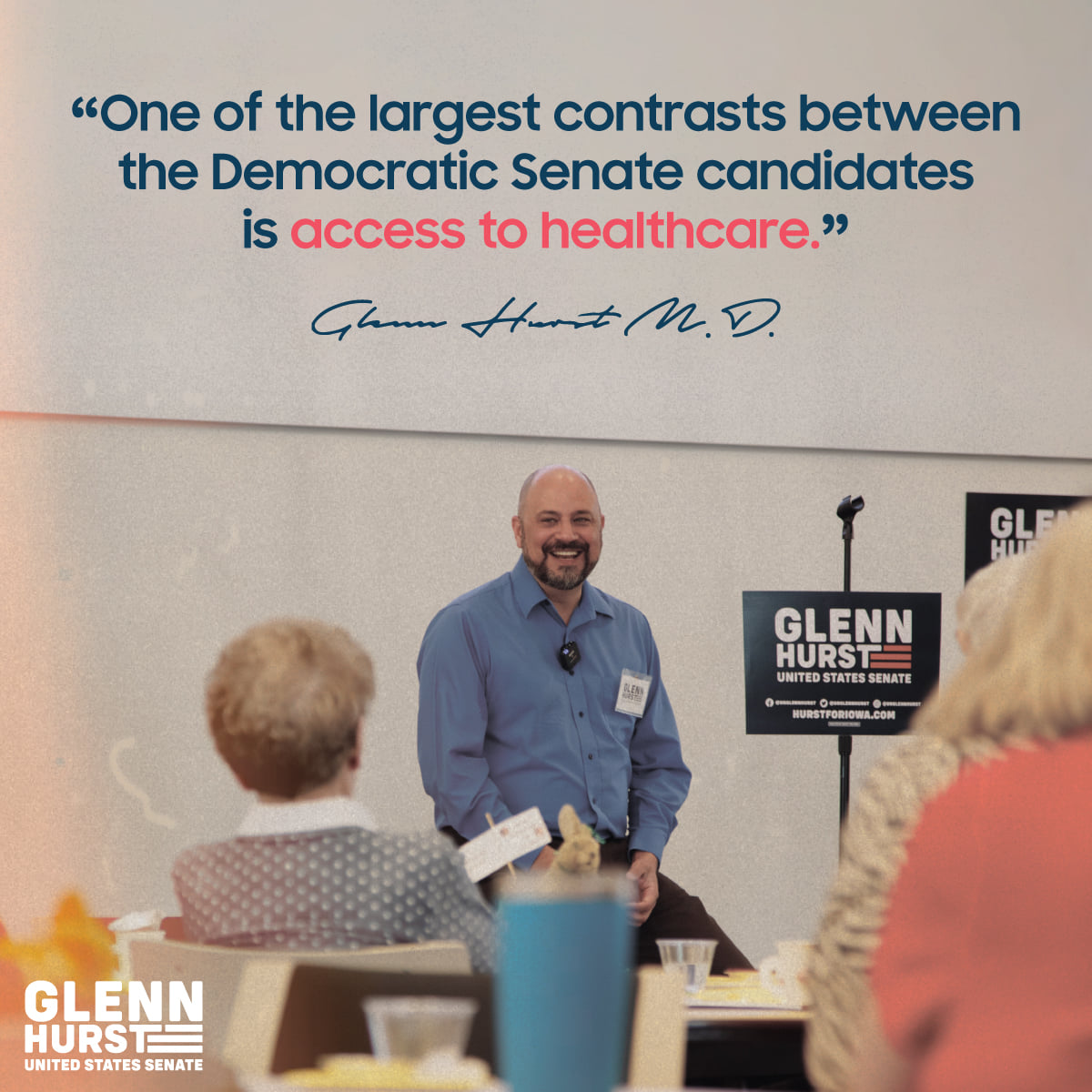 Editor's note: Bleeding Heartland welcomes guest posts advocating for Democratic candidates in competitive primaries for local, state, or federal offices. Please read these guidelines and contact Laura Belin if you are interested in writing.