The Wapello County Republican Party is proceeding with a July raffle at which the winner will walk away with an AR-15 style rifle.
Tickets for a chance to win a Ruger AR-556 and 300 rounds of ammunition cost $10 apiece or three for $25, according to Facebook posts advertising the event. The drawing will take place on July 16 at a licensed firearms dealer in Ottumwa, the largest city in the southeastern Iowa county.
Assailants have used semi-automatic rifles in numerous mass shootings over the past decade. Perpetrators of mass murder at a Texas church in 2017 and a Boulder, Colorado grocery store in 2021 used the Ruger AR-556 model.
Some organizations around the country have halted plans to raffle AR-15 style rifles following last month's massacres at a Buffalo, New York supermarket and an elementary school in Uvalde, Texas, Scott Neuman reported for NPR on June 3. The Sioux City Bandits indoor football team initially planned to go ahead with a similar raffle on June 4, but indefinitely postponed the event after a local business owner threatened to terminate his sponsorship of the team over the promotion.*
Wapello County Attorney Reuben Neff initially publicized the county party's fundraising raffle in a May 5 post to his campaign's Facebook page. "We still have tickets!!" Neff wrote in another Facebook post on June 1—two weeks after ten were murdered in Buffalo and one week after nineteen children and two teachers were murdered in Uvalde.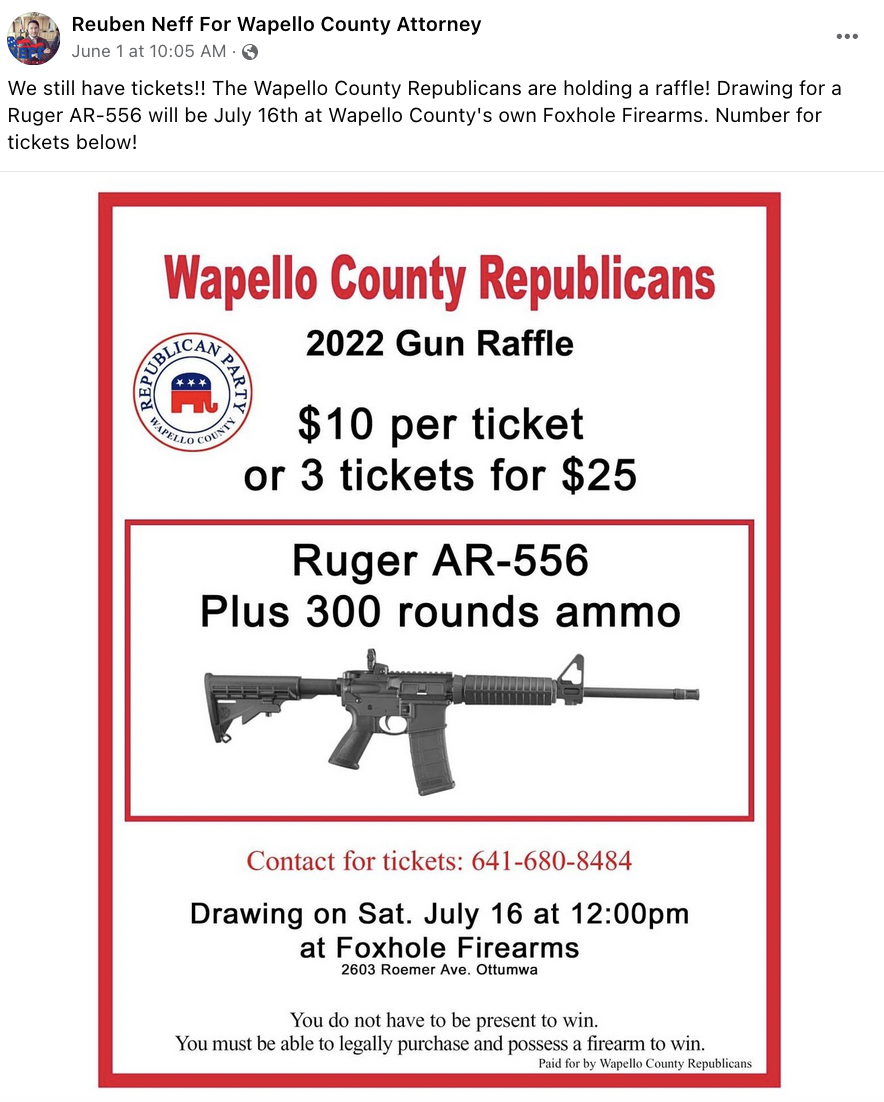 Trudy Caviness, who chairs the Wapello County Republican Party, shared the June 1 post advertising the raffle. She did not respond to Bleeding Heartland's messages seeking comment on the event.
The graphic promoting the raffle states, "You must be able to legally purchase and possess a firearm to win." Asked how Wapello County Republicans would prevent someone who could not purchase the weapon from entering the contest, Neff told Bleeding Heartland in a June 14 email,
I work closely with our Sheriff's Department to make sure that everyone that I know holds a firearm in my county is legally able to do so. The same applies here. I am fairly active in prosecuting individuals restricted from possessing firearms, such as domestic offenders and those under restriction through domestic violence protective orders.
Asked for more details on how the Wapello County GOP would verify that prohibited buyers won't obtain raffle tickets through a friend or relative, Neff replied on June 15, "What you are pointing to is an issue that exists with any firearm acquisition in the United States." (Straw purchases are indeed a significant nationwide problem, driving homicides and other gun crimes.)
Neff added that his office and the Sheriff's Department have access to resources to confirm whether someone can legally possess a firearm "and are fairly proactive in pursuing arrest and prosecution when actual evidence establishes a violation of firearm possession laws."
Melinda Padley-Jones, who chairs the Wapello County Democratic Party, told Bleeding Heartland in a June 15 telephone interview, "it's a completely tone-deaf fundraiser to be holding," in light of recent events. She characterized the raffle as "insensitive" and out of step with the majority of Americans, who favor gun reforms.
Joe Gorton, state lead for Brady United Against Gun Violence, provided the following comment:
Wapello County Republicans are giving away an assault rifle that is the preferred weapon for rampage killers, white supremacists, and criminal gangs. The type of weapon used in 2016 to murder two Des Moines area police officers. This is a morally repugnant decision by a political party that takes its orders from the NRA.
As it happens, the most recent post on the Wapello County Republican Party's Facebook page is a share from the Iowa Firearms Coalition, the National Rifle Association's state affiliate. It recounts conversations an Iowa Firearms Coalition board member had at the Iowa GOP state convention on June 11 with Iowa's three Republican members of the U.S. House, Governor Kim Reynolds, Lieutenant Governor Adam Gregg, attorney general nominee Brenna Bird, and Senator Chuck Grassley's state director, among others.
Wapello County was a Democratic stronghold for decades. Like other parts of Iowa with mid-sized cities that rely on large manufacturing employers, Wapello has trended toward Republicans in recent election cycles. The GOP has held the Iowa Senate seat containing Ottumwa since 2011 and picked up the Iowa House seat covering that city in 2020.
*UPDATE: Sioux City Bandits co-owner Don Belson informed Bleeding Heartland via email on June 16, "the gun was never going to be part of a raffle. Attendees 18 or older could enter their name in a drawing for the possibility to win the gun. The gun was not present at the event and the licensed gun broker would do all necessary background checks and paperwork before the winner could receive the gun at the dealer's location. The said gun has since been disposed of."
SECOND UPDATE: A reader informed me that State Representative Brooke Boden raffled off an AR-15 for $10 per ticket as part of an October 2021 fundraiser headlined by Governor Kim Reynolds (see here and here). I'm seeking comment from the Reynolds campaign on whether the governor has appeared at other fundraisers with such auctions, and whether she has any more scheduled for this summer or fall.