Senator Chuck Grassley has not been following the work of the House Select Committee investigating the events of January 6, 2021, he told Dr. Bob Leonard of KNIA-KRLS Radio this week.
He should have watched the televised hearings on June 23. The focus was how President Donald Trump tried to use the U.S. Department of Justice to help him subvert the peaceful transfer of power after the 2020 election. The key elements of that conspiracy have been known since the Senate Judiciary Committee investigated that angle last year. But witnesses and exhibits provided many new details.
The testimony from former administration officials and Trump attorneys obliterated the alternate reality Grassley promoted last year, in which the president "did not exert improper influence on the Justice Department."
"JUST SAY THAT THE ELECTION WAS CORRUPT"
Grassley didn't accept the Senate Judiciary Committee's Democratic staff interim report, released in October 2021. That document walked through evidence showing "President Trump repeatedly asked DOJ leadership to endorse his false claims that the election was stolen and to assist his efforts to overturn the election results."
Iowa's senior senator, who is also ranking member on the Judiciary Committee, put his stamp of approval on a minority staff report exonerating the president. Grassley asserted in an October 2021 news release, "The available evidence shows that President Trump did what we'd expect a president to do on an issue of this importance: he listened to his senior advisors and followed their advice and recommendations."
One select committee witness after another shattered that narrative.
The New York Times and Washington Post published good summaries of the June 23 testimony. But the entire hearing is worth watching. For those who don't have two and a half hours, I set this video to start playing at a critical point, when former Deputy Attorney General Richard Donoghue testified about the 90-minute conversation he and acting Attorney General Jeffrey Rosen had with Trump on December 27, 2020.
Grassley and Republican staffers on the Senate Judiciary Committee put a lot of stock in Trump's supposed concerns about "an attack on the electoral system and his firm belief that the American people had been wronged by election fraud [….] With these concerns in hand, President Trump's approach to DOJ was to ensure that it was aware of election fraud allegations and that, with knowledge of those allegations, they were actually doing their job to investigate them."
But Donoghue's notes from that December 27 conversation show Trump was more interested in a public announcement of a supposedly "illegal, corrupt election."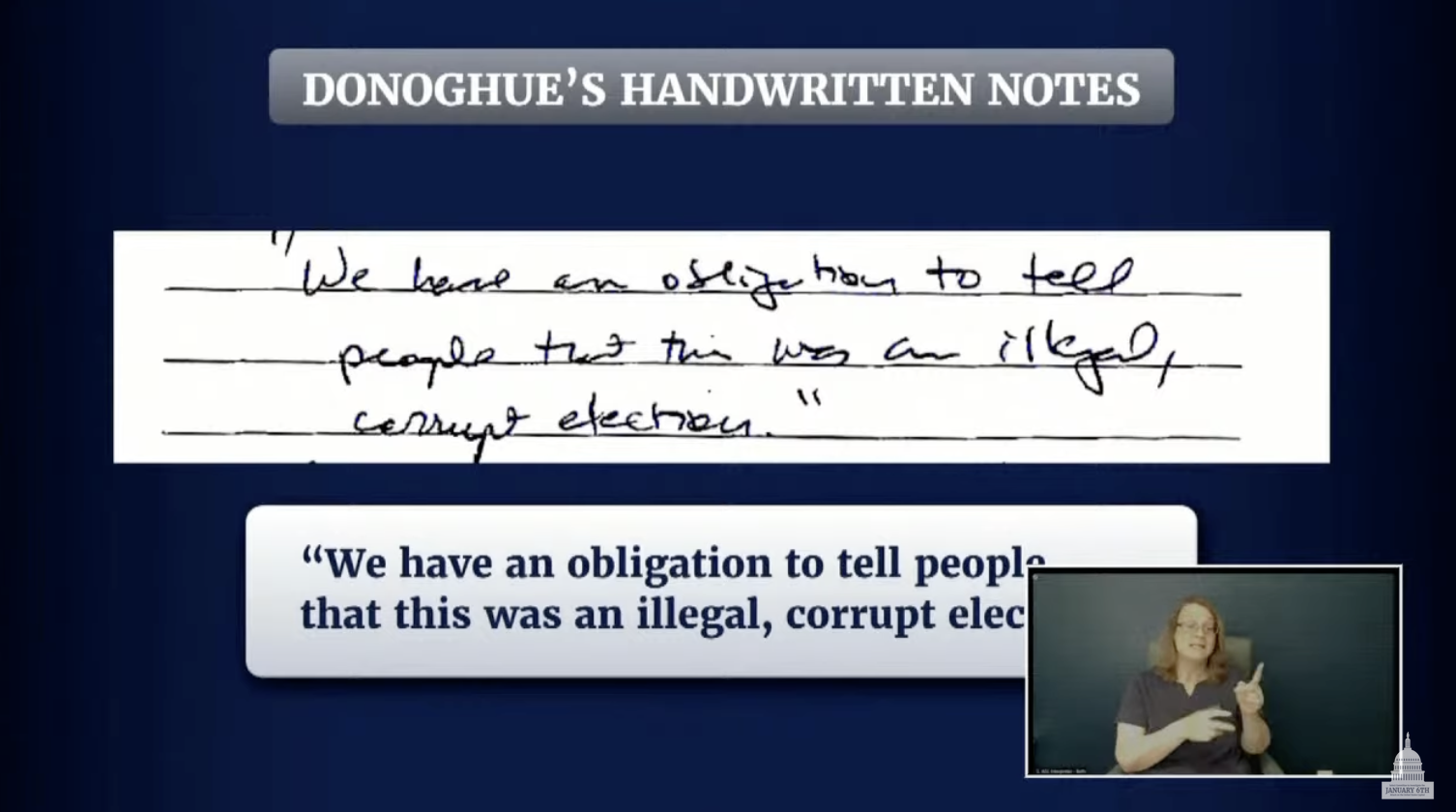 Donoghue's notes also show that Trump urged the DOJ leadership to "just say that the election was corrupt and leave the rest to me and the Republican Congressmen."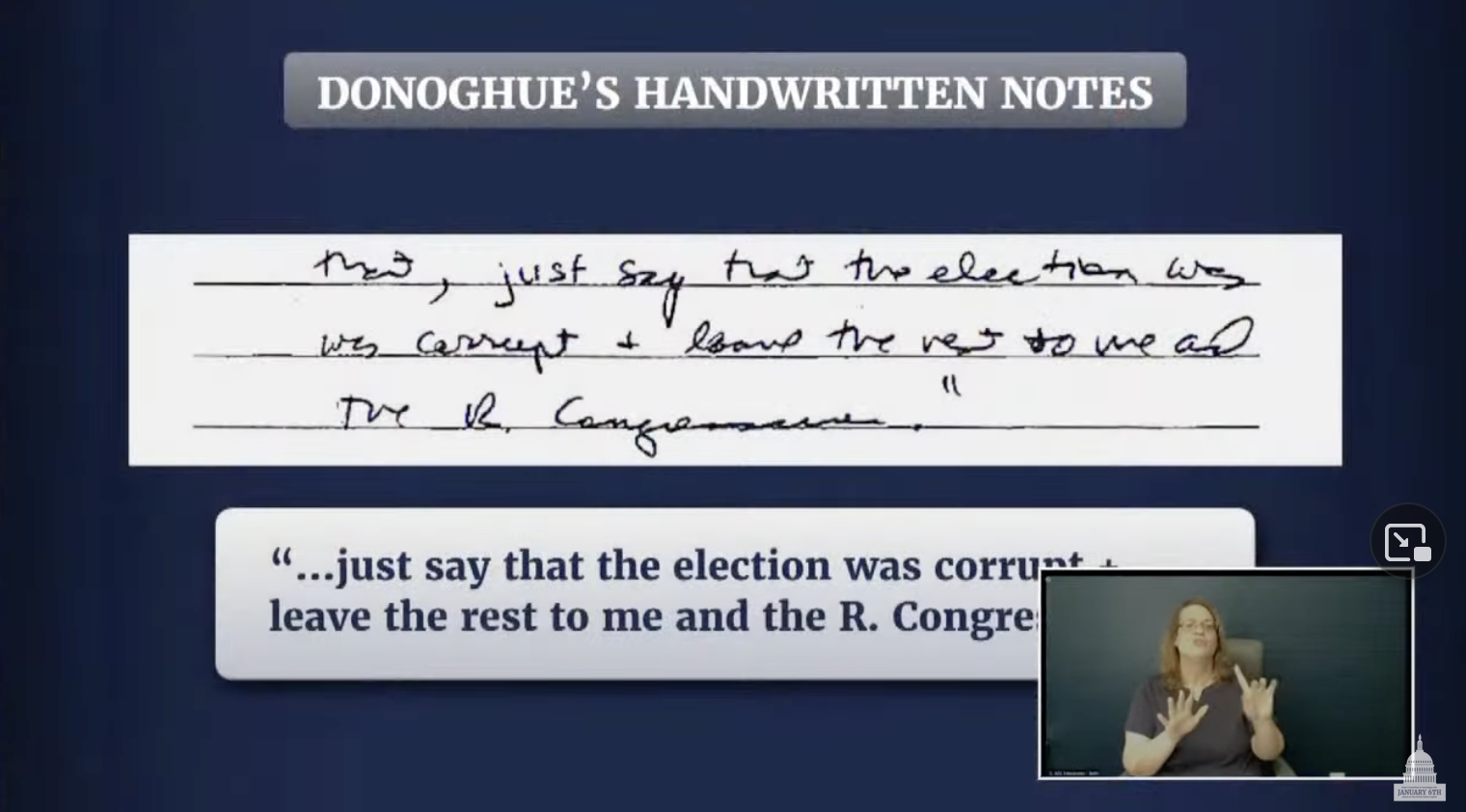 Several U.S. House Republicans later asked for presidential pardons related to their January 6 activities.
Top DOJ officials told Trump repeatedly that there was no basis for his claims of widespread fraud in the presidential election. Instead of following their advice, he kept looking for ways to get the department on board with his plan to stay in power. He had an eager accomplice in Jeff Clark, an environmental lawyer with no experience in election law or criminal prosecutions. (Donoghue testified that at one point he told Clark, "How about you go back to your office, and we'll call you when there's an oil spill?")
Clark wanted Rosen to sign off on a letter "to Georgia election officials that falsely claimed that the Justice Department 'identified significant concerns' that would affect the state's election results." Aaron Blake reported for the Washington Post,
Early in the hearing, the committee again played video of [White House lawyer Eric] Herschmann's testimony. In the clip, Herschmann said he offered a vulgar response when Clark laid out his plan to have the Justice Department intervene in the election dispute.

"When he finished discussing what he planned on doing, I said: … 'Congratulations, you've just admitted your first step you'd take as attorney general would be committing a felony and violating Rule 6(e). You're clearly the right candidate for this job.'"
When Rosen and Donoghue refused to go along with the scheme, Trump was set to name Clark as acting attorney general on January 3. He backed off only after Donoghue warned him that hundreds of DOJ officials would resign.
U.S. Representative Adam Kinzinger, one of two Republicans serving on the House select committee, observed during his opening remarks,
The President and his allies became keenly aware that, with legal challenges exhausted and electoral votes certified, their only hope would be a last-ditch scheme to prevent Congress from certifying the win, thus throwing the entire system into constitutional chaos.

The President wanted the Department to sow doubt in the legitimacy of the election to empower his followers and Members of Congress to take action.

If the Department could just lend its credibility to the conspiracies, people would have the justification they needed to spread the big lie.
Grassley could have learned a lot from watching the proceedings. But he told a radio interviewer on June 21 that he's not tuning in.
"NOBODY'S GOT TO EDUCATE ME ABOUT IT"
Grassley rarely faces tough questions from Iowa reporters. Staff control access to his regular conference calls with local media. I've consistently been excluded, and those who can participate are typically unable to press for answers when the senator is evasive. Many of Grassley's radio interviews center on whatever he wants to talk about that day.
Fortunately, Dr. Bob Leonard didn't give Grassley the softball treatment during the senator's latest appearance on KNIA—KRLS radio. You can (and should) listen to the whole segment here. I've transcribed some notable passages.
Leonard spent about ten minutes asking about the January 6 hearings. Was Grassley watching?
Oh, you wouldn't expect me to be glued to the tv, when I'm in my office all day, committee meetings to attend, floor votes. I think you get the point. My job's to serve the people of Iowa. If I was watching television, I'd probably be watching the debate on the floor of the United States Senate.
Grassley must be reading news reports about the committee's work, Leonard countered. "I do read," he acknowledged—then accused the committee of taking "a very partisan approach." Grassley thinks the courts and the executive branch are handling the January 6 events in a more fair manner. Anyway, "What I'm hearing from Iowans isn't much about January 6."
Most reporters would immediately shift gears. Leonard didn't. He noted that most witnesses are Republicans who worked in the Trump administration or for his re-election campaign. Their testimony points to a "conspiracy to overturn the results of the last election," which "should be of great interest." Does Grassley think that's unimportant?
Grassley said Iowans aren't bringing up the January 6 hearings in phone calls to his office, or at his town hall meetings.
"Aren't you curious?" Leonard wondered. "Don't forget, I was there when all this was going on," Grassley deflected. "So nobody's got to educate me about it."
Leonard reminded Grassley that he had called for an investigation shortly after the attack on the Capitol. "Your lack of concern here is interesting," especially since Grassley (the Senate president pro-tem) could have presided over the electoral vote count if Vice President Mike Pence had left the building.
"Well, we followed the constitution," the senator said. He said two Senate committees already investigated the events (glossing over the fact that he drew the wrong conclusions from the Judiciary panel's probe).
Leonard pointed out that "we followed the constitution" only because Pence didn't cave to pressure from Trump and his allies. "Aren't we fortunate that that didn't happen," Grassley said.
But aren't you concerned about holding people accountable, Leonard wondered. Grassley said the executive branch has arrested 800 people and is prosecuting them.
What about members of Congress who asked for pre-emptive pardons? Is that a concern? "They didn't get a pardon, so you're talking about something that didn't happen."
Leonard pressed on: it would seem to be a concern that sitting members of Congress asked for pardons related to their attempts to overturn the election. Not to Grassley.
Well, listen, you've got all kinds of people around here. So somebody writes up some memo that goes to the vice president? The vice president didn't follow it. I get a lot of memos from my staff I don't follow. […]

In this case, Pence didn't listen to it, and once again, let me say, aren't we fortunate he didn't do it.
"But we came this close," Leonard tried. What if Pence had fled the building, and it had fallen to Grassley?
All these sorts of ifs, never materialized. That's all speculation. We know what happened, and we're fortunate that Pence handled it the way he did.
Did anyone approach Grassley about not certifying the results? "No. I did my job, and he did his job."
Do you understand why Americans should be concerned, "or just want it all to go away?"
I think I made it pretty clear that I'm doing my job today as it is on June 21 [2022]. […]

I'm looking at what I've got to do—I think I probably told you before, "Let go, let God. Let go, let God."
Leonard said he didn't understand what Grassley meant by that phrase, so the senator clarified: "Do what you can take care of, and leave the rest of it to God."
At that point, the dogged radio reporter moved on to other issues.
This must-hear interview underscored why so many are skeptical about Grassley's claims not to have been recruited for the coup attempt. He routinely sends letters to government officials demanding answers about possible errors or misconduct in federal agencies. He doesn't sit back and wait for masses of Iowans to call his office before trying to hold obscure bureaucrats accountable.
Why wouldn't the senator want to know the full extent of an illegal, unconstitutional conspiracy to keep Trump in office? It's the only time in U.S. history that a president has refused to admit he lost an election.
Grassley's communications staff didn't respond to Bleeding Heartland's questions about his KNIA—KRLS interview, or about the revelations at the select committee's June 23 hearing. I will update this post as needed with any comments or clarification.
Top image: Screenshot from official video of former Deputy Attorney General Richard Donoghue testifying before the House Select Committee investigating the January 6 events.