John Morrissey, a freelance writer in Des Moines, follows up on his coverage of a fatal accident last year.
More than nine months after the crash that killed on-duty Iowa State Trooper Ted Benda, the Iowa Department of Public Safety has nothing more to say about the cause of his death, or its implications. The department's technical investigation is classified as confidential.
The initial public incident report seems to attribute the accident to the trooper's driving behavior. That was likely a contributing factor, but was it the sole cause?
The five-month technical investigation into this crash may or may not have considered a poor headlight rating, or higher than average driver death rates for the vehicle involved, as contributing factors. It's unclear because the technical investigation report will remain secret unless it is sought as part of several exceptions to state law, none of which allow public review.
In response to Bleeding Heartland's inquiries, the department offered no explanation of steps it might have taken since Benda's death to reduce future risks, such as testing the headlight aim of its Dodge Chargers, or reviewing the crash statistics for its workhorse patrol vehicle, or even providing a "don't veer for deer" reminder to troopers.
"WE MUST REMAIN COLLECTIVELY FOCUSED ON OFFICER SAFETY"
A ceremony at the state capitol on May 6 honored two Iowa State Patrol officers killed while on duty: Trooper Benda, and Iowa State Patrol Sgt. Jim K. Smith. (A 27-year veteran of the patrol, Smith was gunned down during an April 2021 stand-off in Grundy County. Michael Lang was convicted of the murder in May and sentenced to life in prison last month.)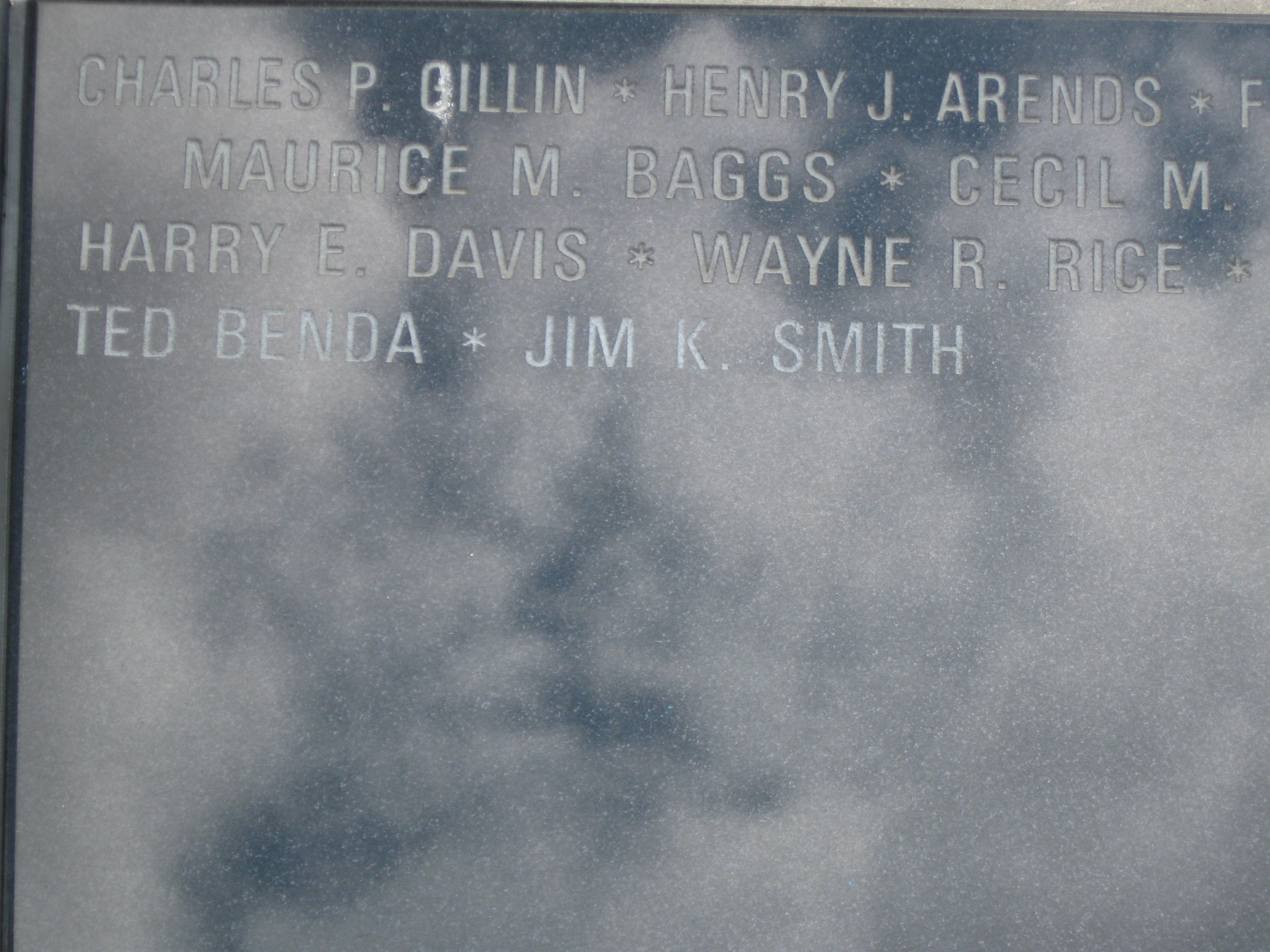 The names of Ted Benda and Jim K. Smith were inscribed in the Iowa Peace Officer Memorial
A contingent of uniformed state troopers, two classes of law enforcement cadets, an honor guard, families of the two officers, and members of the public attended the ceremony.
"Over the last fourteen months, and in recent weeks, we've experienced a level of challenge and heartbreak that compels us to pause and reflect," said Iowa Department of Public Safety Commissioner Stephan Bayens in his remarks. He added,
These names that encircle us, etched in granite, serve as a perpetual reminder that there is a group of brave men and women who are willing to stand in the gap between order and chaos; who are willing to protect the most vulnerable among us; who stand ready to extend compassion during the darkest of days; who are compelled by a sense of duty to protect and serve.

The physical and emotional stress of our duties weigh heavily. And because of that heavy burden, we must remain collectively focused on officer safety and well-being. We must remain steadfast in providing the support to law enforcement that they deserve so as to guard the physical and psychological health of those who serve.
Trooper Benda and Sergeant Smith were also honored at a ceremony in May at the National Law Enforcement Memorial in Washington, DC.
PUBLIC AND SECRET REPORTS
The initial incident report, known as the MARS Public Information Release Report, was filed on October 15, and amended to reflect Trooper Benda's death five days later. The technical investigation was completed on March 16 and its findings were reviewed by the technical investigations staff and supervision, according to Sgt. Alex Dinkla, the Iowa State Patrol's public information officer.
"I will remind you again that under statute 321.271, the technical crash report is considered an investigative report and is not an open record," wrote Dinkla in response to Bleeding Heartland's questions about the accident investigation findings.
Iowa law provides that the public may not review such investigative reports, although the drivers involved in a crash, law enforcement users, insurance companies, and attorneys involved with litigation arising from a crash may access the information.
The findings hidden from public view in this instance include:
how fast the vehicle was moving at the time of the crash;
whether the vehicle's crash structure failed in an unexpected or unreasonable manner as the result of impact;
whether the headlighting system might have contributed to the crash; and
whether the state was aware of certain safety performance statistics with the Dodge Chargers it purchases for Iowa State Patrol use.
ELEVATED DRIVER DEATH RATES, POOR-PERFORMING HEADLIGHTS
Trooper Benda was critically injured when he came upon deer in the road and lost control of his 2019 Dodge Charger cruiser while responding to a call for assistance from a Clayton County sheriff's deputy. His vehicle veered off Iowa Highway 51 and crashed in the ditch. He was found by a passing motorist and airlifted to a hospital in LaCrosse, Wisconsin, where he died six days later.
According to the 2019 Dodge Charger owner's manual, the vehicle has a full complement of passenger safety equipment, such as front lap and shoulder belts, front passenger airbags, front passenger knee impact bolsters, a supplemental driver knee air bag, supplemental seat-mounted side air bags, and supplemental side air bag inflatable curtains.
The Dodge Charger ranks at the top level for crashworthiness attributes for roof strength, side impact, moderate overlap crashes and seat and head restraints as tested by the Insurance Institute for Highway Safety (IIHS). Despite those high marks, the driver death rate for this vehicle is worrisome, according to another IIHS study.
Driver fatality data collected and published by the IIHS shows that Dodge Chargers have a higher than average rate of driver fatalities as compared to more than 150 models reviewed. The statistics, which cover 2014 through 2017, show that the two-wheel drive Dodge Charger had 62 driver deaths per million vehicle registration years (with a 95 percent confidence interval of ± 21.) IIHS found the average driver death rate for all vehicles of that vintage was 36 driver deaths per million vehicle registration years, with a confidence interval of between 34 and 37 deaths per million vehicle registration years.
Although widely used by U.S. law enforcement agencies, the Dodge Charger is not the only police vehicle available. SUV models favored by some departments have better driver fatality ratings, according to IIHS data. For the 2014 to 2017 review period, the Dodge Durango has a driver death rate of 11 per million vehicle registration years (± 17), the Chevrolet Tahoe has a rate of 28 per million (± 23), and the Ford Explorer 33 per million (± 11).
For single vehicle and rollover crashes, the 2017 Dodge Charger has a driver death rate three times as high as average, according to the IIHS. Single vehicle driver deaths are 13 per million for all vehicles vs 39 per million for the Charger. Overall driver deaths in roll-over crashes are nearly as disparate, with 5 deaths per million for all models vs 13 per million for the Dodge Charger.
Dinkla declined to answer a written question about whether the technical investigator was aware of these statistics or considered them as part of the inquiry.
Bleeding Heartland reported last year on IIHS findings that late model Dodge Chargers, including models used as police vehicles by the Iowa State Patrol and many other law enforcement agencies across the country, have poor-performing headlights for both the low and high beam settings. That rating stemmed from five standardized tests used to evaluate vehicles' headlight reach: forward visibility on straightaways, as well as visibility for 800-foot and 500-foot radius turns to the left and right.
Asked earlier this year about the IIHS research on Dodge Charger headlights and whether that might have contributed to the fatal crash, Dinkla said the department had not received any complaints from troopers about their patrol vehicles' headlights.
WHAT HAPPENED, AND WHO KNOWS?
The Iowa Department of Public Safety's public statements point to a curious lack of urgency or determination to parse out what contributed to Trooper Benda's death.
"We must do everything in our power to prevent etching even a single name onto these walls," Commissioner Bayens said in his May 6 remarks at the Iowa Peace Officer Memorial. He did not respond to a written request for comment about the Benda matter.
The Iowa labor commissioner's responsibilities include investigating on-the-job deaths. But the Iowa Workforce Development agency, which houses the state Department of Labor, told Bleeding Heartland that it does not investigate fatal car crashes, and closed an inquiry about the matter.
State Medical Examiner Dennis Klein ruled the officer died as the result of "complications of blunt force injuries of head and neck" suffered in the accident. "The injuries were not outside the spectrum of injuries we see in automobile accidents," he wrote in an email.
Iowa Department of Transportation District Engineer Jon Ranney said his office has reviewed the crash report and finds no actionable findings for the Highway 51 roadway. "Based on the random variability of this manner of crash, we do not expect to make any additional changes or improvements," he wrote in an email. A review of five years of crash data between 2016 and 2020 shows four crashes occurred along Highway 51, all of them animal-related.
BLAMING DRIVER BEHAVIORS FOR HIGHWAY FATALITIES
The Iowa Department of Public Safety participates with a years long effort to reduce traffic fatalities, which also involves the Iowa Department of Transportation, Iowa Department of Public Health, and Iowa Insurance Division. More than 1,800 Iowans have been killed on the state's roadways since 2017, and roadway deaths so far this year are running ahead of previous years at this time. "Zero Fatalities" aims to eliminate all highway deaths eventually, but its short-term goal is to reduce the carnage to fewer than 300 highway crash deaths in Iowa each year.
The intiative's website claims that "94 percent of crashes are caused by human error." Another page dials that estimate back to 90 percent. "Knowing what driving behaviors need to change is a precursor to being able to decrease fatalities and major injuries on Iowa's roadways," the website states.
The website identifies the five most common driver behaviors associated with roadway deaths, said Tracey Bramble of Iowa Zero Fatalities. She said it's rare that a crash has just one cause. The website is designed to highlight the driver behaviors that often lead to fatalities, based on research by the National Highway Traffic Safety Administration.
"The 'Zero Fatalities' Campaign is owned and operated by the Iowa Department of Transportation," Dinkla wrote. "I cannot speak to their percentages [of driver behavoir resulting in crashes] as they receive EVERY crash report that is filed in the state of Iowa."
HUMAN ERROR, AND WHAT ELSE?
The public information crash report about Benda's fatal accident cites no supplemental or contributory causes, beyond the narrative description that the driver lost control after taking "evasive action to avoid striking a deer which had entered the roadway." The "Iowa Zero Fatalities" website reminds drivers not to swerve for deer.
"The MARS report has already stated that Trooper Benda was traveling over the posted (55 MPH) speed limit heading to an emergency call," wrote Dinkla when asked how fast Benda's vehicle was traveling at the time of the crash. "What is stated on the MARS report about contributing circumstances was verified with the Technical Investigator."
Medical examiner Klein declined to speculate about whether the extent of the officer's injuries might be related to the crashworthiness of the vehicle, saying that was outside of his expertise. Trooper Benda was wearing a seat belt and did survive the crash that destroyed his vehicle, although he was gravely injured.
The MARS report states that the vehicle was responding in an "emergency status" but its "warning lights were not used." Dinkla wrote that the light bar on the vehicle was destroyed in the crash, so investigators could not determine whether the lights were operating at the time of the crash.
However, the traffic investigation reporting manual includes a specific response code ("Code 99—Unknown") for use by the accident investigator when answering this particular data element. This report contains a different code: "03—Yes, warning equipment not used."
"Driver behavior related to emergency vehicle response is an emerging national issue," according to the Investigating Officers Crash Reporting Guide, published by the Iowa Department of Transportation. Data about the emergency status of vehicles involved in crashes are captured to "guide development of training or other countermeasures to reduce the number of crashes involving emergency vehicle response."
Photos by John Morrissey, taken at the May 6 ceremony at the Iowa Peace Officers Memorial, are published with permission.