More than four years after signing into law a ban on using public funds to promote the name, likeness, or voice of Iowa's statewide elected officials in a "paid exhibit display at the Iowa state fair," Governor Kim Reynolds continues to spend part of her office budget on an Iowa State Fair booth plastered with her name and picture.
Neither the Republican-controlled legislature nor the state board charged with enforcing the self-promotion law have taken any steps to remedy the situation.
"Self-promotion with taxpayer funds prohibited"
In the closing hours of the 2018 legislative session, the Iowa House and Senate added language to an appropriations bill that is commonly known as the self-promotion law.
Iowa Code Chapter 68A.405A prohibits "the expenditure of public moneys" under the control of statewide elected officials or state lawmakers for a "promotion bearing the written name, likeness, or voice of the statewide elected official" or state legislator in six ways, including direct mass mailings, print, broadcast, or internet advertising, and a "paid exhibit display at the Iowa state fair" or other fairgrounds.
During the summer of 2018, other statewide officials moved to alter their Iowa State Fair booths to comply with the new law's apparent intent: preventing public funds from being used to promote their names and images.
However, the governor's office kept using the same booth it had displayed during the 2017 state fair. At the time, staff pointed to an advisory from the Iowa Ethics and Campaign Disclosure Board, which stated, "For items that were previously purchased, there is no expenditure to be prohibited on or after July 1, 2018."
While the 2018 state fair was ongoing, I couldn't confirm whether the governor's office had prepaid $21 per square foot for rental space in the Varied Industries Building. But documents obtained later through public records requests show that the governor's office has continued to allocate $4,200 from its annual office budget for Iowa State Fair rentals (see here and here).
Greg Hauenstein photographed this year's booths representing statewide officials during an August 13 visit to the state fair. The governor's office display is unchanged and features numerous pictures of her and Lieutenant Governor Adam Gregg.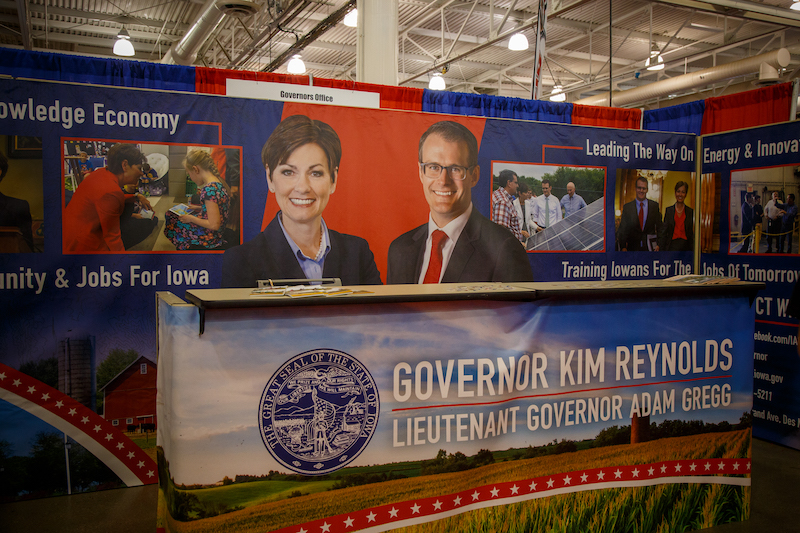 In contrast, Iowa Secretary of State Paul Pate's name and likeness are not visible on his office's booth in the Varied Industries Building.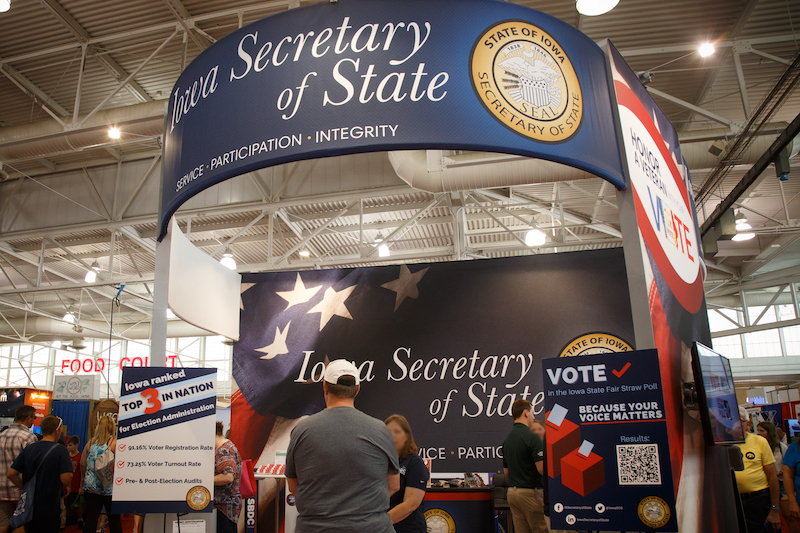 Likewise, the booth for the Attorney General's office does not feature the name or image of Attorney General Tom Miller.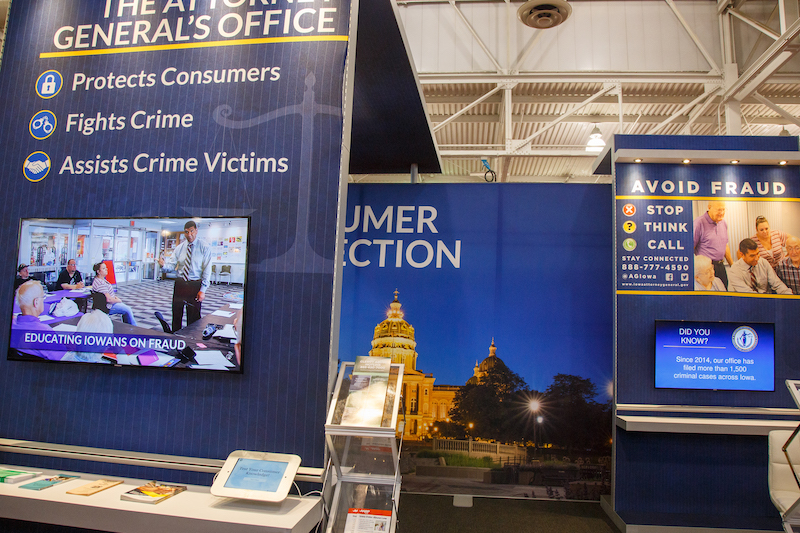 The same is true for the State Treasurer's office booth. (Under the ethics board's 2018 advisory opinion, a "paid exhibit display" at a state or county fair "does not include items distributed to fairgoers, such as brochures, literature, business cards, stickers, trinkets, clothing or prizes," which is why Treasurer Michael Fitzgerald's picture is allowed on brochures you can see on the countertop.)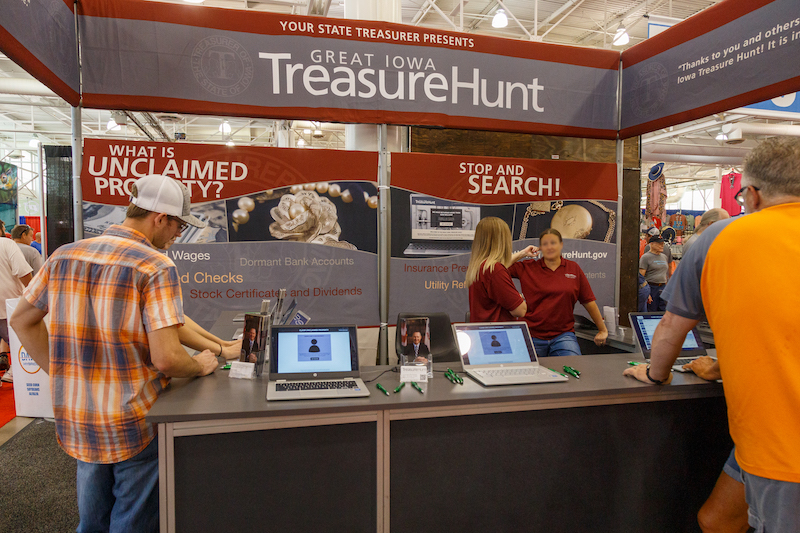 Ethics board hasn't addressed state fair rental costs
The Iowa Ethics and Campaign Disclosure Board has authority to enforce Iowa Code Chapter 68A provisions. In July, Bleeding Heartland asked executive director Zach Goodrich whether the board (whose six members are appointed by the governor) would ever revisit its 2018 advisory, or whether Reynolds would be able to spend state funds to promote herself at the Iowa State Fair for as long as she remains in office.
Goodrich said no one has requested to revisit that opinion, adding, "I can't say whether the Board would rule any differently. But, the way 68A.405A is drafted leaves much open to interpretation."
When I noted that other statewide officials removed their name and likeness from their state fair booth designs, to comply with the law's obvious intent, Goodrich replied that the 2018 advisory opinion
only regarded the purchase of the booth (the materials in your picture) as prohibited. It did not answer the question of whether using public funds for "ground that is rented from or provided by the state fair or a county fair" to display such a booth would be prohibited. My understanding is the Governor's Office has only paid for the ground in recent years and the booth itself was paid for before 68A.405A went into effect.

As far as I know, the question of whether it is permissible to pay for the space to display the promotional materials hasn't been asked before.
There is no way to have a booth in the Varied Industries Building (or anywhere else on the fairgrounds) without spending money each year to rent the space. The statute does not authorize spending taxpayer funds to newly circulate mailings, advertising, or fair displays produced before it took effect on July 1, 2018. It stipulates that statewide elected officials or legislators "shall not permit the expenditure of public moneys" for various specified purposes.
Prior to the self-promotion law's passage, Iowa Republicans had long complained about the State Treasurer's office paying for advertising in which Fitzgerald (a Democrat) touted programs such as the Great Treasure Hunt or 529 college savings accounts. The treasurer's office adjusted its advertising to comply.
Under the logic of the ethics board's advisory, it would be fine for Fitzgerald to spend new money from the treasurer's office budget to run radio or newspaper ads using his voice and picture, as long as the spots were produced before July 1, 2018. If he did so, GOP lawmakers would surely howl.
The Iowa House and Senate have never taken any meaningful steps to hold Reynolds accountable, though. Her determination to spend government funds to promote herself at the state fair is no exception.
UPDATE: State Senator Roby Smith, the main architect of the self-promotion law who is now the GOP nominee for state treasurer, posed with Reynolds in front of her booth on August 18. He posted this photo on Twitter and Facebook.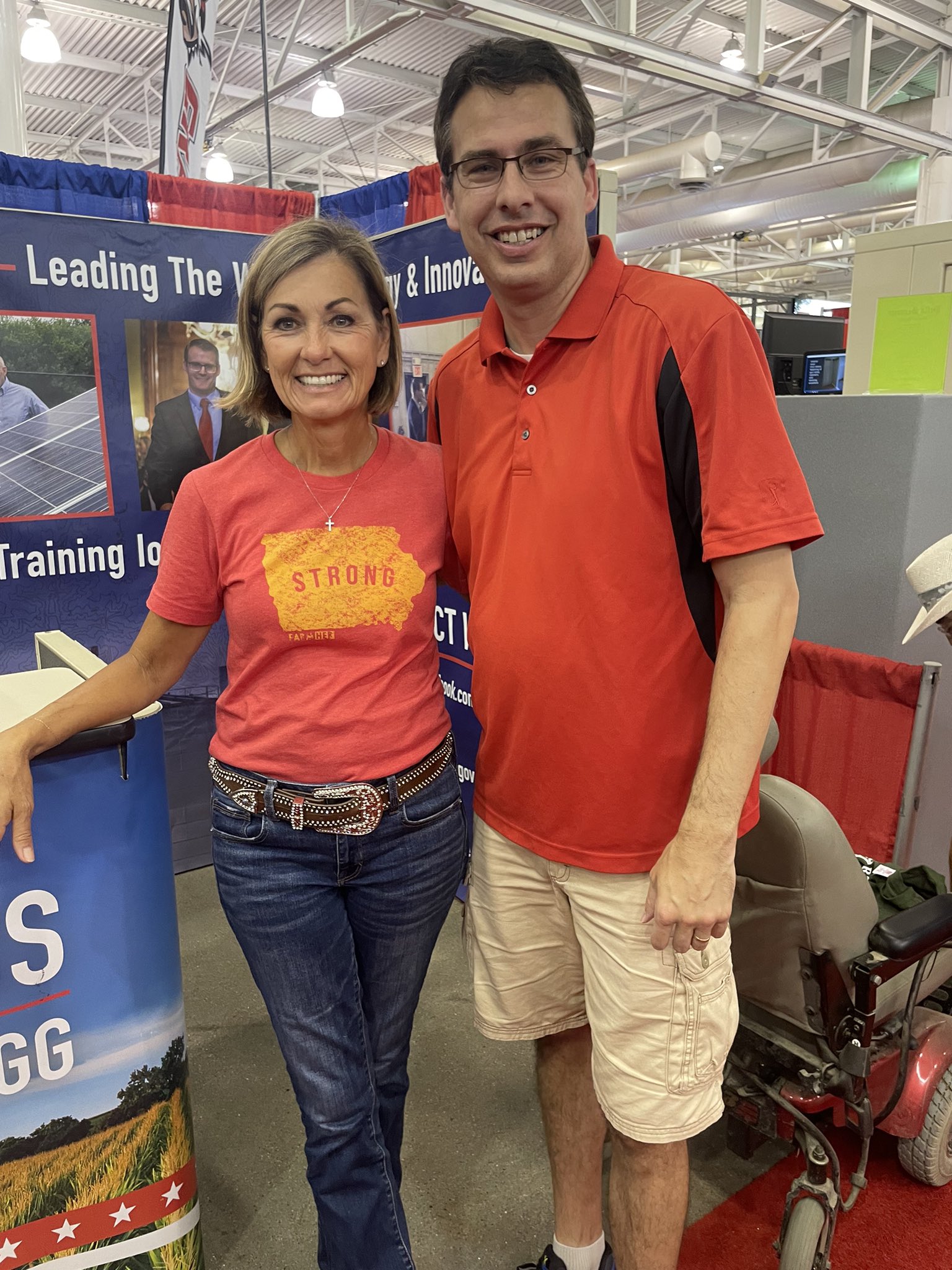 All photos by Greg Hauenstein published with permission.