U.S. Representative Mariannette Miller-Meeks spent more than $63,000 from her office budget to pay for radio advertising highlighting top campaign issues for House Republicans. The expenditures, using the "franking privilege" available to all members of Congress, were legal during the five weeks Miller-Weeks bought the ads, taking advantage of a little-noticed provision allowing such taxpayer-funded media promotions.
Bleeding Heartland's review of Iowa radio station political files, archived on the Federal Communications Commission's website, showed Miller-Meeks used franking funds to place 60-second commercials on at least eight Iowa radio stations in August or September.
Staff for Miller-Meeks did not reply to inquiries about the advertising campaign, which marked a departure from how the Republican allocated her office budget during her first year and a half in Congress.
A BIG SPEND, LATE IN THE ELECTION CYCLE
U.S. House members are allowed to use franking funds for various kinds of mass communications with constituents. Most representatives spend tens of thousands of dollars a year on franked mail. Many also spend official funds on email newsletters, robocalls, telephone town halls, and digital or broadcast media advertising.
The House publishes quarterly statements on disbursements, which show how each member has allocated their office budget. Postal costs for franked mail are listed separately, but "advertising" expenses (radio, television, digital) are lumped together, so it's not immediately apparent how much individual representatives devoted to radio ads.
The House Communication Standards Commission maintains a searchable database on material approved for distribution using franking funds. Representative Cindy Axne, a Democrat representing Iowa's third district, has not sought to spend official funds on radio ads in 2021 or 2022. Representative Ashley Hinson, a Republican elected from the first district, placed two radio ads using official funds in October 2021 and none this year.
The House commission's database shows Representative Randy Feenstra, a Republican from Iowa's fourth district, submitted radio scripts on various topics for approval in August and October 2021, and in January, March, and July 2022. The quarterly statements on disbursements show Feenstra's office began spending heavily on advertising last year; from the third quarter of 2021 through the second quarter of 2022, such costs exceeded $106,000.
It's not clear how much of Feenstra's franking expenses went toward radio, as opposed to other forms of media. Invoices obtained through Federal Communications Commission political files show Feenstra spent at least $23,000 in official funds to advertise on WHO Radio alone in February, March, and April of this year, plus $10,742 for ads on the station in August. WHO is Iowa's leading conservative talk radio outlet.
Miller-Meeks has dramatically changed her mass communications strategy this year. She spent less than $15,000 on franked mail during 2021, far less than her Iowa colleagues. In contrast, she spent more than the others on that line item during the first half of this year ($78,500.60 during the first quarter and $25,559.62 during the second quarter).
The House database shows Miller-Meeks did not run any official radio advertising during 2021. In fact, I found no advertising expenses listed on any of Miller-Meeks' quarterly reports for 2021 or the first quarter of 2022. Her office reported spending $12,480 on advertising during the second quarter of this year. Some of those funds covered a radio buy focused on constituent services, which was approved as a franking expense in March 2022. FCC files show Miller-Meeks' office spent at least $2,200 to advertise on radio stations in Davenport and Knoxville in early April.
Until the House publishes the statements on disbursements covering the third quarter of 2022, we won't know how much Miller-Meeks allocated from her office budget for advertising these past two months. Congressional staff did not respond to questions about where radio ads were placed or the total cost.
Using the FCC's website, I reviewed political files from several dozen radio stations that reach parts of Miller-Meeks' southeast Iowa district. The following list may not be exhaustive, but invoices show her office spent at least $24,732 for radio ads in August and $38,432 in September:
In order to limit opportunities for elected officials to use taxpayer funds to indirectly boost their campaigns, House rules long prohibited the use of franking funds for "unsolicited mass communications" within 90 days of a primary or general election in which the member of Congress was on the ballot.
The current rules outline a shorter blackout period of 60 days, which began on September 9 for the November 2022 election.
In other words, Miller-Meeks' radio advertising blitz took place near the end of the legal window for such spending.
Also worth noting: I could not find any official ad buys on any Ottumwa-based radio station. Wapello County is part of Miller-Meeks' current Congressional district (IA-02), but Iowa's new political map put it and several nearby counties outside IA-01, where the Republican is seeking re-election. If Miller-Meeks' goal was to reach current constituents, as opposed to prospective voters, I would expect to find an order for some franking ads on Ottumwa radio.
"CALL MY OFFICE"
Taxpayer-funded communications from U.S. House members must conform to certain rules on content. They "must be related to official business," which can include (among other things) the work of Congress, constituent service, "issues of public concern," or requests for constituents' opinions on public policy.
Officially-funded messages can't contain "political or personal material," such as "voting recommendations" and "campaign content or electioneering." So in her radio spots, Miller-Meeks was careful to identify herself as "Congresswoman," not as a Republican candidate. She also encouraged listeners to call her office, rather than asking for their votes.
In one script approved by the House Communication Standards Commission, Miller-Meeks explained why she opposed the spending bill House and Senate Democrats approved in early August.
Washington sure has some crazy ideas in difficult times.

I'm Congresswoman Mariannette Miller-Meeks, and that's why I voted against the $740 billion spending bill that will dramatically increase funding for the IRS – enough to hire an additional eighty-seven thousand new IRS agents and auditors, according to a report from the United States Department of the Treasury.

That's more than enough IRS agents to fill Kinnick stadium.

Some politicians think we need more IRS agents to audit taxpayers like you, making you pay for more government spending.

I disagree. We don't need more IRS agents harassing ordinary hard-working Iowans – Congress needs to stop massive government spending and let you keep more of your hard-earned money.

I'm your Congresswoman, Dr. Mariannette Miller-Meeks, and I want to hear what you think.

Call my office at 202-225-6576 that's 202-225-6576.

I'm Mariannette Miller-Meeks and I am proud to represent you.

Paid for with official funds from the office of Congresswoman Mariannette Miller-Meeks.
I never heard the spot about IRS agents, but while listening to KIOA during the first week of September, I repeatedly heard another ad focused on gas prices. You can listen to my audio recording here. My transcript:
Gas prices in America have hit an all time high, with families already dealing with rising costs for everything else.

I am your Congresswoman, Mariannette Miller-Meeks. As I drive across southeast Iowa, I hear the pain felt by Iowans as prices keep increasing.

You deserve leadership that not only listens – but does something about it.

I am fighting against the disastrous anti-American energy policies in Washington every day. Our country was energy independent just two short years ago, and we can be independent again.

Contact my office to share how gas prices are impacting you, and what you want to see done about it. Call my office at 202-225-6576. That's 202-225-6576.

I'm Mariannette Miller-Meeks, and I am proud to represent you.

Paid for with official funds from the office of Congresswoman Mariannette Miller-Meeks.
I shared the audio from the gas prices ad with Delaney Marsco, senior legal counsel for ethics at the Campaign Legal Center, and Donald Sherman, chief counsel for the group Citizens for Responsibility and Ethics in Washington. Both agreed it didn't cross any legal lines, since the spot wasn't electioneering, and it was on the air before the blackout period.
WHAT ABOUT THE FALSE CLAIMS?
Not everything Miller-Meeks said in recent radio ads was accurate. For instance, many fact-checkers have debunked Republican claims that the Inflation Reduction Act's funding for the IRS would lead to 87,000 new agents coming for middle-income Americans. In reality, "most new hires will provide customer services," and beefed-up IRS enforcement will target "high-income and corporate tax evaders."
As for gas prices, they did hit a new high in dollars early this summer. But adjusted for inflation, gas was more expensive in 2008 and at some points between 2011 and 2014.
Additionally, by the time radio listeners heard the Miller-Meeks ad, gas prices were way down from their peak in June. According to one price tracker, gas prices declined every week over the summer.
It's also a stretch to say the U.S. was "energy independent just two short years ago." Data show the country was a net petroleum exporter in 2020, as domestic demand for oil and gas collapsed during the COVID-19 pandemic. But even during that sharp economic contraction, the U.S. continued to import "some crude oil and petroleum products."
Regardless, false statements in political advertising have long been considered protected speech under the First Amendment. For that reason, "truth in advertising" laws don't apply to political commercials.
Marsco noted in a telephone interview with Bleeding Heartland that "outright lies" are prohibited in franking material, but "the bar is pretty high" for proving any particular claim was a lie. Broad statements about policy issues would not likely "rise to the level of a materially false statement in violation of the law," because a concept like energy independence can mean different things to different people.
AD DOVETAILS WITH GOP CAMPAIGN MESSAGING
While Miller-Meeks avoided any overt bid for re-election, her radio ads highlighted issues Republicans believe will play to their strengths in the midterms.
Andrew Solender and Alayna Treene reported for Axios on September 6 that House GOP leaders will soon roll out "a unified message to run on in the final stretch before November." The talking points about the economy focus on "inflation, high gas prices, supply chain issues and competition with China."
The marching orders are accompanied by a "communications kit" that McCarthy circulated to members prior to the August recess. It includes tips on how and where to hold these conversations on the trail.
This part of the communications kit outlines "The Republican Commitment to an Economy That's Strong." One section promises to "Reduce Gas Prices and Make America Energy Independent."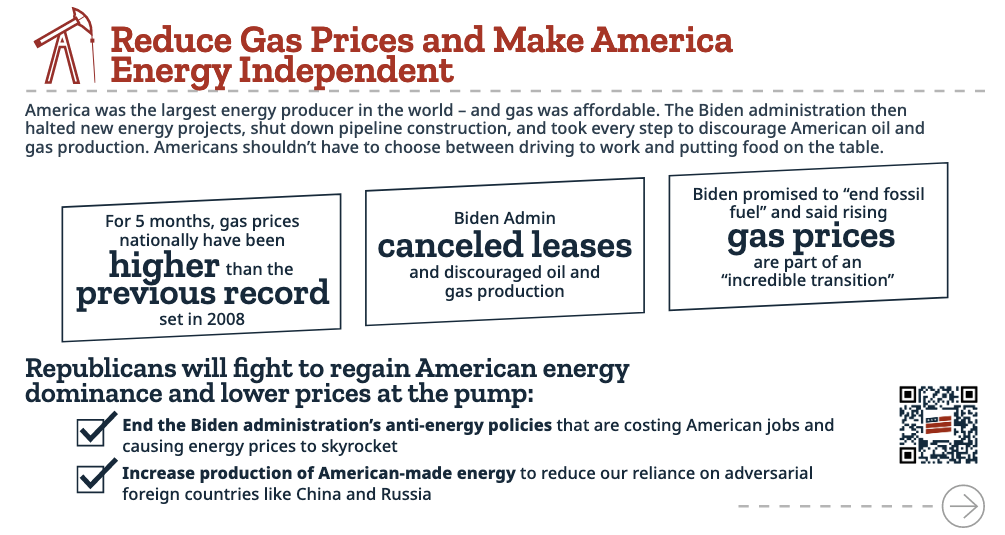 House GOP leaders want members to assure voters, "Republicans will fight to regain American energy dominance and lower prices at the pump," and "End the Biden administration's anti-energy policies that are costing American jobs and causing energy prices to skyrocket."
Along those lines, Miller-Meeks promised radio listeners, "I am fighting against the disastrous anti-American energy policies in Washington every day. Our country was energy independent just two short years ago, and we can be independent again."
A "Field Guide" from the same communications kit distributed last month advises House Republicans,
Every day we hear the economic challenges our constituents – both producers and consumers – are facing. Communicating this crisis is about more than numbers and data ‒ it's about the sacrifices families are making to get food on table and gas in the tank. Hearing and sharing these accounts can be done in a variety of ways.
Specific suggestions include, "Share constituent stories about what rising prices means to their families, businesses, and communities. [...] how are large families dealing with grocery prices? How are individuals on fixed incomes dealing with rising energy costs?"
How convenient: Miller-Meeks just spent tens of thousands of government dollars asking radio listeners to "Contact my office to share how gas prices are impacting you, and what you want to see done about it."
The Campaign Legal Center's Marsco explained that many official statements about public policy have political overtones. An official ad like Miller-Meeks' message about gas prices "is permissible, so long as it's not a campaign communication." Franking funds exist so members of Congress can let constituents know what they are working on, and how to get in touch with them. People do care about inflation and oil prices, Marsco added, and "they should be able to get those questions answered by people in power."
Fair point. And if Miller-Meeks had regularly used her office budget to inform radio listeners how they could contact her staff to seek assistance or express opinions about salient issues, the recent ad buy would look more like constituent service and less like using public funds to amplify the Republican's campaign message.
This post will be updated if Miller-Meeks' office provides any comment or clarification about the radio advertising.
A forthcoming article will review the messages in campaign advertising from Miller-Meeks and her Democratic challenger, State Representative Christina Bohannan. National forecasters have rated the IA-01 race as either "lean Republican" or "likely Republican."
UPDATE: Miller-Meeks received approval for two franked mail pieces on August 26 (for a "Moms mailer") and September 1 (for an "Accomplishments mailer"). A Johnson County resident received the "Moms mailer" on September 13. I am seeking to confirm whether it was mailed before the blackout period began on September 9.
LATE UPDATE: Around December 19, 2022, radio stations began running a new 30-second spot financed through Miller-Meeks' official funds. The script sounded more like typical constituent outreach, with Miller-Meeks encouraging listeners to call her Washington office or visit her official website.
Top image cropped from a photo posted on Representative Mariannette Miller-Meeks' official Facebook page in January 2021.