Second in a series interpreting the results of Iowa's 2022 state and federal elections.
For the third straight election cycle, Iowans have sent a record number of women to the state Senate. But the number of women in the Iowa House, which reached a high water mark in 2019, will dip again when lawmakers reconvene in January.
BOTH PARTIES ELECT MORE WOMEN SENATORS THAN EVER
Over the past two years, twelve of Iowa's 50 state senators (seven Democrats, five Republicans) have been women—a record for the state.
Democrats Janet Petersen and Pam Jochum and Republican Amy Sinclair were not up for re-election this year and will return in January.
Democrat Amanda Ragan is retiring, and Democrat Liz Mathis opted to run for Congress instead of the legislature, so they won't be back next year.
Senator Jackie Smith, also a Democrat lost her re-election bid in Senate district 1.
The other six women now serving in the chamber were re-elected on November 8:
Chris Cournoyer (R, Senate district 35)
Dawn Driscoll (R, Senate district 46)
Carrie Koelker (R, Senate district 33)
Annette Sweeney (R, Senate district 27)
Sarah Trone Garriott (D, Senate district 14)
Claire Celsi (D, Senate district 16)
In addition, six women candidates were elected to the Senate for the first time this week. All but one previously served in the Iowa House.
Sandy Salmon (R, Senate district 29)
Cherielynn Westrich (R, Senate district 13)
Liz Bennett (D, Senate district 39)
Molly Donahue (D, Senate district 37)
Janice Weiner (D, Senate district 45)
Cindy Winckler (D, Senate district 49)
Weiner is the newcomer to the legislature, having previously been elected to Iowa City's council.
The upshot is that fifteen women—eight Democrats, seven Republicans—will be sworn in as Iowa senators on January 9.
On a related note, on November 10 the Senate GOP caucus chose Sinclair to be the next president, the second-ranking position in the chamber. Current President Jake Chapman lost his re-election bid to Trone Garriott.
The last woman to serve as Senate president was Jochum, when Democrats controlled the chamber prior to the 2016 elections. The highest-ranking woman ever to serve in the Iowa Senate was Republican Mary Lundby, who was majority leader for a stint during the 2000s. UPDATE: I forgot to mention the first woman to serve as Senate president: Mary Kramer, chosen for that position in 1997.
THE SIGNIFICANCE OF MORE WOMEN IN THE IOWA SENATE
Bleeding Heartland reached out to some of the successful candidates about the growing ranks of women in the Senate. Weiner commented via email, "It's time. It's time our voices were heard. We need to be heard loud and clear on reproductive rights and abortion—we will not be second-class citizens."
She added that she was "so grateful for the advocacy of VoteMama, which amplifies the voices and supports the candidacies of progressive women raising children. We know household finances, we know child care, we know early childhood education, we know public schools, we know IEPs, we know the challenges that our children face in today's society." Women raising children are also more sensitive to traumatic experiences facing kids in schools, like active shooter drills or being bullied over their identity. "We live it every day, and it is crucial that we have a seat at the table."
Bennett said in a telephone interview, "Representation matters," and it's important for the younger generation to see "women having a microphone." Unfortunately, she added, we've seen in Iowa that women are "just as capable of doing really hurtful things to people." Still, Bennett feels "governing bodies should resemble the populace in as many ways as possible," so it's valuable to have more women's voices included.
Winckler told Bleeding Heartland that it's "great" to see more women elected to the Senate. "There are certainly different perspectives offered, and different experiences, and we need a variety." She feels it is a "wonderful opportunity to have more women in the decision-making process."
Celsi was more jaded about the impact. In a telephone interview, she said she used to work with the now-dissolved organization 50/50 in 2020, a nonpartisan group that promoted women's representation at all levels of political life. At that time, Celsi "truly believed in the power of women" to be a "calming, gentler influence" on the legislative process. Women helped keep bad bills from reaching floor votes and took a "common-sense approach to legislating."
But in the four years Celsi has served in the Senate, she's "seen first-hand that this Republican Party has become so radicalized that it really doesn't matter if it's a man or a woman in office." So while she's "happy to see more women in the legislature," she doesn't think it makes any difference to have more Republican women in the chamber, as long as they keep legislating from the radical right.
NUMBER OF WOMEN DECLINES AGAIN IN STATE HOUSE
Women's representation in the Iowa House crept up over the last decade: from 24 elected in 2010 (sixteen Democrats and eight Republicans) to 25 in 2012 (nineteen Democrats and six Republicans) to 27 in 2014 (21 Democrats and six Republicans) to 28 in 2016 (nineteen Democrats and nine Republicans). The biggest change occurred in 2018, when Iowans sent 34 women (24 Democrats and ten Republicans) to the state House.
The march toward more balanced representation took a step back in 2020, when 31 women (21 Democrats, ten Republicans) won Iowa House races.
Thirteen of them either retired or ran for other offices this year: Democrats Marti Anderson, Liz Bennett, Christina Bohannan, Molly Donahue, Mary Mascher, Jo Oldson, Kirsten Running-Marquardt, Kristin Sunde, Cindy Winckler, and Mary Wolfe, and Republicans Holly Brink, Sandy Salmon, and Cherielynn Westrich.
State Representative Phyllis Thede, a Democrat, lost her race on November 8.
Seventeen women were re-elected to the House this week:
Jane Bloomingdale (R, House district 60)
Brooke Boden (R, House district 21)
Megan Jones (R, House district 6)
Shannon Latham (R, House district 55)
Shannon Lundgren (R, House district 65)
Ann Meyer (R, House district 8)
Anne Osmundson (R, House district 64)
Timi Brown-Powers (D, House district 61)
Sue Cahill (D, House district 52)
Tracy Ehlert (D, House district 79)
Ruth Ann Gaines (D, House district 33)
Lindsay James (D, House district 71)
Jennifer Konfrst (D, House district 32)
Monica Kurth (D, House district 98)
Amy Nielsen (D, House district 85)
Sharon Steckman (D, House district 59)
Beth Wessel-Kroeschell (D, House district 49)
In addition, twelve non-incumbent women won Iowa House races this week:
Cindy Golding (R, House district 83)
Helena Hayes (R, House district 88)
Heather Hora (R, House district 92)
Barb Kniff McCulla (R, House district 37)
Luana Stoltenberg (R, House district 81)—recount possible
Devon Wood (R, House district 17)
Molly Buck (D, House district 41)
Elinor Levin (D, House district 89)
Mary Madison (D, House district 31)
Heather Matson (D, House district 42)—recount possible
Megan Srinivas (D, House district 30)
Elizabeth Wilson (D, House district 73)
Republican Sarah Abdouch may yet join this list; unofficial returns show her only seven votes behind Josh Turek in House district 20.
Recounts and provisional ballots have rarely changed the outcome of an Iowa legislative race. Assuming candidates currently leading their opponents prevail, 29 women (thirteen Republicans, sixteen Democrats) will be sworn in as House members in January.
A final bit of political trivia: Weiner, Golding, Hora, and Srinivas will join the large club of Iowa lawmakers who were not successful in their first legislative campaigns.
UPDATE: Following an administrative recount in Scott County, Luana Stoltenberg fell six votes behind Craig Cooper in House district 81. That race is headed for a recount.
LATER UPDATE: Stoltenberg prevailed by eleven votes following the recount, and recounts in several other races did not change the outcome. The new Iowa House will have 71 men and 29 women in 2023.
The Democratic caucus made history in early December by electing an all-woman leadership team. From left: Assistant minority leader Amy Nielsen, assistant minority leader Heather Matson, minority leader Jennifer Konfrst, minority whip Lindsay James, assistant minority leader Sharon Steckman, assistant minority leader Sue Cahill.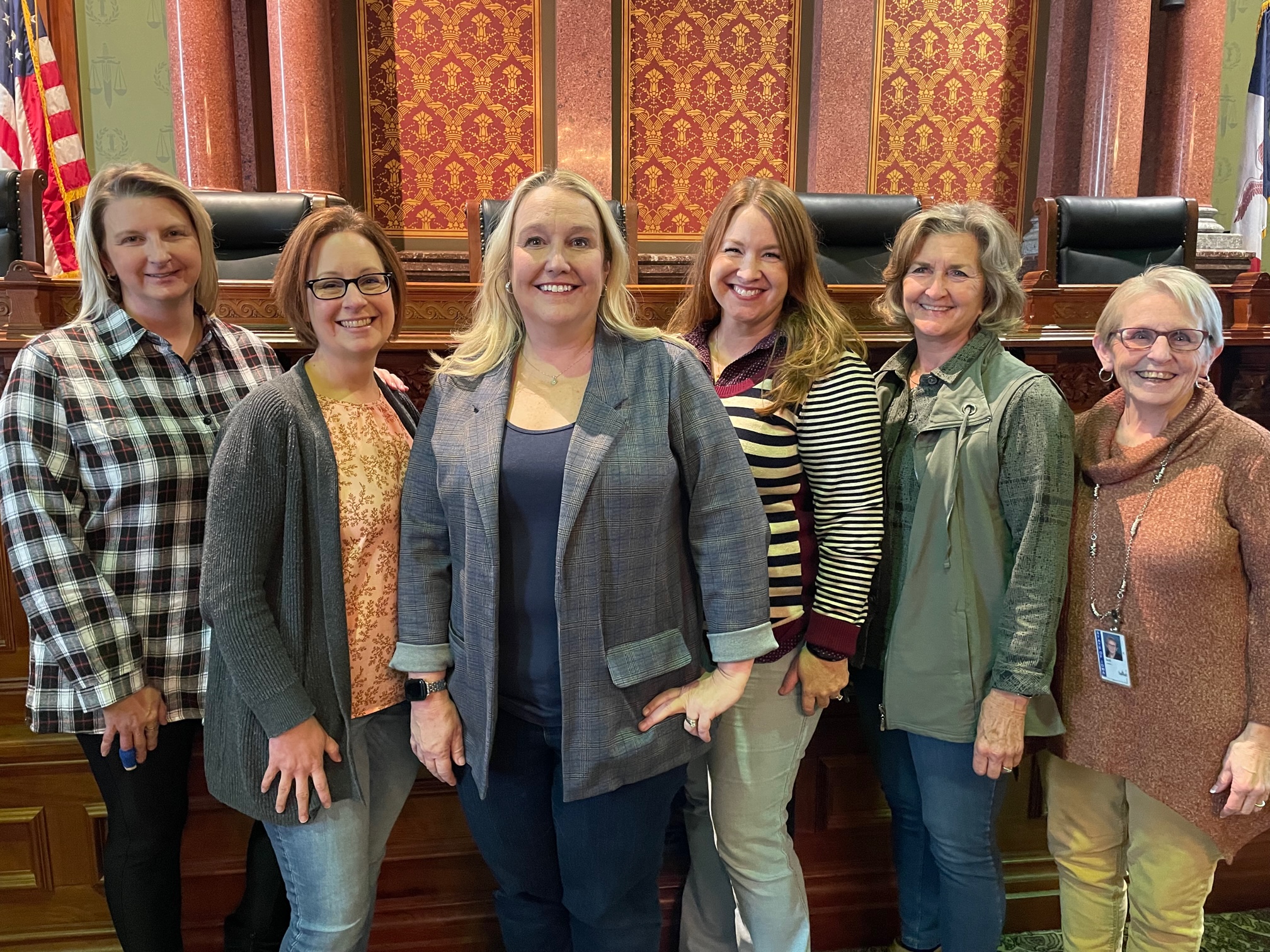 Top image: the six women just elected to the Iowa Senate for the first time. Top row, from left: Liz Bennett, Molly Donahue, Janice Weiner. Bottom row: Cindy Winckler, Sandy Salmon, Cherielynn Westrich.