Political reactions to a president's State of the Union address are as ritualized as the speech itself. Elected officials typically have nothing but praise when the president belongs to their own party, while finding much to criticize about a leader from the other party.
If President Joe Biden's remarks to this year's joint session of Congress are remembered for anything, it will probably be the segment where he turned Republican heckling to his advantage, promising to defend Medicare and Social Security from cuts.
In their public statements about the speech, Iowa's all-Republican delegation criticized what Biden didn't say about some of their priorities. It's clear those standards apply only to Democratic presidents.
"HOW COULD HE FORGET TO THANK OUR PRODUCERS"
U.S. Representative Ashley Hinson (IA-02) complained the morning after Biden's speech that the president didn't properly acknowledge farmers, and therefore doesn't understand that "food isn't grown at the grocery store."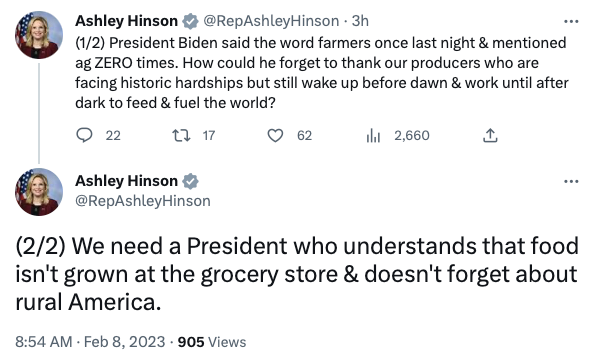 I checked out the transcripts of President Donald Trump's four addresses to joint sessions of Congress.
At no time did Trump "thank our producers" for their hard work, or spell out for the viewing public that "food isn't grown at the grocery store."
"NOT A PEEP" ABOUT BIOFUELS
U.S. Representative Randy Feenstra (IA-04) complained during the speech that he heard "not a peep" from the president about ethanol or biodiesel.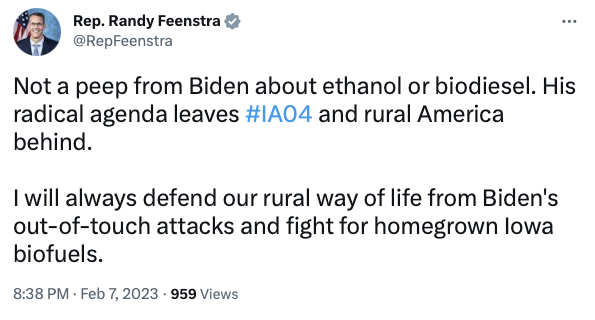 Later, he told a reporter from the Daily Mail newspaper he was "truly disappointed that rural America, in essence, is last on Biden's list of priorities." Feenstra noted that Biden hadn't mentioned "the breadbasket," agriculture, biofuels, or that Chinese companies are buying U.S. farmland.
"This is the number one issue in rural America right now – I mean, it's this and inflation," he said. "We're hearing about it from every farmer that's concerned about when they go to buy land, it being bought by a foreign adversary."

"It creates food security issues, but it also creates national security issues."
In a news release, Feenstra said Biden "failed to mention China's reckless purchase of American farmland and Mexico's assault on Iowa corn growers" (through a possible ban on imports of genetically modified corn).
Again, going to the transcripts of previous presidential addresses:
It's no surprise Trump didn't tout biofuels in his State of the Union addresses. His administration repeatedly favored oil refineries by granting waivers related to the Renewable Fuels Standard.
"ALWAYS WORDS AND NO ACTION"
Governor Kim Reynolds tweeted during the speech, "It's always words and no action with Joe Biden."
In fact, Biden walked through a long list of policy wins. Some had received bipartisan support in Congress, such as gun safety legislation or the bipartisan infrastructure bill, which will allocate about $5 billion to Iowa projects. Others were passed by Democrats alone, like the Inflation Reduction Act, which allowed Medicare to negotiate drug prices.
Reynolds should be familiar with Biden's concrete accomplishments, because the American Rescue Plan is funding many of her own administration's initiatives. That law, which Biden signed in March 2021, directed about $1.4 million to the state and nearly $1 billion to Iowa's city and county governments.
The governor's news releases usually bury any reference to federal "ARPA" funds near the end, so the public is unlikely to learn the project was possible only because of the law Biden and Democrats in Congress enacted. Soon after the American Rescue Plan went into effect, Reynolds denounced it as an "overreaching, unconstitutional stimulus bill that does nothing but bail out blue states."
In a written statement released following the president's speech and the GOP response delivered by Arkansas Governor Sarah Huckabee Sanders, Reynolds said,
If you want something said, ask Washington. But if you want something done, ask a Republican Governor. For too long, Washington has been creating problems and leaving it up to the states to clean up the mess. As Gov. Sanders displayed tonight, Republican-led states are leading and delivering.
Huckabee Sanders' remarks were much more about culture wars than "leading and delivering." You can read the transcript yourself.
As for cleaning up messes, Reynolds dipped into American Rescue Plan funds yet again recently to cover a shortfall in the Iowa Veterans Trust Fund, which ran out of money less than halfway through the current fiscal year. Iowa's Republican-controlled legislature could have averted that problem, but they didn't increase the trust fund's appropriation despite a record state budget surplus. Who's "creating problems" again?
RELATED: WHO JOINED IOWA'S MEMBERS OF CONGRESS AT THE SOTU
U.S. House and Senate members are allowed to bring a guest to the State of the Union, and many use the opportunity to make a political statement. This year, Senator Chuck Grassley did not attend, citing his rehab from a hip fracture last month.
Senator Joni Ernst invited Sydney Rieckhoff, "the CEO and Co-founder of Almost Famous Popcorn, a family-owned, gourmet, ready-to-eat popcorn company based in Cedar Rapids."
Representative Mariannette Miller-Meeks (IA-01) invited David Barker, who is one of the largest donors to Iowa GOP candidates and a member of the Republican Party of Iowa's State Central Committee, as well as a Reynolds appointee to the Iowa Board of Regents and the Governor's Rural Empowerment Initiative.
Hinson invited retired U.S. Army Sergeant Trent Dirks. A news release from her office described him as "an American hero who is using his experience with PTSD and alcohol dependence to help other veterans in our community."
Representative Zach Nunn (IA-03) invited Des Moines resident and Afghan refugee Nabi Mohammadi; Nunn later criticized Biden for not mentioning Afghanistan during his remarks to the joint session.
Feenstra invited Chad Tentinger, "lead developer of Cattlemen's Heritage Beef Company," which is building a beef processing facility in southwest Iowa for independent producers.
UPDATE: Reader Doug Lane pointed out that Huckabee Sanders also did not mention farms, agriculture, ethanol, or biofuels in her State of the Union response.