When Ron Corbett announced in December that he will not seek a third term as Cedar Rapids mayor and will consider running for governor, he promised a "big surprise" at the end of his final "state of the city" address on February 22.
Corbett has long been positioning himself to run for governor. Since creating the conservative think tank Engage Iowa in late 2015, he has given dozens of speeches around the state, most often to Rotary clubs or members of local Iowa Farm Bureau chapters and Chambers of Commerce.
After Governor Terry Branstad confirmed plans to resign in order to become U.S. ambassador to China, many Iowa politics watchers speculated that Corbett would decide against seeking higher office next year. Instead of competing for the GOP nomination in an open primary, he would have to run against a well-funded sitting governor, Kim Reynolds.
To those who don't share my view that Corbett will take on the challenge of running against a Republican incumbent, I ask: why is Engage Iowa spending money to promote Corbett's name and catchy conservative slogans online?

All of the images in this post were taken from the popular Photobucket website on February 18. I don't know when the advertising first appeared, because I upload photos less often when Bleeding Heartland's weekly wildflower series is on winter hiatus.
The supposedly too-high state income tax rate has been a major theme of Corbett's speeches over the past year and a half. Engage Iowa is now putting money behind its message that "Iowa Has An Income Tax Problem":
Banner ad version:

Some of the web ads feature Corbett's name and image, giving his title as "President" (of the think tank):
Banner version of ad promoting Corbett as president of Engage Iowa:
If he runs for governor, expect Corbett to bash the Branstad/Reynolds administration for doing nothing over the past seven years to lower state income taxes or simplify the tax code. Branstad's signature achievement in this area was the 2013 commercial property tax cut, which benefited relatively few people, even though it costs the state hundreds of millions of dollars annually.
In an op-ed column for the Des Moines Register last September, Corbett provided a glimpse of future stump speeches:
Back in 1997 as speaker of the Iowa House, I spearheaded the effort to improve Iowa's income tax system. In that year, we successfully cut Iowa's income taxes across the board by 10 percent. With the start of 2017, we will mark the 20th anniversary of the last income tax cut that Iowans have seen. We certainly aren't celebrating this milestone, but want to use it as a call to action. We simply cannot continue to do business the same way we did 20 years ago. I'd like to see us finish the job. The time is now to act on modernizing Iowa's tax code. [...]

I believe our updated tax code needs to be three things:

1. Fair: Our system is no longer fair. Years of tax breaks and tax credits have cluttered our current tax code. Deductions and credits for special interest groups muddle our system. We must work to simplify the code as the current process hurts the middle income and lower income earner.

2. Simple: According to the Tax Foundation, the Iowa income tax return is only three fewer lines than the federal tax form. As a small state with a population of 3 million people, our tax returns need to be shorter than what is being offered by the IRS.

3. Competitive: Everyone recognizes our tax rate of 8.98 percent is too high and ultimately leaves us with sticker shock. Special interests and large lobbying groups have been successful at accomplishing their own write-offs at the expense of our state and this ultimately leaves Iowa uncompetitive.
Reynolds won't be able to point many accomplishments on tax policy. Contrary to the administration's grand claims, the 2013 commercial property tax cut did not boost the economy or help the majority of Iowa taxpayers. Jon Muller showed here, "Virtually all of the benefit has gone directly to improve the wealth of commercial property owners, and shifted the property tax burden to homeowners in the short-medium run."
When Branstad came out of retirement to run for governor in 2010, he repeatedly accused incumbent Chet Culver of mismanaging state finances, leading to across-the-board budget cuts for two years in a row. If Corbett runs for governor, he can point to the large recent mid-year spending cuts as a sign of poor governance by the Branstad/Reynolds administration. Arguably, Branstad's budgets spent too much and gave away the store in business tax breaks.
Reynolds and Branstad have done their best to blame "challenging budget times" on the downturn in the farm sector. But Corbett's message about an unfair, out-of-date tax code may resonate with Republican audiences.
Corbett avoided publicly endorsing Donald Trump for president and stayed away from the GOP nominee's events in Cedar Rapids, in contrast to Reynolds, who campaigned for Trump at several rallies.
Nevertheless, the Corbett think tank's slogan "Make Iowa Wealthy Again" looks like an effort to tap into sentiment that drove so many Iowa voters toward Trump last year:
At one point yesterday, I saw three Engage Iowa ads on the same Photobucket page: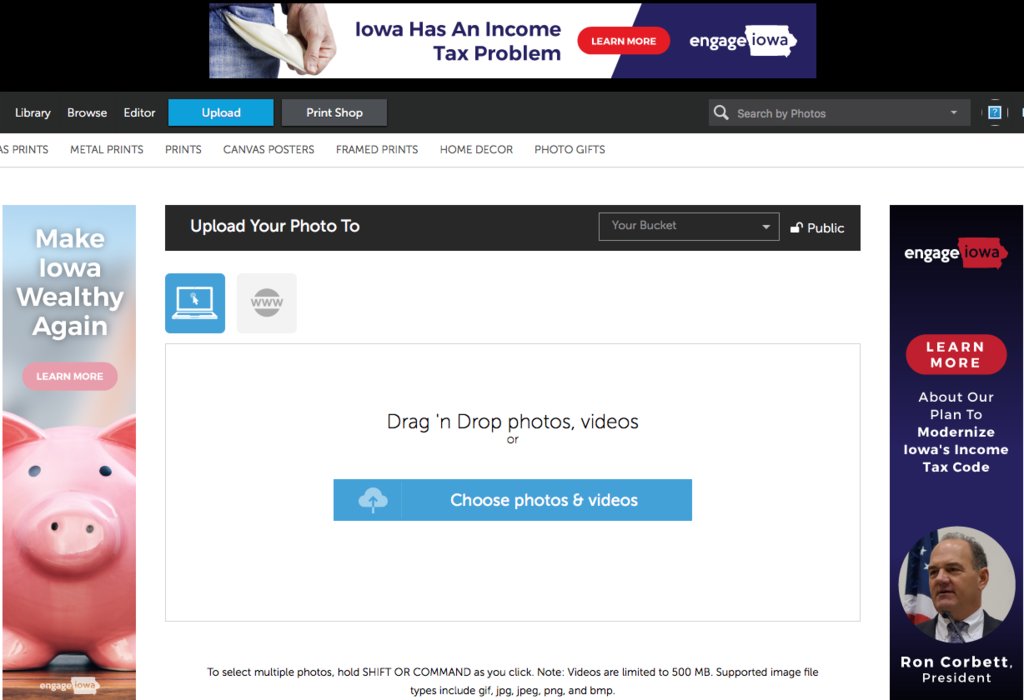 The latest statewide poll by Selzer & Co for the Des Moines Register and Mediacom indicated that Corbett is "least well-known" of seven possible gubernatorial candidates. Of the 802 Iowa adults surveyed between February 6 and 9, just 17 percent said they view Corbett favorably, 10 percent unfavorably, and 73 percent didn't know enough to express an opinion. The same poll showed Reynolds is both better-known and better-liked: 44 percent favorable, 24 percent unfavorable, 32 percent not sure.
No doubt State Senator Joni Ernst's statewide name recognition was minimal compared to U.S. Representative Bruce Braley's in February 2013. Corbett has plenty of time to raise his visibility. Brian Morelli reported for the Cedar Rapids Gazette in December that Corbett had already "spoken in 55 counties, including to 60 Rotary Clubs as well as Chambers of Commerce, Farm Bureau chapters and one-on-ones with community influencers like mayors, city managers and business leaders while promoting his research-based positions, elevating his profile and raising money." According to some acquaintances who have seen the mayor speak in these settings, he makes an effective presentation to a business-friendly audience.
Corbett's principal problem, if he runs for governor, will be the establishment networks and big money already lining up behind Reynolds. Officially, the Republican Party of Iowa will remain neutral in a competitive primary. In reality, a large network of Branstad loyalists will be promoting Reynolds. Animosity between Corbett and Iowa's longest-serving governor goes back to the 1990s.
Maybe the "big surprise" in Corbett's speech this Wednesday will have nothing to do with a 2018 campaign. It could relate to some city-wide initiative, like a proposed Cedar Rapids casino. Still, Engage Iowa seems to be up to something. I'll update this post as needed. Please let me know about other advertising you see on behalf of Corbett or his think tank.
UPDATE: Coming together rather than pitting urban and rural Iowans against each other is a common refrain of Engage Iowa's website and Corbett's public remarks on behalf of his think tank. A version of that idea could become a talking point against the Branstad/Reynolds administration, which has embraced the hyper-partisan agenda of GOP state legislative leaders. A February 19 story by Tom Beaumont of the Associated Press, focused on Iowa's sharp turn to the right in the last election, included this passage:
Republican Ron Corbett, House speaker the last time his party controlled the Iowa Capitol, said Republicans showed more willingness to work with Democrats back then.

That's also in part because rural Democrats were more powerful, he said. Today, the rural-urban divide in the Iowa Legislature more closely resembles that nationwide, with Republicans dominating rural areas and Democrats the urban districts.

Exacting a penalty on the opposition "could always come back to haunt you," Corbett said.
Top image: Screen shot taken on February 18 of an ad the Engage Iowa think tank was running on Photobucket's website.