For months, Ted Cruz deliberately did not engage with Donald Trump, positioning himself well to inherit the support of voters who might lean toward the Republican front-runner. But since Cruz emerged as the primary threat to him in Iowa, Trump has hammered the Texas senator during his media appearances and at his campaign rallies. Trump has attacked on policy grounds ("Ted was in favor of amnesty") and repeatedly raised doubts about whether Cruz, born in Canada to a U.S. citizen, is eligible to become president.
Over the last few days, Cruz finally started hitting back at Trump during public events and media availabilities. A poll in the field this week is testing numerous anti-Trump talking points with Iowa voters, and signs point to the Cruz campaign or an aligned group commissioning that survey. I enclose below Simpson College Professor Kedron Bardwell's notes on the message-testing poll; look for Cruz to employ some of those lines during Thursday night's presidential debate.
The Iowa Republican caucus polling average shows a tight race between the top two contenders here, with all other candidates well behind. But a closer look at the Iowa findings, particularly the latest from Selzer & Co for the Des Moines Register and Bloomberg News, suggests that Cruz could easily exceed his topline numbers on caucus night. Meanwhile, Trump seems more likely to underperform his polling numbers, hampered by a much less competent ground game.

The last several surveys of likely Republican caucus-goers in Iowa show a mixed bag. Cruz leads in three polls released since January 1, (Fox News, NBC/Marist, and Selzer), while Trump leads in three (Quinnipiac, Public Policy Polling, and ARG). No poll released this year has shown either candidate ahead by more than 4 points in Iowa.
Huffington Post reporter and polling director Ariel Edwards-Levy observed yesterday that the three best recent Iowa polls for Cruz all used live telephone interviewers: two drawing from a voter list for the respondent pool, the other using a random digit dial technique to reach Iowans. Of the three most recent Iowa polls showing Trump ahead, one used robocalls drawing from a voter list, one used live interviews and random digit dialing, and one used live interviewers with address-based sampling to find respondents.
Katie Glueck reported for Politico on the new tactics for Cruz this week:
The tipping point came Tuesday, when after exactly one week of dismissing Trump's questions about his eligibility to run for president, sometimes with jokes, sometimes by insisting that his position as a natural-born citizen was a settled legal matter, Cruz finally engaged more directly. [...]

Cruz told reporters following a rally in Hudson, N.H. that the source of Trump's attacks was a "liberal left-wing judicial activist Harvard Law professor" and Clinton backer (also a former professor of Cruz's), and implied that Trump was receiving ammunition from such Democrats because they see him as easier to beat in a general election.

Cruz's highlighting of the professor's political inclinations, said Bob Vander Plaats, a national Cruz co-chair and influential Iowa conservative, appears designed to signal to Trump, "'If you want to keep walking down this trail, I'll walk down it, but I'm going to keep exposing the reason why you want to walk down the trail.' "

From there, the hits kept coming. [Cruz] accused Trump of embodying "New York values" — a dog whistle to conservatives implying that he is a liberal out-of-touch with middle America — he obliquely questioned Trump's natural security credentials, and he made clear at a New Hampshire rally Tuesday evening that he expects to win, and that Trump will return to the hotel business.
Some of those lines echoed language from a poll that Simpson Professor Bardwell reported on Twitter on January 11. Rebecca Berg wrote about the survey for Real Clear Politics. Bardwell gave me permission to publish his notes on the call here.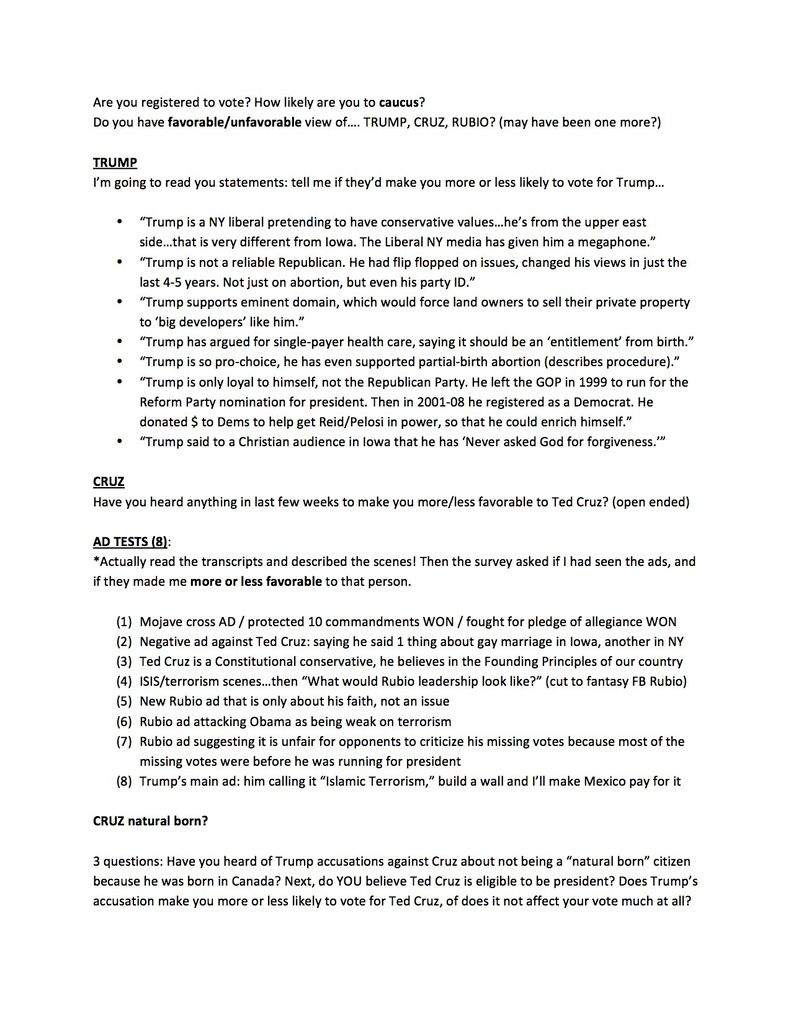 I so appreciate Bardwell's diligent note-taking, having urged voters for years to write down as much as they can when they are respondents for political polls. Don't be afraid to ask live interviewers to repeat the question so you can get more precise wording. Those details can be important, whether the survey is a legitimate message-testing effort or a push-poll. Incidentally, Kathy Frankovic concisely explained the difference between message-testing and push-polls here.
A push poll is political telemarketing masquerading as a poll. No one is really collecting information. No one will analyze the data. A push poll is very short, even too short. (It has to be very short to reach tens of thousands of potential voters, one by one). It does not include any demographic questions. And, of course, a push poll will contain negative information -- sometimes truthful, sometimes not -- about an opponent.

Push polls mislead the public, and not just about an opponent. They mislead the public about polls: Callers claim they are conducting a poll when all they are doing is spreading negative information.

But sometimes charges of push polling are themselves misleading. Not all questions that seem negative are part of push polls. Candidate organizations sometimes conduct polls with questions that contain negative information about opposing candidates. These polls, which are not push polls, are conducted for the same reasons market and advertising researchers do their work: to see what kinds of themes and packages move the public.
Central Marketing (212-260-0070) conducted the survey Bardwell described. Although the caller asked relatively few demographic questions at the end, the survey still looks like real message-testing. It's too long to be a push-poll, though it may provide fodder for push-polls closer to February 1. I have not seen evidence pointing to any specific campaign or group hiring Central Marketing to work in Iowa this year, but the script reads as if it was developed by the Cruz campaign or an organization supporting Cruz. Politico's Glueck didn't get a straight answer to her question:
Cruz spokesman Rick Tyler, asked directly whether the campaign was behind this particular message-testing effort, had no comment other than to note that "Iowans must be getting a million calls about a million things," and that the campaign "does lots in the field, we talk to Iowa voters all the time."
As mentioned above, multiple surveys point to a close race between Cruz and Trump in Iowa, but digging deeper than the toplines, the findings look much better for Cruz than for Trump. I'm focusing on the latest Selzer poll for the Des Moines Register and Bloomberg Politics, because Ann Selzer has the best track record in measuring Iowa voters' preferences. The poll surveyed 500 likely Republican caucusgoers between January 7 and 10, producing a margin of error of plus or minus 4.4 percentage points. Click here for full results, including the questionnaire. From John McCormick's write-up for Bloomberg:
Cruz has the support of 25 percent of those likely to attend the Republican caucuses on Feb. 1, closely followed by the billionaire real estate mogul at 22 percent. The poll indicates that while Trump's supporters are more committed, the firebrand junior senator from Texas appears to have more room to grow his support.

Still, Trump's ability to close the 10-point gap that Cruz had opened up over him a month ago is more due to Cruz losing altitude than Trump gaining it: Trump is up 1 percentage point since the poll was last taken in early December; Cruz has dropped 6 points during a period when he was under almost constant attack from Trump and other rivals, as well as Iowa's powerful corn-based ethanol industry. In the last two weeks, Trump has aired 2,324 ads in Iowa, far more than any of his rivals, according to data compiled by the media tracking company Kantar/CMAG. [...]

Trump's most recent line of attack against Cruz—questioning his legal eligibility for the presidency because he was born in Canada to an American mother—doesn't appear to have much punch. Just 15 percent of likely Republican caucus participants say they're bothered that Cruz was born outside the U.S., with about half of those being Trump's own supporters. [...]

When first and second choices are combined, Cruz leads Trump 48 percent to 33 percent. That means he has a higher potential ceiling of support, if he can convince those backing other candidates to shift his way and also if he isn't diminished further by attacks from Trump and others.
Click through to view McCormick's graphic showing the "Selzer score" for each Republican candidate. That metric takes into account respondents' first and second choices, as well as whether they could or could not ever support a particular candidate. Cruz crushes the rest of the GOP field with a "Selzer score" of 89.5, followed by Trump at 67, Marco Rubio at 63, and Ben Carson at 56.
One of Jennifer Jacobs' articles for the Des Moines Register on the new poll points to other good news for Cruz:
7. A majority of Cruz's supporters (56 percent) like his opposition to the Renewable Fuel Standard.

Ethanol advocates, led by the son of Iowa's powerful Republican governor, are pounding Cruz for it, wallpapering the state with mailers warning that Cruz would be a "danger" to Iowa's agricultural economy.

Among the overall caucus electorate, a 42 percent plurality don't like his stance, and 37 percent find it attractive.

Far more of a problem are Cruz's votes to cut the military and his lack of foreign policy experience. [...]

8. Cruz has more potential for growing his support than anyone else in the race, including Trump.

Cruz is second choice of almost half of Trump supporters (47 percent), Selzer said. The reverse isn't true for Trump: Only 25 percent of Cruz backers pick Trump second. [...]

And Cruz leads Trump by the highest margins with some of the caucuses' most faithful voters: very conservative voters, seniors, tea party supporters, evangelical conservatives and churchgoers, and residents of Iowa's 4th Congressional District, which is represented by U.S. Rep. Steve King, who endowed his endorsement on Cruz in November.
At least a half-dozen rival campaigns or interest groups have sent direct mail pieces to Iowans attacking Cruz on the Renewable Fuel Standard. I have yet to see any evidence that the ethanol mandate rises to a top-tier voting matter for more than a minuscule number of likely Republican caucus-goers. King's Congressional district is the largest ethanol producer in the country, so the fact that King can overlook this issue, backing Cruz for other reasons, sends a strong signal to conservatives. Moreover, as the Selzer poll shows, a decent-sized chunk of Iowa Republicans oppose the federal government mandate on ethanol, despite consensus opinion among our state's politicians from both parties.
The top story by Jacobs in Wednesday's Des Moines Register cited more promising findings for Cruz: 76 percent of likely GOP caucus-goers view the Texas senator favorably. A majority of respondents backing either Marco Rubio (in third place at 12 percent) or Ben Carson (in fourth at 11 percent) "could still be persuaded to support someone else" before February 1. Even better for Cruz, "a plurality of Rubio backers say Cruz is their second choice." Which makes sense, because about a quarter of the respondents backing Rubio see him as an anti-establishment candidate.
One phenomenon that surprised me this past year is the failure of most Republican contenders to build any decent ground game in Iowa, in striking contrast to the three Democratic presidential campaigns here. But Cruz appears to have a strong turnout operation gearing up for February 1. He has plenty of volunteers phone-banking for him, more evangelical pastors endorsing him than anyone else this cycle, and a huge megaphone in talk radio host Steve Deace. Speaking of which, Deace made some solid points in his analysis of the Selzer poll for the Conservative Review website:
1) As I predicted yesterday, we saw a market correction with Cruz's lead narrowing from last month when he had his surge, but the poll is still very good news for him. He is the first or second choice of almost half the electorate, which means he's going to have to blow it to lose because he has by far the highest ceiling. No one else even comes close, especially when you throw in his organizational advantage. 2) The poll is bad news for Trump. His numbers didn't really move at all, and he's only the second choice of 11 percent of the electorate. So he's basically at his ceiling now in Iowa, and needs Cruz to finish below 30 percent to have any chance to win as I said last week.

3) The poll is surprisingly good news for Rubio, and may explain why Christie and Jeb have started to attack him. Because the poll lays out a possible second place finish for him if Trump's loses 4-6 points of his vote for whatever reason. And if Rubio is second in Iowa, no matter how far back of Cruz it is, he will become the clear establishment choice and narrow the race to him and Cruz almost overnight. Thus potentially knocking out all the other establishment candidates prior to NH. 4) Some are surprised Carson is still at 11 percent, but the number to look at with him is he's only the second choice of 8 percent. That means he's Bachmann 2016 and boxed in. Come caucus night much of his support will go to Cruz and Rubio because his voters will want their votes to count. Always happens that way.
Trump's campaign has spent money acquiring some voter data and has attempted to do some volunteer training, and state director Chuck Laudner clearly knows a lot about turning out Iowa voters. Nevertheless, Trump's GOTV gives the overall impression of a Keystone Cops operation. Trip Gabriel's latest dispatch for the New York Times is a must-read: "Donald Trump's Iowa Ground Game Seems to Be Missing a Coach."
One volunteer leader enlisted by Donald J. Trump to turn out Iowa voters has yet to knock on a single door or to make a phone call. Another is a "9/11 truther" with a website claiming that the Sept. 11 attacks were a government conspiracy. A third caucus precinct captain, who like the others attended a training session in West Des Moines last month, said the campaign's goal of having them each enlist 25 supporters was unrealistic.

"There's probably not even 25 registered voters in a precinct," said the captain, Kathy Hawk, a retired trauma therapist in Ottumwa, who began making calls only on Monday [January 11].
Really, do read Gabriel's whole story, which confirmed my belief that on caucus night, Trump will fall short of his final Iowa poll numbers. Voters must overcome a lot of inertia to leave home for at least an hour on a cold winter night, and they need to know where to caucus (in most precincts, a different location from the general election polling place). Not only have many Trump backers not caucused before, some of his volunteers seem to have no idea what caucusing entails. Nor do they understand the concept of identifying a voter as a supporter of your candidate before trying to convince that person to come to the precinct caucus.
Some volunteers in charge of turning out supporters to caucus on Feb. 1 are given lists of all registered Republicans in their precincts to contact, ignoring the large number of independents and Democrats who appear to be leaning toward Mr. Trump. Moreover, the volunteers urge people to caucus regardless of whom they support, which risks turning out voters for Mr. Trump's rivals.

"I got 12 to go to the caucus, but I don't know if they will actually vote for Donald Trump," said Rick Shaddock, a precinct captain in Fairfield and the one who maintains the Sept. 11 conspiracy site.

Mr. Shaddock said one of Mr. Trump's senior Iowa operatives, Marshall Critchfield, had told him not to bring up his conspiracy views when calling voters.

"Marshall took me aside and told me, 'Rick, when you're talking to people about Donald Trump, maybe you shouldn't mention 9/11,'" he said.
Here's more background on Shaddock. He sounds like a real piece of work.
Any comments about the Iowa Republican caucus race are welcome in this thread. A future post will look more closely at recent polling data about the "establishment" contenders.