Craig Robinson has stopped publishing regularly at The Iowa Republican and plans to transform the site into a personal blog, he told Bleeding Heartland yesterday. Robinson has been the publisher and primary author at Iowa's most widely-read conservative political website since its launch in 2009. Other writers have been regular contributors over the years, but since early 2015, The Iowa Republican has published press releases or pieces by Robinson himself. Updates became noticeably less frequent over the past year, compared to the blog's output during the 2011-2012 Iowa caucus campaign and GOP primary season.
The last new post at the site was a May 9 commentary by Robinson, who took shots at Republicans unhappy about Donald Trump becoming the likely presidential nominee. In keeping with past practice, the author did not mention that the Trump campaign did more than $116,000 in business with the Global Intermediate direct mail firm, for which Robinson serves as president.
Via e-mail, Robinson explained that he will likely continue to publish occasional opinion pieces at The Iowa Republican but has "no time table" for when that may begin. He may also use the site "to promote Global Intermediate's capabilities to readers and potential clients." As for disclosing his side work for political campaigns to the many national reporters who quote him about Republican happenings (most recently Matt Viser in the Boston Globe), Robinson sees connecting those dots as the journalist's responsibility: "I don't think its necessary for me to provide a list of current and former clients, anytime I have been asked I have been forthcoming. I have hosted CNN, FOX News, NBC, ABC and a handful of local news outlets at my Global office for the past couple of years, I'm not exactly hiding from anyone."
I enclose below more excerpts from our e-mail correspondence, some passages from the May 9 post at The Iowa Republican, and details on Global Intermediate's work for the Trump campaign to date.
Iowa is universally acknowledged to be in play this fall. All signs point to Trump investing significant resources here; he needs the six electoral votes and has hired our governor's son as his state director. Whether or not Global Intermediate produces any more direct mail for the GOP nominee, national journalists seeking local Republican commentary should identify Robinson as someone who has done work for the Trump campaign--not only as a former Iowa GOP political director and publisher of The Iowa Republican blog, as has been standard media practice up to now.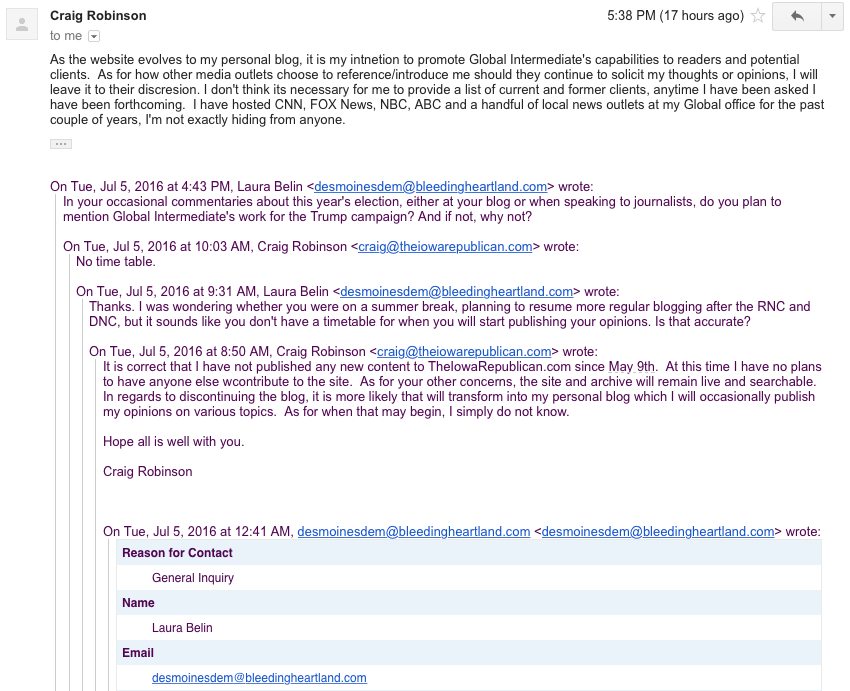 Trump's campaign made two small payments to Global Intermediate during 2015: $7,208.32 for direct mail services on June 11 (five days before Trump's official campaign launch), and $6,274.14 for direct mail printing and postage on August 26.
The Trump campaign's February 2016 FEC filing showed a $99,960.95 payment to Global Intermediate on January 22 for "direct mail printing and postage," as well as a $2,650 payment to Global Intermediate on January 31 for "printing and design services." Page 431 from that report:
Robinson did not mention that work during his many local or national media appearances shortly before and after the February 1 Iowa caucuses.
Excerpts from "Don't Get Fooled Again? Whatever." (at this writing the latest post at The Iowa Republican website):
Just like the candidate he endorsed, [talk radio host Steve] Deace spent the summer [of 2015] enjoying what Trump was doing to the GOP establishment. On August 6th, just a couple weeks before he would formally endorse Cruz, Deace wrote, "The new attacks on Trump — he's not really a Republican at all. From the same people who constantly tell us we need a 'big tent' of course."

Deace went on to add, "I can't get enough of him face-palming these GOP liars, bed-wetters and thumb-suckers. Watching him run roughshod over this party that has lied to, betrayed, and failed us so many times is the most fun I've had in politics since kicking the teeth in of some state Supreme Court justices." [...]

So it's kind of ironic when people like Steve Deace warn us all that he's going to "troll like a mother" on everyone who supports Trump when not all that long ago he was asking Trump for interviews, posing for pictures, and oh lets not forget, asking Trump to endorse one of his books. [...]

Now, Deace isn't the only one who's suddenly fed up with Trump. Iowa Congressman Steve King also fits that description. Last week, he told reporters that Trump would have to, "earn" the support of conservative Republicans. [...]

King felt differently in 2014 when Trump flew to Iowa to headline a fundraiser for his re-election campaign. It was a nice fall event, a little cold, but nothing like the cold shoulder Trump is getting now from some Iowa conservatives.