Democratic U.S. Senate nominee Patty Judge took the fight to 36-year Senator Chuck Grassley in her campaign's first two general election television commercials, launched on Tuesday. Both 30-second spots assert that Grassley has "changed" during his long tenure in Washington. One spot features Judge delivering the message alongside a cardboard cutout of the incumbent. A string of "ordinary Iowans" question the cardboard Grassley during the other ad. Scroll down for videos and transcripts.
Grassley hasn't run any commercials since the two ads his campaign aired before the June primary, which Bleeding Heartland analyzed here and here. I'm surprised he didn't prepare a spot to run during the Rio Olympics, after reporting more than $1.2 million in contributions during the second quarter and nearly $6 million cash on hand as of June 30. Judge's campaign raised $347,707 during the second quarter and had only $228,292 cash on hand at the end of June.
Three of the four Iowa polls released this month showed Grassley's support barely above 50 percent; Judge was running 9 or 10 points behind. The most recent survey, conducted by CBS/YouGov, found Grassley leading Judge by only 45 percent to 38 percent. An incumbent polling below 50 percent traditionally signals an opening for the challenger.
But contrary to KCRG's misleading headline and write-up, a 45-38 lead is not a "statistical tie." The margin of error of plus or minus 4 percent in CBS/YouGov's poll means that assuming professional sampling methods, there's a 95 percent chance that Grassley's support is between 41 and 49 percent, and that Judge's support is between 34 and 42 percent. In other words, Grassley is extremely likely to be ahead if CBS/YouGov's respondents are representative of the likely voter universe. He's just not dominating the race by the kind of margins he's enjoyed over previous Democratic opponents.
Over the weekend, the Des Moines Register's Jason Noble reviewed data from earlier re-election campaigns pointing to Grassley's strong performance among no-party voters, as well as his "crossover appeal" for thousands of Iowa Democrats.

Patty Judge tv ad, "Plenty":
My transcript:
Judge speaks to camera, standing in front of a house: I'm Patty Judge, and we know Chuck Grassley stopped the Senate from working, but he also stopped working for Iowa. [Judge's name appears on screen]

Judge's voice: As a farmer and a nurse, I learned Iowa works best when we pull together. [viewer sees footage of Judge talking with a farmer in a building with agricultural equipment, talking with a medical professional in an office setting, talking with two Iowans in front of a John Deere tractor]

Judge speaks to camera again: Used to be you could work with Chuck.

I did – plenty of times. But he's all politics and partisanship now. [camera pulls back, viewer sees Judge standing next to cardboard cutout of Grassley]

And he's turned his back on Iowa. I approved this message because Washington changed Chuck, [cardboard cutout next to Judge now facing away from viewer]

and it's time we change our Senator. [Judge picks up cardboard Grassley, walks away carrying him toward open garage. Judge campaign logo visible on screen]

Judge's voice: Problem is, his feet drag.
That last crack baited Grassley's campaign into responding, "FACT: Senator Grassley runs 3 miles a day, 4 days a week, at 4:30 am."
Patty Judge tv ad, "Questions":
My transcript:
Judge, speaking to camera while holding the cardboard cutout of Grassley: I'm Patty Judge. [candidate's name appears on screen]

And if you don't think Washington has changed Chuck Grassley, try and ask him. [Judge stands cardboard Grassley alongside her]

Unidentified young man, speaking to camera: The Senate is broken.

Man turns head to look at cardboard Grassley: Why are you leading all the obstruction?

Unidentified young woman, speaking in a kitchen: If you get your way and defund Planned Parenthood, where am I going for my cancer screenings? [woman turns to address the question to cardboard Grassley]

Unidentified man who appears to be a senior citizen, sitting at a desk: If I'm paying more for medicine because your Medicare plan passes, how do I afford that? [turns head to look at cardboard Grassley when asking the question]

Unidentified girl looks toward cardboard Grassley, says in exasperated tone, "Are you even listening?"

Judge speaks to camera again, standing next to cardboard Grassley: I approved this message because, Chuck – you stopped working for Iowa. [turns to look at Grassley; girl stands on other side of cardboard senator, holding her bicycle]
The final line is a play on the incumbent's longtime campaign slogan, "Grassley works for Iowa."
The Judge campaign released news clips backing up statements in both ads here and here.
Neither commercial directly mentions the Senate Judiciary Committee chair's refusal to hold confirmation hearings on U.S. Supreme Court nominee Merrick Garland. Instead, they refer to the issue indirectly: "stopped working for Iowa," "all politics and partisanship," "leading all the obstruction." Earlier this year, some polls indicated that Iowans opposed Grassley's position on the Supreme Court vacancy, but I wonder whether these ads are too subtle in that regard.
Grassley's two television commercials played up the senator's hard work on behalf of constituents and commitment to visiting all 99 counties every year. But as Progress Iowa pointed out in July, since 2011 "Grassley has not held an open public event as part of his annual 99 county tour in nearly all of the state's major population centers, including no public meetings in Polk, Linn, or 8 of Iowa's most populous 10 counties." Progress Iowa's full report included these "key findings":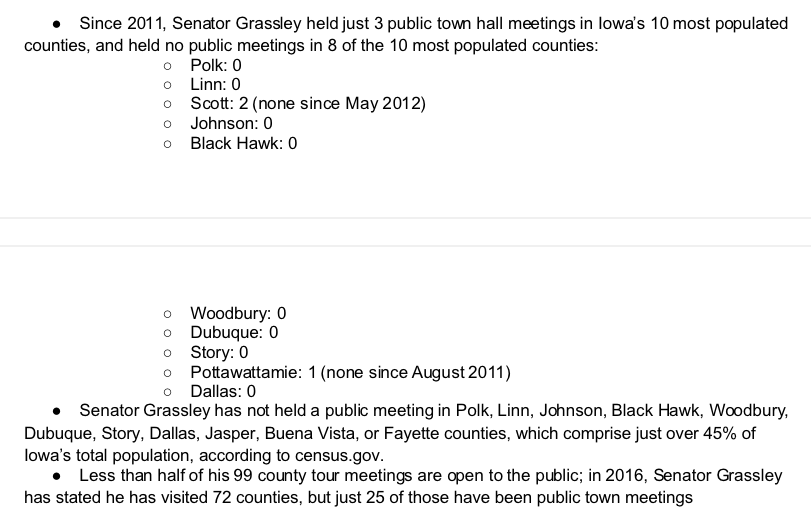 Grassley also broke with tradition by not speaking at the Des Moines Register's "soapbox" during the Iowa State Fair.
UPDATE: Jason Noble reported for the Des Moines Register,
Judge's campaign went up with the ads on Tuesday, paying a little more than $55,000 to air them a total of 144 times between now and Monday on Des Moines and Cedar Rapids network TV, according to data from the Federal Communications Commission.

(Her campaign says the buy actually totals more than $100,000 — including placements on cable TV, which aren't reported by the FCC, and elsewhere.)

Come Labor Day, however, Grassley will strike back. His campaign has booked spots in the Des Moines, Cedar Rapids and Quad Cities markets — covering 62 of Iowa's 99 counties and almost all its major population centers — beginning on Sept. 5 and running through Election Day.

Those buys total more than $1.4 million and include 3,200 individual spots, meaning Judge's current outlay amounts to less than 4 percent of the Grassley barrage to come.