Hours after Democrats across the country had begun to celebrate President Barack Obama's re-election on the night of November 7, 2012, Iowa's political junkies were still on the edge of our seats, waiting for votes to be reported in the last few state Senate races. Sometime after 1 am, results from Senate district 42 in Iowa's southeast corner confirmed that Democrats would control at least 26 seats in the upper chamber. For at least two more years, that firewall would stop Republicans from implementing some of the disastrous policies seen in places like Wisconsin, Kansas, or Ohio.
Democrats are still clinging to the ledge with a one-seat Iowa Senate majority. While Republicans have several districts to target in their quest for 26, Democrats have only one obvious pickup opportunity: Senate district 28 in the northeast corner of the state. This race was the "one that got away" four years ago, as former State Representative John Beard fell an agonizing 17 votes short against Republican Mike Breitbach in the battle for an open seat. Now Breitbach has the advantages of incumbency as he seeks re-election against Jan Heikes.
Follow me after the jump for more on this district's political make-up and voting history, along with background on both candidates and Breitbach's first television commercial.
Senate district 28 covers all of Allamakee and Clayton counties, plus most of Winneshiek County and about half of Fayette County: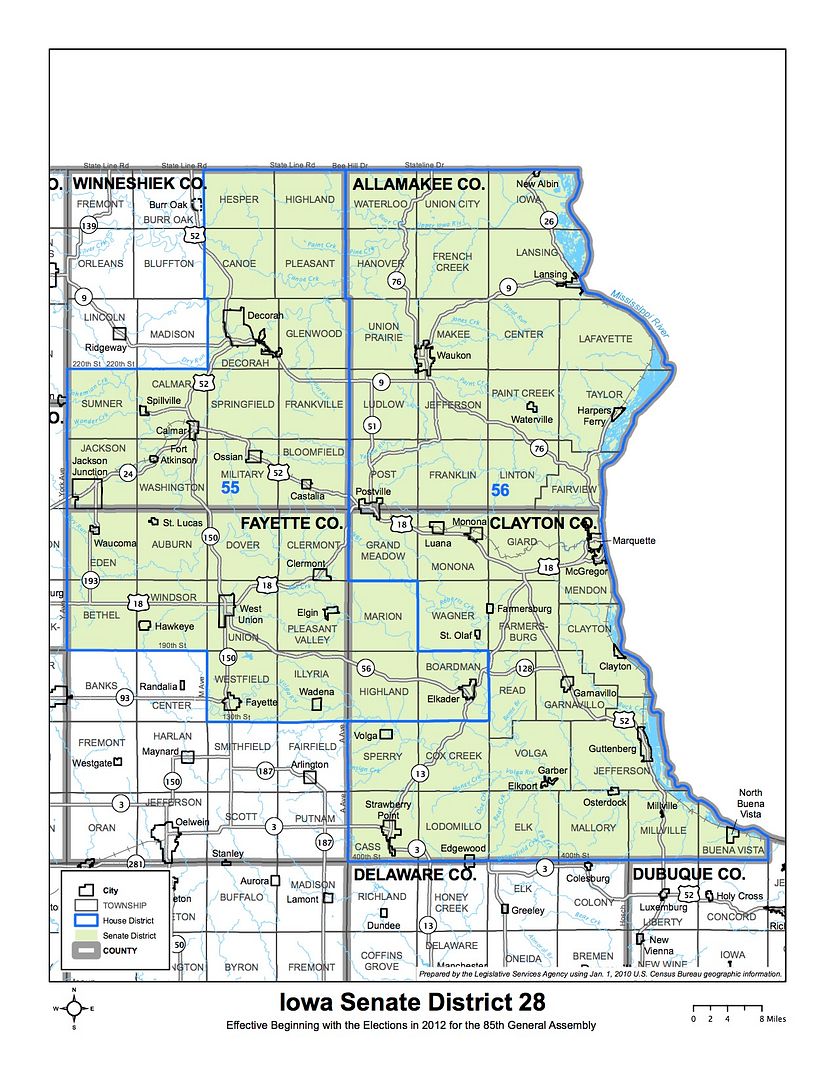 On paper, the district leans Republican, with 10,695 active registered Democrats, 13,826 Republicans, and 13,321 no-party voters according to the latest figures from the Iowa Secretary of State's office. But Senate district 28 had a comparable GOP registration advantage at the beginning of November 2012 (11,635 Democrats, 14,450 Republicans, and 15,715 no-party voters). Even so, Breitbach barely managed to win his race by 14,868 votes to 14,851, less than one-tenth of 1 percent. President Barack Obama outpolled Mitt Romney in the district by 53.08 percent to 45.72 percent. The no-party voters appear to have broken strongly for Democrats here four years ago.
For the last two years, each party has controlled one of the state House seats that make up Iowa Senate district 28. Republican Darrel Branhagen won an open-seat contest in House district 55 by only 27 votes in the 2014 GOP wave election. That House district is one of the top Democratic targets, especially since Branhagen decided to retire this year rather than run for re-election. Democrat Pat Ritter faces Republican Michael Bergan in November. Democrat Patti Ruff has represented House district 56 for two terms now. Having been comfortably re-elected in 2014 by more than 1,200 votes, she will be favored against challenger Kristi Hager, as Democratic turnout tends to be higher in presidential election cycles. Incidentally, Kristi Hager is married to former State Representative Bob Hager, whom Ruff defeated in 2012 by about 300 votes.
Whether either party's presidential nominee will have coat-tails in Senate district 28 is hard to guess. The local results of the Iowa Republican caucuses show no clear advantage for either Donald Trump or Ted Cruz. Similarly, Hillary Clinton and Bernie Sanders each did well in some parts of Senate district 28 and not so well in others. The Decorah area, where Heikes has lived for many years, went big for Sanders. I hope some activists who were feeling the Bern are getting involved as volunteers for Heikes now.
Breitbach strikes me as a risk-averse politician. He did not endorse a presidential candidate before the caucuses. On the plus side, he avoided antagonizing any group of activists. On the other hand, he didn't endear himself to any part of the Republican base. This year's race generated record-shattering GOP caucus turnout, yet Breitbach showed no particular interest or preference.
He has also kept a relatively low profile during his four years in the Iowa Senate. Although I follow legislative happenings closely, I couldn't name any issue Breitbach has seized on to make his mark. He's not a show-boater who seeks attention by introducing newsworthy bills or delivering sound bites on the Senate floor. His short bio from the Iowa Senate Republicans website flags him as a "business" or "establishment" Republican, not a hard-core activist:
Senator Michael Breitbach is a 1974 graduate of Edgewood-Colesburg Community Schools and a 1978 graduate of Loras College, where he earned a degree in accounting and business.

After college, Senator Breitbach formed Trans Star Trucking, a 20-employee cement and flyash hauling company, with his brother Tim and Roger Swales in 1984. In 1987, Senator Breitbach joined Smith Insurance in Strawberry Point, a 10-employee agency, eventually becoming a partner in 1992. In 1997, he purchased Swales Precast Inc, a 15-employee precast concrete manufacturer, with his brother and Roger Swales.

Senator Breitbach also has extensive community leadership and involvement. He serves as a board member of the Clayton County Civil Service Commission, Farmers Savings Bank, Strawberry Point Economic Development Fund, Strawberry Homes and Strawberry Point Leisure Homes. He is a member of the Iowa Independent Insurance Association, the Iowa Motor Truck Association, the Iowa Ready Mixed Concrete Association, the Iowa Concrete Paving Association, the Iowa Bankers Association, Strawberry Point Lions Club, Core Curriculum Committee of Starmont Community School District and an Alumni Member of Leadership Iowa.

Additionally, he served four years on the Strawberry Point City Council, and is a past board member of the Strawberry Point Chamber of Commerce, the Backbone Golf and Country Club and is past president of the Strawberry Point Jaycees. He served 30 years on the Strawberry Point Fire Department, including five years as chief and was an EMT for 22 years.

Senator Breitbach and his wife of 37 years, Theresa, have four adult children. Theresa is a registered nurse at Covenant Medical Center in Waterloo and Oelwein. They are members of the St. Mary's Catholic Church.
A more detailed resume is online here.
The issues page on Breitbach's campaign website doesn't reveal any specific policy interests, just generic talking points you might hear from any GOP candidate in any part of the country.
SPENDING:
Our legislature had a difficult time to keep state spending within our means. Our families have to live within our budgets. We need to insure that our state and federal government does the same.
GOVERNMENT REGULATIONS:
Government seems to be working its way into every avenue of our lives. We have seen continual regulations set in place that have led to increased costs and frustration in our private sector. I believe we need to reevaluate our government's role and reestablish the role of individuals and families.
FINDING SOLUTIONS:
It is easy to point out the problems in our government. However, what we really need are leaders in office who can pinpoint those problems and, more importantly, find the solutions. I have a proven record of solving problems in business and I want to bring that approach to state government.
Breitbach's Facebook feed often features memes expressing similar cookie-cutter sentiments: "keep government out of the way," "common sense solutions," "reevaluate the role of government," and so on.
Last week, Breitbach posted his campaign's first television commercial. It's not on the air yet but will probably start running in September or early October. The style resembles the tv ad for Dan Dawson, GOP challenger to Senate Majority Leader Mike Gronstal. My transcript of the 30-second spot:
Breitbach's voice: Our state government is growing out of control. [viewer sees image of the capitol with words "IOWA LEGISLATURE SET TO INCREASE THE BUDGET," CaffeinatedThoughts.com, January 21, 2016]

Breitbach walks into view, speaking to camera: It would take over 11,000 pages of paper to print out all of Iowa's laws. [viewer sees Breitbach against a plain white backdrop, standing next to a pile of paper taller than he is. His campaign logo appears on screen]

That's over 140 pounds of paper. [Breitbach gestures toward huge pile of paper]

That doesn't even include all the regulations in code created by state agencies. [closer view of Breitbach as he continues to speak to the camera; his campaign logo is still on screen]

These outrageous laws and regulations kill jobs and drive up the cost of living for our families. [footage of a worker wearing a hardhat, then footage of a young couple apparently going over bills, looking stressed out]

I'm working to change that by cutting the needless red tape and getting government off our backs. [footage of Breitbach sitting at a desk, holding a book and writing something on a legal pad, then footage of the candidate talking with two voters]

There's a lot more to do, and that's why I need your vote this November. [view shifts back to Breitbach, speaking to the camera next to the pile of paper and his campaign logo; paid for message is at the bottom of screen]
I'm underwhelmed. This ad doesn't tell us much about the candidate or anything he has accomplished. Breitbach says nothing specific about which "outrageous laws and regulations" supposedly kill jobs and drive up the cost of living. Many Iowa laws have little or nothing to do with regulating private enterprise (for instance, everything in the criminal code). But even if we believe that huge stack of paper is entirely made up of business regulations, Breitbach hasn't told us anything about which laws he would repeal or how that would create jobs and make life easier for Iowans.
The ad may appeal to voters who already lean Republican, but Breitbach needs to win over lots of people who don't already believe in his talking points. Although Iowans generally re-elect state legislative incumbents, Breitbach hasn't made a convincing case for himself.
Heikes has been campaigning for this seat since last December and officially announced her candidacy in January.
Heikes has worked for over 30 years in mental health services, including at Oneota Riverview Care Facility (Wellington Place), as the Central Point of Coordination Administrator for Mental Health & Disability Services in Winneshiek and Allamakee counties, and as a Program Planner in the Community Services Bureau of the Department of Human Services.

She has volunteered with the Decorah Free Clinic, Winneshiek County United Way, Winneshiek County Habitat for Humanity, Hesper Helpers 4-H Club Leader and at the North Winneshiek and Decorah Schools.

"I want to use the experiences and knowledge I have gained over the years to serve as an advocate for those in my community, our district, and all around the state who are dealing with issues that deserve a voice in Des Moines," said Heikes. Those issues, said Heikes, include adequately funding local public schools, ensuring affordable community college for workers to receive needed training and helping to improve access to affordable healthcare for all Iowans.
Her more detailed bio reveals a long history of deep engagement in public policy:
Jan Heikes' rural roots are as deep as the native prairie grasses on the family farm where she was raised in Riley County, Kansas. After high school, she spent a year in northern Germany before returning to enroll as a student at Kansas State University. During her years at KSU, it became clear to her that the "bright city lights" were not for her, and that the strong values and work ethic of being involved in 4-H, church, school and other community events were a part of those roots. Besides teaching 7th & 8th grade math and science, her father, Duane, spent summers, weekends, and evenings working the farm where he grew up. Her mother, Doris, managed the daily routine on the farm and family, in addition to volunteering at various church, school, 4-H, and community events. Even though none of the Heikes kids live on that farm today, these are the roots that Jan, her brother, Keith, and sister, Lisa, bring to their families and communities.

Being of the age when many of her male friends were being drafted, Jan felt the call to become a VISTA (Volunteers in Service to America). Being placed in juvenile court group homes in inner city Cincinnati, Ohio provided new experiences with individuals from different cultures. Her volunteer year lead Jan to pursue a Masters in Social Work at The Ohio State University. Since Jan wanted to settle in a rural area, and already knew the strength of community networks, she chose to concentrate on planning and policy issues. To broaden her knowledge base, she also completed a Masters in Rural Sociology from the College of Agriculture. Her base soon extended beyond the typical social services issues of poverty, healthcare, and mental health issues to environmental and land use conflicts, including the mining in Appalachia and the loss of land by the indigenous people of Central America.

While working in mental health planning and child welfare in Wooster, Ohio, she met her future husband, Lee Zook, who was teaching social work at the local community college. In 1985, Jan and Lee moved to Decorah, Iowa when Lee accepted a position at Luther College. They bought 10 acres that included a farmhouse, barn, hog shed, and several out buildings, and set about raising two sons, Joel and Sam, in addition to a small flock of sheep, chickens, a few pigs, and a milk cow.

During her early years in northeast Iowa, Jan worked at a variety of part-time positions, including teaching social work classes at Luther College, being a therapist at Northeast Iowa Mental Health Center, and taking on various social work roles at Oneota Riverview Care Facility (now Wellington Place). There she developed a passion for working with individuals with serious mental illness and disabilities. During this time the care facility administrator and other community members initiated a community-based apartment setting for persons with severe and persistent mental illness. Jan supervised staff in one of the first supported community living settings in the state, and utilized peer support specialists before such positions were popular.

In 1996, Jan combined her passion for local planning and policy with her passion for working with individuals with serious mental illness and disabilities as the Mental Health & Disabilities Central Point of Coordination (CPC) administrator for Winneshiek County, adding Allamakee County in 2000. During this time, Jan listened to individuals, families, staff and community members and advocated for quality, cost-effective services at the local and state level. She supported and helped people hang on to hope for situations to improve. Jan held that position until 2014 when she took a position with the Iowa Department of Human Services as a Community Systems Consultant working with the MHDS regions in the northern half of Iowa.

Jan and Lee have been married 31 years and now live in downtown Decorah with a 40 acre mixed woodland/prairie outside of town as their rural escape. Jan's mother, Doris, now lives in Decorah as well as their son, Joel, his wife Johanna, and their children, Margret (8) and James (4). Their younger son, Sam, works at Holden Village in Washington.
I've been hearing from Democratic candidates all over the state that as they talk to voters on the doorstep, mental health issues are very salient. Governor Terry Branstad's administration has closed several mental health facilities, contributing to Iowa's last-place ranking in state beds available for people who need in-patient care. Many mentally ill patients are "stranded for months in hospitals" for lack of appropriate group homes or other facilities.
Raising name recognition is an important job for challengers. Heikes updates her Facebook feed frequently with photos from events around the district. The Iowa Democratic Party opened a field office in Elkader (Clayton County) earlier this summer. Staff will focus on identifying and turning out voters for Heikes and for Pat Ritter (the candidate for the open House district 55) as well as for Democrats higher up the ticket.
Neither Breitbach nor Heikes has raised big money for what could be an expensive race. As often happens in battleground Iowa state legislative districts, Republican and Democratic leadership funds will end up footing most of the bill for expenses like direct mail and paid advertising.
Given Breitbach's business connections and his extremely narrow margin of victory four years ago, I would have expected him to spend the last few years building up a big campaign war chest. His campaign finance disclosures tell a different story. Last year he raised only $10,190.00, much of it from political action committees that cut checks to dozens of lawmakers in both parties. He started the year with $10,636.54 cash on hand. Breitbach's May financial report showed an almost comical $2,840.00 raised. Of that total, $500 came from fellow GOP State Senator Julian Garrett, and $1,000 came from PACs, including $500 from the Koch Industries PAC. As of May 14, Breitbach's campaign had only $4,946.47 cash on hand. He made little effort to raise money during the next reporting period, bringing in $8,250.00. Most of that hail came from PACs, including $2,500 from the committee controlled by U.S. Senator Joni Ernst. As of July 14, Breitbach's campaign had $11,807.47 in the bank–not much for an incumbent in a competitive district four months before the election.
Despite being a first-time candidate, Heikes out-raised the incumbent in the months following her campaign launch. She brought in $13,694.23 from January through early May (all from individual donors). She raised another $5,467.00 from mid-May to early July, of which $3,000 came from PACs, the rest from individuals. As of July 14, the Heikes campaign had $16,615.08 cash on hand.
Any comments about the race in Senate district 28 are welcome in this thread.
UPDATE: I didn't realize that the Libertarian Party recruited a candidate in this district. Troy Hageman of Calmar (Winneshiek County) qualified for the ballot and is on Facebook and Twitter. If the race between Heikes and Breitbach turns out to be close race, even a small share of the vote for Libertarian could make a difference.