No Iowa Democrat has frustrated Republicans more over the last six years than Senate Majority Leader Mike Gronstal. The 26 to 24 Democratic majority in the state Senate has kept dozens of bills on the conservative wish list from reaching Governor Terry Branstad's desk. After a net gain of six Iowa Senate seats in the 2010 wave election, many Republicans were confident that gaining control of the upper chamber was only a matter of time. However, Democrats managed to keep that one-seat majority despite a new map of political boundaries that gave Republicans lots of opportunities in 2012. Another GOP landslide in 2014 failed to deliver any net gain for the party in the Iowa Senate.
I've long believed Gronstal was well-positioned to win re-election again. Earlier this year, the Iowa Firearms Coalition PAC made the same calculation, leaving Gronstal's district off its list of targeted Iowa Senate races.
But even if Senate district 8 isn't among the most promising GOP pickup opportunities, Republican leaders will invest resources in this race, especially since their preferred challenger, Dan Dawson, won a three-way GOP primary. A television commercial introducing Dawson to voters is already in the can.
Follow me after the jump for a closer look at Senate district 8, its recent voting history, the two candidates, and likely themes of the general election.

Senate district 8 covers Council Bluffs and Carter Lake in Pottawattamie County. It was the least-changed Iowa Senate district following the 2010 census.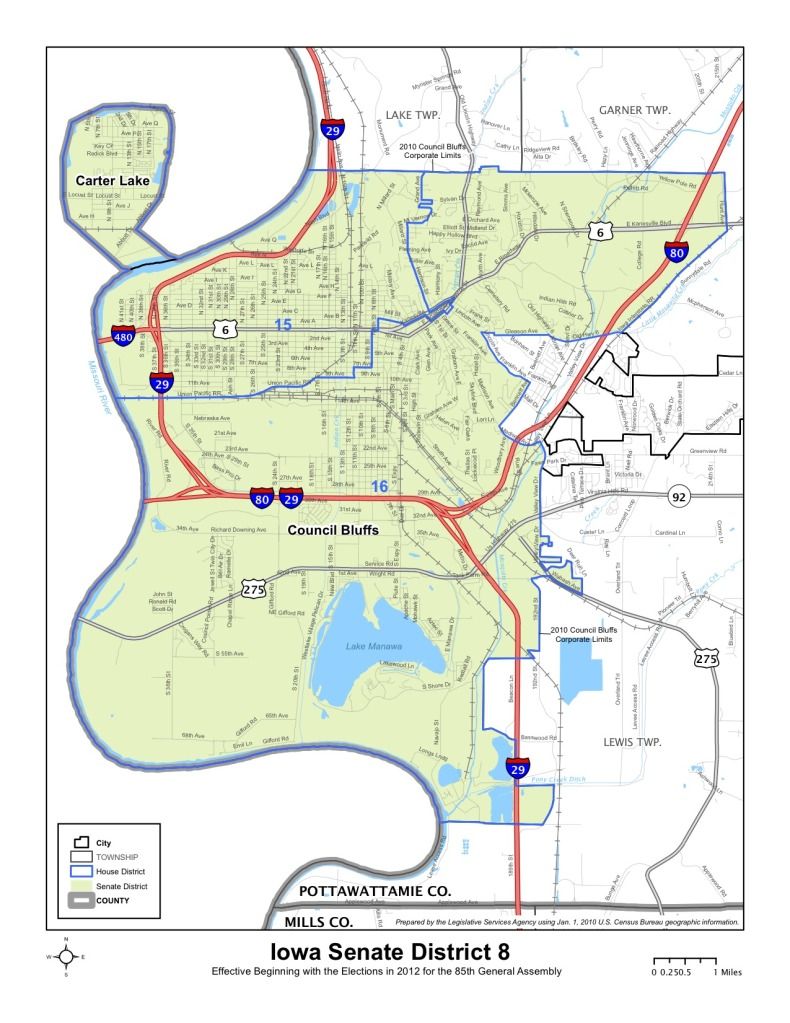 The district is balanced politically, with 10,378 active registered Democrats, 9,908 Republicans, and 11,532 no-party voters according to the latest figures from the Iowa Secretary of State's office.
Gronstal knows the area exceptionally well, having won his first Iowa House race in 1982 and his first Senate race two years later. The last time he was up for re-election, he won by more than 2,400 votes, even though Republicans poured a lot of money into his race late in the game and engaged in an unprecedented attempt at "voter caging" in Council Bluffs. President Barack Obama outpolled Mitt Romney in Senate district 8 by roughly the same 10-point margin.
Gronstal's commitment to door-knocking is legendary, even in years when he is not on the ballot. He has made direct contact with a high proportion of his constituents. Talking to voters on the doorstep was a theme in his 2012 television commercial (an annotated transcript is here). That spot also mentioned Gronstal's work on laws to protect children, create jobs, and end a tax on Social Security benefits. In the formal announcement of this year's re-election bid in February, the majority leader promised to "continue to focus on talking personally with as many voters as possible" and emphasized the following issues:
"I am running for re-election so that I can continue to work on creating opportunities for the people of Council Bluffs and Carter Lake," Gronstal said. "I will continue to work hard at creating quality jobs in our local communities, improving public safety, and helping main street businesses thrive."

"I listen to my constituents and work hard at the Capitol to get results that improve the quality of life for families in Senate District 8."

Gronstal pointed to several recent accomplishments by the Legislature, including:
· Providing incentives to boost production of renewable energy, creating jobs in Iowa that will stay in Iowa.
· Balancing the state's budget without raising taxes.
· Maintaining basic funding for local public schools.
· Approving the largest tax-cut in Iowa's history by reducing taxes on all businesses – helping small businesses the most, without shifting the burden to residential property owners.
· Holding down tuition costs at our community colleges, ensuring workers can get the training they need for 21st century jobs.

Gronstal serves as the Senate Majority Leader and chairs the Rules and Administration Committee. He believes that governing must be a bi-partisan effort to ensure that Iowa is a great place to live, work, and raise a family.
That "largest tax-cut in Iowa's history" refers to the 2013 commercial property reform, nothing to brag about in my opinion. That law cost more than $250 million in each of the last two fiscal years, indirectly leading to lousy deals on education spending and other budget priorities. On the other hand, Gronstal can rightly claim that K-12 schools and higher education received more state support thanks to the efforts of Senate Democrats than they would have if the legislature were under GOP control. Iowa Western Community College is located in Council Bluffs.
Colonel Al Ringgenberg raised little money for his 2012 challenge to Gronstal and made a bunch of rookie mistakes during that campaign. Senate GOP leaders were determined to find a better candidate this cycle. They settled on Dan Dawson, like Gronstal a Council Bluffs native. Here's the official bio, from the January 6 press release announcing Dawson's candidacy (similar language appears on his Facebook page):
Dawson, an Abraham Lincoln High School graduate, is the third generation from his family to reside and work in Council Bluffs. Dawson and his wife Chrystal have two children, Alex, age 7 and Madelyn, 5.

"My entire adult life has been in service to this community and our country," Dawson said. "I want to continue this service in the Iowa Senate, where I will work to create an environment where future generations are able to secure exciting career opportunities, receive a great education, and reside in safe neighborhoods in Council Bluffs and Carter Lake."

Dawson stressed the need for fiscal discipline and accountability.

"We must pass budgets which reflect our state and community priorities. In recent years, the downturn in the agriculture industry has resulted in dwindling reserves and an over-reliance on one-time funds. We must treat our state budget like our family budget, and not spend more than we take in, and certainly not rush to raise property taxes."

Dawson currently serves in the Army Reserves, where he earned his current rank of Chief Warrant Officer. He has honorably served our country for the past 17 years, mobilizing four times in defense of the U.S. with deployments to Kosovo, Iraq and twice to Afghanistan.

"After two protracted wars we have asked for much sacrifice from our veterans and their families. I will ensure Iowa prioritizes our veterans through educational opportunities, home buying assistance and the Iowa Veterans Home. We must never forget their service, and make sure Iowa is a place where a veteran chooses to call home."

Dawson followed in his father's footsteps to serve as a law enforcement officer in Council Bluffs. He worked in the Pottawattamie County Sheriff's Office before joining the Council Bluffs Police Department. Dawson is currently a Special Agent with the Iowa Division of Criminal Investigation, where he works in the Major Crimes Unit.

"As someone who has spent my life keeping our community and country safe, I'm concerned about potential threats to our great state," Dawson said. "Iowa cannot wait for the dysfunction in the federal government to be resolved before we look forward to the future. One of my priorities is to develop the necessary infrastructure across Iowa to better equip law enforcement and first responders in addressing potential threats.

Dawson is a member of St Patrick's Catholic Church of Council Bluffs, the American Legion, and Veterans of Foreign Wars. He has served as a director in the State Police union.

Senate Republican Leader Bill Dix applauded Dawson's background in law enforcement and the military.

"Dan is someone who understands the importance of putting community and country first," Senator Dix said. "This is something he has done throughout his entire professional career in the military and law enforcement. It will be an honor to serve with Dan in the Iowa Senate."
Dix must have been relieved when Dawson won the GOP primary here against Ringgenberg and local business owner Mark Hansen. Before the June 7 election, Dawson's campaign sent several direct mail pieces attacking Ringgenberg. For his part, Ringgenberg portrayed Dawson as the candidate recruited by Republicans in Des Moines–a tactic that helped several "tea party" candidates defeat establishment rivals in state Senate primaries four years ago. Pottawattamie County GOP Chair Jeff Jorgensen fretted that the negative tone would make it "harder" to unite the party. I suspect the hundreds of local activists who voted for Ringgenberg will get behind the nominee, if only because Gronstal is so hated in Republican circles.
I was unable to find a campaign website for Dawson. He doesn't post frequently on Twitter but regularly updates his Facebook page. He contrasts himself to "career politician Mike Gronstal" in lots of #ThrowbackThursday posts calling attention to the incumbent's long tenure at the capitol.
Last week, Dawson posted the video of his first television commercial. To my knowledge, the ad is not on the air yet in the Omaha market; Iowa legislative candidates rarely begin running tv ads before October. My transcript of the 30-second spot:
Dawson, speaking to the camera against plain white background: I'm Dan Dawson, candidate for state Senate. [Dawson Iowa Senate logo is visible to the right of the candidate]

Dawson's voice: My dad worked 16-hour days just to make ends meet. [viewer sees photo of Dawson as a child, standing next to his father]

I rode with my mom in this rusted old jeep while she delivered newspapers so we could pay our bills. [photo of Dawson as a baby on his mother's lap]

Sure there were struggles, but I learned the value of personal responsibility and teamwork. [view shifts to Dawson speaking to the camera again]

My service in the military and law enforcement reinforced those messages time and again. [photo of Dawson in his Army Reserve uniform, standing with his wife and young daughter, then photo of Dawson with his young son, holding a small American flag while smiling at his father; in small print at the bottom of the screen is the standard disclaimer, "Appearance in uniform is not meant to imply endorsement by the United States Army or Department of Defense"]

I'll use those same life lessons to fight for new jobs, better schools, and safer communities. [footage of Dawson talking with people in a workplace setting, a school; then Dawson sitting at a desk, reading papers; words on screen NEW JOBS BETTER SCHOOLS SAFER COMMUNITIES]

I'm Dan Dawson, and I'm asking for your vote this November. [footage of Dawson and his wife pushing their kids on swings; words at the bottom of the screen note the spot was paid for by the Republican Party of Iowa and approved by Dan Dawson]
Dawson hasn't raised enough money to pay for Omaha television. He received $22,168.51 in contributions between his campaign launch and early May, but had to spend a fair amount of that to win the primary. Dawson raised just $6,150.00 from mid-May to mid-July. As of last month, he had only $4,660.80 cash on hand. In contrast, Gronstal reported $578,699.77 cash on hand in his latest filing. But Senate Republican leaders have plenty of money to spread around and will make sure Dawson has paid media and direct mail supporting his candidacy. Meanwhile, Gronstal will need to spend most of his campaign funds defending other Democratic-held Senate seats.
Any comments about the race in Sentate district 8 are welcome in this thread.
P.S. – Last year, two-time Iowa Secretary of State candidate Jake Porter considered running against Gronstal as a Libertarian. Democrats would have cheered a third-party candidate with potential appeal to disaffected conservatives. However, Porter decided to focus on his campaign for governor in 2018. Council Bluffs resident Bryan Jack Holder filed as the Libertarian candidate in Iowa's third Congressional district, rather than in Senate district 8.
UPDATE: Forgot to mention that Donald Trump did quite well in the Council Bluffs area in the Iowa Republican caucuses, winning some precincts by large margins. On the Democratic side, Hillary Clinton and Bernie Sanders were more evenly matched, which surprised me, since Pottawattamie County had been one of the strongest for Clinton in the 2008 caucuses. Pat Rynard observed, "In the working class west end of Council Bluffs where Clinton dominated in 2008, Sanders ended up winning many precincts. In the precincts in the hills with middle class homes where Obama or Edwards ran strong in 2008, Clinton captured most of the delegates." Rynard posted maps of the 2008 and 2012 Democratic caucus results.
Gronstal, one of Iowa's superdelegates to the Democratic National Convention, endorsed Clinton for president the day before this year's caucuses. One of the Sanders DNC delegates from the third Congressional district was Ingrid Olson of Council Bluffs. She recently signed on to the Clinton campaign's Iowa Women Win, "a group of more than 200 Iowa women who are committed to promoting Democratic female candidates up and down the ticket." Incidentally, Olson was one of the plaintiffs in the Varnum v Brien lawsuit, which led to the Iowa Supreme Court striking down our state's Defense of Marriage Act.