Iowa Republicans apparently could not find anything of substance to criticize in Dr. Phil Miller, the Democratic candidate for House district 82. With less than a week to go before the August 8 special election, the GOP has replaced their first attack ad--a misleading spot seeking to stir up fear of transgender students--with a new hit piece tying Miller to "liberal special interests in Washington" including U.S. House Minority Leader Nancy Pelosi.

A Bleeding Heartland reader in the viewing area recorded the latest GOP ad for this race while watching CNN on August 3. Republican candidate Travis Harris green-lighted the commercial, although it does not appear on his Facebook page, which is repeating positive messages such as promises to strengthen schools and ensure "essential services."
Someone worked hard to cram so much phony material into a 30-second spot. The ad begins with a female voice-over asserting, "Liberal special interests in Washington are spending big money to buy a seat in Iowa for politician Phil Miller."
The Democratic Legislative Campaign Committee has featured the House district 82 race on its website, but there is no evidence of "liberal special interests in Washington" funding Miller's campaign. The first set of campaign finance disclosure forms for candidates in this race showed $7,049.00 in contributions to Miller's campaign, mostly from Iowans, $51,561.71 in in-kind spending by the Iowa Democratic Party, and no activity by the DLCC's Iowa PAC. I will update this post when new candidate disclosure reports come online, probably later today. If the the DLCC or other Washington-based organizations donated to the Iowa Democratic Party recently with the goal of supporting Miller, we won't know the details until the party submits its next disclosure form in January 2018.
The first visual in the ad features what looks like someone doing an Google search for "Liberal Politician Phil Miller." (There's even an "I'm feeling lucky" tab below the search terms.) The first "result" generated is a non-existent article from a non-existent publication, followed by August 2016 stories about the Fairfield school transgender bathroom controversy from the Fairfield Ledger and the Des Moines Register.
Here are the genuine top results after googling "Liberal Politician Phil Miller":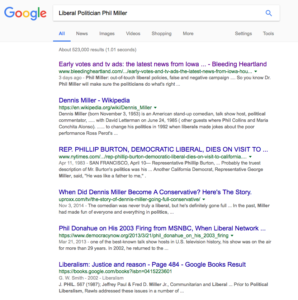 The fake online search results come back on screen about eight seconds into the ad, as the voice-over says of Miller, "He pushed the liberal agenda in Fairfield schools, and now, he wants to do it in the legislature." In reality, the transgender bathroom use policy Fairfield school board members approved last year was consistent with nearly a decade of Iowa civil rights law.
The next visual in the ad is designed to look like an online news story, but neither the article nor the website is real. The non-existent news site has Phil Miller's picture against a backdrop of the U.S. Capitol. The fake headline is in quotation marks--"Which has forced insurers to leave the state"--yet the source, a June 19 article in The Hill, does not contain that phrase or the word "forced" in any part of the story.
As the voice-over says, "Miller supports the failed policies in Obamacare, which forced insurers to leave the state," the view zeroes in on that fake headline--again, not an accurate quote from the source cited. Furthermore, Iowa state legislators have no control over the Affordable Care Act or other aspects of federal health care policy.
The voice-over then claims that Obamacare "caused premiums to rise by 43 percent this year, hurting Iowa's middle-class families," as the viewer sees a close-up of what looks like another headline: "Rate increases of 43% are not sustainable long term." Health insurance premiums have not gone up by 43 percent in Iowa this year. The Medica insurance company has requested that rate increase for 2018, and that company's vice president did say such increases are not sustainable. How much a 43 percent rate premium increase would hurt middle-class families in 2018 will depend on factors mostly outside the control of Iowa legislators, principally whether the federal government extends subsidies to lower the costs for those who buy health insurance on Iowa's exchange.
The ad goes on to claim, "Miller's liberal Washington agenda will cost Iowa taxpayers," as Miller's picture appears on some manufactured web page next to images of former President Barack Obama and Nancy Pelosi.
In the final seconds, the female voice states, "Politician Phil Miller: poor judgment, liberal agenda, and the wrong choice for Iowa." The same words appear on screen to reinforce the message, and for the benefit of anyone watching with the sound turned down.
In addition to this spot, Republicans are airing positive ads for Harris; Bleeding Heartland posted and transcribed those videos here and here.
Democrats are running positive ads about Miller, which portray the longtime veterinarian in a mostly non-political light, and a negative spot about the Republican candidate's "tax problem." You can watch those commercials here, here, and here.
Miller's counting down the final week of the campaign with 7 reasons to vote for him. Number 7: "great public schools." Number 6: "good jobs, better pay." Number 5: "people before politics," with a nod to the late State Representative Curt Hanson, a personal friend to Miller. Number 4: Quality, Affordable Healthcare.
Democrats are recruiting volunteers to help with GOTV in Jefferson, Davis, and Van Buren counties every day between now and next Tuesday. Many shifts are available, and it's easy to sign up through the website. As of yesterday, Democrats still had an advantage in early votes cast, but Republicans traditionally show up more reliably on election day, so Miller will likely need to build up a large lead in early votes to win on Tuesday. Hanson went into his 2009 special election ahead by about 1,000 absentee ballots and ended up winning by just 107.
Volunteers pick up their walk lists at the campaign headquarters in Fairfield (109 W. Broadway Ave), even if they plan to knock doors in another part of the district. Map of Iowa House district 82: