On August 8, Iowans in three counties will elect either Democrat Phil Miller or Republican Travis Harris to succeed the late State Representative Curt Hanson. Both major parties are spending more on the House district 82 race than on any other special state legislative campaign in years.
Voter interest is relatively high. The number of early ballots requested here already exceeds the total number of votes cast in each of the last two races to fill Iowa House vacancies (House district 22 in June and House district 89 in January).
Follow me after the jump for the absentee ballot numbers as of a week before election day, and the latest television commercials for and against Miller and Harris. Spoiler alert: if you guessed that Republicans would run a misleading ad about transgender bathrooms, you were right.

For background on the candidates, the district's voter registration totals, and recent voting history, see Bleeding Heartland's first post on this special election campaign. Here's a map of House district 82, which includes all of Davis and Van Buren counties and the population centers of Jefferson County.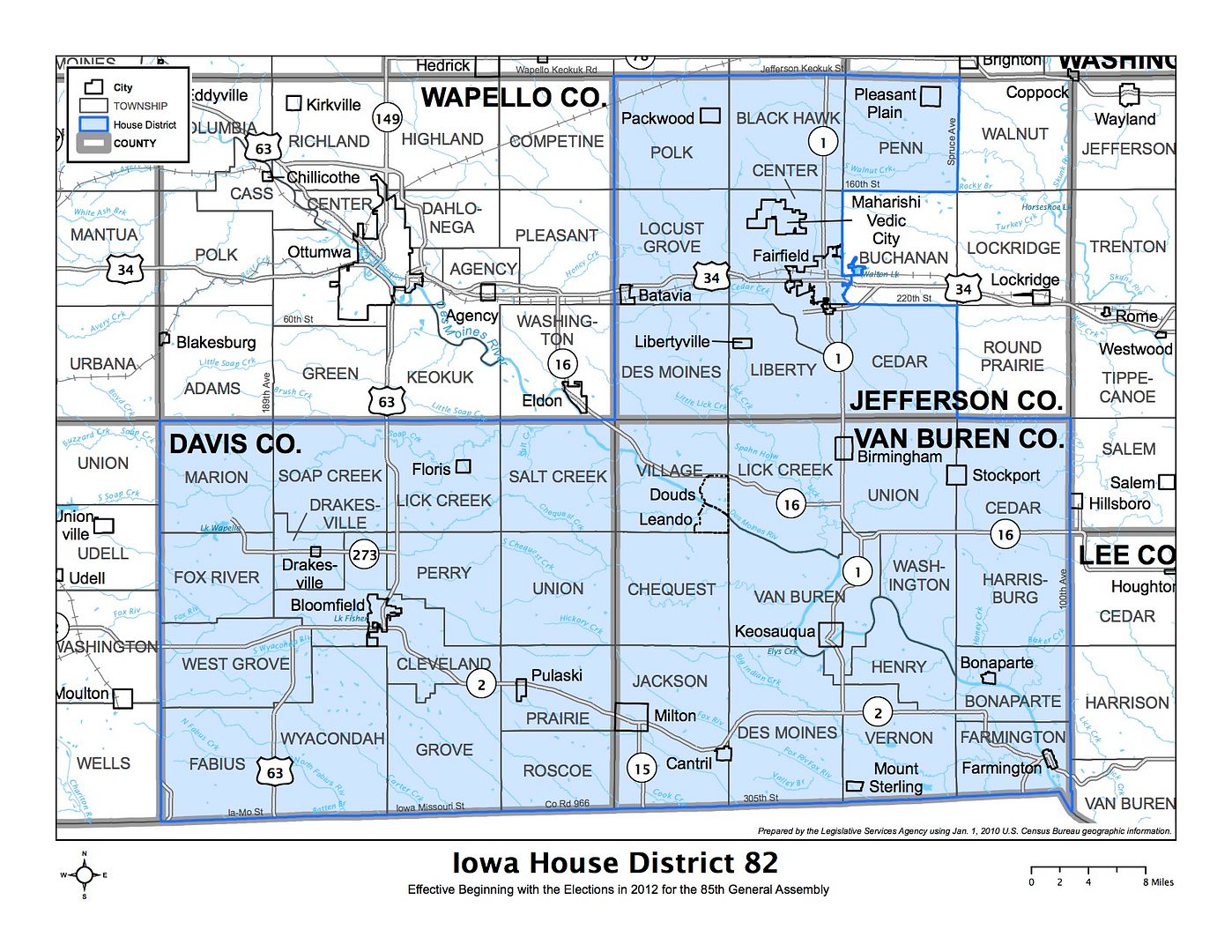 EARLY VOTES
In many Iowa legislative races, Democrats rely on banking more early votes, while Republicans turn out more supporters on election day. Curt Hanson racked up a lead of about 1,000 early votes in his 2009 special election victory, but he ended up winning by only 107 votes out of more than 8,000 cast.
So while Democrats will be encouraged to see an advantage in ballots requested, that is no guarantee of victory on August 8--especially since not all requested ballots are returned to county auditors.
I called elections offices in all three counties on August 1 to get the latest early vote numbers. This table reflects total ballots requested: mailed ballots as well as those used by Iowans who have voted early in person at the county auditor's office.
Absentee ballots requested in Iowa House district 82 as of August 1, 2017
County
Democrats
Republicans
no-party voters
other
total
Davis
260
201
26
n/a
489
Jefferson
1,423
339
187
11
1,960
Van Buren
182
207
40
n/a
429
district-wide
1,865
747
253
11
2,878
This table shows how many completed ballots have been returned to county auditors, either through the mail or by citizens voting early in person.
Absentee ballots received in Iowa House district 82 as of August 1, 2017
County
Democrats
Republicans
no-party voters
other
total
Davis
117
88
13
n/a
219
Jefferson
387
71
51
1
510
Van Buren
60
81
15
n/a
156
district-wide
564
240
79
1
885
Not all votes cast will be for Phil Miller or Travis Harris. Candidates representing the Libertarian and Constitution parties also will appear on the ballot. (The Republican Party's attempt to disqualify Libertarian Joshua Miller failed.)
That said, only the Democrats and Republicans have done a large volume of direct mail to drive early voting in this district and have had many volunteers out knocking doors. So the overwhelming majority of ballots requested and returned at this point are likely marked for Phil Miller or Harris.
TELEVISION ADS
Bleeding Heartland posted the first television commercial supporting the Democratic candidate here. A follow-up post contained the introductory Republican ad for Harris, along with a Democratic ad highlighting Harris' "tax problem."
Since then, Republicans have rolled out an attack ad against Miller. Per usual practice, they did not post the video online. I'm grateful to a Bleeding Heartland reader living in the local media market, who noticed this commercial last week while watching CNN and taped it for me.
My transcript:
Female voice-over: Liberal special interests in Washington will stop at nothing to get Phil Miller elected. [viewer sees a photo of Phil Miller against an image of the U.S. Capitol, with words LIBERAL PHIL MILLER OUT OF TOUCH]

It's why Miller's running a false and negative campaign attacking Travis Harris. [Photo of Miller, words on screen PHIL MILLER'S FALSE AND NEGATIVE CAMPAIGN]

Because Phil Miller is one of them. [photos of Hillary Clinton and Nancy Pelosi appear next to Phil Miller's picture]

Phil Miller voted to allow students to use whichever bathroom they associated with their gender identity [viewer sees what looks like an office hallway but is clearly meant to be a school; on the restrooms sign, the male and female images are switching places. Words on screen: PHIL MILLER YES FOR TRANSGENDER BATHROOMS]

leaving students to feel "embarrassed" and "humiliated." [viewer sees what look like clips from a news article, "Female students were in the girls' locker room changing when male students walked in" "These girls were" EMBARRASSED HUMILIATED; in small, hard-to-read print it appears that the source is Des Moines Register, 8/18/16]

We can't afford to trust his poor judgment. Phil Miller: out-of-touch liberal policies, false and negative campaign. [photo of Miller next to words ELITIST OUT OF TOUCH LIBERAL PHIL MILLER]
Talk about a cookie-cutter ad. Miller's not running for Congress, nor is it clear what Hillary Clinton or Nancy Pelosi have to do with a veterinarian who's been practicing in the Fairfield area for more than four decades. Then again, Republicans have used similar messaging successfully across the country. Voters in House district 82 backed Donald Trump over Clinton last November by 57.8 percent to 36.4 percent.
The transgender bathrooms were a predictable line of attack. Like many Iowa school districts, the Fairfield public schools adopted a policy consistent with federal guidelines suggested while Barack Obama was president. But according to Nate Monson, executive director of the LGBTQ advocacy organization Iowa Safe Schools, "nowhere in Iowa" has the dispute been as heated as in Fairfield. Local parents and pastors formed a group called Citizens United for Students' Rights and Liberties, and the social conservative organization FAMiLY Leader (led by Bob Vander Plaats) have been amplifying the outcry. Transgender bathrooms were among the issues mentioned in a telephone poll Iowa House Republicans paid for in early July, to test messages against Phil Miller and for Harris.
The Des Moines Register's Courtney Crowder covered this controversy in a pair of articles last summer. One of those pieces is a source for the Republican attack ad.
However, the commercial gives the viewer the impression the Register reported that "Female students were in the girls' locker room changing when male students walked in." In reality, Crowder's story quoted those words among a series of allegations made by the pastors and parents group, Citizens United for Students' Rights and Liberties. Asked to comment on that claim, Fairfield Community School District Superintendent Laurie Noll told the Register, "I have spoken with the administrator and the P.E. teacher and have not had that one confirmed. The kids have said that may have happened just as part of (other) kids trying to push the envelope."
A blog post on the FAMiLY Leader's site described the same incident as follows: "two female students were in the girls' locker room changing clothes when male students walked in, boasting, 'This is how it is now. We're going to do what we want.'"
Obviously, boys swaggering into the girls' room is not the same thing as trans students using the restroom that conforms to their gender identity.
Iowa social conservatives have never cited a single assault stemming from trans students having the freedom to choose their bathroom. Most children who are sexually abused are attacked by a parent or another relative. Sexual assault of high school students is a major social problem, but research shows classmates or trusted adults (teachers, coaches, relatives, clergy) tend to be the perpetrators. I don't see any conservatives trying to ban high school sports over sports-related incidents of assault.
UPDATE: Pat Rynard explained in more detail why this GOP attack is misleading:
The board eventually voted 4-2 to keep the current policies regarding transgender students' use of bathrooms, which was mandated by both Iowa and now federal law. Iowa already had the non-discrimination measures in place for nearly a decade. Miller voted in favor.

"Whenever you're an elected official, you have to understand that you're representing everyone in your elected district," Miller explained of his leadership during the matter. "We understand that when certain things are maybe not fully understood, that people might differ. As an elected official you have to understand and study and follow the law. And that's what we did: we followed Iowa civil rights law. Iowa civil rights law that says you cannot discriminate against a person's gender identity. Period. School boards cannot write law. We obey the law. And that's what we did."
Rynard also noted that Fairfield area residents "are increasingly worried about the psychological impacts on local LGBTQ students that the Republican ad campaign could be causing. Many noted that the recent death of Finn Bousquet, a transgender Fairfield teen who killed himself on June 19 of this year, made the ads especially ill-timed."
Last Thursday, Republicans rolled out a second positive ad for Harris.
My transcript:
Harris' voice: As a farmer and financial advisor for more than 20 years, [viewer sees footage of Harris doing tasks on his farm; sees Travis Harris campaign logo and the words "farmer, financial advisor"]

I know the importance to plan for rainy days, because the future is uncertain. [footage of rainstorms]

I'm Travis Harris, and I'm running to be your voice in the Iowa House. [Harris speaks to camera, standing outside, farm field behind him, campaign logo on screen]

I'll ensure we invest wisely in Iowa's future [Harris's voice continues; viewer sees footage of him with his wife on a porch]

by strengthening our education system, funding our essential services, [footage of students in classroom, college students in caps and gowns, apparently graduating]

and investing in a skilled workforce for southeast Iowa, without raising taxes. [footage of a farmer, construction workers, metalworkers on a factory floor]

I'm Travis Harris, asking for your vote on August 8. [Candidate speaks to camera, his farm in the background, campaign logo and words on screen "August 8th VOTE TRAVIS HARRIS for STATE REPRESENTATIVE"]
A standard, safe commercial pushing a lot of buttons.
All I can say is, if a Republican can get elected to the Iowa House claiming to be for "strengthening our education system" and "funding our essential services," then Democrats have utterly failed to communicate the reality of what's been happening at the statehouse since the GOP regained the majority in the lower chamber for the 2011 legislative session.
The Harris campaign has been distributing a video "message from Tiffany Harris" online. To my knowledge, this 30-second clip is not running on television, though. My transcript of her testimonial:
Hi, my name is Tiffany Harris, and my husband Travis Harris is running for state representative of Iowa. But my husband Travis is not a politician. He's a hardworking husband, father, and farmer, who loves this area, and who'll stand strong for us in Des Moines.

I'm so proud of all he does, and I know he'll be a great state representative.

Please visit HarrisforIowa.org if you have any questions, and and don't forget to vote early, or vote on August 8.
This video will do no harm, but it would have been more effective if Tiffany Harris had shared some personal story, the way Ann Prichard did when speaking on behalf of her husband Todd Prichard at last week's Iowa Democratic Party event.
Democrats rolled out a second positive spot for Miller last week. Introducing "Family" on July 23, the candidate said, "I've been here in Jefferson County for over 42 years keeping family farms healthy and productive and in Des Moines I'll fight for southeast Iowa families."
My transcript:
Male voice-over: For 40 years, Dr. Phil Miller has treated local farmers just like family. [footage of Phil Miller on someone's farm, shaking hands with the farmer, words on screen DR. PHIL MILLER Family Veterinarian]

Because Dr. Phil has helped keep family farms like the one he grew up on healthy and productive. [more footage of Miller on a farm, getting some kind of medication, then video of cattle and Miller with the farmer]

So you know Dr. Phil Miller will make sure the politicians do what's right. [More footage of Miller on someone's farm; candidate's name appears on screen]

Fight for lower taxes, better health care, and higher wages. [footage of Miller speaking with a young family; words on screen DR. PHIL MILLER Lower Taxes, Higher Wages]

and look out for southeast Iowa families. [footage of Miller with children and a family's dog]

Miller speaks to the camera: I'm Phil Miller, and that's what I've been doing my whole life. [candidate's logo Elect PHIL MILLER IOWA STATE HOUSE appears next to him on screen]

Miller's voice: I'd be honored to have your vote. [footage of Miller walking with his wife]

Voice-over: Dr. Phil Miller for Iowa House. [more footage of Miller with his wife, campaign logo and "Special Election August 8th" are on screen]
That's a lot of "Dr. Phil"s in 30 seconds, which makes sense. Most people like their veterinarians. You almost have to be good with people to succeed in that profession.
Any comments about the House district 82 race are welcome in this thread, especially if you've been phone-banking or door-knocking in the area.