Curt Hanson won the most important Iowa legislative special election of the last decade. So it's fitting that the election to replace the Iowa House Democrat, who passed away last month after a long battle with cancer, is shaping up to be our state's most consequential special legislative race in years.
What happens here on August 8 won't determine the outcome of Iowa's 2018 elections but could have political repercussions beyond the three counties in House district 82.

A REVIEW OF THE POLITICAL TERRAIN
Although every recent special legislative race in Iowa has been contested, none has been truly competitive. Following State Senator Joe Seng's death last year, voters elected a new senator and soon after, a new representative, in strongly Democratic districts in Davenport.
State Representative Greg Forristall's death in May forced a special election in the heavily Republican House district 22, near Council Bluffs.
In contrast, the area Hanson represented in southeast Iowa is relatively balanced politically. House district 82 covers Davis and Van Buren Counties and the population centers of Jefferson County.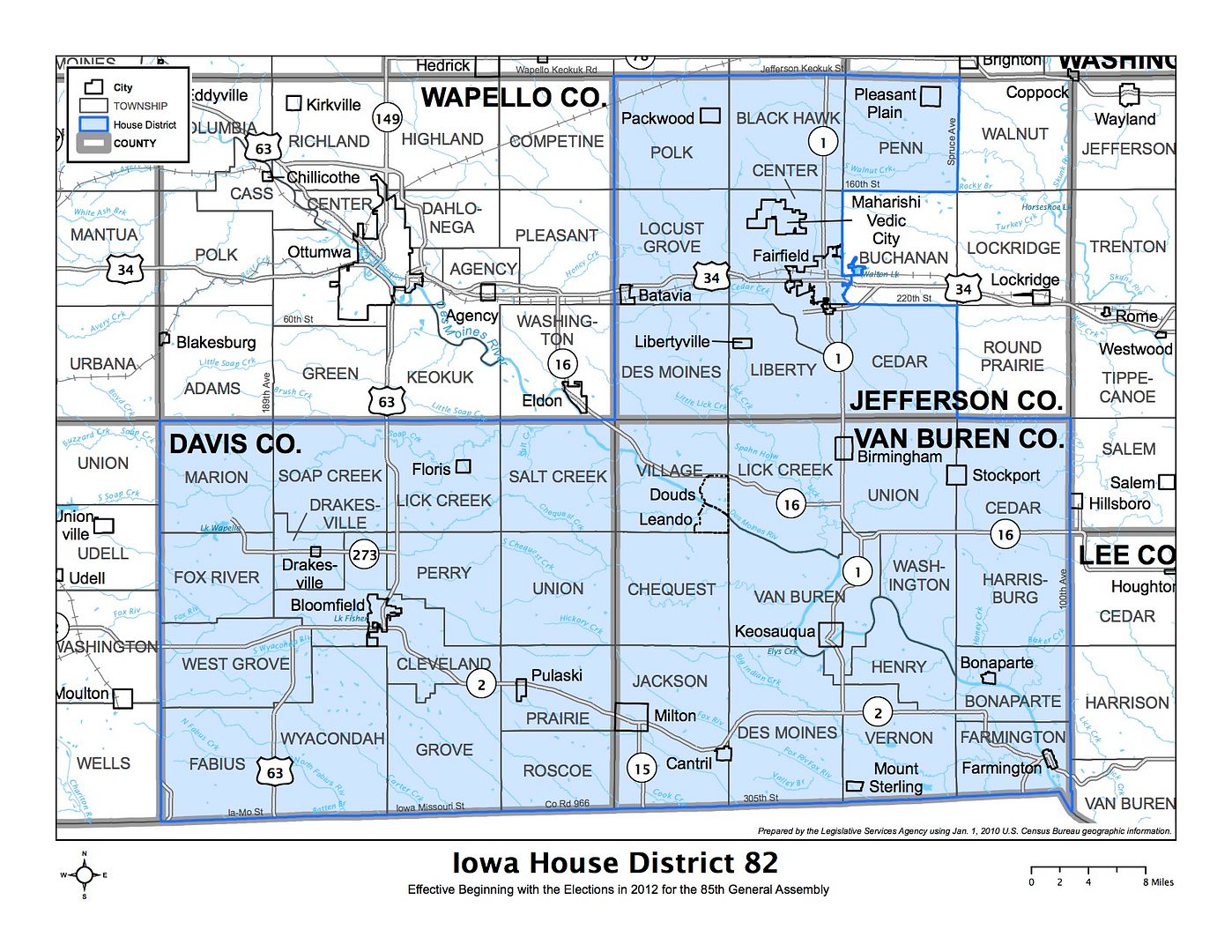 According to the latest figures from the Iowa Secretary of State's office, House district 82 contains 6,253 active registered Democrats, 6,627 Republicans, and 5,731 no-party voters. Davis and Van Buren counties contain 4,872 and 4,645 active registered voters, respectively, so the largest share of the district's electorate lives in Jefferson County, where the largest towns are Fairfield (a little more than 10,000 residents as of July 2016) and Maharishi Vedic City, which is associated with the Maharishi School of Management.
Like most of southeast Iowa, House district 82 had a large swing at the top of the ballot in 2016. President Barack Obama carried these precincts with 49.7 percent of the vote to 47.9 percent for Republican Mitt Romney in 2012. But Donald Trump won nearly 57.8 percent of the vote in House district 82 last year, compared to just 36.4 percent for Hillary Clinton. (The political culture of Fairfield and Vedic City boosted Green Party candidate Jill Stein and Libertarian Gary Johnson in Jefferson County, compared to other Iowa counties with similar population.)
Hanson ran unopposed last year, which in retrospect looks like an embarrassing GOP recruiting failure. On the other hand, it's not surprising no Republican stepped up to challenge the lawmaker who had a history of outperforming the top of the ticket. After narrowly winning the hard-fought 2009 special election, Hanson won his 2010 race against the same GOP opponent by more than 1,000 votes, despite the terrible results for many other Democratic legislative candidates that year.
While Obama outpolled Romney by just 274 votes in the precincts that make up House district 82, Hanson won his 2012 race by more than 2,600 votes. He went on to win re-election by about 400 votes in 2014, even as Republican U.S. Senate nominee Joni Ernst defeated Bruce Braley in House district 82 by more than 800 votes (about 7 percent).
FIRST LOOK AT THE FIELD OF CANDIDATES
At least three candidates will run in the August 8 special election. Dr. Phil Miller announced on June 26, launched a campaign website and Facebook page right away, and had no real competition for the Democratic nomination. (According to Sandy Dockendorff, who presided over the June 30 district convention, "No one else sought the nomination. Another gentleman got himself nominated so he could decline and threw his support to Dr. Miller.") From the news release announcing the Fairfield veterinarian's candidacy:
"I'm terribly saddened by the death of my good friend Curt and know how lucky we all were to have him in our lives and community. I want to continue Curt's work in the Iowa House that always started with listening and reaching out to people in our community, working hard, and putting aside politics to do what's best for all of us," said Miller.

Growing up on a family farm and being an active 4-H member, Phil attended Iowa State University and graduated with a degree in veterinary medicine. After college, he joined a large and small animal veterinary practice in Fairfield, The Veterinary Clinic P.C., where he still works today.

"As a small business owner, I see the need to create good paying jobs with benefits right here in southeast Iowa," said Miller. "Corporate tax giveaways haven't created good paying jobs here in Jefferson, Davis and Van Buren counties. It's time politicians start putting hard-working Iowans first again."

In addition to running his own small business, Miller has been an active member of the community for decades. He currently serves as President of the Fairfield Community School District Board of Directors. He is an active member of the First United Methodist Church. He has served on many committees, the church council and enjoys singing in the church choir. Phil has also served on the Jefferson County Board of Health.

"As a member of the school board, I know first-hand how decisions in Des Moines can impact our community. When politicians shortchange public schools year after year, schools are forced to close and fewer opportunities are available for our students. I'll work to make public schools a top priority again," added Miller.

"Working with farmers in Jefferson, Van Buren, and Davis Counties, I've seen many ways our local ag economy can be innovative and successful. I'll work with the agriculture community to boost production of renewable energy, protect our natural resources, and encourage more sustainable farming practices." added Miller.

Phil and his wife, Connie, are the proud parents of four adult children, Andy, Dan, Jane and Joe. They are both members of First United Methodist Church of Fairfield. Connie has been the school secretary at Washington Elementary School in Fairfield for over 20 years. In his free time, he enjoys reading, doing yard work, following Cyclone sports, and most of all, spending time with his grandchildren.

"From Medicaid privatization to rising premiums to accessibility of health care services, there are too many of our neighbors facing uncertainty about the future of their own health. The politicians in DC and Des Moines don't understand the health care challenges we face everyday. I'll fight to make healthcare both affordable and accessible in rural communities like ours," added Miller.
During the 2009 special election campaign, Hanson benefited from having met thousands of local residents during more than four decades as a driver's education teacher. Similarly, Miller has established personal relationships with hundreds of voters whose pets or farm animals he has treated over the years, not to mention the many people he would have met through his work on the school board.
Democratic volunteers started getting the vote out for Miller the first weekend in July, and major canvassing efforts began this past weekend. Democratic State Senator Nate Boulton went to Fairfield to help knock doors on July 8; other lawmakers including Senate Minority Leader Rob Hogg will pitch in before the special election.
In addition to knocking doors himself, Miller has been meeting and greeting voters at local events like the farmers market and an "art walk" in Fairfield. Photo of the Democratic candidate:
Soon after Hanson passed away in mid-June, Republican sources indicated that the party would make a big play for this special election. Five candidates competed for the GOP nomination here, indicating strong interest in the race. Davis County resident Travis Harris won convincingly at the special convention in late June. (UPDATE/CORRECTION: A Republican source notes Harris finished second on the first ballot, trailing 2014 GOP nominee Jeff Shipley. Harris led from the second ballot on, but didn't have the votes to win the nomination until the fourth ballot, after Van Buren County Supervisor Ted Nixon had dropped out.)
Harris later told local tv station KTVO, "It's humbling to know through this process that there was a lot of good candidates up for this and through the process, I became the winner. And now I know, by divine intervention, I'm supposed to be involved in this process and take the sprint to August 8th." From his official bio:
Harris is a 1993 graduate of Truman State University and holds Bachelor of Science degrees in Ag-Economics and Animal Sciences. For almost two decades Harris has been a Representative with Farm Financial Strategies, Inc. where he assists area farmers in farm succession planning. He's been a member of the Southern Iowa Electric Cooperative (SIEC) for more than 20 years and currently serves as a director. Harris also served as President of the Moulton-Udell School Board. Harris will bring a wealth of agricultural and educational knowledge and experience to the Legislature.
The top campaign promises for Harris: "I'll work to grow the southeast Iowa economy and invest in a skilled and competitive workforce."
The Republican nominee is unlucky in that most of the Moulton-Udell school district, where voters have previously seen his name on the ballot, is located in Appanoose County--outside House district 82. But Harris has been actively campaigning, marching with volunteers in the largest July 4 parade in Davis County and knocking doors in Jefferson County after the Batavia Days parade this past Saturday. Photo of the Republican candidate:
Both major-party candidates submitted their nominating papers early, avoiding the missteps that kept the Democratic nominee off the ballot for last month's special election in House district 22.
The Libertarian Party of Iowa never fielded a candidate against Hanson, but Josh Miller secured the Libertarian nomination for the August 8 race and will file his papers soon. He described his background and priorities to Bleeding Heartland as follows:
I'm from Washington. Currently am a Paratransit Driver and I volunteer on the Human Rights Committee for a service provider for intellectually disabled people to ensure the practices of the business do not infringe on the rights of the clients.

Last year, I ran against [Republican State Representative] Jarad Klein [in House district 78, where Democrats didn't nominate anyone] and received over 21% of the final vote at the end of a campaign I self-funded to the tune of $80.

My first issue is finding common-sense ways to save the taxpayers money. For example, getting rid of front license plates will immediately halve the material cost of a vehicle tag, we can turn around and cut the DOT's budget to match. That's pure taxpayer savings without affecting a single service the state provides.

Second, I'd like to see action taken in the legislature to protect the rights of the people. I'll work to fight civil asset forfeiture and eminent domain abuse.

Third, I want to go into the legislature and apply pressure to pass a meaningful and comprehensive medical cannabis bill. I take issue with the House Republican majority so heavily restricting the Senate-approved bill, spouting concern for the children while legalizing fireworks.
Libertarian candidates haven't been a major factor in recent special elections, but it is certainly unfortunate for Democrats that their nominee shares a surname with another person who will appear on the August 8 ballot. When mobilizing supporters, they will need to remind people to vote for Phil Miller. The ballot will indicate each candidate's party affiliation, making that task a little easier. Still, checking the box next to the "wrong" Miller still seems like an easy mistake for a voter to make.
One or more independent candidates may file nominating papers before the July 14 filing deadline, so I will update this post as needed.
AN EXPENSIVE AND EMOTIONAL RACE
Special legislative elections are usually low-budget affairs, but I expect Republicans and Democrats to spend six figures competing for House district 82. Both parties funded significant field operations and ran television commercials before the 2009 special election that launched Hanson's political career. Observers in both parties believed that race would set the tone for the 2010 election cycle, since it was the first state legislative election following the Iowa Supreme Court's unanimous ruling for marriage equality.
While Hanson's win didn't prevent big Democratic losses the following year, it was nevertheless a significant event. As I wrote in Bleeding Heartland's first-ever "Throwback Thursday" post in 2015,
I believe Hanson's victory was critically important for Democratic morale going into the 2010 legislative session. Had he lost to [Republican Stephen] Burgmeier, as a perceived rejection of marriage equality, Democratic lawmakers might have run for the hills, demanding a chance to vote on a constitutional amendment to ban same-sex marriage. Then Iowa House Speaker Pat Murphy and Iowa Senate Majority Leader Mike Gronstal supported the Iowa Supreme Court ruling and were already committed to blocking any legislative attempt to undo it. But I suspect that seeing Hanson pull out a close race helped keep more conservative Democratic legislators in line. Only one Iowa House Democrat backed Republican efforts to get a floor vote for a marriage amendment during the 2010 legislative session.
Both parties have a lot to gain or lose on August 8.
For Republicans, who already enjoy a large state House majority, this race is an opportunity to demonstrate their growing dominance in small-town and rural Iowa. A big win for Harris could make national news and would likely hurt Democratic recruiting efforts for other Iowa House and Senate districts.
Conversely, Phil Miller has a chance to show that despite Trump's resounding victory in Iowa, Democrats can still win races here, not only in major metropolitan areas. A strong Democratic turnout in August would also reflect exploding progressive energy and activism across the country, and would point to potential backlash next year against Republican overreaches on the state level. We haven't had any single event this year matching the Iowa Supreme Court's 2009 ruling in Varnum on the political Richter scale, but GOP lawmakers passed more controversial and far-reaching bills in 2017 than in any other legislative session for decades.
More than 8,000 voters cast ballots in the 2009 election Hanson won, an incredibly high turnout for a late-summer special. I don't expect that level of participation on August 8, but turnout will certainly exceed the 2,441 votes in House district 22 last month, or the 2,874 who voted in the special to fill House district 89 in January.
I haven't seen any tv ads for Harris yet, but Democrats have already recorded this 30-second spot for Phil Miller.
My transcript:
Male voice over: You take an oath, you keep your word. [viewer sees Iowa farmstead]

Dr. Phil Miller always has. [viewer sees photo of Miller with candidate's name on screen]

For 40 years, trusted to keep family farms healthy and productive, [photo of Miller talking with farmer; cows seen in the background. Words on screen "DR PHIL MILLER Veterinarian"]

and family pets happy. [photo of Miller smiling while he takes care of a hound dog in his veterinary practice. Words on screen DR PHIL MILLER Veterinarian]

All while paying his employees a fair wage. [photo of Miller with six other workers in his veterinary practice. Words on screen DR PHIL MILLER Small Businessman]

On the school board, Dr. Miller is keeping the promise of good, safe, local schools. [Photos of Miller with children and with parents of kids in schools. Words on screen DR PHIL MILLER President of Fairfield School Board]

Because like Curt Hanson, Dr. Miller knows doing the right thing means putting people before politics. [photos of Miller with older residents in the area; candidate's name on screen]

Dr. Phil Miller for Iowa House. [photo of candidate smiling, "Elect Phil Miller Iowa State House" logo on screen, above words "Special Election August 8th"]
Aside from the political ramifications, many Iowa Democrats view winning this special election as a way to honor a friend. Hanson was exceptionally well-liked at the statehouse. After he passed away, many who served with him in the Iowa House remarked on his kindness, sense of humor, and gift for storytelling. Representative Chuck Isenhart wrote,
Allies and accomplices for the public interest and common good are so so hard to find these days, especially people who are exceedingly thoughtful, generous and kind, like State Rep. Curt Hanson. Such a strong champion for education and natural resources! This loss hurts a whole lot.
Democrats who have worked in the legislature as pages or clerks also saw Hanson as a mentor and role model. Many have told me he treated them well, which is not a universal attribute among state lawmakers. Zaakary Barnes, a three-time House clerk who now leads the Ankeny Area Democrats, is one of many volunteers who will be heading to Davis, Van Buren, or Jefferson counties, most of the next four weekends.
After learning of Hanson's passing, many Fairfield residents likewise described Hanson's personal generosity in social media posts: "He was always so kind to my son and let him come over and play with their dog"; "every year he would wish me a Happy Birthday and remind me to renew my driver's license," a signature line for the longtime driver's ed instructor.
Any comments about the House district 82 race are welcome in this thread.
UPDATE: Multiple sources say Republicans have been testing false or misleading negative messages about Miller and positive statements about Harris in telephone polls similar to those used in many other Iowa House races. I'm actively seeking a recording of the call or detailed notes, so if you get one of these calls, please do not hang up.
SECOND UPDATE: Libertarian candidate Miller qualified for the ballot on July 13. The following day, a fourth candidate submitted nominating papers here: Edward T. Hee III, running for the Constitution Party. Hee was a candidate for elector for the Constitution Party in Iowa in 2012.
Iowa Democrats have put up an online phone banking tool for those who want to volunteer for Phil Miller from their own homes.
THIRD UPDATE: Josh Miller clarified that he would not have run for this seat had the Republicans nominated Shipley. Something to keep in mind if the election ends up being very close.
Top image: the late Curt Hanson.
This photo of Curt and Diane Hanson was one of the lawmaker's favorites: